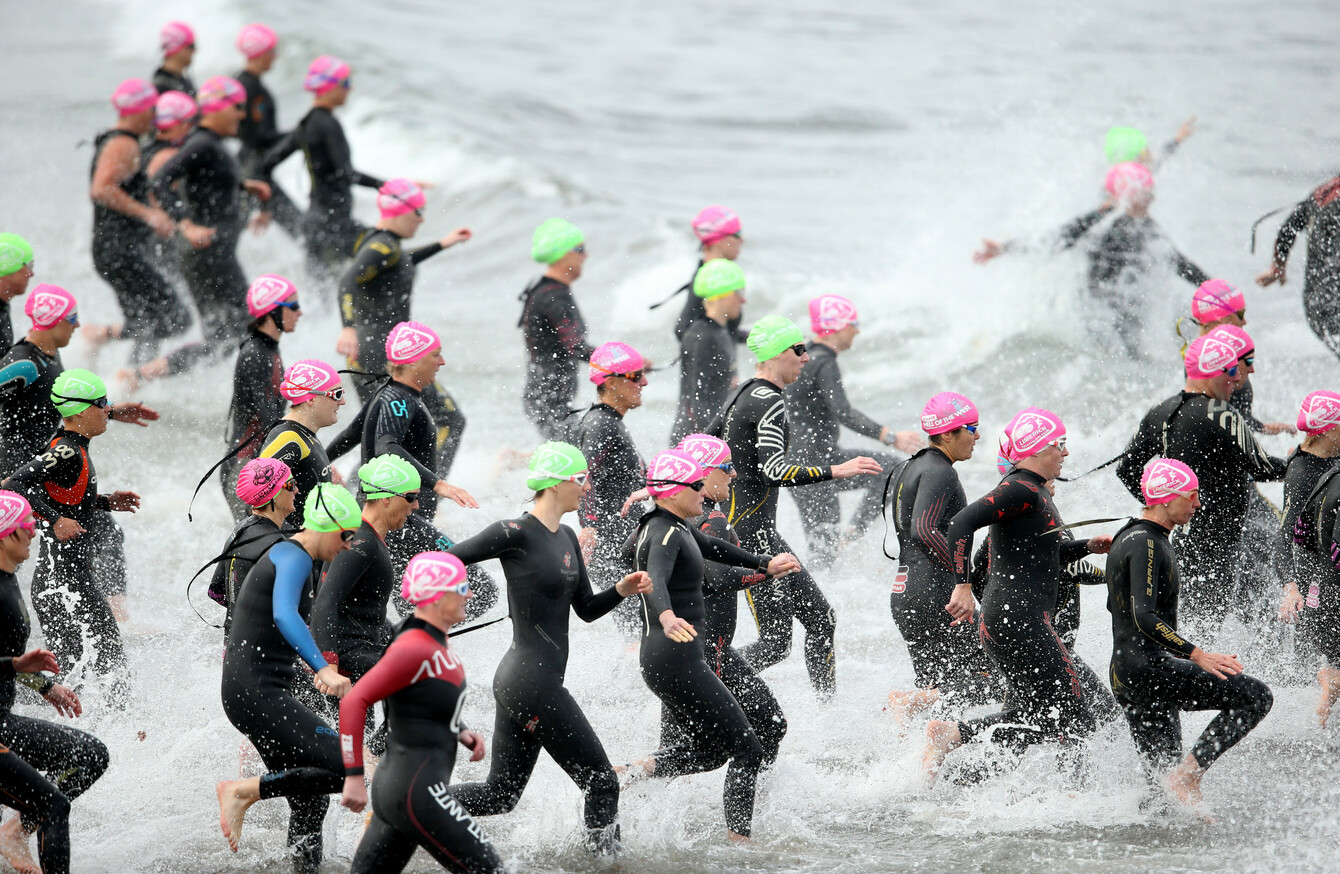 Could this be the year you take the plunge and take part in a triathlon?
Image: Cathal Noonan/INPHO
Could this be the year you take the plunge and take part in a triathlon?
Image: Cathal Noonan/INPHO
THE REASONS FOR wanting to take part in a triathlon for the first time are as varied as the race distances available for newcomers to try.
For some, it could be chance conversation with an old friend that first tempted them into a wetsuit, for others it may be the culmination of a life-long goal.
To better understand why the popularity of triathlon continues to grow year-on-year, we spoke to four relative notices, all of whom took up the sport in recent years.
"My daughter Orla is a category one triathlete and she did her first event when she was 16," says Linda Walsh.
"I hadn't really thought about joining her but we were in the gym one day with friends and we just decided to give it a try.
A few of us signed up, as well as two of my other children. I was in my early fifties at the time and, while I was relatively fit, I had no background in any of the three disciplines, I'd never biked or swam or ran.
"I mean, I could get in and swim a few lengths, I knew how to ride a bike and I was well able to run a 5km in just over 30 minutes. But while I'm competent, I wouldn't say I was good in any of the events when I started," she says.
Aaron McLoughlin Sutherland of the Dublin based Belpark Triathlon Club was a keen golfer but found the fairways too boring and wanted to challenge himself.
"I was quite sick when I was younger, I have Crohn's Disease which means I can't really play contact sports.
In 2014 I had my large intestine removed and that took some time to recover from but, now that I'm well, I wanted to really drive on and challenge myself fitness wise.
"People ask what it's like swimming when you have, basically, a bag over the open wound to collect the waste, but it's not much different than having a shower really," says the 21-year-old.
Keith Fletcher was almost twice McLoughlin Sutherland's age when he took up triathlon after taking a break from martial arts.
"I was kind of at a loose end," he says.
I'd always been into fitness but it was more karate, jiu jitsu and kickboxing, and I was just taking a break at that stage. I happened to bump into my friend, Paddy McNulty, in July 2014 and asked him what he was up to fitness wise.
"He told me he'd joined a triathlon club and that got me interested. He told me all about the training and my initial reaction was, 'Are you off your head?'
"In September that year I decided to pop down to the 24/7 Triathlon Club in Letterkenny and see what the craic was."
It's less than a year since Sadbh Brennan completed her first triathlon, but it is something she was aiming towards her entire adult life having swam competitively as a teen.
"I really wanted to do something with my swimming and triathlon felt like the right challenge for me, compared to a marathon or something, it's just a bit more fun and the training is definitely more interesting.
I was playing football with UCD at the time so I was quite fit and, for some, the swim can be the most daunting aspect but I already had that in the bag so I set myself a goal of doing my first triathlon just four months after I started training," she says.
The medical student's first triathlon was over the standard distance — 1.5km swim, 40km cycle and 10km run — in Limerick.
"It was the week before my exams in April, but it actually really helped me with time management and making sure I took time away from the books which is important too.
"When I finished, my first reaction was that I couldn't wait to do another one. It's addictive like that."
That's something Fletcher understands quite well as he has completed multiple events since his first triathlon over the Try-a-Tri distance of a 400m swim, a 10km bike ride and a 3km run
"In the summer, there's a lake outside Letterkenny — Gartan Lough — and the club go out there during June, July and August and I really took to the outdoor swimming there. It's a lot different from the pool I can tell you.
The club have an annual sprint and Olympic distance triathlon at the start of July and, having completed the shorter distance, I brought it up a notch and tried the sprint distance. That's the thing about triathlon, it reels you in.
"That was in July 2015. I got back into my training in September and I decided to up my training by going for an Olympic distance in July and the half-ironman in August 2016."
McLoughlin Sutherland's first triathlon was a pool event in Belfast over the sprint distance; 750m swim, 20km cycle and a 5km run
"It was a big shock to the system," he says.
"I decided to do it in a pool, rather than open water, just to get used to the transitions but I was hooked afterwards. Just the buzz and sense on completion, there's really nothing like it.
And when you're having that chocolate bar in the car on the way home, you can say to yourself 'I deserve this!'"
For Walsh, after deciding to take part in a triathlon, setting the goal of attempting one event in 2017 was important. In the end, however, she completed five.
"We decided we'd do Tri-Athy and we chose the sprint distance," she says.
"My son and a couple of our friends from the gym did the sprint distance. I found it very hard. The swimming should have been easy, it was a straight line, but I kind of veered off a bit.
"I did it and while I found it hard, I was delighted when I finished so I decided I needed to have another go and my friend and I did the Blessington triathlon. After that, I wanted to do another and Lough Rea came up so myself and Orla did that.
"The big one though, the one I was really aiming for, was the Dublin City Triathlon. Myself and my three children — Orla, Eimer and Ciaran — ended up doing that together. That was great, it was a beautiful day and we were all buzzing afterwards.
You still remember how hard it was, your body tells you that, but the feeling of accomplishment afterwards is incredible. It's a real pat on the back.
"And to round the year off, I did another one in Howth."
Both Fletcher and McLoughlin Sutherland put their success down to joining a triathlon club in large part because of the support they can give athletes, particularly those new to the sport.
"I think my one piece of advice for anyone thinking of doing a triathlon is to join a club. I'm sure every club is the same as mine and the amount of help and advice you get is unreal," says the latter.
The camaraderie of being in a club, the support those men and women, coaches and members, give you while you're training for or taking part in a triathlon, it can't be matched," adds Fletcher.
Walsh is not a club member but her advice for anyone thinking of taking part in their first triathlon is to just go for it.
"You can over think it, but it's just a matter of getting in the pool or getting on the bike and then you're two thirds of the way there. If you're even considering it, just to go out and give it a go."
That's a sentiment Brennan echos.
"People might think having to train for three events is daunting but I'd say just get up an hour earlier and take the whole thing in your stride. Triathlons are there to be enjoyed, I promise, there wouldn't be much point in doing them if they weren't."
Source: Triathlon Ireland/YouTube
Remember, anyone can do a triathlon. Whether you're trying to boost your fitness or you're looking for a rewarding challenge in 2018, there's a triathlon event for you.