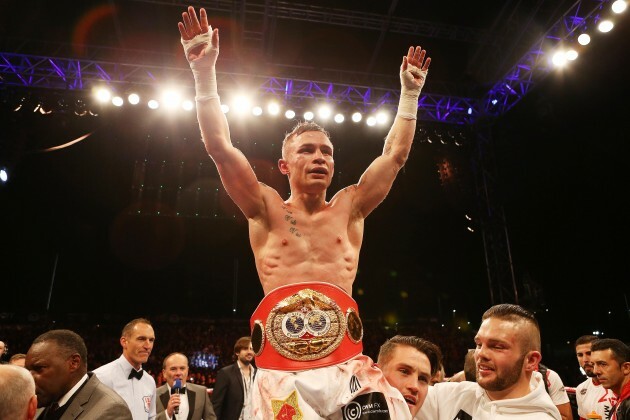 Presseye / Kelvin Boyes/INPHO Presseye / Kelvin Boyes/INPHO / Kelvin Boyes/INPHO
CARL FRAMPTON GREW up a stone's throw from the old Harland and Wolff cranes that still hang over Belfast's skyline.
It was only right that he was standing in their shadow when he was crowned world champion on Saturday night.
Kiko Martinez arrived into the Jackal's Den with revenge on his mind. He left bloodied and bruised.
Most importantly, he left without the IBF World Super-Bantamweight title. That's staying in Belfast with Frampton, the pride of the city and now their champion too.
There are bigger nights still to come for the 27-year-old but there might never be one as significant as this.
Reading 119-108, 119-108, 118-111, the judges' scorecards made it look like another straightforward night for Frampton, the 19th win of his unbeaten career. It was slightly more complex than that, though still comprehensive.
Even in the final rounds, when victory was mathematically safe, there was a lingering fear that the defiant Martinez could still deliver a final cruel twist.
Kelvin Boyes / Press Eye Kelvin Boyes / Press Eye / Press Eye
Those who know boxing know the Spaniard and know his personality. When he said that his defeat at Frampton's hands in February last year was eating away at him, he was not embellishing for effect.
The memory of that closely-fought contest — which remains the only stoppage on Martinez's record — was enough to temper any pre-fight bullishness. In its place it left a creeping anxiety that Frampton's perfect night might somehow go awry.
The 16,000 fans that packed into the purpose-built arena on the historic Titanic slipways knew their part. They turned up the volume as Barry McGuigan offered his protege a final pat of encouragement and some parting words of wisdom.
McGuigan rolled on the balls of his feet as he waited for the opening bell, and it was impossible not to think of the night his own dream came true in Loftus Road 29 years ago.
That was a different era for boxing, a wildly popular one driven by the exposure of prime-time terrestrial television.
But anyone who believes that the sport is dead, dying, or in some sort of zombified limbo was proven wrong by this absorbing encounter between two true warriors.
When these two collide, there are invariably mind games and Martinez carried that particular fight all the way into the ring, hesitating for a few beats with his hands dropped by his side after the referee instructed both fighters to touch gloves.
They did, ultimately, but the true reflection of the mutual respect between these men was shown in their embrace in the centre of the ring ahead of the final round, as well as in Frampton's glowing post-fight tribute to the vanquished champ.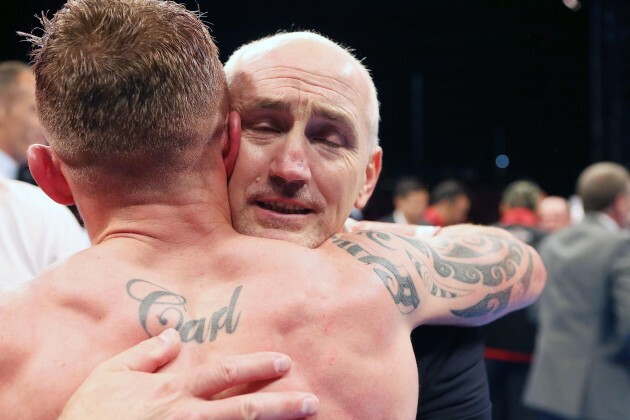 Presseye / Kelvin Boyes/INPHO Frampton celebrates with mentor and promoter Barry McGuigan... Presseye / Kelvin Boyes/INPHO / Kelvin Boyes/INPHO
It was the challenger who set the tone immediately, bolting from his corner at the opening bell to take the centre of the ring. Fighting behind a perfectly measured jab, Frampton took the fight to Martinez who happily drew up his defence and tried to pick his punches on the counter.
Quite often the Spaniard was swinging wildly, hitting fresh air where his target had stood only a split-second earlier, but he connected enough to induce mild concern.
One such punch in the second round, a straight left, rocked Frampton but he had the experience and wherewithal to tie up his man until the bell.
It wasn't until the fifth that the momentum shifted decisively in Frampton's favour. An arcing right sent Martinez sprawling and when the champion bounced back to his feet, Frampton moved in toe-to-toe for the kill.
The blood which he smelled was seeping from a cut beside Kiko's left eye. The champion's respite at the bell was brief and by the middle of the seventh round, he seemed to be summoning his final reserves in a desperate bid to stay alive.
Frampton hit him — left, left again — but when the show-stopping finish failed to materialise, he allowed himself to get drawn in close. It nullified his precision jab, playing the game on Martinez's terms, and it was not good for the nerves.
Presseye / Kelvin Boyes/INPHO ...and shares a kiss with wife Christine. Presseye / Kelvin Boyes/INPHO / Kelvin Boyes/INPHO
The eighth was the Spaniard's best round of the night but it couldn't forestall the wave after wave of attacks. Frampton threatened to finish matters again in the 10th with a massive right that cut through the September chill and ensured that the lasting memory would be of his composure and dominance.
By that stage, Kiko had been relegated to a supporting act on another glorious Belfast night.
Frampton's win capped a clean sweep of the card, with rising featherweight Marc McCullough upholding his part of the bargain in the main undercard bout.
He defended his WBO European title in clinical fashion, stopping former world champion Dmirty Kirillov after eight rounds, and it's easy to see why McGuigan rates him as the next star.
Jamie Conlan had to weather a middle-round flurry from Jose Estrella but prevailed to add the WBO Intercontinental Super-Flyweight belt to his European title.
A clash of heads opened up a cut on Conlan's left eye during that tricky patch but he brushed off the nuisance and controlled the second half of the fight for a unanimous decision.
Presseye / Matt Mackey/INPHO Jose Estrella proved to be a worthy opponent for Jamie Conlan. Presseye / Matt Mackey/INPHO / Matt Mackey/INPHO
The only asterix on the night came when Eamonn O'Kane's first IBF Intercontinental title defence was stopped before the end of the fourth round, resulting in a technical draw. The evidence of the bloody brawl pumped from above the right eye of his opponent Virgilijus Stapulionis, leaving the referee with no choice but to call a premature halt.
It wasn't quite the emphatic victory with which O'Kane would have liked to kick off his Intercontinental reign but the Dungiven man would have snapped it up after a first round in which he was knocked down and only just saved by the bell.
It was a lot more straightforward for Conrad Cummings who took his professional record to an unbeaten four from four as he stepped up in class against a defiant Robert Talarek. The Polish middleweight landed in Belfast with a reputation for halting young prospects in their tracks but Coalisland's Cummings was more than a match, though he couldn't quite produce the fireworks for a stoppage.
Earlier on the card, Limerick's Willie "Big Bang" Casey left it late before stopping George Gachechiladze with a body shot in the sixth and final round of their featherweight contest while another Belfast native Anthony Cacace won on his Cyclone debut with a second-round TKO of Dawid Knade.
RESULTS
Carl Frampton beat Kiko Martinez UD (119-108, 119-108, 118-110)

Marc McCullough beat Dmitry Kirillov RET8

Eamonn O'Kane vs Virgilijus Stapulionis (Technical Draw; RSC4 2:47 (cut))

Jamie Conlan beat Jose Estrella UD (97-93, 97-93, 99-92)

Conrad Cummings beat Robert Talarek DEC (60-54)

Willie Casey beat George Gachechiladze TKO6 (2:15)

Anthony Cacace beat Dawid Knade TKO2 (2:09)
Originally published 23.50