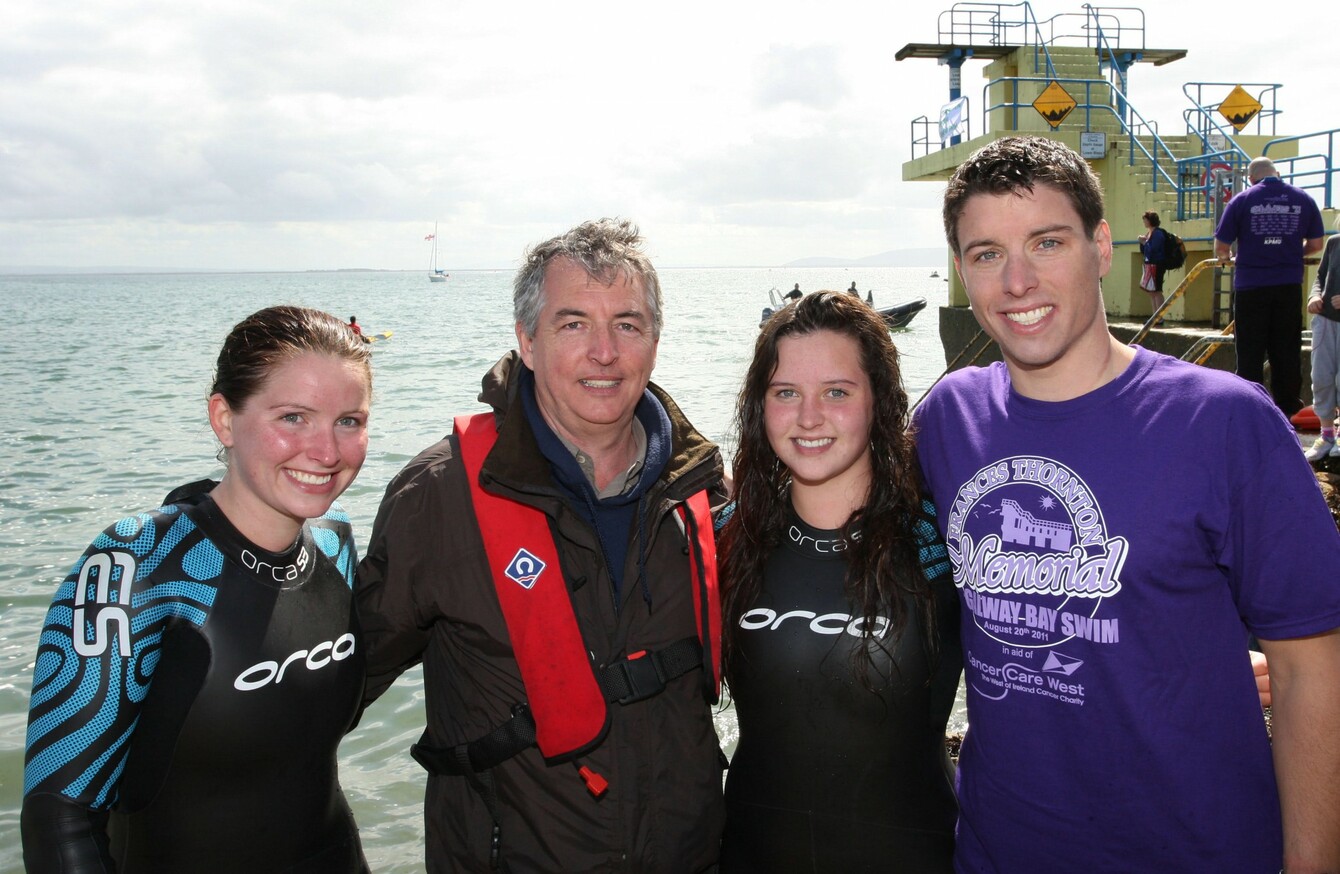 Fiona, Brian, Claire and Kevin Thornton after completing a swim.
Image: Fiona Thornton.
Fiona, Brian, Claire and Kevin Thornton after completing a swim.
Image: Fiona Thornton.
"ALL YOU CAN do is try your best and be happy doing it."
That was one of Frances Thornton's favourite sayings and one she would have used when she heard her son Kevin and his friend Ronan Collins had hatched a plan to swim across Galway Bay in 2006.
Frances and all the Thorntons were well used to swimming there, but this would be a new experience for all involved so she was understandably apprehensive.
However, despite being aware of the challenges involved, it was Frances who realised that the swim presented an opportunity for the pair to raise funds for Cancer Care West, a charity close to her heart.
So, alongside her friend Judy Collins (Ronan's mother), Frances went around Galway packing bags, getting permits for bucket collecting as well as sourcing food and drink for the swimmers and support team.
On 30 July 2006, after raising €3,000, Ronan, Kevin and another friend (Simon Flatley) completed their swim — with a welcoming hug from Frances and Judy — and set about planning the 2007.
The following year, €16,000 was raised for Cancer Care West as eight athletes completed the swim. Once more Frances and Judy were there to embrace the swimmers.
Sadly though, that was to be the last time Frances would see the swimmers home as she died from cancer on 21 April 2008.
However, her memory lives on and, for the last 10 years, the 13km swim has been known as the Frances Thornton Memorial Galway Bay Swim.
"It's incredible how much it's grown," Frances's daughter Fiona told The42 this week.
"Last year we had 102 swimmers and raised €87,000. I think the influx of women participating — both in terms of the solo swimmers and those taking part in relays — has been great to see too."
Source: Hello Deer Media/YouTube
Fiona still vividly recalls her mum at her last race ten years ago.
"I remember my mum at the finish line that day. She was there and she was on treatment at the time. And while we were really excited for how the swim had grown, we also had this feeling that she was getting sicker.
We were wondering was this going to be the last one and seeing Kevin coming out of the water was hugely emotional for us as a family and it's been great to be able have the event as a way for ourselves to process the grief.
"I suppose, when you lose somebody you have this overwhelming sense of loss and, as a family, everybody has come on board and been involved in some aspect of the swim and that really helps us to remember her.
"She was hugely passionate about her swimming and used to bring us down to Leisureland at half five in the morning, four or five times a week, and she was always down in the Bay herself.
Be part
of the team
Access exclusive podcasts, interviews and analysis with a monthly or annual membership.
Become a Member
"My sister Claire, before she was born, it was a really hot summer and my mum was always down swimming when she was pregnant with her and that's why we say Claire is such a water baby."
https://www.facebook.com/galwaybayswim/photos/a.1456973794328582.1073741835.118408558185119/1456985407660754/?type=3&theater
Last year saw Fiona's dad Brian join a family relay team to complete the swim but the event is emotionally beneficial to everyone taking part, not just the Thornton family.
"Seeing the applications come in, you see lots of people who have lost somebody to cancer and they might want to get involved in a relay swim because they might not be that good a swimmer.
"But, once they get a taste of it, they might want to come back next year and train for a solo swim or to raise even more money. It's great really."
And financially, it continues to prove very important for Cancer Care West.
To date, nearly €750,000 has been raised and the money goes towards supporting patients and families that are suffering through cancer in the west of Ireland.
"The swim is one of our biggest fundraisers each year and every year it keeps getting better.
"Each swimmer, all the boat crews and just everyone who supports the swim has helped to fund our services and to help those affected by cancer," says David O'Donnell Cancer Care West.
"This year we have a lot of new faces taking on the relays and more so than ever swimmers from around Ireland are taking part."
For Fiona, the thing that stands out most for her when she takes part in the swim is the support of those not in the water and she would encourage anyone interested to get down to Blackrock diving tower to welcome this year's swimmers home next month.
Starting from Auginish in Co. Clare and finishing at Blackrock Diving Tower in Salthill, the 12th annual Frances Thornton Memorial Galway Bay Swim in aid of Cancer Care West happening on Saturday, 22nd July, at 12.30pm.
The42 is on Instagram! Tap the button below on your phone to follow us!