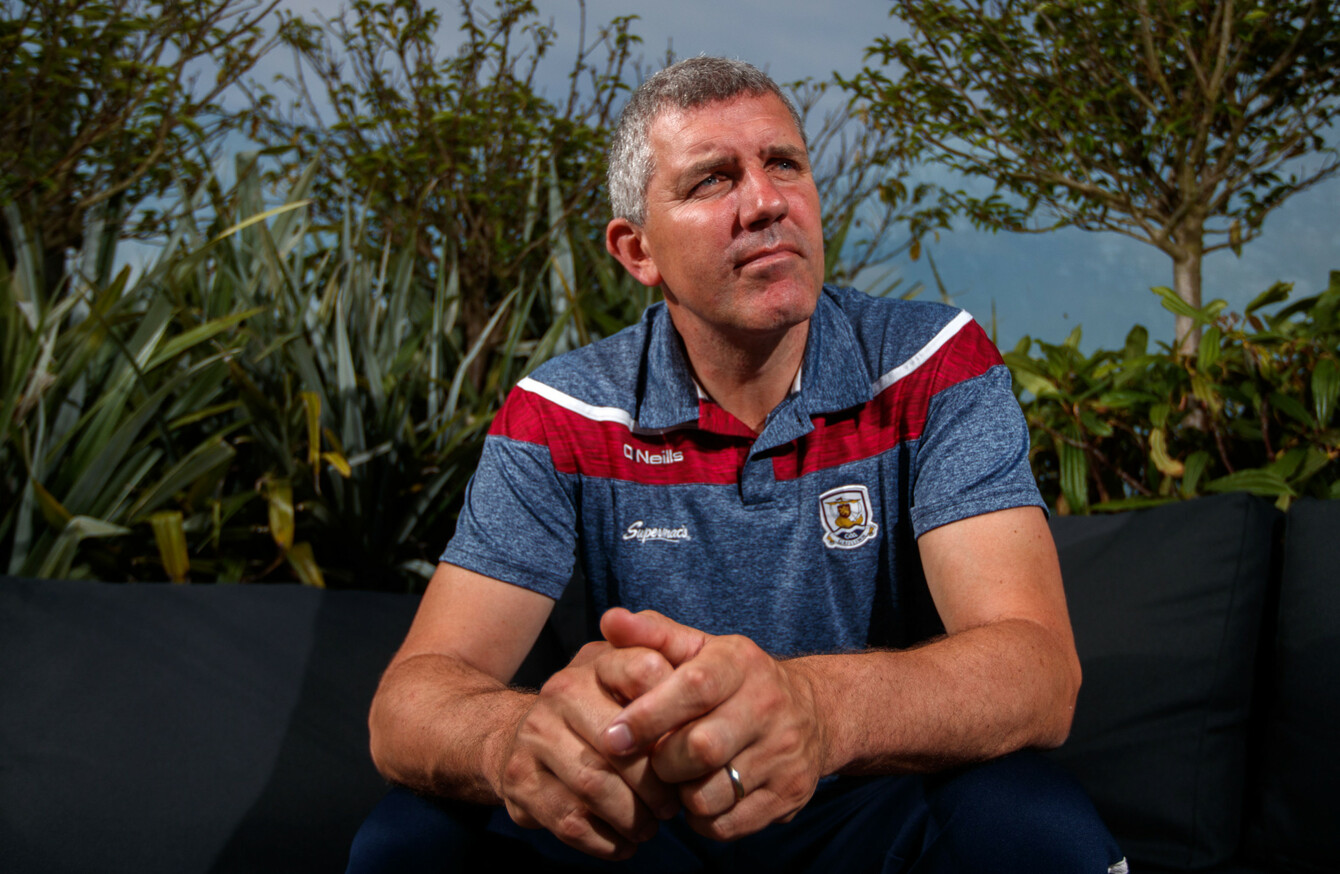 Galway football boss Kevin Walsh.
Image: James Crombie/INPHO
Galway football boss Kevin Walsh.
Image: James Crombie/INPHO
A THIRD CONNACHT final appearance in a row, a third straight championship win over Mayo, and seven unbeaten games in this year's Division 1 tells us that Galway's trajectory is on an upward curve, but manager Kevin Walsh is not a man for assumptions.
He regularly talks of plans A, B and C; admonishes 'lazy' journalist and pundits who have pigeon-holed his side as a defensive outfit; and declines to jump to knee-jerk assessments in favour of 'the end of year' accounting review.
Convincing wins over Mayo and Sligo sent his side towards Sunday's provincial decider, and despite being paired there with Roscommon for the third season in a row, Walsh is loathe to profess that the duo could dominate the province for the foreseeable future.
"The word 'could' is a very strong word. There's been a lot of 'could' in in the last few years since the early 2000s in Galway and also in Roscommon, and I wouldn't be any way saying it's going to be down to Roscommon and Galway going forward," said Walsh.
"Mayo are there, Sligo have had the two main college teams for the last three or four years so you don't know what's around the corner. It's a matter of grabbing an opportunity every year it comes along.
"I wouldn't be going as strong as saying that this is a watershed moment for two teams to dominate. That's never the case, the word 'could' is dangerous. We'll just do what we can in any given year and try and get the lads to take the chances they can when they arise."
The success of their national league campaign was largely build on sound defensive foundations, so it's safe to assume that's 'Plan A' for now. Sligo were given a taste of 'Plan B' as Galway's ruthless attack dished out a 21-point pasting in the semi-final. Perhaps a blend of the two – 'Plan C'? – will get it's first run-out of the summer on Sunday as Galway seek to avenge last year's Connacht final defeat to Roscommon.
Roll back the clock 12 months and not many people gave Roscommon any hope of beating their hosts. Buoyed by victory over Mayo, Galway carried a swagger into the final, but were then dissected by Kevin McStay's fearless attack, who led by 1-6 to 0-2 after just 14 minutes and won by nine in the end.
Wide open at the back and unable to cope with Roscommon's movement up front, Galway were humbled. This season there has been a complete dearth of space around the Galway 'D', but Walsh says it wasn't the Roscommon loss that triggered a rethink.
"I don't think so. Last year was a very flat performance. We certainly wouldn't be happy with it. There was parts of it where in fairness to them they tried to dig their way back into the game and we came back from nine points down to three or four points again.
"One or two usual decisions on the day were very, very poor at times, but you have to take that. But at the same time we know we definitely didn't do ourselves justice last year.
"But you know what, last year there was a huge aim of ours to get out of Division 2. There was a lot of energy spent there and then you had trying to win at Croke Park for the first time and beating Kildare there and then the Mayo game in the championship.
"I'd say it was a very heavy, heavy season last year to get to that point we're nearly every game was an All-Ireland for us and to try and get out the division. Whether that took its toll or not…but certainly we'd hope that the experience of that will be in the locker for this year."
A win on Sunday will secure a spot in the All-Ireland quarter-finals – or the Super 8s as they're widely regarded – and Walsh has his eyes on that round. But he wants to claim his second Connacht title as manager too, which will provide the direct route, even if it might not be regarded as a year-on-year progression.
"It's huge. It's something we want to get to and whichever route it's going to be. We'd like to be in the last eight. The best route all along was right through the Connacht (championship) it's not to be sneezed at: a Connacht title is a Connacht title.
"It's a huge day for our fellas. We're a young team and Roscommon are a young team as well. And it would be great to win a Connacht title. But obviously whichever way it goes you have to be looking at trying to get Super 8s as well.
"We'll do the end of year accounts. We'll take the whole season as it was. We have two big competitions this year: one was the national league which was huge for us and the other is the championship. We'll take it game by game and at the end of the year will assess whether it's progress are not progress.
"Sometimes you have to look at who takes you out along the way. It's not a case of saying this was a progress and sometimes you might get to semi-final that my can be progress either. It depends on what you're beating and depends on how you perform."
The42 is on Instagram! Tap the button below on your phone to follow us!