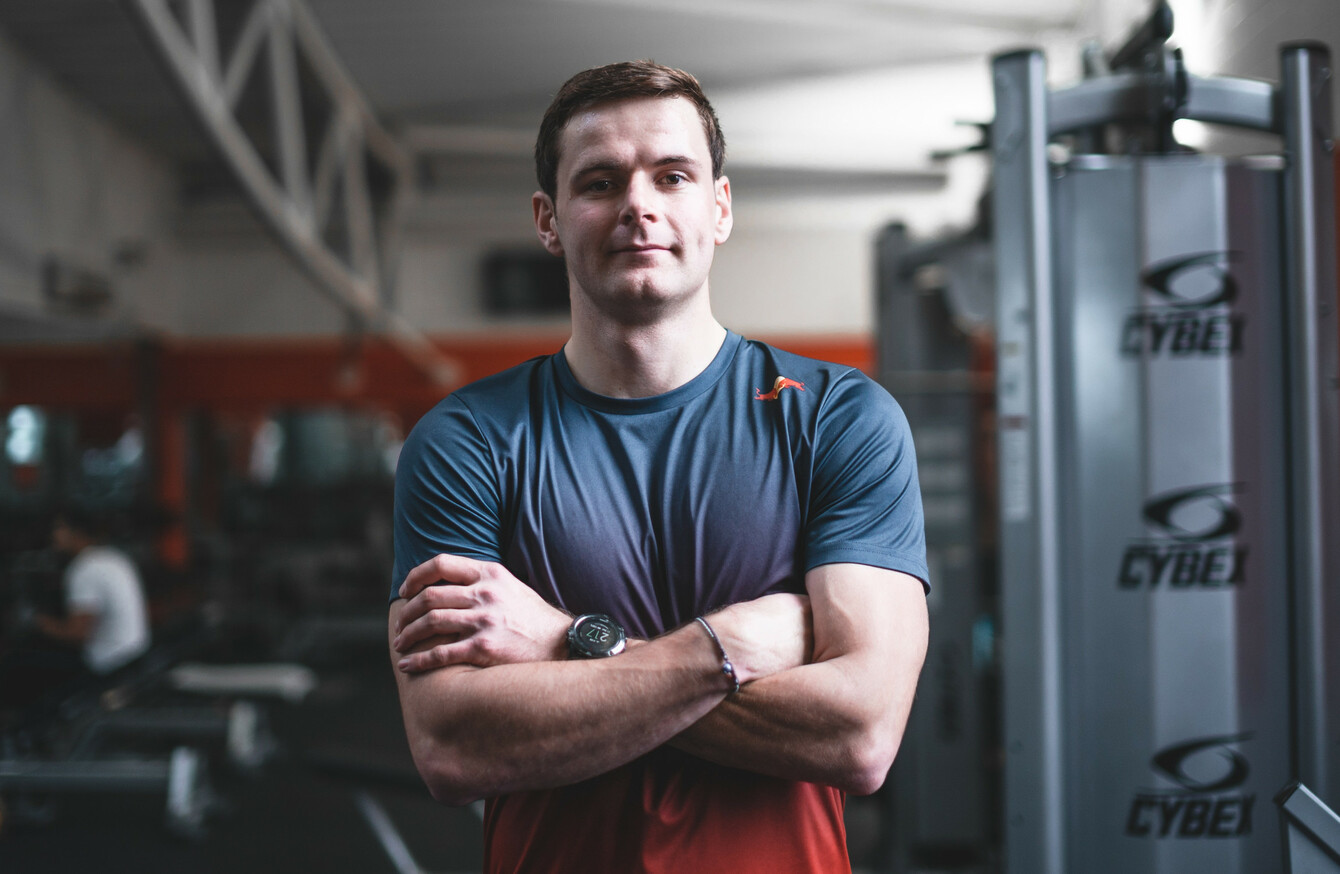 26-year-old Rathfarnham native Greg Callaghan is a star of the mountain bike riding scene.
26-year-old Rathfarnham native Greg Callaghan is a star of the mountain bike riding scene.
BEHIND EVERY TOP athlete, there is a story of struggle.
Before becoming a UFC star and the most famous Irish athlete on the planet, Conor McGregor once lived off the dole and also worked as a plumber's apprentice at another point.
Prior to turning into arguably the greatest Irish footballer of all time, Roy Keane, according to the Manchester United legend's first autobiography, in his younger days "lounged in bed until lunchtime, rising only for my daily episode of Neighbours" while considering the mundane alternatives to life as a professional footballer having failed his Inter Cert exam and been initially overlooked by scouts.
Greg Callaghan may not be anywhere near as famous as Keane or McGregor, but that doesn't mean his achievements should be taken for granted.
The Rathfarnham native has gone from living from his van and casually riding his bike around Three Rock Mountain in Dublin (or "my local hill" as he calls it) to being a professional mountain bike rider ranked number three in the world in the space of a few short years.
Coming from a family of bikers across all disciplines, Callaghan has been "riding bikes forever".
"I had a love of it straight away," he tells The42. "That was why I did it. When I started out, I wasn't racing, I didn't have any of that in mind. I was just doing it because I was enjoying it.
I started racing and I was doing well and I guess that kind of success and winning gets addictive. As time went on, I started taking it more seriously and it became something my life started revolving around.
"Even to this day, I'm a massive fan of racing bikes, cars, whatever it is, just racing."
He continues: "My dad raced motorbikes, so I was always around bikes. Then I started competing at motorcycle trials when I was about eight.
"I started out there and then when I was 15, I switched to mountain bikes. I was riding downhill at the time, so it was a different discipline to what I'm in now.
"When I was 19, I started racing downhill and Enduro, and I preferred the Enduro, so I switched over then and I've been doing that ever since."
And why did he decide to make the switch from motorbikes to mountain bikes ultimately?
"It was just easier and more accessible for me. I could only go out on the motorbike when my dad could take me. The mountain bike I could take and just go whenever I wanted.
Once I started doing that, I started going to some local trails, some local jumps and got to meet some friends there, got to know people and started going to races with them and racing and it just became more and more, and I enjoyed it more and more."
Having decided that soccer and GAA, sports that "everyone was doing," were not for him, Callaghan's obsession with his chosen discipline intensified.
However, pursuing the dream of becoming a professional mountain bike rider meant having to make countless sacrifices.
As recently as three years ago, he was living from a van and funding his own races while working a regular job to facilitate his passion.
"I used to work as a UPS driver in between races and all the money I was earning was being spent on travelling to races, race entries, parts of the bike and that was full on. I was working eight hours a day and training twice a day, so it was tough times, but definitely worth it.
"I guess it's something that goes quite unseen and it's something that a lot of people overlook… Before I was successful, there were years of hard graft there and it is a case of your life revolving around it, so everything you're doing from when you get up to when you go to bed is based around being better on a bike.
Socialising gets sacrificed a lot and in the early days, money — every penny I had went into racing, so I couldn't really do anything else. I was either on my bike or at home slumping around the place."
Callaghan's reward is that he is now the only professional currently riding for Ireland. As a result, he has full sponsorship deals with Cube Bikes, Red Bull and Garmin and gets to ride all over the world, in places such as Colorado, Madeira (where he secured his first race win outside of Ireland), Vancouver and Rotorua.
"Since I was a kid, all I wanted to do was ride my bike for a living," he says. "People never really took me seriously that that was actually an option as a career, but to finally make it a reality was pretty amazing."
Getting on the #MTB enduro world podium starts at the gym
Watch @MtbGC 's fitness session and let Greg up your Game 💪
Full video => https://t.co/VlKly6fCyS pic.twitter.com/I8MLbQSrQW

— Red Bull Ireland (@redbullIRE) January 17, 2018
And as tough as his life was before that momentous transition, it hasn't exactly been cushy since either.
"I train six days a week," he explains. "I might be on the bike in the morning and in the gym afterwards.
"In the winter months, a lot of time is spent in the gym to build strength, prevent injuries and rehab some small injuries you might be carrying from the season before.
"The training varies a lot, which is really cool. I always keep it interesting, there's always something new to be improved.
I ride a lot of different types of bikes as well. There are so many different types of cycling and motorbikes. I like motorbikes a lot, they all help develop skills. I suppose anytime you're on two wheels, you're helping yourself, so I spend a lot of time on two wheels.
"(In terms of injuries) I've had broken hands, broken collarbones, an injury to my knee, shoulders and stuff, but just knocks and bumps — nothing career-threatening or life-threatening thankfully."
Callaghan has progressed steadily since turning pro. In 2015, he took many in the sport by surprise as he triumphed at the Emerald Enduro in Wicklow, while competing under the watchful gaze of an excited home crowd containing awestruck family members and friends. The following year, he went on to repeat this impressive feat.
"They were two massive wins for me," he remembers. "Every athlete in every sport dreams about performing in front of their home crowd. To come in as a bit of an underdog in 2015 and get that win was really special. It was the first time an Irish rider had won any kind of mountain bike discipline on a world level. So it was definitely something that was heavily celebrated and the support that day and in 2016 was insane.
There was never a world championship round of any mountain bike discipline in Ireland, so it was the first time a lot of Irish people had seen the best people in the world racing.
"It was pretty mad riding around the hill and recognising so many faces when you're used to racing across the world and it's not something you normally have."
And while he did not triumph in the equivalent 2017 race (finishing a disappointing 10th on the day), the past 12 months overall have been by far the most successful of Callaghan's career to date.
Consistent top 10 finishes in races led to the Dubliner climbing to number three in the world rankings, just behind Australia's Sam Hill and France's Adrien Dailly.
It was the first season where I was one of those guys expected to win at every race," he says. "I think that's a big step in anyone's career — to be one of those people. I finished strong and had a new bike again at the start of last season and I think that's going to help me a lot, so I'm definitely full of confidence."
And does he feel an extra degree of pressure given his recent heightened status within the sport?
"The better you start doing, the more attention you get. That can create pressure, but the pressure comes from within you and it's not really something I put on myself, I just do my best and focus on the process. The results will come after that. I wouldn't come into a race telling myself I have to win or I have to do whatever."
Perhaps not entirely coincidentally, as Callaghan has enjoyed greater success, mountain biking has become increasingly popular in Ireland.
"The scene is stronger than ever at the moment," he says. "We have a really strong race scene and a really strong recreational scene — mountain biking now is becoming more and more of a mainstream sport, something people do to stay fit and healthy, and to get outdoors. It amazes me every time I come home how many bikes I see around the place on the backs of cars or up on the hills or whatever.
In terms of racing, my cousin (Killian Callaghan) won the U21 World Series this year, so it was great for him and great for Irish mountain biking. And there are a couple of other guys racing at the moment and doing pretty well. So we're in a great position and there are a lot of young guys on the way up that we'll be hearing about in a few years."
He adds: "I guess when someone is doing well from where you're from, it definitely encourages you and makes it seem feasible that you can do it, so people will push harder.
"I put a lot of (the sport's growing popularity) down to the strength of the Irish race scene here. About six years ago, we got the Irish Enduro Series, which is what got me into the sport of Enduro. I think it's a great platform for people to start Enduro and build up to a good level and then go and race internationally. Having that series at home helped me a lot and I think it helped other people a lot as well.
I think the government has put more funding into building trail centres, so that's helped get people into it too. There's more trails popping up, more places to go and more people getting into it. The

bike-to-work scheme

helped a lot as well in getting people on bikes and getting people out there."
At 26, Callaghan is still relatively young and his goal for 2018 is to "just keep improving really". The 2018 Enduro World Series begins in Lo Barnechea, Chile on 24 March before culminating in Finale Ligure, Italy on 30 September, with events in six other countries (though not Ireland this time around) taking place in the intervening months.
"Every year I've raced the World Series, I've improved on the previous year, so that's a big goal of mine, to keep doing that," he explains. "There are only two spots ahead of me, I'd definitely love to be in that number one spot by the end of this season. I know it's possible, I know I'm capable of it, so I'm just working hard to try to make it a reality."
Greg Callaghan was speaking in his role as a Red Bull athlete.
The42 has just published its first book, Behind The Lines, a collection of some of the year's best sports stories. Pick up your copy in Eason's, or order it here today (€10):