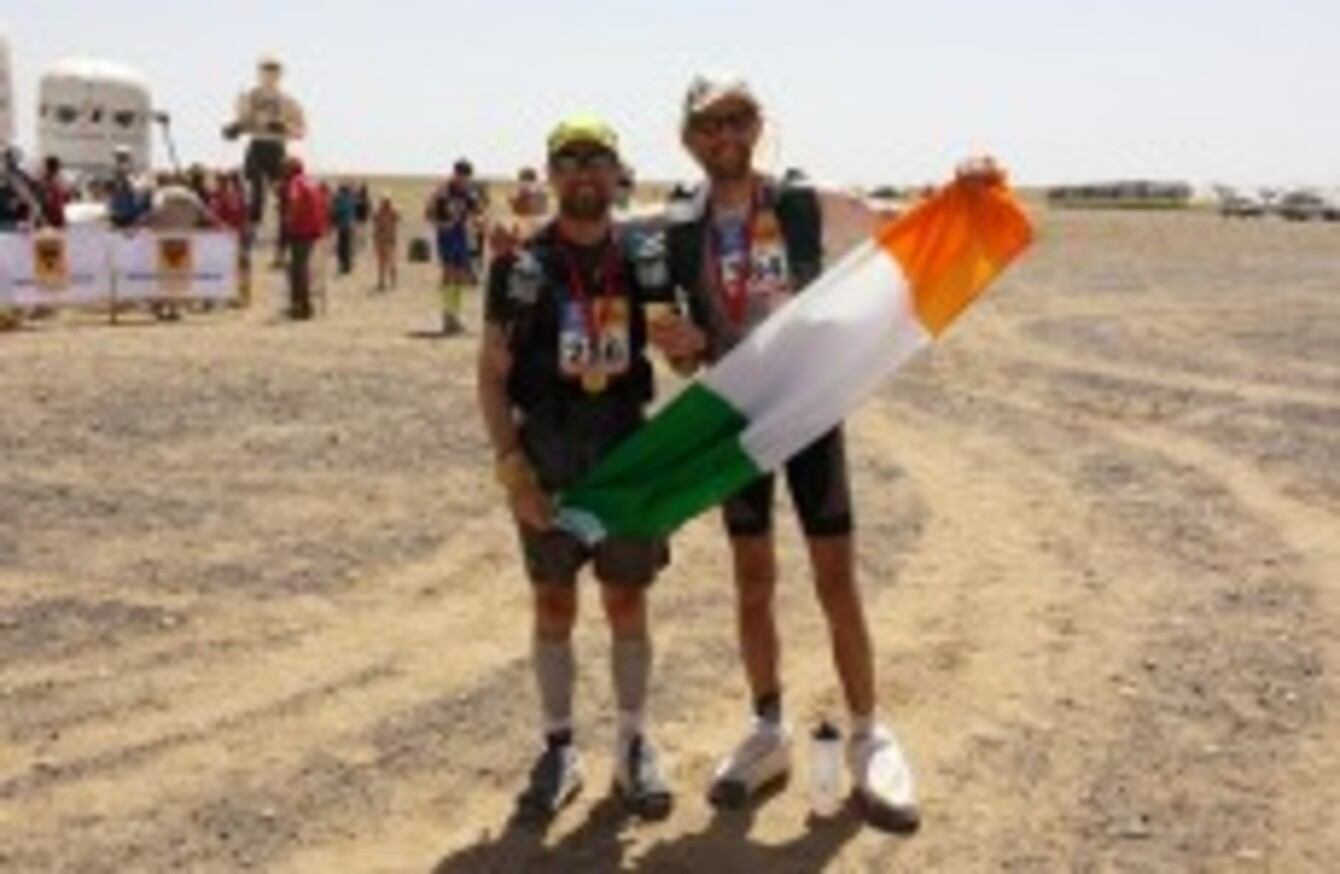 Dunne (left) pictured with fellow Irish participant Karl Mannion.
Dunne (left) pictured with fellow Irish participant Karl Mannion.
Updated at 22.23
IRISH RUNNER CIARAN Dunne was watching TV one night when a particular programme caught his eye.
It was a documentary about the Marathon des Sables — an event known widely as 'the world's toughest foot race'.
The concept for the marathon dates as far back as 1984, when Patrick Bauer — a French concert promoter — decided to embark on an epic 200-mile walk across the Sahara Desert.
And from 1986 onwards, the event has been held on an annual basis. It is widely thought to be the toughest challenge endurance runners can put themselves through — competitors have even died attempting it in the past.
It happens over six days (a marathon a day, essentially) and is generally around 250km in distance, with one marathon lasting a daunting 92km, though the route and length of the course varies from year to year.
Unsurprisingly therefore, despite being an experienced marathon runner, Dunne was feeling "an awful lot of trepidation" prior to competing.
"I didn't know how I was going to cope with that heat for four hours, over the terrain, carrying the back-pack," he tells The42.
In total, just under 1,400 runners took part this year, with around 140 dropping out along the way. Of those numbers, approximately 400 were British, while 28 Irish men and two Irish women also took part.
However, people from this side of the world are at a clear disadvantage when coming up against some of the more locally based athletes.
As Dunne notes: "The Moroccans, the Jordanians, the Tunisians, they grow up in hot temperatures, whereas we're lucky to get one good Irish summer every 10 years."
So the 37-year-old's preparation before the event had to be nothing less than meticulous, as he sought to combat this disadvantage. He didn't have the resources to spend much time in Morocco, adjusting to the heat before the competition began, so he was forced to improvise a little.
"We would have done the bulk of our training [for the event] in the Irish winter," he says. "I did Bikram Yoga and I rented out a treadmill, put it inside the house and cranked up the central heating and put on two electric fan heaters. Every second day for about a month beforehand, my kitchen would be 36 degrees."
Source: MARATHON DES SABLES/YouTube
Furthermore, Dunne, who is a maintenance technician in a biopharmaceutical company and is a strength and conditioning coach to boot, also ran in heat chambers at the local boxing gym to prepare himself for the extreme conditions that lay ahead.
"The proprietor there, Noel, was really helpful. He put four treadmills inside the heat chamber for us and we used to do hour-long sessions running in the mid 40 or 50 degrees. We did that two or three weeks before the race just to get used to the heat.
"It gave the body time to adjust and to exercise at a high temperature… It just gives you a feel of what it's like to move in those temperatures."
Yet despite going to great lengths in order to ensure he was well prepared, Dunne was still extremely nervous by the time he arrived in Morocco at the beginning of April. The athlete modestly claims he was hoping for a place in the top 100, and adopted extra caution at the start.
"I wasn't sure how I was going to pace myself, so I followed one of the leading female runners and paced myself [in conjunction with] her for a while.
"But about halfway through the first day, I felt I could push on a bit harder. I was very surprised that I was 36th or 37th after day one."
But the most arduous challenge was still ahead of him — the 92km run on the fourth day, with Dunne, as one of the top 50 runners, required to start three hours behind the other participants.
"I was really nervous, because I hadn't run that distance before," he recalls. "Basically, I had to determine how hard I was going to run.
"I was chatting to a few experienced runners and they just said: 'Take it nice and slowly.'
"I ended up pacing myself really well and halfway through the day, I was passing the people who had started too fast and I had a really strong finish.
"I came about 20th overall [on the day]. I was absolutely amazed at how strong I finished. So people who ran too hard paid the price. We were even passing out people who had started three hours before."
The challenge took Dunne 11 and a half hours to complete on the day, and he admits he wasn't always in the best of spirits.
"At about the 40 or 50k mark, I felt ready to hit the wall," he says. "I started to worry and think: 'Am I going to last for the next 40 or 50k?' But that 40 or 50k could easily turn into 10 hours alone, so I went into a bit of a dark place for a while.
"At checkpoints, I stopped for a few minutes, got some water, loaded up, got an energy bar into me and stuck on my IPod.
"I don't normally train with music, but I stuck it on as a bit of a distraction. It just took the mind away from thinking about how difficult it was. You want happy thoughts. I pulled through and then started getting a bit of a buzz off catching other people."
(Dunne, along with other athletes, pictured competing during the third stage of the event)
With a sign showing his nationality visible on his running gear, Dunne drew encouragement from the hugely supportive crowd, while messages received from family and friends in the evening also gave him a considerable psychological boost.
"You picked up your ration of water for the evening, which was four and a half litres of water and you went back and just cooked your dinner, sat around and re-charged the batteries.
"I was allowed one email a day, so I'd just email my sister and she'd update my family and friends.
"After a few days, it was turning into a bit of a warzone. During the walk in the morning, people were hobbling around the place. I was really lucky that I didn't get blisters or anything.
"Some people there, the skin was delaminating off the soles of their feet. People were losing toenails and feet were swelling up just because of the heat. Their socks were getting sweaty and it was causing chafing and stuff."
He continues: "In the evening times, when I felt a bit low, family and friends were able to send us messages. Letters were delivered round to the tent like a postman does. Every evening, you would get a stack of emails printed off — well wishes from family and friends.
"Everyone was pretending there was dust in the air, as there were many watery-eyed moments."
Dunne ultimately finished 23rd overall, with a time of 27 hours and five minutes — under seven hours behind the outright winner (Morocco's Rachid El Morabity, who triumphed for the second year running). Meanwhile, fellow Irishman Karl Mannion wasn't too far behind in 37th place, and Galway's Claire Morrissey came fifth in the female category. Dunne's achievement, however, means he is now Ireland's highest-ever finisher at the event.
And the 37-year-old athlete warns aspiring rivals to his record about the immense difficulty of the task.
"It's not just the race itself; it's a combination of things… There were no creature comforts, no running water, sleepless nights, sandstorms, strong winds, it was cold at night, and you were dehydrated the whole time. And there's obviously the heat and the training.
"I was just glad there wasn't an extra day of racing, because there wasn't much left in the tank on the last day on Friday."
Dunne, along with his fellow Irish competitors, subsequently indulged in some well-deserved luxury.
"After the six days, we were all given two days in a hotel to chill out in Morocco. People were trying to put their weight back on; the hotel buffet was getting savaged. So there was great camaraderie. There were about 400 British people there as well, so they were great fun too."
(Dunne poses next to his tent, which he spent the week living in)
And looking back, does he have a highlight from this extraordinary journey?
"You see how deep people can dig," he says. "I saw guys finishing up on the long day after 36 hours. Guys were tiptoeing across the line in extreme pain and knowing that they had to go out the next day and run a marathon.
"People would put bandages on other people's feet and ask: 'Could I make you a cup of tea?' 'Can I organise something for you?' These people needed to be wrapped up in cotton wool. The friendliness and the human spirit evident was amazing.
"On the last day, at about seven o'clock in the evening, we were all called out of our tent to welcome the last competitors across the line. There were over 1,000 people cheering these two guys across the finish line — that was extremely emotional. It was amazing how much they'd gone through, given that I'd finished 25 hours before that. As difficult as I found the race, I didn't have to go through that hardship."
As memorable and successful as this challenge has been however, it's now time for Dunne to face reality once again. He unsurprisingly wants to take a break from running and says he owes his manager considerable time back at work.
Nonetheless, the Irish runner hopes his impressive achievement will help him get back involved in endurance coaching ultimately, and Dunne adds that he is eventually planning on returning to compete in "smaller races — 10ks and stuff".
Dunne is unlikely to ever compete in the Marathon des Sables again though, explaining:
"I don't like going to the same restaurant the whole time. I don't like going on holidays in the same place."
Moreover, the Irish athlete's achievement in coming 23rd was made extra special by the fact that this taxing endeavour was for charity, while also being inspired by a poignant backstory.
"The niece of a close friend of mine was born about four months ago blind, with small eye syndrome. Her name is Georgia and she is going to need a special sensory room built in her house to help her develop. She's going to need special care. So basically, I've been raising money for her."
If you wish to donate to Georgia, please follow the instructions below
1. Log on to www.paypal.com
2. Click "send money" tab
3. Enter gorgeousgeorgia1@outlook.com
4. Click option for "family & friends"
5. Leave your name & a message that will be read to Georgia when she's old enough to understand.