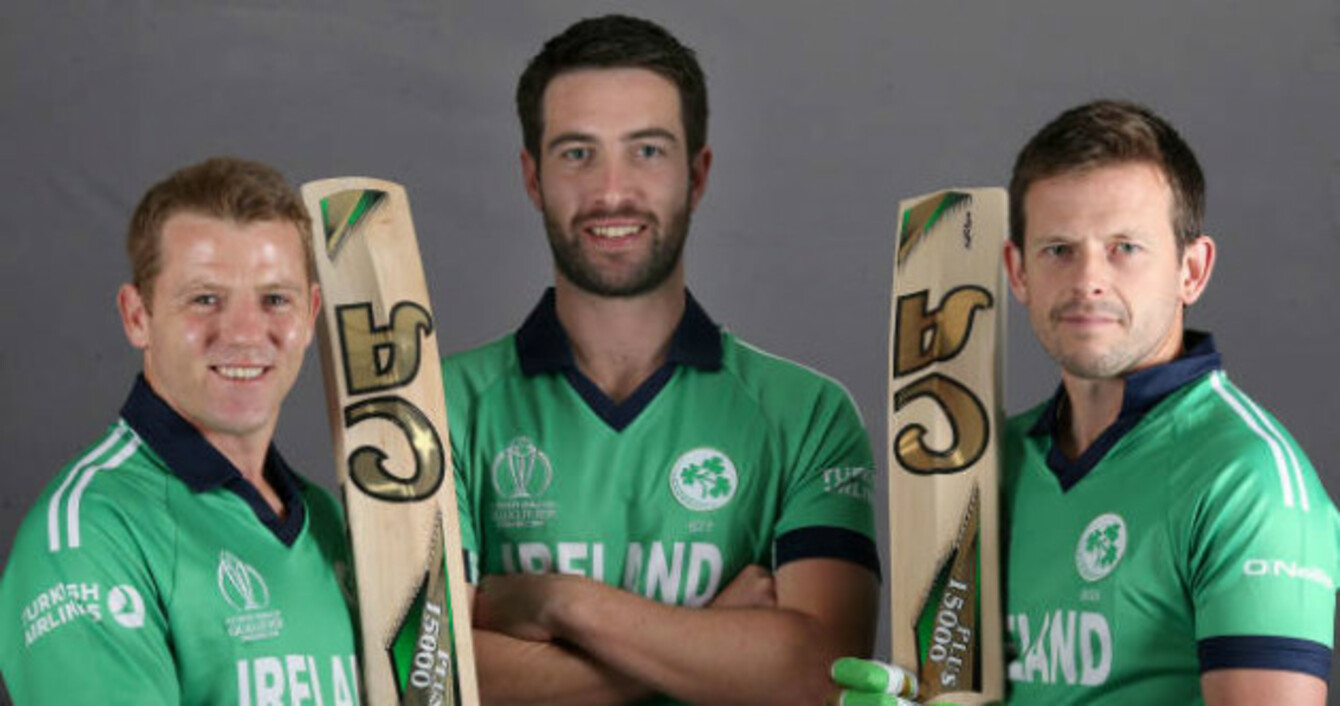 Ireland have been waiting and working for this moment.
Image: IDI via Getty Images
Ireland have been waiting and working for this moment.
Image: IDI via Getty Images
Updated May 11th 2018, 7:53 AM
FOR TOO LONG a distant pipe dream, but today — at the end of a long, winding and arduous road — Ireland will reach the promised land and become just the 11th nation to play Test cricket, hence takings its place in the sport's rich and coloured history.
And what a remarkable journey it has been, a white-knuckle ride of bumps and setbacks but, most memorably, intoxicating and transformative highs which have paved the way for this historic occasion at Malahide.
There are records of cricket being played on this island as early as 1731, but the sport only entered the public consciousness as recently as 2007, when a group of part-time amateurs propelled themselves into the big-time with that famous victory over Pakistan on St Patrick's Day.
And so it is fitting that Pakistan would provide the first Test opposition here, and that the culmination of a journey travelled at remarkable speed would come to the most fulfilling and celebratory end with many of the team's golden generation still in harness.
For the likes of captain William Porterfield, Ed Joyce, the O'Brien brothers and Boyd Rankin, all of whom have made immense contributions along the way, it will be the ultimate feather in their cap as they etch their names into the history books.
The sense of pride which has been building all week, and will reach an emotionally-charged crescendo at 11am this morning (weather permitting), has been tangible in the way the players have spoken passionately — and emotively — about what it will mean to be handed their Test cap, and then step out onto the field in the shamrock-emblazoned jumper.
But Porterfield, who has been the face and voice of this team and everything they have stood for, has spoken at length in the build-up about how the current 11 players are the lucky ones, benefitting from the hard work of their predecessors who laid the foundations.
Without them — the 699 players who have represented Ireland — all of this, and the scenes which will unfold at Malahide over the next five days would not have been possible.
"It's obviously been a long journey, but in other ways it has been pretty quick as well," Porterfield said at his eve-of-game press conference.
"Throughout my career, we've gone from not having ODI status to having everything else. Now we go out there to play in the first Test for Ireland.
"Yes, there's been a lot of banging the drum and things like that, and it's going to be a pretty special occasion for the XI that takes the field.
"But, as we have mentioned already ourselves among the squad, it would be pretty remiss of us if we didn't talk what had gone on before us, and not just in terms of the last five or 10 years, which everyone will probably remember the most, but also every cricketer who has ever played for Ireland, plus administrators off the field.
"There have been a lot of people who have devoted a lot of their lives to making this moment happen. I think it just culminates with us being the lucky ones to take the pitch in this first Test."
Indeed, it will be a surreal occasion for everyone involved in Irish cricket, not least the 11 players who have the distinction of being named in Ireland's first Test team, but the thousands of people — volunteers, coaches, administrators and club members — who kept the flame burning, their passion for the sport only bettered by the immense pride they will feel today.
For this has been a collective effort by so many people involved down through the years as Ireland knocked relentlessly on the door and showed the sort of drive and durability which was required when nobody was interested in listening to their case for ascension.
A special word for the tireless work of Warren Deutrom, the Cricket Ireland CEO, who has lobbied in the corridors of the International Cricket Council, convincing the sport's most exclusive club to change its traditional structures and allow Ireland the chance to complete its evolution from marginal and mostly ignored to one of the big boys.
And, of course, all of the heroes along the way; Mike Hendrick, John Wright, Trent Johnston, Adi Birrell, Phil Simmons, Kyle McCallan, John Mooney. There are too many to name here.
For Porterfield and his team-mates, it represents the biggest game in their careers and certainly the most historic game in Irish cricket history, as dreams are realised on five of the most joyous days for the sport in this country.
"We're obviously pretty excited," the captain continued. "It's been quite a while building up to this since it was announced.
"I am sure there will be a lot of different emotions that will flow through everyone over the next 24 hours, but excitement is the main one."
There will be plenty of emotion later this morning when the caps are awarded to the 11 players selected, while the national anthem is sure to be a hairs-standing-on-the-back-of-your-neck moment.
And then all the talking and giddy build-up will be put to one side, at which point the players must focus on the job in hand, whether that's batting or bowling against a Pakistan side who will look to avoid another major upset at the hands of Ireland.
History has shown us that the transition into the five-day game is never smooth and, as such, no side has enjoyed a victory in its first Test since Australia beat England in the foundation Test at Melbourne back in 1877.
There is also the reality that this new dawn for Irish cricket comes at the end of an era, with many of the senior players hurtling towards the final chapter of their careers, perhaps holding on for one last hurrah (nobody can blame them), and thus no longer at the peak of their powers.
Joyce is fast approaching his 40th birthday, Niall O'Brien is 36, and Porterfield, Rankin and Kevin O'Brien will all hit 34 this year — but those problems are for another day, because Ireland have always punched above their weight and in these early-season conditions, just about anything is possible.
While Pakistan have already named their side, Ireland will wait to reveal their hand until the toss but, with the wicket and overhead conditions set to offer assistance to the seam bowlers, they will likely stack their attack with medium and fast pacers.
"It's a Test, it's called that for a reason, it's a test of everyone's attitude and mental ability towards the game," Porterfield added.
"We've got a lot of those boxes ticked off and we're confident that we can beat any nation on any given day.
"They will go in as favourites but we know we've got everything we need to win a game of cricket, especially in our own conditions."
Ireland relish the underdog tag, as they did on those dazzling days in Jamaica, Bangalore and Nelson, but victory here would be their most significant achievement yet, although getting to this juncture is a momentous victory in itself.
The staging of the Test match at the 6,000-seater capacity pop-up stadium at Malahide will cost Cricket Ireland €1 million but the sale of the broadcast rights to Sky Sports and RTÉ for €1.8 million will see them emerge from this landmark summer with a significant profit.
Furthermore, this game will be one of the biggest TV audience events — sporting or otherwise — ever staged in Ireland, bringing the sport and Irish team to rarefied heights and new audiences across the world.
Despite the forecast for Friday predicting rain, ticket sales have been strong and big crowd is expected to witness Irish sporting history at some stage today.
"It is a big honour for me and my team to play this historic Test match — the first Test match to be played in Ireland," Pakistan captain, Sarfraz Ahmed, said.
"I think it's a great achievement for Cricket Ireland to play Test cricket and my congratulations on behalf of Pakistan."
Nerves, excitement and a whole range of emotions but ultimately five days which will be played to a piquant backdrop of pride. An epochal moment in time, built on many great days in the past.
Ireland are a Test nation, and not a moment too soon.
Ireland (from): William Porterfield (captain), Andrew Balbirnie, Ed Joyce, Tyrone Kane, Andy McBrine, Tim Murtagh, Kevin O'Brien, Niall O'Brien, Boyd Rankin, Paul Stirling, James Shannon, Stuart Thompson, Gary Wilson, Craig Young.
Pakistan XI: Azhar Ali, Imam-ul-Haq, Haris Sohail, Asad Shafiq, Babar Azam, Sarfraz Ahmed (captain), Shadab Khan, Faheem Ashraf, Mohammad Amir, Mohammad Abbas, Rahat Ali.
TV: Live on Sky Sports Main Event, highlights on RTÉ2 from 11pm.
William Porterfield

Source: Seb Daly

Andrew Balbirnie

Source: Seb Daly

Ed Joyce

Source: Seb Daly

Tyrone Kane

Source: Seb Daly

Andy McBrine

Source: Seb Daly

Tim Murtagh

Source: Seb Daly

Kevin O'Brien

Source: Seb Daly

Niall O'Brien

Source: Seb Daly

Boyd Rankin

Source: Seb Daly

Paul Stirling

Source: Seb Daly

James Shannon

Source: Seb Daly

Stuart Thompson

Source: Seb Daly

Gary Wilson

Source: Seb Daly
The42 is on Instagram! Tap the button below on your phone to follow us!