- Updated 9.25am
WORLD RUGBY IS monitoring the development of a typhoon that could hit Japan on Saturday and potentially have an impact on Ireland's World Cup campaign.
Typhoon Hagibis has formed in the Western Pacific Ocean to the south of Japan, with forecasts suggesting it could hit the southern island of Kyushu – including the city of Fukuoka – this weekend.
Some forecasters are even stating that Hagibis could reach super typhoon status later this week.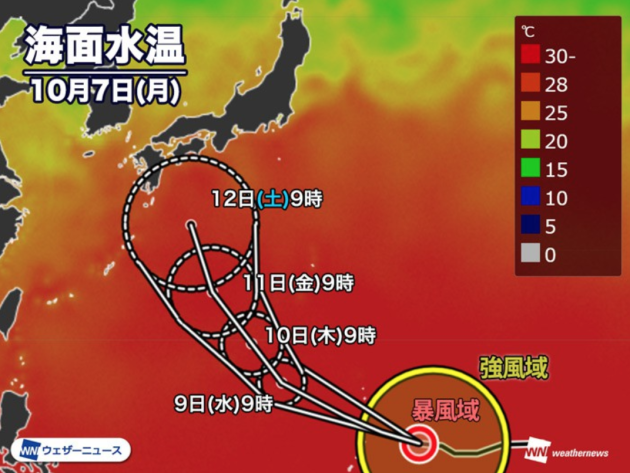 Weather News Japan Weather News Japan
Joe Schmidt's men are due to play Samoa in their final Pool A fixture on Saturday at Fukuoka Hakatanomori Stadium, requiring a bonus-point victory to ensure a place in the quarter-finals.
Any games cancelled at the World Cup due to adverse weather conditions are recorded as 0-0 draws.
In the event that Ireland's game was cancelled, Scotland could move above them by beating hosts Japan on Sunday in the final Pool A fixture, leaving Schmidt's men potentially missing out on reaching the knock-out stages of the competition.
However, it's understood that World Rugby has a contingency plan in place to ensure that Ireland's game against Samoa goes ahead, and that could be by delaying the game until Sunday or by changing the venue. 
For their part, Ireland are continuing to prepare for the fixture on Saturday, hopeful that the typhoon won't hit this part of Japan.
"The boys haven't even spoken about it really," said assistant coach Andy Farrell. "We just go from day to day and get on with our preparations. World Rugby has been in touch with us and they're as keen as we are to get this game played.
"I believe there is a contingency plan in place but I think there's updates every 24 hours. We just get on with our day job and try to best prepare every single day. We'll see what comes of that."
Farrell said Ireland only expect to find out whether the game is going ahead or not two days before the scheduled kick-off.
"If you look at the weather forecast, it changes the whole time anyway so I think we probably won't know until 48 hours or so before," said Farrell.
Adam Davy Ireland are due to play in Fukuoka on Saturday. Adam Davy
There have been other predictions of typhoons hitting Japan that have failed to materialise during this World Cup, including Typhoon Mitag having threatened France's win over USA in Fukuoka last week.
So far, any typhoons that have posed a threat to World Cup games have petered out before reaching Japan and Schmidt's squad are hoping for the same outcome here.
World Rugby is monitoring the situation in the hope that Typhoon Hagibis does not prove to be a danger to Ireland's game against Samoa or any other World Cup fixtures and training sessions.
"We are monitoring Typhoon Hagibis, which is currently developing off the south coast of Japan," said a World Rugby statement today.
"The latest modelling from our weather information experts and the Japan Meteorological Agency indicates that the typhoon is tracking in a north-westerly direction and could bring high winds and heavy rain to southern Japan on 12 and 13 October.
"While it is too early to determine the exact trajectory and impact, if any, of the typhoon at this early stage, as per previous typhoon warnings, we have a robust contingency programme in place in the event adverse weather looks likely to impact fixtures.
"We will continue to closely monitor this developing situation in partnership with our weather information experts, local authorities, transport providers and the teams, and will provide a further update tomorrow.
"Fans are advised to monitor official Rugby World Cup channels for any updates."