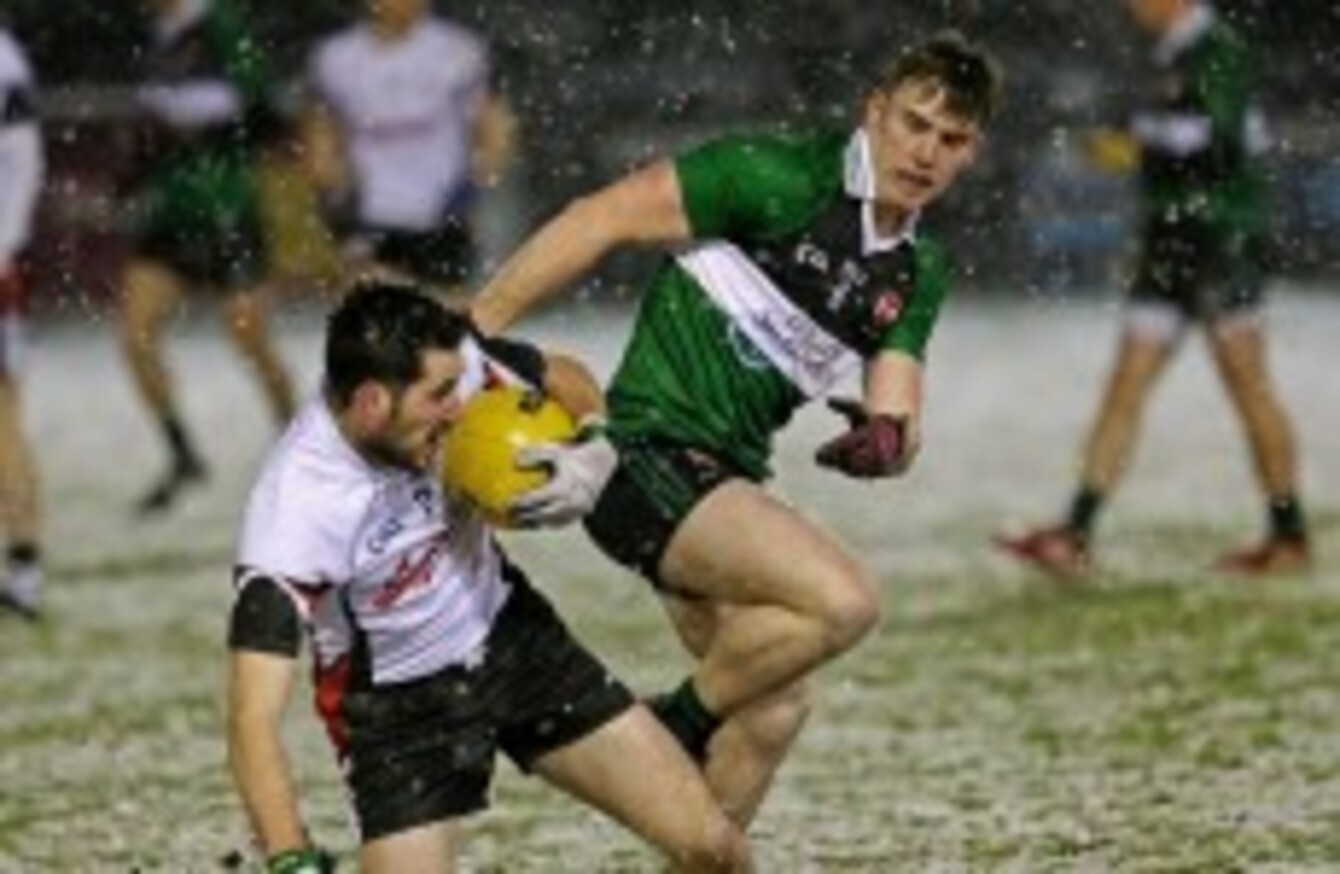 Mark McHugh's IT Sligo team have been reinstated.
Image: Presseye/Matt Mackey/INPHO
Mark McHugh's IT Sligo team have been reinstated.
Image: Presseye/Matt Mackey/INPHO
Updated 18.15pm
IT SLIGO HAVE been reinstated to this year's Sigerson Cup less than a week after being thrown out of the competition.
It was revealed last Thursday that IT Sligo and Queen's University had both been thrown out of the third-level football competition. The sides had met in the first round a fortnight ago with IT Sligo winning the clash in Belfast after extra-time by 1-9 to 0-8.
It since emerged that IT Sligo fielded an ineligible player in the game while Queen's had three ineligible players in action.
But the Higher Education GAA authority have today confirmed that IT Sligo have been reinstated and their quarter-final clash with UCC, this year's finals weekend hosts, will take place this Friday afternoon – 13 February – at 2pm in the Mardyke in Cork.
The Higher Education GAA authority have this evening released an official statement explaining the decision:
"Comhairle Ardoideachais (CA) would like to clarify the implications of the decisions of the Central Appeals Committee (CAC) last evening, as there have been considerable inaccuracies in some media reports with regard to the appeals arising from the HE GAA Sigerson Cup fixture on 28.01.14 between Queens University GAA Club and IT Sligo GAA Club.
"IT Sligo's Stephen Doak was deemed to be eligible to play for the club as, in the view of the CAC, he satisfied all the criteria of being a full-time student due to his ongoing studies. He also performs the role of Student Union President. CA reconfirms that full-time paid Student Union Officers, who are not full time students, are not eligible to play in CA competitions.
"The ruling of the CAC in relation to the students of Stranmillis University College now permits the students in question to play for Queen's. CA were of the view that a separate Stranmillis club has been in existence and affiliated to CA for the past two academic years and that these students were only entitled to play for the Stranmillis GAA Club.
"While accepting the decisions of the CAC in these cases with respect to the 2015  Sigerson Cup, the long-term implications of these decisions will be considered by CA at a later date, and any proposed changes to the CA Constitution & Bye-Laws arising from these decisions will be brought as motions before all Higher Education Clubs to consider and vote on at the Annual Convention in April."
The UCC-IT Sligo match will pit Cork and Donegal legends in managerial opposition with Billy Morgan in charge of UCC and Martin McHugh overseeing the fortunes of IT Sligo.
The winners will advance to the semi-finals on 21 February along with the winners of this week's other three quarter-final ties.
Sigerson Cup quarter-finals

11 February
DCU 1-11 St Mary's 0-11, St Genevieve's High School, Belfast, 2pm

12 February
UL v IT Carlow, UL Grounds, 3pm
UCD v GMIT, Belfield, 3pm

13 February
UCC v IT Sligo, Mardyke, 2pm