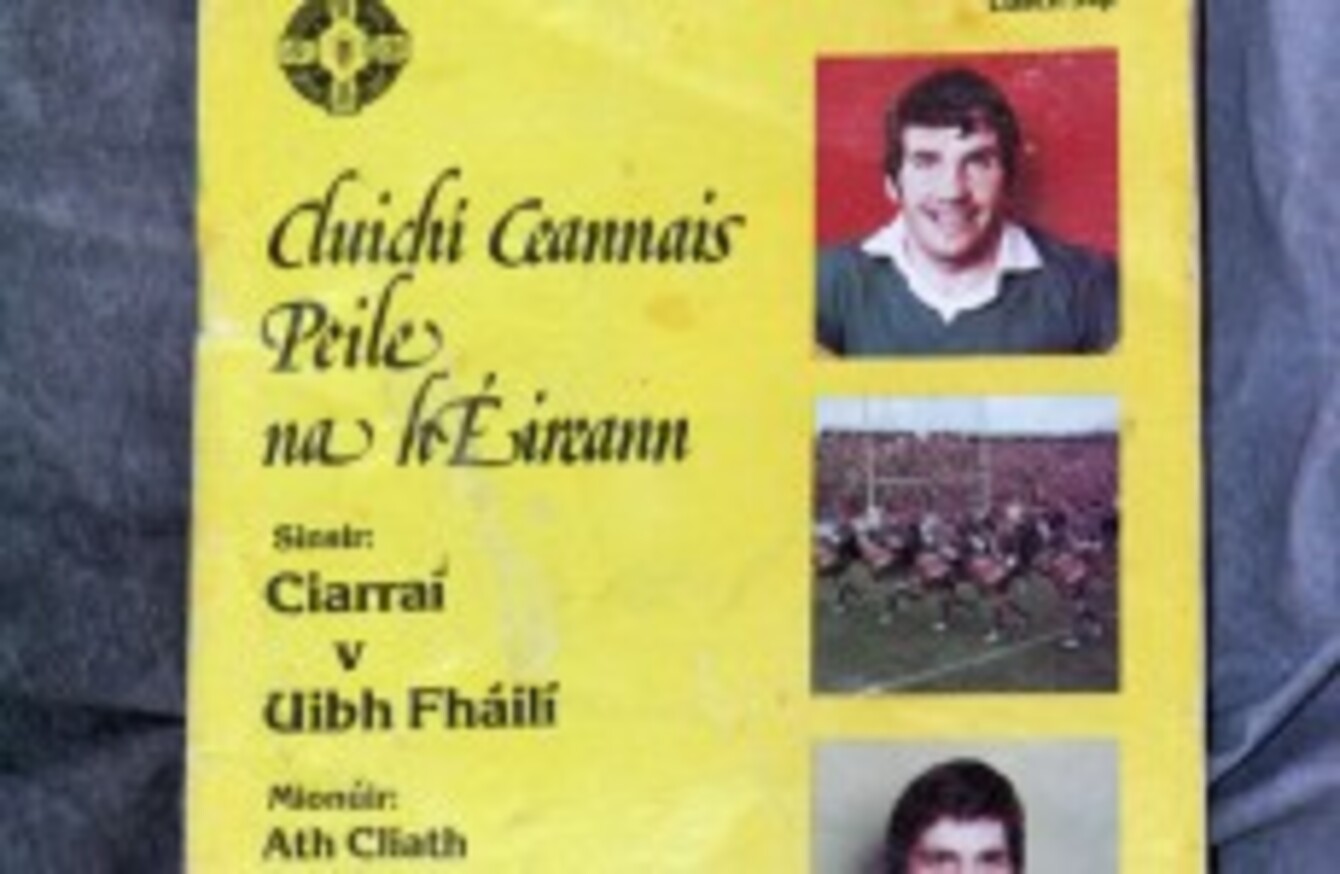 The match programme.
Image: INPHO/James Crombie
The match programme.
Image: INPHO/James Crombie
THE 1982 ALL-IRELAND football final has come to be regarded as one of the best ever, as Eugene McGee's Offaly became the only obstacle between the great Kerry footballing dynasty and an unprecedented fifth successive title.
Offaly were no minnows, nor were they likely to suffer from stagefright. They had been here before 12 months previously, falling to the Kerry sword in a 1-12 to 0-08 loss.
If sides learn a lot in victory, they unquestionably learn more in defeat, both about themselves and about their opponents. As the 1982 final entered its second half, however, it appeared that any lessons which Offaly had taken from the previous year would ultimately count for naught.
A point in front,  Kerry were awarded a penalty by referee PJ McGrath. Had Mikey Sheehy upheld his part of the bargain, today's history books might tell a very different story. Alas, he couldn't. However, Kerry didn't become the immovable object of GAA by letting setbacks knock them off stride. They got back down to business and kicked their way into the four-point lead which they had expected Sheehy's penalty to bring.
Game over? Not so fast. As the clock neared the 70th minute, Seamus Darby intervened on Offaly's behalf with one of the most dramatic strikes in the history of the GAA. Watch the goal again. Charlie Nelligan in the Kerry goal does nearly everything right. His innate positional sense had left him well prepared to face Darby's drilled shot, whether it went to the left or to the right.
But Darby didn't drill it. As he pivoted, his left foot arced and caught the bottom half of the ball, delivering it perfectly to the one place that Nelligan couldn't reach, over his head and into the left-hand corner of the keeper's net.
There was no time for a Kerry riposte. Their dream of five-in-a-row was dead.

YouTube:
athbhriainabu11