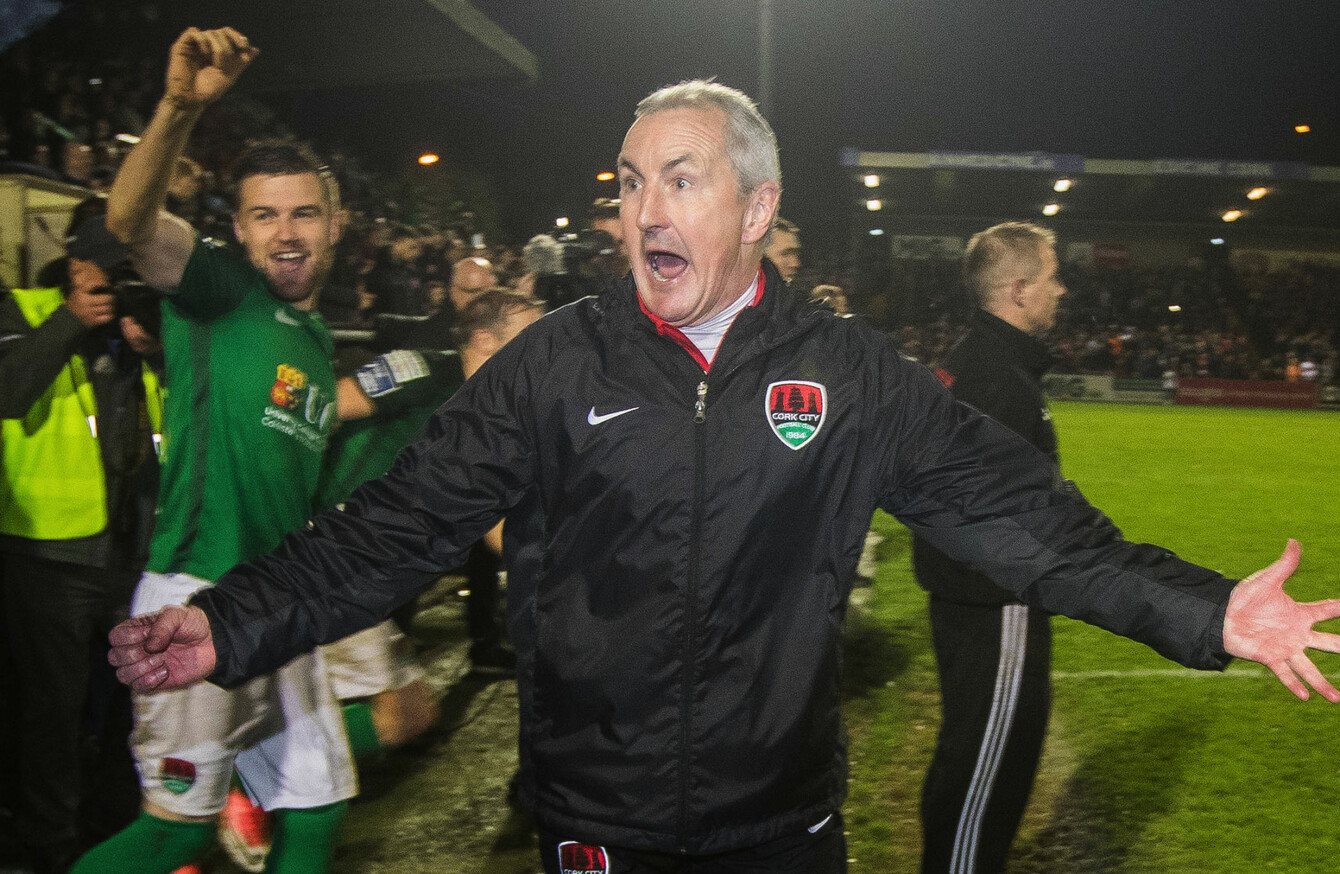 Cork City manager John Caulfield reacts at the final whistle after last night's game against Derry City.
Image: INPHO/Ryan Byrne
Cork City manager John Caulfield reacts at the final whistle after last night's game against Derry City.
Image: INPHO/Ryan Byrne
WHILE JOHN CAULFIELD reflected on how his team finally became champions of Ireland in the media room at Turner's Cross last night, car horns sounded in celebration outside on Curragh Road.
After finishing second to Dundalk in each of the previous three seasons since he took over as manager, Caulfield's side have finally reached the top of the mountain.
Last night, a 0-0 draw with Derry City at the Cross saw Cork City crowned SSE Airtricity League Premier Division champions for the third time in their 33-year history.
The Leesiders defied a dreadful recent run of form, the departures of Sean Maguire and Kevin O'Connor, as well as a season-ending injury sustained by club captain Johnny Dunleavy in June, to win their first top-flight league title since 2005.
City will meet Dundalk again in the FAI Cup final next month, but Caulfield believes their victory over the Lilywhites in last November's decider at the Aviva Stadium marked a turning point for his players.
Caulfield's team have struggled since Maguire and O'Connor joined Preston North End at the end of July, but the foundations for this triumph were laid by an astonishing 22-game unbeaten run, during which they opened up an 18-point lead over Dundalk.
"It's been a phenomenal season," said former City striker Caulfield. "Dundalk were going for four in a row and a lot of other teams were putting themselves in contention to give it a rattle too. But I always felt that from the cup final last year we had got the confidence within the group.
"We know how to win big games and I felt at the start of the season that we'd be close. I obviously didn't think we'd go on a run of 22 games unbeaten. Then to lose an Irish international [Sean Maguire], [Johnny] Dunleavy and [Kevin] O'Connor as well at a vital stage, it did knock us back a bit.
"Obviously the flow of goals did dry up but at the same time we needed to manage it. It is difficult and very difficult for the players. I've been here as a player for 16 years, a supporter for 10 years, manager for four years — I know the expectations, I know what Cork city and county is like, and outside areas. I know the enthusiasm from the supporters, but when you're reading that you're champions-elect in August, it does have an effect on players.
"They don't understand the pressure that's out there. This is the biggest club in Ireland by a long shot. [Shamrock] Rovers might have the trophies and their history shows that, which is right, but in terms of support, coverage… every player at this club is known by everyone around the city and county.
"Everywhere they walk, everywhere they eat, people are talking to them, asking them questions, telling them what to do and that they're heroes. But at the same time, when you're listening to 'you've won the league, you've won the league', it is difficult. It does take the focus off lads.
"I could see that but I was trying to manage it and rally the lads around. To win a league tonight with two games to go, the lads deserve enormous credit and they deserve this. It's only the third league in the history of the club, but ultimately it's about the supporters. In any club it's about the community and the supporters. That's why it's fantastic for everyone to go away home happy."
City will now bid to complete the double for the first time when they face Dundalk in the FAI Cup final on 5 November. Before then they must conclude their league campaign with games away to St Patrick's Athletic on Friday and at home to Bray Wanderers seven days later.
Celebrations in Cork last night continued well into the early hours, which could be significant for a St Pat's side who are aiming to avoid relegation. With the Premier Division being reduced to 10 teams for next season, three clubs will go down on Friday week.
Drogheda United are already relegated, Finn Harps are in a particularly precarious position, while Galway United, Sligo Rovers and Limerick are also not yet safe.
Caulfield insisted that he won't be fielding a weakened side at Richmond Park in two days' time. The City boss recalled how Derry rested seven players for a game against Dundalk late in the 2014 season. The Candystripes lost 5-0 to Stephen Kenny's side, who went on to win the title at Cork City's expense with two points to spare.
Caulfield said: "I can go back to my first season when a club put out a reserve team against Dundalk when we were going for the league, because they were in a cup replay. I found it not nice because at the end of the day the onus is on every manager and the wheel will always turn.
"You go out and you put out your strongest team. At the end of the day, we have an onus to Sligo, we have an onus to Galway. The boys are in recovery tomorrow, we're back in Thursday morning on the pitch and we will have our strongest team out on Friday night.
"I suppose it's ironic that two of the teams that voted for the 10-team league, Pat's and Sligo, are down at the bottom. If Pat's beat us on the night and they're better, well and good, but we certainly won't be going up and lying down or taking it easy. No chance."