JONAH TALI LOMU was born on this day 38 years ago in Auckland, New Zealand.
However, as revealed in his biography - Jonah, my story – it was a far from happy childhood with Lomu suffering beatings at the hands of his father.
This, in turn, led to problems with the police and authority figures until his mother, and rugby, pulled the future star onto the straight and narrow.
While Lomu became a household name in New Zealand during the 1995 Hong Kong Sevens tournament, it wasn't until the 1995 Rugby World Cup that he announced himself as Rugby's first global superstar.
The first indication that we had a special talent on our hands came courtesy of a two try debut in the 43-19 demolition of Ireland.
Image: John Stillwell/PA Archive/Press Association Images
However, it wasn't until he did this to the unfortunate Mike Catt in the semi-final that the world really sat up and took notice:
YouTube Credit: historyinthefaking
In 1996 though, Lomu was first diagnosed with a rare kidney condition that meant he had to take a year out of the sport, missing the 1997 Tri-Nations tournament but making a comeback for that year's autumn tests against England and Wales.
Despite scoring eight tries in the 1999 Rugby World Cup, Lomu and New Zealand once more came up short on the world's biggest stage. However, yet again he saved one of his better performances for England:
YouTube Credit: jleahy07
Following the 1999 competition, Lomu reportedly turned down a multi-million pound deal to join English Premiership side Bristol and was attracting attention from American football teams in the NFL.
However, he opted to stay in New Zealand but by 2003 was receiving dialysis three times a week to treat his kidney condition. Lomu's Nephrotic Syndrome eventually resulted in a transplant in 2004.
Lomu returned to rugby in 2005, first with North Harbour in New Zealand and briefly in the Celtic League with the Cardiff Blues.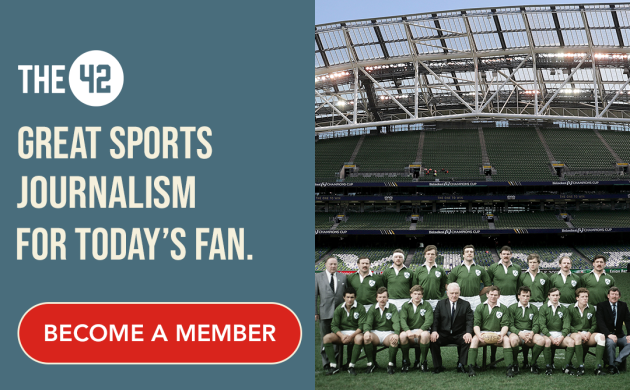 Image: FELICE CALABRO/AP/Press Association Images
He eventually retired from meaningful rugby for good in 2007 after amassing 37 tries in 63 games for the All-Blacks but one can't help but wonder how good he could have been had he not suffered so much with his illness.
You can watch some of his highlights here:
YouTube Credit: Hemi Maka Tekobum