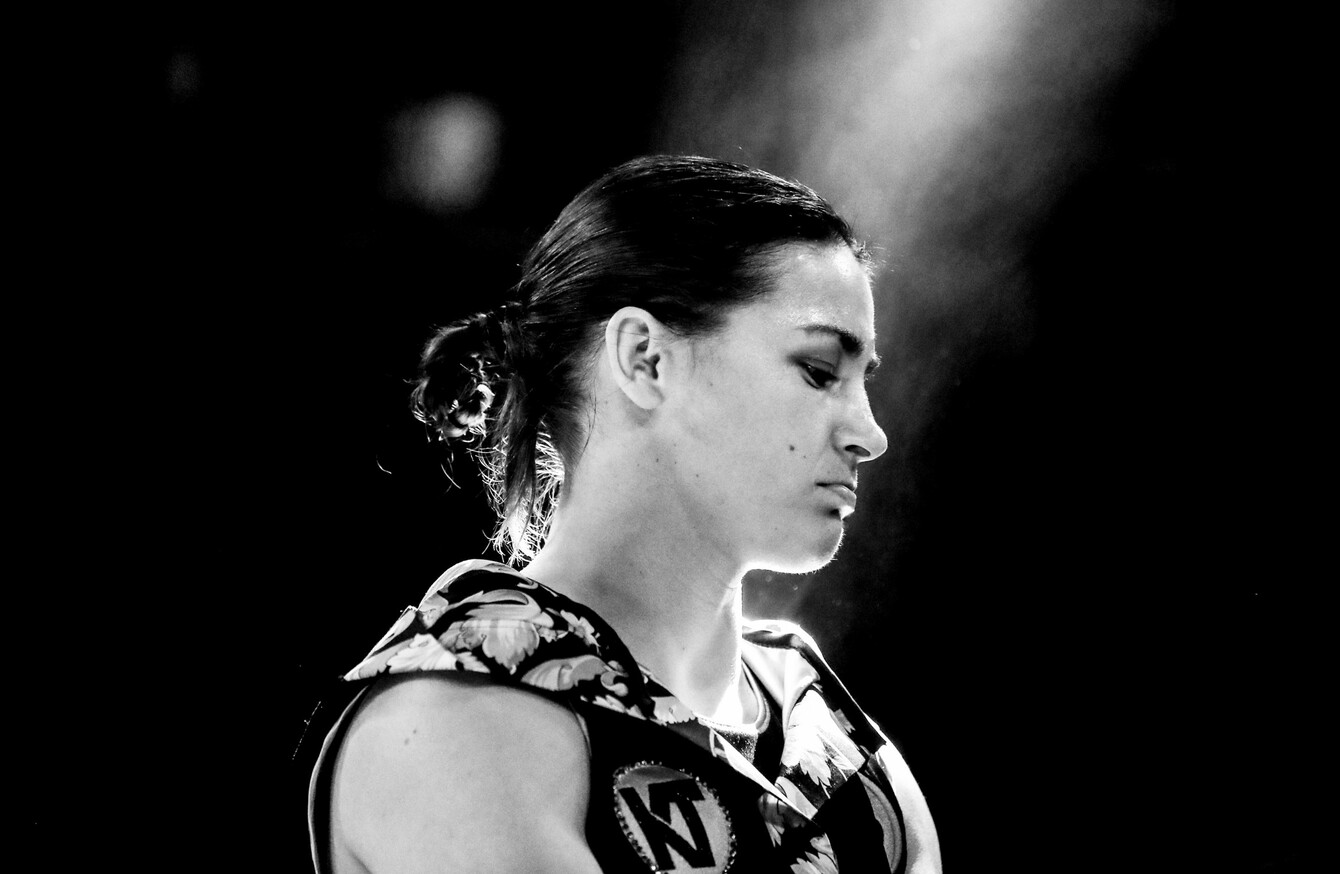 Image: James Crombie/INPHO
Image: James Crombie/INPHO
I MADE A balls of applying for accreditation for Katie Taylor's world title defence in London last month, which is to say I forgot entirely to apply at all.
In a minor Christmas miracle, the man assigned with the unenviable task of granting press passes – Matchroom's head of media, Anthony Leaver – squeezed this eejit in last-minute.
As he handed me a pass atop the mud-spattered steps of Bethnal Green's near-nonagenarian, neo-Gothic boxing venue, Anthony warned me that due to the hasty nature of the arrangement I'd be sitting alongside fans – what fresh hell can this be?! – as opposed to fellow reporters.
I gratefully took my seat at floor-level on the opposite side of the York Hall ring to my three travelling Irish peers.
Behind me was a railing, perched upon which were the protruding elbows of some 50-odd supporters of various British fighters on Taylor's undercard. There were Brexit jokes aplenty as they came to terms with the plethora of Irish tricolours which adorned the interior of this storied British venue, whose hallowed halls have played host to endless world champions in their 88-and-a-bit years.
In my immediate periphery stood a five-strong group of friends – four men and one woman – who made no bones about the fact that they would be supporting Jessica McCaskill.
They were each from London, and had no personal connection to the Chicago power-puncher: their grá for 'CasKILLA' was instead born of a decision to pool together £200 and back her at odds of 100/1. If she could pull off the unthinkable, the almightiest of Christmas sessions would beckon in London's east end.
After a lengthy deliberation – and more pertinently, a surveillance of the hundreds of fackin' Oirish fans present in what was very much a family-friendly environment – they proceeded to greet McCaskill's ring entrance with a cacophony of noise, continuing in the same vein throughout the 10 pulsating rounds which followed (indeed, they had grown so attached to their hero by the turn of the fight that 'Kill her, Jessica!' was abbreviated to 'Gu'won, Jess!').
All except one, that is:
"WHAT'S SHE DOING? She's clearly winning the fight – why does she keep stepping back in and trading? She could dance around the ring for the rest of the round and still win it!"
Let's call him the ringleader, for he was most vocal throughout, and it was his phone on which the all-important bet had been placed.
By round seven, for this gentleman at least, it was a case of almighty Christmas session bedamned: He had been won over, sucked in, charmed by Taylor's atypical taunting of her foe, wowed by her prowess: 'Christ, she is fast, though, isn't she?'
He had been adopted by an enthused crowd which, during Martin J. Ward's victory a fight prior, he had loudly predicted would disperse for the headliner given that it was a fight between two women.
It wasn't so much a sexist proclamation, but more so an indictment on your average boxing fan as he perceived them. This man stayed where he feared others would depart, after all, and watched a pulsating if scrappy bout between Taylor and McCaskill with no less zeal than he had Martin J. Ward versus Juli Giner, or Connor Benn versus Cedrick Peynaud.
But this man was wrong. Everybody else stayed too: Ward's fans, Benn's fans, Josh Kelly's fans, Joe Cordina's fans – and on a Wednesday to boot.
She's kind of a big deal, now, Katie Taylor, and this bombastic Taylor convert whose bet was scuppered by the Bray woman is scarcely alone in having experienced such an awakening.
Remember that James DeGale tweet following Taylor's debut in November 2016?
"Not a fan of women's boxing…." wrote the then-IBF World super-middleweight champion as he watched Taylor put in a clinic on Sky, "But this Katie Taylor is ['perfect' hand gesture emoji]"
He wouldn't tweet the same now, and not for fear of the mild backlash he received for the ground-floor misogyny he had polished with solid intentions (having played the role of villain for the majority of his career, DeGale is hardly averse to barbs from total strangers), but because his tune will have changed in the intervening 14 months with regards to people with different body parts partaking in the sport to which he, like many women, has dedicated himself since childhood.
The boxing climate has changed.
There was a time not so long ago where the the replies beneath a Matchroom tweet regarding Taylor would cause you to question the human condition, but while humanity edges closer to oblivion by way of a fat-fingered buffoon's perversion of the same social media platform, the bile from his similarly insular boxing brethren has all but dissipated.
The subconscious consensus now is that Taylor is a boxer, not a female boxer; a supremely talented athlete rather than 'a woman', the latter of which might previously have evinced a kind of vulnerability to some of the lonely, sofa-dwelling clowns who scrutinised the soundness of using the female form for fighting as opposed to however it might manifest itself in their wildest daydreams.
For however long the world continues to turn, there will always be idiots, but where the perception of Taylor is concerned there are far fewer than even this time last year.
October's world title fight at Cardiff's Principality Stadium was particularly telling in this regard: Over 50,000 fans had planted their bums in seats by the time Taylor took to the ring – not all to watch her specifically, of course, but it's notable that this was some two hours before Anthony Joshua would take to the ring for his World heavyweight title defence versus Carlos Takam.
More notable, though, was the ear-splitting reception which greeted Taylor's long entrance from the bowels of the roofed arena to centre-ring – second only in its vociferousness to Joshua himself later that evening.
This was particularly jarring from where I was sitting given the journey to the stadium which had preceded it: Cardiff city centre is entirely closed to traffic on Saturday evenings, sparking a rather charming pedestrian-only procession from all corners onto Westgate Street, upon which the 72,000-capacity venue stands proudly unobscured.
The verses, bridge and chorus to the evening were as identical as they were cacophonous: 'OOOOHHHHH AN-THON-Y JAWWWW-SHUA!' times infinity.
There wasn't so much as a tricolour to be seen nor an 'Erra yeah' to be heard; it was a celebration of Britishness as much as anything, as the native Welsh joined forces with their thousands of English visitors to bellow on their transcendent poster boy.
And they shrieked Joshua's name long into the Cardiff night following his laboured stoppage victory, too, but if you had experienced Taylor's world title victory over Anahi Sanchez in isolation, you would have sworn you were in Dublin such was the fanfare with which she was received.
The wider British sporting public's embracing of the 31-year-old Bray woman stems partially from her spellbinding skill, which for well over a decade has spoken for itself to save its beholder the hassle.
It stems predominantly, though, from shrewd promotion on behalf of Eddie Hearn, who has emerged in recent years as one of the finest in his field on either side of the pond.
It's easy – and in many cases pertinent – to dismiss boxing promoters as greasy, greedy ne'er-do-wells. Hearn has forged a curious relationship with British boxing fans wherein he's the target of almost playful booing; the man the people love to hate; a charismatic salesman to be endured or enjoyed if not ever entirely trusted by his consumers.
Yes, the Matchroom chief is a businessman, and yes, boxing 'is a business, man', but it's no longer a man's business, and Hearn did well to detect as much in the autumn of 2016 when Taylor slid into his Twitter direct messages with a wink and a nudge.
And it might make for uncomfortable reading for the 'woke' boxing observer to whom the Essex promoter still seems roguish, but he does have Taylor's best interests at heart.
For the most part these interests align with his own, of course, but the fact that his deal with the former Olympic champion is rooted only in a handshake – entirely paper-free, and therefore not even legally-binding – speaks volumes as to esteem in which he holds Taylor: He has similar arrangements with some of his highest-profile fighters – those with whom he's particularly close, Tony Bellew being one.
Add to this the fact that when Taylor visited his London offices initially alongside her manager, Brian Peters (whose deal with Taylor is also bound purely by trust), Hearn proposed a standard six-fight, 12-month contract which in total would have cost him less financially than Taylor's last fight alone; Taylor's first WBA World title defence versus Jessica McCaskill – the first women's bout ever to headline a Sky Sports boxing broadcast – saw her pocket a substantial six-figure sum which would have more than covered a written, year-long deal.
Hearn is a natural salesman, for sure, and a polished performer when confronted with a voice recorder or facing a camera, but it's striking that he speaks with the same exuberance while chatting casually about Taylor off-record as he does when he's on.
'I was hoping you'd say that', was the reply from Sky Sports' head of boxing, Adam Smith, when Hearn text him in October proposing Taylor headline her own card on the network – a testament to her growing appeal in the UK. In the States, meanwhile, where Hearn has recently set up shop, broadcasting giant Showtime have twice now demanded they show Taylor – and no other undercard fighter – as complement to their Anthony Joshua fight broadcasts. They also live-streamed her title defence versus McCaskill on their social channels.
"I'm not interested in getting involved in the women's game," Hearn tells The42.
"I'm interested in getting involved with stars, and draws, and great fighters.
"It's completely irrelevant to me if it's a female or if it's a male. There are some really good female boxers, but the best standout superstar is Katie Taylor.
"When she first approached me, it was a really nice message she sent me, but I didn't really know her. And then Brian Peters brought her over to the office, and as soon as I chatted to her for an hour, I was mesmerised: Everything I heard, I knew it was real, because I had so much respect for her already – because of what she had achieved.
"But, like, you couldn't get a bigger fan than me. And that drives me.
"I want to break the boundaries with her and help her do it. And we've done so well in a year, and now she's headlining on Sky."
Hearn's desire to overcome social barriers with Taylor, however, is scarcely born of his being a bastion of feminism.
Not dissimilar to UFC president Dana White – who arrived at the realisation some years before his boxing equivalents – Hearn is at least sufficiently broad-minded not to view fighters through the prism of gender. He instead evaluates them based on their potential worth, both to himself and the wider sport as he perceives it.
He's not an activist by any stretch. He's just not a misogynist, either.
"Think of the boundaries she's already broken," he says, beaming.
And you're still dealing with, I dunno, 20 or 30% of people who go, '[pulls face, puts on voice] Eugghh, women should be in the kitchen!' And listen, I'm not the most politically correct guy ever, and you're not going to see me campaigning for women's rights, but don't worry about that. Don't worry about women's boxing and men's boxing. Just watch Katie Taylor. If you don't enjoy it, don't watch women's boxing again! But you will enjoy it. You'll never not enjoy a Katie Taylor fight.
"I've never exposed someone to a Katie Taylor fight where they've turned around and gone, 'I didn't really like that.' They've all gone, 'Wow! She's GREAT!'
"And now we're in the more even match-ups – these aren't four and six-rounders: they're proper fights. People are saying: 'Bloody hell! That was unbelievable!'
"You're going to get that with every fight now, because they're going to be dangerous fights, proper fights, where she can lose."
Taylor, meanwhile, continues to champion the women's game at every opportunity, and feels duty-bound to lift all boats as her tide continues to rise at a rate of knots.
It's working.
In spite of the rather embarrassing outrage it sparked in these parts, recent criticism of her performance versus McCaskill from BBC pundits Mike Costello and Steve Bunce lent itself to the fact that, through her very presence in the pro game, women's boxing has garnered further credence.
Costello, BBC 5 Live's chief boxing commentator, mused on-air: "There were times in the fight when she was launching single shots, single jabs, single right hands. She could not miss, it was so easy – and I use that word – it was so easy, it was embarrassingly one-sided. But that wasn't enough for her, she wanted to get involved. I thought it actually showed a lack of a boxing brain."
Bunce – who in spite of his association with Sky Sports' predominant competitor where boxing is concerned, BoxNation, has in the past compared Taylor to the great Vasyl Lomachenko, and described the left hook to the body with which she dropped Anahi Sanchez as one of the best he's ever seen – pondered aloud as to whether she's ever had to do "a lot of thinking" throughout a career during which she has been so supreme.
These were nonsensical takes, first and foremost: To question a six-time world amateur champion and Olympic gold medalist's boxing IQ is, in itself, questionable, but in this instance it wreaked of an unfamiliarity with Taylor's career.
Contrary to her out-of-ring persona, Taylor is, first and foremost, an entertainer. To a fault while in the squared circle, she retains an inherent need to engross not only fans, but herself. At her core, she has a predilection for violence, a penchant for excitement, a predisposition to 'get involved' – even at her peril.
She can box better than anyone – it's just not necessarily her natural inclination. She actually boxed well against McCaskill for large spells, but couldn't resist the temptation to throw down with her big-punching opponent on occasion.
Her smile as she waved the American towards her, playfully goading the pretender to her throne, was not designed to mask nerves or unease: It was one of unadulterated – almost sadistic – satisfaction that she was in a fight, and not merely boxing.
It has always been this way. Yet, by the time Taylor introduced herself to the non-Irish masses at London 2012, most opponents were wise to her tendencies.
Aware that to stand and trade with the long-reigning world champion would be a fool's game given her blistering speed and ferocity, challengers became more calculated and stand-offish, removing Taylor from her element and, in turn, spawning a low-scoring, cagey style of bout which, under the old amateur scoring system, was more conducive to sneaking victory: Look no further than the Olympic final versus Sofya Ochigava, which saw just 18 total punches scored across four rounds – 10 of them Taylor's.
This was a trend which continued for four years, culminating in the great Irish champion resorting to a boxing-only style before being rendered somewhat neutralised in the sport she had dominated for so long.
And so the pro game, and her ensuing tussles with Anahi Sanchez and McCaskill, have afforded Taylor the opportunity to uncork what she had bottled up for over half a decade.
McCaskill in particular, whose team had questioned as to whether Taylor was 'a born fighter', saw the champion make a conscious decision to fleetingly wage war where unnecessary, all the while cognisant of the fact that she was headlining on Sky – a platform on which entertainment is paramount to bolstering her profile.
As Taylor herself told us afterwards: "I was just enjoying myself in there, and showing a bit of attitude as Ross [Enamait, coach] says. Why not? Just for the craic! I felt very comfortable in there tonight and I was enjoying the occasion."
I have a hard time believing it was Taylor herself who, from her Twitter account, labelled Costello and Bunce "clueless" in their assessment of her performance – not because butter wouldn't melt, but because anything resembling criticism is usually met with such indifference: a lowered brow, an incredulous crinkling of the nose, no more than a couple of words.
But while Costello and Bunce's denunciation doubtless missed a trick, it could inadvertently be construed as a positive: For so long, analysis of Taylor – and, in a wider sense, women's sport – has been saccharine to the point of condescending.
Sky Sports' cheerleading serves a purpose, of course, but most pundits and observers are equally culpable: As far as her fights are concerned, flaws or errors are swept under an all-covering carpet of superlatives; her status as a leading sportsperson and role model has created such a fawning narrative that for the casual observer to critically analyse a Taylor fight is to flirt with contrarianism.
She deserves better than that. If anything, Taylor should be held to higher standards than most sporting stars because, frankly, she's more successful within her field than the vast majority of them.
Granted, when they parted with the sycophancy, Costello and Bunce were largely wide of the mark, but their hypothesis on this occasion spoke to her transcendence: They discussed Taylor's display honestly as they would any other fighter, proving her to have already broken the mould in becoming exactly that – any other fighter – as opposed to a female fighter who, because of her gender, should be immune to such a scathing review.
In that sense, it was perhaps the biggest the compliment they could have paid to her.
No they don't. I would've thought that people making those comments would have some knowledge. The reason I won the fight well is cos I used my boxing brain and outsmarted my opponent. If people who particularly are involved in boxing can't see that, they are absolutely clueless.

— Katie Taylor (@KatieTaylor) December 22, 2017
And now, we move onto liars.
Katie Taylor was recently voted Ireland's most popular athlete by a landslide. She earned 21% of the public vote in Teneo PSG's Sponsorship Index for 2017 – some 15% clear of the chasing pack.
I wonder if this is really the case or if people merely feel it should be the case.
Sure, it's possible to admire Taylor without having a modicum of interest in her craft; it's totally fine to laud her achievements without having witnessed them – even on television; it's natural to perceive her as the antithesis of 'that other fella' since he went off the rails for a few weeks, and choose her as a means of opposing him and his weirdly incessant demands that you lick his shoes. (Incidentally, Conor McGregor finished second in the poll with 8%, having topped it last year with twice that figure; Johnny Sexton was third with 5%).
Boxing's modest standing in the pantheon of Irish sport, however, is such that there remains a relevant question as to whether swathes of Irish sporting enthusiasts truly support Taylor or merely feel the need to be seen to support her.
Here is one truth in any case: Conor McGregor – regardless of what you think of him as a person – would still sell out Croke Park in minutes; Taylor, for now, would not.
Popularity doesn't put bums on seats as quickly as notoriety.
For Irish fans of Taylor, the acid test – and an opportunity for many to back their constant comments-section claims that she's underappreciated – might well arrive in the spring.
Long mooted, a potential homecoming fight at Dublin's 3Arena has been earmarked for this April. Should it come to fruition, it will be a unification fight, likely against IBF World lightweight champion Victoria Bustos of Argentina. It will be a crucial cog on her professional journey, and not merely due to the second title on offer.
I'm reliably informed from either side of the Atlantic that a Taylor-headlined card in Dublin would be beamed live to millions on Showtime in the States as well as shown on Sky Sports in Ireland and the UK, with Eddie Hearn himself previously telling The42 that he envisages Taylor's walkout to the chorus of 9,000 raucous Irish fans as being the "wow moment" which will springboard her to even bigger and better nights in the years ahead.
Those nights, though, are unlikely to take place in Ireland: The vibes coming from Matchroom indicate Taylor's future lies not even in the UK, but in America; more big-name opponents, more money, more fame, more boundaries to leave in her wake.
It's far from inconceivable that any Taylor fight in Ireland will be her curtain call on home soil, and so when it does happen – be this in April or otherwise – it will likely be a send-off.
One hopes, then, that those in Ireland who truly appreciate Taylor, along with those who claim to, will – if financially viable, of course – put their money where their thumbs are when the box office opens; that they don't take it for granted that she'll sell out the 3Arena on account of her being a consensus national treasure; that they, through their support, cause hairs to stand on the backs of necks in America, in England, in Argentina – wherever someone may tune in – just as they did inside London's Excel Arena on that famous August afternoon in 2012.
Taylor is changing the game again at a rapid rate and, in a twist, it will be the Irish people who are tasked with representing her on the world stage when the time comes for a professional bout in Ireland. A typically electrifying showing on such a landmark occasion would accentuate her efforts tenfold.
She's flown the tricolour for long enough, and with such dignity, that we owe her at least that 'wow moment' when she does walk out in front of her people in a bid to hoist her other flag – that of women's boxing.
Or as it shall be known when the final bell someday tolls on her legendary career, 'boxing'.
The42 has just published its first book, Behind The Lines, a collection of some of the year's best sports stories. Pick up your copy in Eason's, or order it here today (€10):