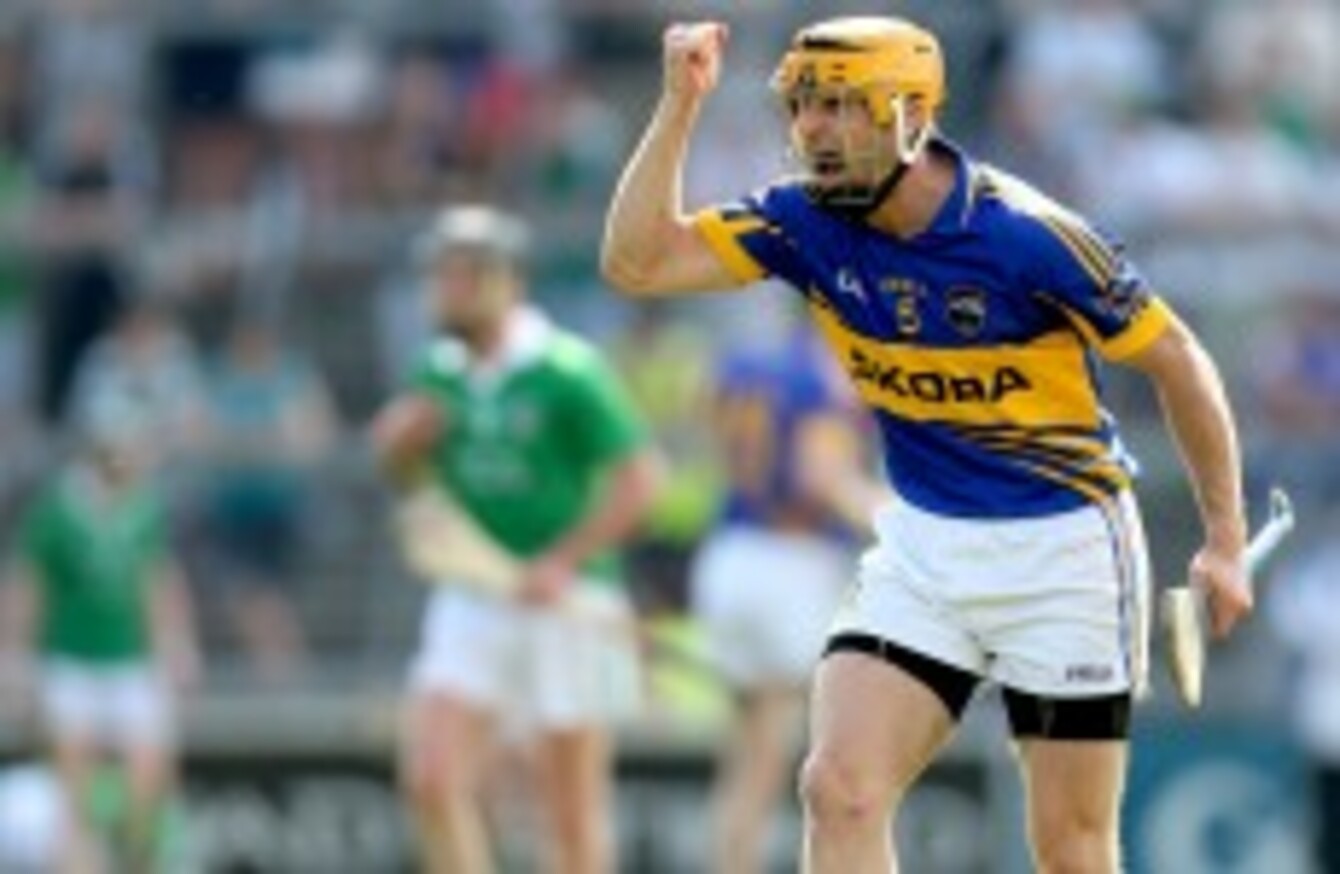 Bergin: made his Championship debut this year at the age of 27.
Image: INPHO/James Crombie
Bergin: made his Championship debut this year at the age of 27.
Image: INPHO/James Crombie
KIERAN BERGIN WASN'T expecting the call. If he had been, it's unlikely he would have been lazing on the couch tucking into a bag of Maltesers and a bag of popcorn when the phone rang.
It was Tipperary selector Michael Ryan. Would he be interested in coming up to train with the senior hurlers?
"I said 'get up you fat pig, you better go for a run,'" Bergin, 27,  remembers and so began the story of his inter-county career.
His senior inter-county career, that is. Hailing from a solid GAA background — uncles Jack and Liam captained the Premier hurlers in the 1980s and Galway footballer Joe Bergin is a first cousin — it was hardly a shock that he made the grade at minor level and won a Munster title in 2003.
Of that squad, Paddy Stapleton and James Woodlock went on to hurl senior for the county and Shane Long forged a successful football career in the Premier League and at international level.
Bergin went the other way and headed off to see the world. Or America, anyway.
He'd had a taste for the States since a summer holiday at the age of 18 and after Tipp's U21 campaign in 2005, he packed the bags and headed for New York for a year.
The growing ex-pat community, coupled with a seasonal influx of twenty-somethings on J1 visas, meant there would always be hurling. Bergin got involved with Tipperary New York and, for a while at least, played alongside Joe Canning, Gavin O'Mahony, Ollie Moran and more.
Bergin tracks Cillian Buckley in the National Hurling League final (INPHO/Ryan Byrne)
Between New York and San Francisco, it would be seven years before he came home. At that stage, he held out little hope of ever hurling for Tipp again.
"Lads would be telling me to come home and try. When I pulled the pin to come home, I honestly thought it was too late," he says of his return in 2012, following a brief detour to south-east Asia.
"I had a very bad first season with the club [Killenaule] then. I was playing corner-forward and we got knocked out of the south semi-final. Things weren't clicking.
"Thankfully last year I made a couple of decisions: I dropped off the football team, went college hurling with DIT. I think that's how I got spotted."
The clincher wasn't his form with the club or the college though. It was his decision to give up the plastic hurleys he'd been using in America to save money and switch back to the ash.
He could feel the difference immediately.
I was being a bit tight, I suppose. I didn't want to be breaking a load of hurleys.
Be part
of the team
Access exclusive podcasts, interviews and analysis with a monthly or annual membership.
Become a Member
"The first day I used the real hurley was before the UL game last February in the Fitzgibbon Cup [2013]. Michael Ryan was at that game and I knew straight away.
"I had only bought them before the game and I was pucking around thinking to myself , 'what was I doing with the plastic hurls?'
"When I was hitting with them and the grip goes off them, the accuracy goes and the ball swerves. It's only a small thing but I think it was probably the pivotal point when my career changed."
A tussle with Seamus Hickey in the Munster championship semi-final; Tipp lost by three points (INPHO/James Crombie)
His performances in the Fitzgibbon and in training convinced Eamon O'Shea to give him a shot. When his debut came, it was a baptism of fire: the final of the National Hurling League against Kilkenny in Nowlan Park.
"That actually came out of nowhere. I thought I was getting dropped when Eamon called me.
"I was like 'feck it anyway, I'm getting the curly finger here' when he called me after the Thursday training session.
I genuinely thought I was getting dropped but I was delighted to get the chance.
"He was put in a difficult environment," O'Shea recalled of Bergin's performance that day.
"In the first 5-10 minutes, watching the game, there was a lot of play over that side of the pitch. I think [Kilkenny] scored 1-2, not from him, but the guy just stepped up."
It was enough to earn him a Championship debut at the age of 27 against Limerick. Tipp's Munster campaign was short and sweet and, after breaking a bone in his hand during a club game, Bergin's summer was over even sooner.
"All I can do is give 100% to Tipperary and make sure I mind myself," he says of his plans for 2014.
As a team we'd like to be getting to All-Irelands. With the team of players we have, we're good enough to be winning All Irelands.
"I think last year was a missed opportunity. Small things in Limerick and Kilkenny could have changed those results. But I think the attitude is right and mentally we are going to be a lot stronger."