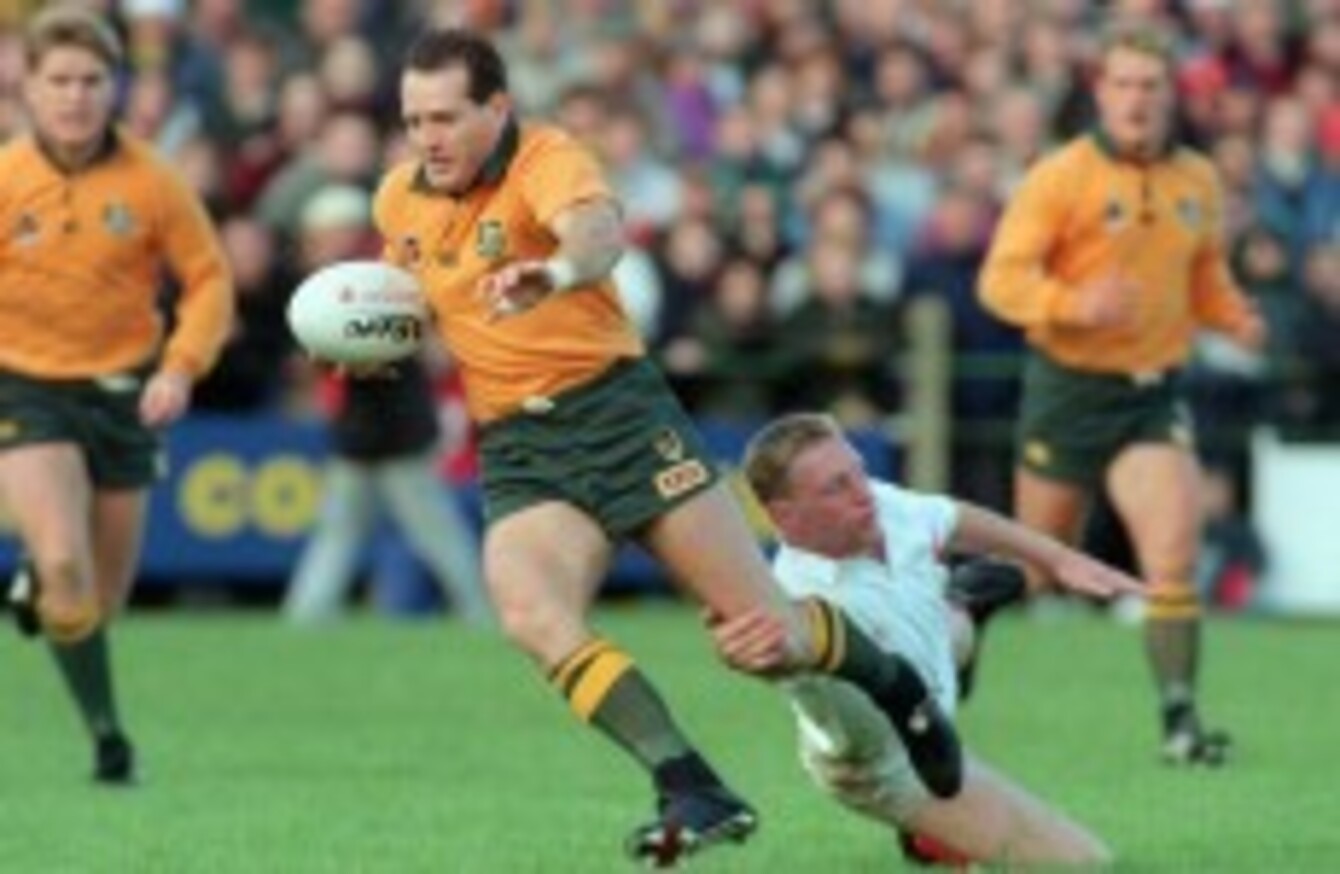 David Campese, pictured here in 1992, played in the 1984 defeat to Ulster.
Image: ©INPHO/Billy Stickland
David Campese, pictured here in 1992, played in the 1984 defeat to Ulster.
Image: ©INPHO/Billy Stickland
WE ARE LESS than a week away from the First Test between the British and Irish Lions and Australia in Brisbane.
While the Lions had a winning tradition over the Wallabies over the course of their 125-year history, the hosts clinched [2-1] the last series to be contested between the two sides.
If Warren Gatland and his men are in need of any inspiration ahead of the three-Test series, they could do worse than talk to some of the Ulster team that defeated Australia in 1984. Former Ulster captain Davy Irwin, now the club doctor at the northern province, tells TheScore.ie about a day to remember at Ravenhill:
I was 20-years-old and uncapped for Ulster – having cried off from playing and end-of-season game – when I went on the 1979 tour to Australia. Mike Gibson also featured on that tour. He was old enough to be my Dad, as I told him on a few occasions.
I played in midweek games and was on the bench for the two Tests, which Ireland won, but those were the days when you didn't come off the pitch unless you were half dead. Ollie Campbell was great in those two games. It was a good baptism to international rugby for me.
In 1984, Australia were a decent side and they would go on to win a Grand Slam on the tour, beating England, Scotland, Wales and Ireland. The Aussies had defeated England and Ireland when they arrived at Ravenhill but we fancied our chances.
We had Trevor Ringland and Keith Crossan, who were part of the Irish Triple Crown team in 1982. We also had Nigel Carr, Willie Anderson, Phil Matthews, Brian McCall, Steve Smith and lads that would come through to play in the 1985 Triple Crown team. That Ulster team, from 1984 to 1990 played 21 interpro games and won 20 of them."
Winning pedigree
"We had some pedigree when it came to knocking over international teams. We had previously beaten Canada, Samoa, Fiji and Italy. Australia would be the biggest challenge. They lined up with Michael Lynagh in the centre and were captained by Michae Hawker. David Campese came off the bench early in the second-half.
It was a competitive game up front and every time we could put them under pressure and force mistakes, penalties Ian Brown, then Philip Rainey punished them. Rainey got a drop goal and we led 6-3 at the break. We expected them to fight back and they duly did after the break and got a good score [by Peter Grigg].
Dr Davy Irwin captained Ulster against the Aussies. (©INPHO/Billy Stickland)
"We had a fantastic inner confidence about us and were not flustered by falling behind [13-6]. We kept working away up front and Brown got another couple of penalties.
It was Campese that conceded the penalty at the end. Philip stepped up for that one. It was close to the halfway line [47 metres out] and near the touchline but Philip made a great connection and over it went. I can't remember too many stand-out incidents in the final seven minutes but I do know it was all hands on deck to keep Australia out. The crowd support was great that day; that really helped.
Four years ago, the 1984 team met up for a 25-year anniversary dinner of the famous win. Here are some of the highlights:

YouTube credit: John Dickson