Liveblog
Hello, and welcome to today's liveblog on a showpiece occasion for women's football.
USA are bidding to win the World Cup for a remarkable fourth time — Germany are the only other nation to have won the competition more than once, triumphing in 2003 and 2007.
Netherlands had never even reached the semis up until this point, though they did manage to win the Euros two years ago. That said, they are considerable underdogs today, considering how well the US have performed so far and their past history at this event.
Confirmation of today's teams is below. Megan Rapinoe is in for the US, having been consigned to the bench in the semi-final with England after picking up a knock.
The teams are in! #USANED 🇺🇸🇳🇱#FIFAWWC pic.twitter.com/iCjt3NLAuj

— FIFA Women's World Cup (@FIFAWWC) July 7, 2019
Who do you think will win?

We didn't have the first women's tournament until 1991. I think I can say it now because it was a different era and not the era we live in now. There's probably an element of 'we're having to do this, rather than wanting to do this'. The fact they called it the First Fifa World Championship for Women's Football for the M&Ms Cup. It was a completely branded name. They didn't want to call it the Women's World Cup. They wanted to get away from having it as a parallel to the men's.
"They were unsure if it was going to be an embarrassment, where we have empty stadiums and poor quality on the field. So there were some people that thought: 'This is going to fail. It's just going to be a one-off. We're not going to have to worry about it [for much longer].'
If you're looking for some pre-match reading, check out this piece from yesterday on the history of the Women's World Cup.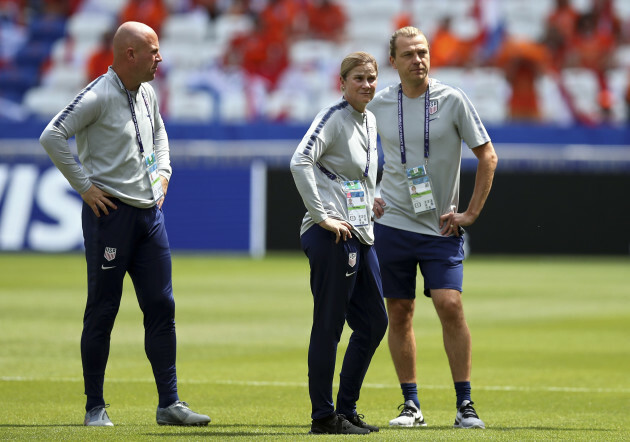 United States coach Jill Ellis, center, checks out the pitch before the Women's World Cup final. Source: Francisco Seco
In Europe, screaming for: Morgan, Abby, Tierna, Crystal, Julie, Adrianna, Ashlyn, Tobin, Lindsey, Ali, Rose, Carli, Allie, Jessica, Samantha, Alex, Alyssa, Kelley, Christen, Mallory, Megan, Becky, Emily. Women of America! Assemble!! Hanx.

— Tom Hanks (@tomhanks) July 3, 2019
In case you haven't heard, there's an Irishwoman involved in today's game. Wexford native Michelle O'Neill will serve as assistant referee.
More details here.
Source: Tom Beary/INPHO
USA have done much of the attacking so far, but the Dutch are afforded plenty of space when they counter-attack.
Martens receives the ball in a promising position just outside the box, but plays a sloppy pass straight out of play.
Teams line up on the pitch ahead of the FIFA Women's World Cup 2019 Final. Source: PA Wire
Spitse gets booked for a late challenge on Lavelle early on.
Contact appeared to be minimal, but it was still a reckless challenge from the Dutch player.
USA have had the better possession and territory so far, but haven't looked especially threatening.
The Dutch, meanwhile, have been happy to sit back but look lively when they get a chance to counter-attack.
It's been a pretty cagey opening few minutes overall, with no clear-cut chances yet.
Lavelle gets away from Dekker on the right-hand side of the box, but Van Veenendaal does well to collect her powerful low cross.
USA continue to probe, but their opponents have looked very solid at the back thus far.
All of a sudden, Morgan finds plenty of space in midfield after dropping deep.
She then attempts a difficult through ball to the onrushing Heath that doesn't quite come off.
That's been the story of USA's half so far — the final pass has not quite been good enough.
USA have edged the possession so far with 54%.
It's been very even though, with both sides yet to really impose themselves on the game.
Half-chance for USA. A Rapinoe corner is only half-cleared and breaks to Lavelle on the edge of the area. Her shot is powerful though straight at Van Veenendaal, who parries the ball away to safety.
Shortly before that, Dutch star Miedema played a defence-splitting through pass, though US goalkeeper Naeher was alert and got to the ball just ahead of the onrushing Beerensteyn.
The Dutch have survived 20 minutes, and are growing into this. They're being a bit reckless with the ball in midfield, which is a very bad idea against this #USA team, but apart from that, they'll be quite happy that there's not really been any chances for anyone.

— Rory Smith (@RorySmith) July 7, 2019
This game is starting to open up now.
Van Veenendaal makes two good saves in quick succession, both stemming from Rapinoe crosses down the left.
The first in particular is impressive, as she stretches to keep Mewis' powerful header out.
Moments later, Morgan gets in between two defenders, and her sliding effort is turned away by the Dutch 'keeper.
As I type, Van Veenendaal has to turn away a Morgan shot from distance for a corner.
It's Netherlands' turn to attack now.
They break, and Abby Dahlkemper is eventually booked for cynically taking down Beerensteyn just outside the area.
After a relatively slow start, this game is starting to become far more intense and fast-paced now.
Two players are currently down receiving treatment, after a nasty collision involving Martens and O'Hara.
It looks like both will be okay to continue though.
It's a strong end to the half by the Dutch.
A Van de Donk cross briefly causes panic, before Ertz heads clear.
HALF-TIME: NETHERLANDS 0-0 USA
The second half has begun…
US are on the attack straight away.
They win a corner, which Ertz gets on the end of, but she can't direct her header on target.
Saaaarrrriiiii 🙌 captain of the team and really showing it today, has all tournament! Class!! @SarivVeenendaal 🔥

— Louise Quinn (@louise_quinn4) July 7, 2019
USA made a change at half-time, with Ali Krieger replacing O'Hara, who was involved in that head collision with Martens near the end of the first period.
Ali Krieger was out in the cold for 2 years until a couple months ago. Then she had her national team career resurrected. Now she's in for the 2nd half of the World Cup final.

— Grant Wahl (@GrantWahl) July 7, 2019
USA's Alex Morgan (top) and Netherlands' Anouk Dekker battle for the ball. Source: EMPICS Sport
There's been another clash of heads, this time involving Van de Donk and Sauerbrunn.
The US defender appears to have come off worse from that, and has temporarily left the field to receive treatment.
Big moment.
The ref is going to VAR.
A cross is deflected into Morgan's path, and Van der Gragt has a wild swing at the ball in flight and seemingly connects with the US striker in the process.
USA 1-0 NETHERLANDS (RAPINOE 61)
Rapinoe converts the penalty.
It's not an especially good spot kick, not close to the corner, but Van Veenendaal is rooted to her line.
It's deserved on the balance of play, with USA creating the better chances and being the more adventurous of the two sides for the majority of this contest.
USA 2-0 NETHERLANDS (LAVELLE 70)
The US double their advantage and it's a brilliant goal.
With the Dutch pushing bodies, there is more space for their opponents to exploit, and Lavelle takes full advantage.
She bursts forward and produces an unstoppable shot from the edge of the area that finds the corner of the net.
That's surely game over.
The US are threatening to run riot.
Morgan gets two chances in quick succession, finding herself one on one with Van Veenendaal twice, but the impressive goalkeeper denies her on both occasions.
The Dutch are throwing the kitchen sink at the US now.
Van de Sanden replaces Dekker and Roord is on for Martens. The former change sees an attacker replace a defender.
As I type, Dunn runs through on goal, but Van Veenendaal, who has been comfortably Netherlands' best player, again makes the save.
There's a loud cheer for Rapinoe as she comes off.
She's replaced by Press, who scored that crucial goal in the semi-final against England.
The Dutch aren't giving up.
Spitse's free kick from about 30 yards out is curled over the wall but goes narrowly wide.
The US have so much space to attack into now with Netherlands desperately pushing bodies forward.
They would be out of sight if their finishing had been more clinical, with Heath the latest to spurn an attacking opportunity.
Carli Lloyd replaces Heath, who looks exhausted.
36-year-old Lloyd is a legend of US soccer, making her 281st and quite possibly last appearance for the national team today.
There will be five minutes of stoppage time.
At the moment, the US are looking more likely to add to their lead than the Dutch are to get back in this game.
Netherlands' Stefanie van der Gragt fouls USA's Alex Morgan for the penalty in one of the game's crucial moments. Source: EMPICS Sport
Morgan fires a long-distance attempt wide.
The US players are already celebrating on the sideline.
FULL-TIME: USA 2-0 NETHERLANDS
Well, that's that.
The USA ultimately were worthy winners.
They were far stronger in that second half, with Netherlands ultimately having no answer to their two goals.
They are in the process of collecting the trophy now, with plenty of individual accolades being given out too.
Van Veenendaal has won the Golden Glove, while Rapinoe has been confirmed as the Golden Boot winner, ahead of Alex Morgan (silver) and England's Ellen White (bronze).
Rapinoe has also won the Golden Ball, ahead of England's Lucy Bronze (silver) and US team-mate Rose Lavelle (bronze).
Right, that's it from me.
Thanks for reading and commenting.
You can read our match report here and we'll have plenty more reaction to follow.
Contribute to this story: