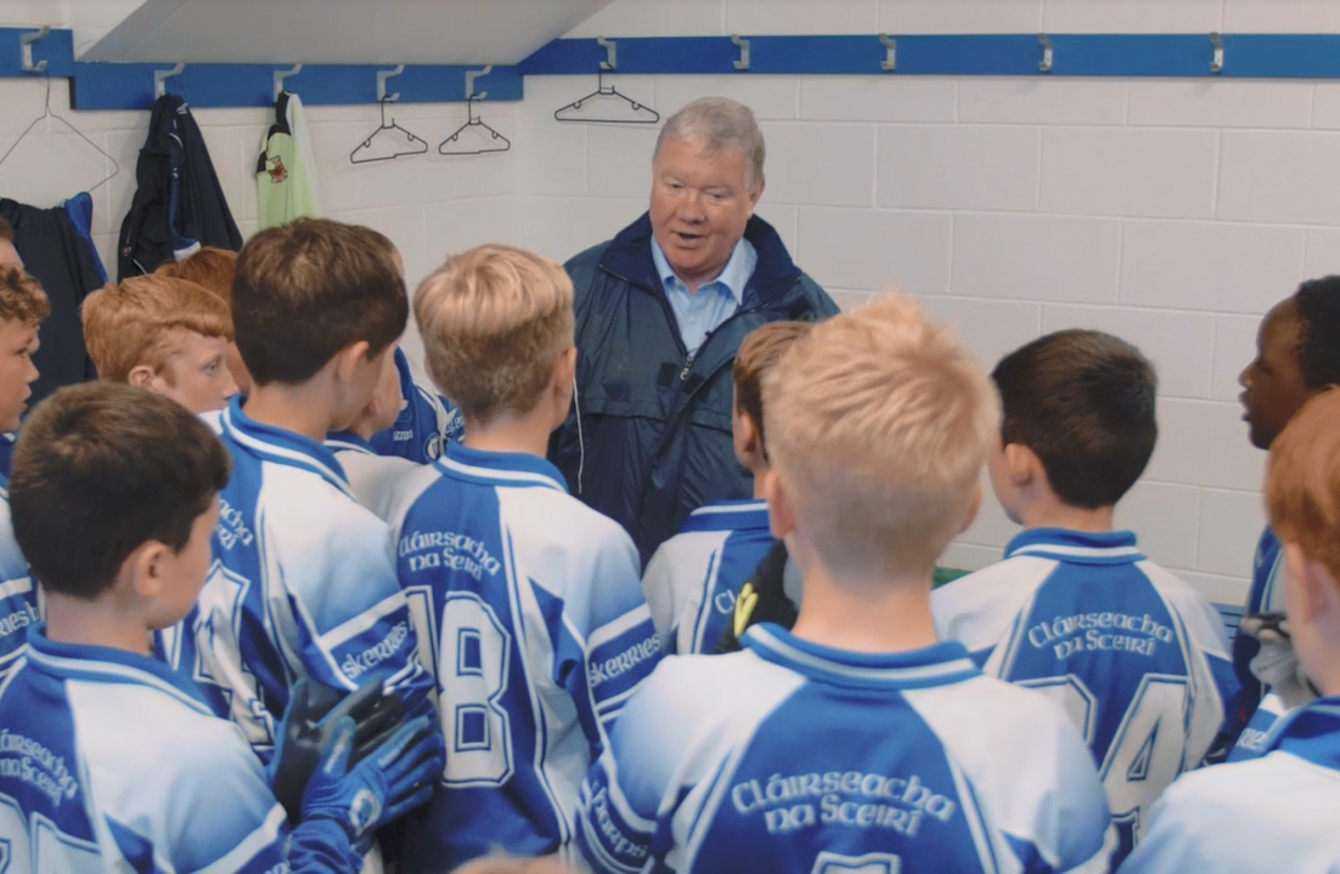 Despite his Kerry roots, Luke Moriarty has invested a lot of time and money in developing young Dublin GAA players.
Despite his Kerry roots, Luke Moriarty has invested a lot of time and money in developing young Dublin GAA players.
In the build up to the All-Ireland football final on 17 September, we're taking a look at local GAA from the sponsor's point of view and how it's much more personal than a logo on a jersey.
KERRY AND DUBLIN is one of the great rivalries in Irish sport, even if Mayo emphatically denied fans the opportunity for this year's All-Ireland senior football final to serve up the latest renewal.
And though Killorglin man Luke Moriarty — who played alongside John Evans — has called the capital his home for the past four decades, he still bleeds green and gold, even if he accepts that he may well be helping the next generation of Dubliners get one over on his beloved Kerry.
Moriarty, through his SuperValu stores, is one of the most prominent sponsors of local GAA clubs in Dublin.
In Skerries, for example, his commitment to developing new facilities allows the club to field 90 teams across all age groups.
That doesn't mean he's not excited about the future of Kerry football, however.
"My life is in Dublin, my business is in Dublin, so I can't get involved at club level in Kerry," he says.
But, that said, the fact that Kerry are going for four-in-a-row at minor level makes it intriguing — especially with what's going on in Dublin — and I'm looking forward to a repeat of the 70s when Kerry came up and put it up to Dublin.
"I have great memories of the Dublin v Kerry clashes of the mid-70s to early 80s, and Kerry's many great All Ireland wins."
Though Moriarty has lived in Dublin for decades, he has kept strong links with his home county, thanks largely to his long-standing involvement with the GAA.
"I became involved in the Kerry Association in Dublin and was Chairman in the late 90s for a number of years. I was asked by Sean Kelly, now an MEP, who was Chairman of the Kerry County Board, to form a Kerry Supporters Club in Dublin.
"Sean of course went on to become President of the GAA and I am Chairman of the Supporters Club from that date until now, heavily involved in fundraising, social events and development areas where I have expertise.
"The GAA helps me maintain that strong connection between my life in Dublin and my home county of Kerry."
That connection with the GAA is one that has seen Moriarty, through his ownership of SuperValu stores in Palmerstown, Balbriggan and Skerries, become a sponsor of several GAA clubs both in Dublin and Kildare.
On top of his work with Skerries, Moriarty is keen to ensure O'Dwyers GAA club in Balbriggan gets the most out of its centenary year in 2018.
"We are at a very advanced stage with O'Dwyers GAA club in Balbriggan to lodge a new planning application for much-needed facilities.
Balbriggan has the biggest percentage population of kids in Ireland; there are 6,000 children in total, with 4,000 under 12 years of age, so sporting and recreation facilities are incredibly important.
"We are also working closely with Fingal County Council, Dublin County Board and there is continued commitment to all of the local clubs and local GAA organisers to contribute financially and practically, wherever we can."
But Moriarty is keen to point out that his involvement with the GAA never actually feels like work:
"GAA is my main hobby and has been an integral part of my youth and adult life, and that of my children.
"It brings great enjoyment, and is my way of relaxing, both in terms of watching and following the sport, and also the social side.
"As a Kerry person living and working in Dublin, GAA has been hugely important to me. It is a link to home and a connection to other GAA supporters in Dublin.
I have a genuine love and passion for the sport, and respect every individual I have ever met in the context of the GAA, from pitch sides to board rooms.
"When you are a passionate about something as I am about the GAA it will never be a chore or a burden to you, and will never feel like work.
"It is just an incredible organisation to be involved in and, in many ways, a privilege."
Source: Journal Media Studio/YouTube
SuperValu is a proud sponsor of the GAA All-Ireland senior football championship and local GAA clubs around the country and are set to donate 55,000 footballs to clubs across Ireland and deliver volunteer camps throughout the summer.