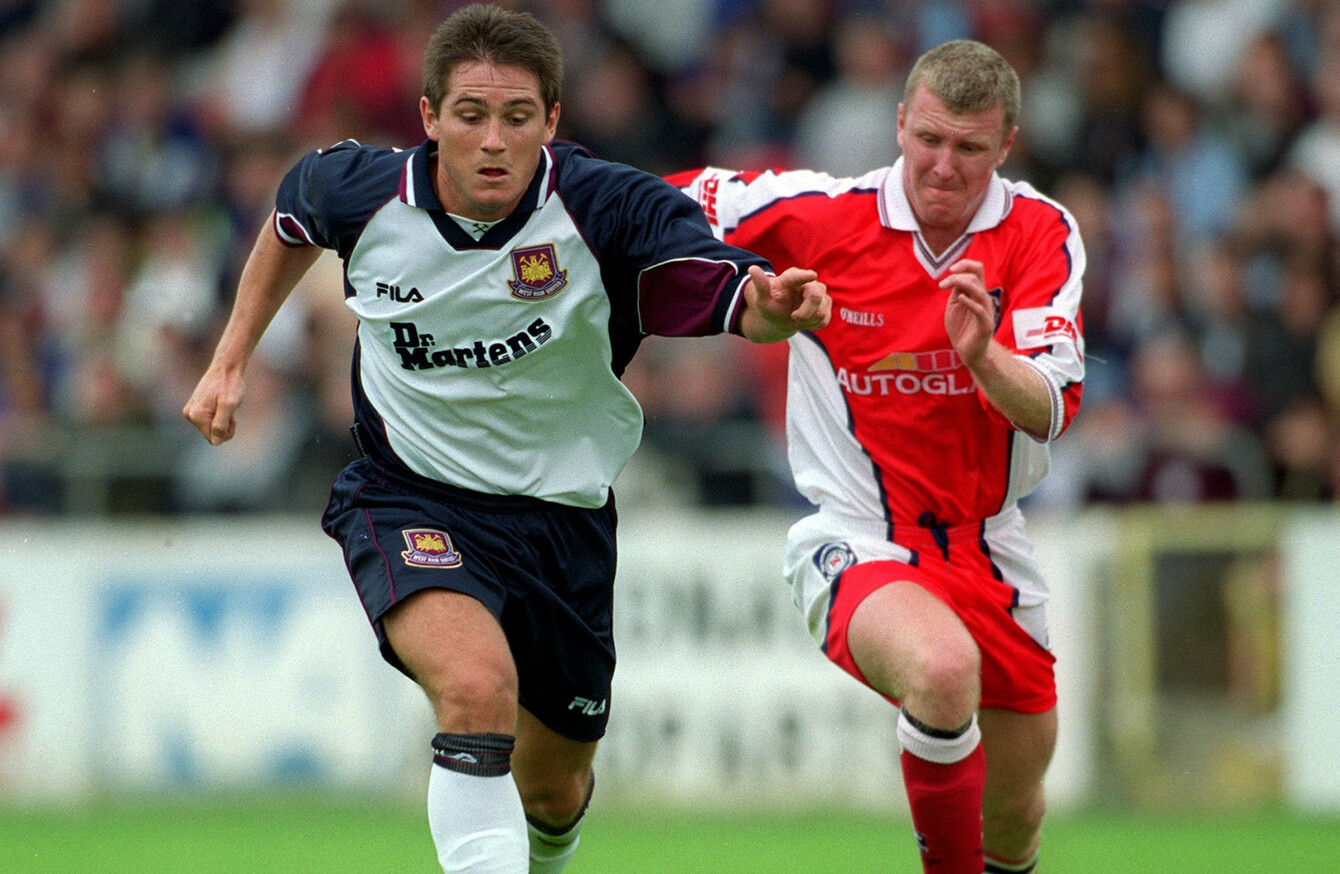 Prenderville, pictured with West Ham's Frank Lampard, during his first spell at St Patrick's Athletic in 2000.
Image: Andrew Paton/INPHO
Prenderville, pictured with West Ham's Frank Lampard, during his first spell at St Patrick's Athletic in 2000.
Image: Andrew Paton/INPHO
HE KNOWS WHAT it's like to line out at Lansdowne Road, but tomorrow Barry Prenderville will take charge of his own team at the famous Dublin 4 ground.
As a no-nonsense defender, the Cherry Orchard schoolboy earned a move to Coventry City before enjoying a League of Ireland career at St Patrick's Athletic, Shelbourne and Shamrock Rovers.
During the second of two spells with the Saints, Prenderville featured in the 2003 FAI Cup final against Longford Town.
That day ended in defeat, but the 41-year-old will be hoping he has better luck when his Maynooth University Town side meet Firhouse Clover in the FAI Intermediate Cup final.
"It's a huge achievement," Prenderville told The42 recently. "The partnership between Maynooth Town and Maynooth University is only in existence four years, so for us to get to a major final like this is massive.
"We've got 35 schoolboy and schoolgirl teams and it will be brilliant to them to come out and see that Maynooth soccer can be successful and we can play in play in places like the Aviva Stadium.
It's fantastic for the local community, the club and the university."
As soccer development officer at Maynooth University, Prenderville oversees the football scholarship programme, which includes a link with his old club St Pat's but also involves other LOI sides.
Many of the young players who arrive into the college are playing U19s at the time, but some will inevitably drop out of football before their degrees are completed. When Maynooth Town made the step up to intermediate level in the Leinster Senior League, he spotted the possibility of forming a partnership with the university.
"Players were going to other LSL clubs and I didn't know if they were turning up to training," Prenderville says. "So we said you can retain your scholarship if you play for our Leinster Senior League team.
"Maynooth Town got promoted from the junior football up to LSL Sunday 1B and I saw that as an opportunity to link. I thought it would be a hard sell with regard to the scholarships if it wasn't intermediate football, so once they made the step up, I thought it would work.
"We're still low on the intermediate scale [Sunday 1A], but I thought it was the right time to do it. It has worked out well, we have good facilities and there's loads of soccer going on in the university. I've got access to good players and even if they're not good enough to play for the Sunday side, they can line out for the Saturdays.
"We're thinking about having an U19s team next season, which could bridge the game between Maynooth Town underage players and 17 or 18-year-olds coming into the university. That would mean there's a progression and a pathway there."
Maynooth, who edged Dublin Bus out of the semi-finals with a 2-1 victory, are fifth in the third tier of LSL intermediate football at present and Prenderville says the aim is balancing the development of players with being successful.
"It's about development, but when you get to this level with men, obviously you want to win," he explains. "We have young players within that group that we are developing. Some have played in England with the likes of Nottingham Forest and Sunderland, and others would have had trials.
We want to make sure they keep getting better as they are only young and they can improve. Obviously, in men's football and coming to a stage like this you're going to try to win."
There is an obvious gulf in divisions between themselves and latest opponents Firhouse Clover, who earned a 5-1 victory when the sides met in the Metropolitan Cup before Christmas.
And although Prenderville accepts the Tallaght club will be favourites, he is relishing the chance to cause an upset.
"To be honest, this is not the same team," he says. "We have thought about that game and it was a very different side to the one we have now — certainly four or five players who wouldn't have played in that game will be involved here.
"This group have been on a good journey and they have really bonded as the games have gone by. Obviously, they are two leagues above us and I'm not going to say the pressure is on them, but the expectation from the neutral is that they should win the game.
"We will plan, prepare and we'll be ready. Any opportunity we get, hopefully we'll be there to take it."
2018 FAI Intermediate Cup final — Firhouse Clover v Maynooth University Town, Saturday, 12 May (5pm), Aviva Stadium
The42 is on Instagram! Tap the button below on your phone to follow us!