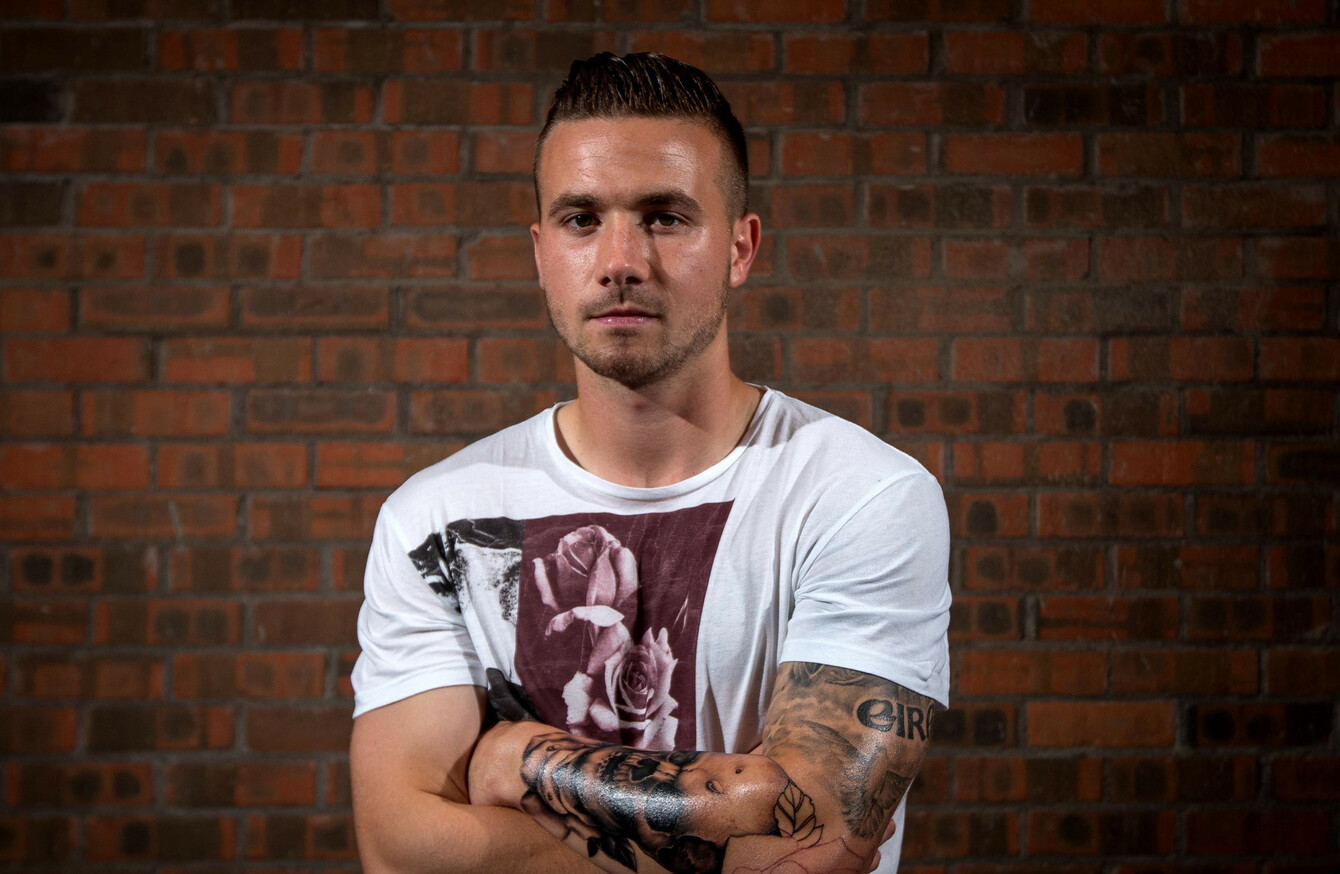 Mikey Drennan has returned to League of Ireland football after a two-year absence.
Image: Ryan Byrne/INPHO
Mikey Drennan has returned to League of Ireland football after a two-year absence.
Image: Ryan Byrne/INPHO
PICTURE THE SCENE: it's the Dublin Derby at Dalymount Park, Shamrock Rovers against Bohs in April 2016, with an impassioned crowd watching on.
After a promising first half for Bohs, their bitter rivals take the lead in stoppage time of the opening 45 through Gary McCabe.
Brandon Miele adds a second just after the break and a third with 17 minutes remaining. Gavin Brennan puts the icing on the cake with the fourth on 78 minutes.
Mikey Drennan completes 90 minutes of the match. He comes close to scoring after half an hour, but his powerful attempt from distance goes just wide.
Nonetheless, it doesn't matter. Rovers run riot and secure their biggest league win over Bohs in 52 years.
Understandably, there is elation in the dressing room afterwards. Everyone is on high, seemingly, except for one man. Mikey Drennan steps outside and starts crying. He hasn't played a League of Ireland match since.
*******
Earlier this month, it was announced that Drennan had signed for Sligo Rovers. He will consequently resume his League of Ireland career two years on from that Rovers-Bohs game.
The move came about after he received a call from Sligo boss Gerard Lyttle. He was effectively given a trial, but an impressive performance saw him offered a contract immediately thereafter.
"There were one or two options, but I think Sligo probably was the best one for me," Drennan tells The42.
The 24-year-old forward previously considered returning just prior to the 2017 season. Negotiations had begun, but the youngster says he needed to feel 100% sure it was the right time, and so ultimately decided against signing for anyone. Now though, Drennan is certain he can give 100% commitment to his club of choice.
I feel more mature [and can] deal with things better," he says. "For myself, I think it was the best time to go back. If I didn't come back now, I don't think I ever would have. With my head and how I feel, I feel great. Obviously, I need to get a small bit more fit, but that will come with training and in games."
In Ger Lyttle, Drennan is confident that he has a manager who believes in him and wants the player at the club. Lyttle has spoken of his respect and admiration for how his new signing dealt with past troubles. Drennan says the respect between the pair is mutual, while he is excited about the prospect of representing "a great club" and "a real football town".
Yet as enthusiastic as Drennan is about joining, he is under no illusions about the scope of the task at hand. Sligo are currently seventh in the Premier Division table, just five points above the relegation places. Drennan is surprised the club are in this perilous position, having witnessed first-hand their most recent performance — an impressive 3-0 win over St Pat's at Richmond Park the week before last.
There is competition for places in attack. The talented likes of Adam Morgan and Raffaele Cretaro are already on the books at the club.
Drennan also acknowledges that there will be sceptics he has to win over. In 2015, still his only full season in the Premier Division, he managed a decent haul of 12 league goals, but a long time has passed since then.
"I still have something to prove and I need to be better than what I was," he says. "I think now I'm more mature, my attitude is going to be much better. Overall, I think I'm going to be much better. [In my last spell in the League of Ireland] I scored some goals and that's what I'm going to Sligo for — to score goals."
The other Sligo players have been welcoming, while he already knows midfielder Rhys McCabe, with both individuals having spent time on loan at Portsmouth in 2014.
With a little under three and a half hours of driving between Sligo and his native Kilkenny, Drennan has unsurprisingly decided to move closer to the club. He will stay in an apartment with one of his new team-mates, Patrick McClean (brother of Ireland international James McClean). His girlfriend is set to join him up there in a couple of weeks. That way, it should feel a little more like home, and less like the difficult situation he found himself in a few years ago in Birmingham.
"That's basically it," he says. "I need to keep busy and keep active."
*******
It was at the age of "around 11 or 12″ while playing for local side Evergreen FC that Drennan first became aware of interest in him from abroad. Both Man City and Aston Villa were reportedly watching intently. He eventually linked up with the latter.
I think I was 14 when I went over and literally every time I went over, bar the last time, I scored," he recalls. "I think I went over 16 or 17 times, so I think that was a big factor as to why I signed there."
Drennan impressed both at underage level for Ireland and for Villa's U18 side. The club's academy director Bryan Jones spoke of how he "scores goals for fun". Just after turning 17, he signed his first-ever professional contract with the then-Premier League club. In these same weeks, he was named Ireland U16 Player of the Year at the FAI awards. For a brief moment, Drennan could be forgiven for thinking he had the world at his feet. Unfortunately, his feet — or at least one of them — would become a problem.
*******
Villa were going pretty well at the time too. Under Martin O'Neill, they secured three consecutive sixth-place Premier League finishes. Drennan watched on in admiration as the likes of Richard Dunne, James Milner and Ashley Young impressed as part of one of the best sides in the English top flight.
Despite these awe-inspiring surroundings, nerves, he says, didn't really come into the equation.
"I didn't realise how big it was. I was just going over and trying to score goals. I kind of just thought that was ordinary — that's what I do. When I was at home, I used to score goals. Every time I was going over there, I was scoring goals and it made the decision [to sign for Villa] that bit easier for me."
Be part
of the team
Access exclusive podcasts, interviews and analysis with a monthly or annual membership.
Become a Member
Along with Drennan, a number of other promising Irish youngsters, such as Derek Williams and Enda Stevens, were also on the fringes of the first team. Graham Burke, who recently made his international debut and had a superb spell in the League of Ireland at Shamrock Rovers before returning to England with Preston, stayed with him in digs. Drennan is delighted by his friend's recent success.
"He's a quality player. I used to love playing with him. Any run you'd make, he'd pick you out," he remembers.
Drennan was looking as impressive as any of the other youngsters at the time, scoring prolifically for the reserves. Yet a badly timed injury knocked his confidence. A foot problem that initially didn't seem too serious kept him out of action for almost a year. Off the pitch too, he was struggling, with this setback exacerbating feelings of depression and isolation.
"There were a lot of bad things that a lot of people don't see. When you go out and play football, you try to forget about what's going on in your head. You try to forget about everything. It was up until my third year, everything was going well. Then I got the injury. Everything kind of went downhill from there. It wasn't a good time.
"You've got a lot of spare time after training. It's just boring. As you get older, you start to go out more and you can gamble all the time. You're just passing so much time and yet you're just losing all your money, because you never win.
There should be something in place for young lads that are going over like that. Even once or twice a week, just to get them out and have something [to look forward to] — bowling or anything. Just getting them out and active instead of just leaving them in digs.
"[The standard of care] wasn't good enough when I was there. I don't know about now, but with the money that the clubs have, it should be much better."
On the issue of gambling, he continues: "It started off with small money and then it got massive. I wouldn't gamble now, I've stopped. But at the time, I think of the amount of money I could have had and what I could have done with it. You've so much time and you just go with it. It might be a tenner and then the tenner will turn into 20s and the 20s to 50s and 50s to 100s. One in about 20 [times] you'll have a good day and you might win a bit of money. But it's rare that you win.
"When you're young and have the money there, you can't be going out drinking, so you go out buying loads of expensive clothes and all that sort of stuff. And you can't really afford it at that age, but you still have more than enough money compared to what the average person would be getting."
*******
After returning from injury, in 2014, Drennan was sent out on loan to Carlisle and later Portsmouth.
"I had just come back from my injury. I was a bit overweight. I would have liked to have played there before the injury, I think I would have done well when I felt sharper — scoring goals and confident. But it's all 'ifs' and 'buts'. I think when I did play, I wasn't good enough."
A year later, the former Ireland underage international left Villa. There were offers elsewhere in England, but by then, Drennan wanted to go home. In January 2015, a move to Shamrock Rovers was confirmed.
One aspect of Drennan's personality that comes through when speaking to him is that, unlike a number of other footballers, he is certainly not shy when it comes to self-criticism. While he earned praise for his early performances at Rovers, he describes his only full season as a first-team player as "okay," before adding: "I still should have done much better and scored an extra 12-15 goals."
In the two years away from the League of Ireland, Drennan's main focus was to rediscover the pure enjoyment that can be derived from sport. He lined out for local hurling side, James Stephens GAA, and also went back to Evergreen. Last year, he helped guide the Kilkenny team all the way to a first FAI Junior Cup final appearance in 33 years, scoring a crucial goal in their semi-final win over Boyle Celtic, before being part of the side that lost 2-0 to Sheriff YC in the climactic encounter at the Aviva Stadium.
It was going back and playing with my friends I've had since I was younger," he explains. "It made it that bit easier, because it was junior football. It was more relaxing and you can enjoy it and have a few drinks after — the junior way. That's what everyone does after a game. The camaraderie that you have is good as well."
Having emerged from the cosseted bubble of youth football in England, Drennan also began to lead a more ordinary life, working in the Three shop in Kilkenny, selling phones, while also attending counselling sessions around this period.
It may not have encompassed the dizzying highs of scoring an exquisite goal or producing a perfect pass in front of a big crowd, but for Drennan, regaining this sense of normality in his life was vital.
"I got more mature. For my head and from my own perspective, my game matured. I was playing centre mid [with Evergreen], I rarely played number nine. I was enjoying my football, getting on the ball and all that stuff.
"The standard is okay and we had a very good team. We won the treble two years in a row — the first team ever to do it in Kilkenny. So it was good that way and it was good to go back and enjoy my football — I think that's the main thing, I think I will enjoy my football [at Sligo]."
*******
The level of pressure on young footballers has been well documented. Just last week, ex-Hull and Cork City defender Brian Lenihan spoke of how a mental health battle forced his retirement at the age of 23. Drennan, meanwhile, says his only regret is that he didn't seek help sooner.
"I wasn't enjoying [football] at all. I just didn't want to play anymore. I was literally contemplating: 'Do I want to be here anymore? Do I want to be alive anymore?'
"Things like that, what I did — it did help me when I got the help that I needed to look after myself. And it helped other people as well, just from seeing my own story, which was great."
The young forward knows the depression will always be there to an extent, but now feels better equipped to deal with any issues. The interview concludes with Drennan offering invaluable advice to anyone who is struggling.
Literally just talk. Talk to anyone. Talk to someone who you trust. That's a massive thing. Even if it's someone in the club, if it's a friend, if it's a coach, anything. If you're struggling, just talk. Even if it's just for two minutes, it will make you feel that little bit better."
If you need to talk, contact:
Pieta House 1800 247 247 or email mary@pieta.ie (suicide, self-harm)
Samaritans Call 116 123 Email jo@samaritans.ie Text 087 260 9090
Aware 1800 80 48 48 (depression, anxiety)
Teen-Line Ireland 1800 833 634 (for ages 13 to 19)
Childline 1800 66 66 66 (for under 18s)
The42 is on Instagram! Tap the button below on your phone to follow us!