Cookstown's Owen Mulligan under pressure from Paul Galvin, Raymond Galvin and Pat Corridan of Finuge in this year's All-Ireland IFC club final.
Image: INPHO/Cathal Noonan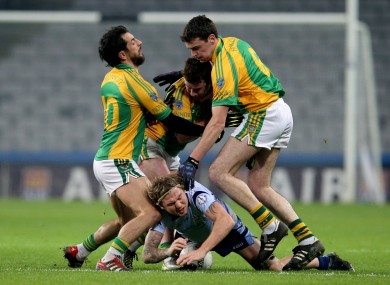 Cookstown's Owen Mulligan under pressure from Paul Galvin, Raymond Galvin and Pat Corridan of Finuge in this year's All-Ireland IFC club final.
Image: INPHO/Cathal Noonan
OUR 2013 ALL-IRELAND semi-final win over Mayo champions, Charlestown, in Longford, was the best team performance I have ever seen from a Cookstown team.
We were five points down at half time and playing into the wind in the second half. Marty Murray scored an opportunist goal and we clawed back the deficit, managing to take the game to extra time.
We scored the only point in extra time after 23 seconds and then clung on for dear life. Men were throwing themselves into blocks, it reminded me so much of the Tyrone v Kerry swarm tackling in 2003 and our supporters were loving it.
Charlestown had a chance to equalise in the last minute to earn a replay when they got a soft free-kick and the referee moved it forwards for verbals. They brought a sub on to hit it, Colm Maye, who'd been taken off earlier in the game.
Our boys gave him nothing but stick and I roared at him, 'Come on, this is a nice wee handy one for you. You don't even need to open your eyes, just tap her over.' He took the kick and the ball rolled off the top of my fingers and I thought, Oh no, this is going in the net.
I turned around and saw our midfielder, Conor Mullan, catch the ball underneath the crossbar and kick it into the stand as the referee blew the final whistle. The scenes were unbelievable. It was so emotional, everyone was in tears. The supporters couldn't believe it. Some of them said it wasn't like watching a Cookstown team, we had shown so much guts out there.
It had never been an ambition of mine to win another Intermediate title but now we were closing in on another All-Ireland medal, of course I wanted it. The next week, (Raymond) Mulgrew was on a plane home from Sydney.
I knew he'd been itching to get back. He had asked me a few times whether he should come back and I told him it was up to him, even though I knew that with him on board, we would have a better chance of beating Finuge in the final.
Cookstown's Raymond Mulgrew (file photo)
Pic: INPHO/James Crombie
Some of the boys didn't think he should be allowed back in. He had been in Australia for two years and some of the senior players stood up at a team meeting and objected to him coming in at such a late stage of the season.
It reminded me so much of Stevie O'Neill coming back to Tyrone before the All-Ireland final in 2008. I was listening to the same arguments all over again.
My cousin, Barry 'Groovy' Mulligan, was in the same boat. He had been away travelling for a few months and there were a few boys who thought he shouldn't be allowed back in either.
I could see where the boys were coming from. We had come through this amazing All-Ireland semi-final where we had died for each other and these two boys had missed it. If we didn't need them then, why did we need them now?
I stood up, just like I had done in a Tyrone team meeting four and a half years earlier, and backed the lads coming back in. 'Boys, do you want the best for yourself or for Cookstown?' I asked them.
I used the experience of what had happened with Stevie to show them that it could all work out for the best. Boys started to come round. Mulgrew came up to an in-house game and straight away I could see he was in really good nick.
He had been playing for New South Wales and had put on a bit of bulk. His legs had filled out compared to the wee puny legs he used to have. Some club committee members were angry the two boys were brought back in, but I don't think we would have won the All-Ireland without them.
Both Mulgrew and 'Groovy' were brought on before half time in the final, after we lost Conor Maguire and Conor Mullan to injury. I was playing all right at centre half-forward but those two came straight into midfield and changed the game.
The game had been built up as a grudge match between Paul Galvin and me. During the game, he came over to me and said, 'I'm only after being spat on'. 'Sure, you're well used to that sort of stuff yourself,' I said. I didn't believe him.
There were some nasty enough verbals going on. I'm all for a bit of verbals but their lads said a few things that were below the belt, though Galvin wasn't one of them. He is not into that.
I didn't mind so much the whole 'British' slagging that goes on, because I am well used to it, but some of our lads were raging. They came in at half time and that's all they could talk about. They hadn't really been exposed to it before but I told them to calm down, that it was par for the course. There was no point losing our focus over that.
We won comfortably in the end, by 1-9 to 0-6, and leading the boys up the steps as captain to pick up the trophy was a fantastic feeling. I had written a speech but I didn't look at it, I just spoke from the heart.
It meant a lot, but it wasn't as special to me as when we won it the first time, in 2010. That's because the first time you do anything is always the best, just as the 2003 All-Ireland with Tyrone will always be the most special to me.
It meant a lot to my family to see me climb the steps first and pick up the trophy. But I don't rate it among my top five achievements, simply because I didn't think we should have been an intermediate team any longer. We should have been competing for senior honours.
Pic: INPHO/Cathal Noonan
The celebrations were just starting to die down over a month later when a video clip appeared on the internet, allegedly showing one of our players spitting on Galvin. Then Galvin retweeted the link to his 60,000 or so followers on Twitter, sparking huge publicity in the media.
We let it go and said nothing for a few days, but the club's name was getting dragged through the mud so I thought, as club captain, it was up to me to respond.
I released a statement about the abuse our lads had had to put up with during the game. The Derrytresk boys in Tyrone wanted to back us up, because they said they had encountered the same thing in the All-Ireland junior club semi-final against Dromid Pearses the previous year.
Suddenly, it was becoming a Tyrone v Kerry row, which I didn't want. I was just trying to defend my player and my club. A few days later, I got a call from Canavan. Galvin had been in touch.
That pissed me off for a start. Why is he ringing Canavan? I fumed. Canavan has nothing to do with Cookstown. He should have phoned me. Galvin wanted Canavan to act as a go-between but I wasn't having that.
I got his number from Canavan and texted him. 'Paul, it's Mugsy here. Are you ok to talk?' He texted back that he would take my call, so I phoned him. 'I was very disappointed with your comments,' he told me quickly enough. 'Are you going to take them back?'
'Not one bit, Paul. I'm defending my club and a player on my team.' 'I was spat on,' he said. 'Your club knows it and your county knows it.
What would you do?' 'I don't want to fall out with you,' I replied. 'I have respect for you and your club, but this is being built up as a whole Tyrone v Kerry row and it's getting out of hand.'
He agreed that he didn't want the bad publicity either. The suspensions that were handed down following an investigation by Croke Park were thrown out and the row petered out in the end.
I'm a firm believer in not holding a grudge once a match is over, and I would never have released any statement only that Galvin retweeted that video link of the alleged spitting incident.
I don't know if Paul Galvin is speaking to me or not. I would like to think that if I bumped into him sometime, we could shake hands and havea drink together, and draw a line under the whole thing.
I have a lot of respect for most of the Kerry lads, including him. He is a class player and he's got rough treatment over the years. Of course, he is no angel at times but he is hard done by, too. The time he swiped the notebook out of the referee's hands is a wee bit of craziness that I can identify with.
Paul Galvin and myself, and all the Kerry and Tyrone footballers from a brilliant decade of Gaelic football, are part of GAA history. We wrote a great story together. We are part of each other's lives, whether we like it or not.
It's something, I feel sure, that we will all come to treasure as the years fly by us all in the next decade.
Mugsy – My Story by Owen Mulligan with Orla Bannon – Irish Sports Publishing
More details can be found here