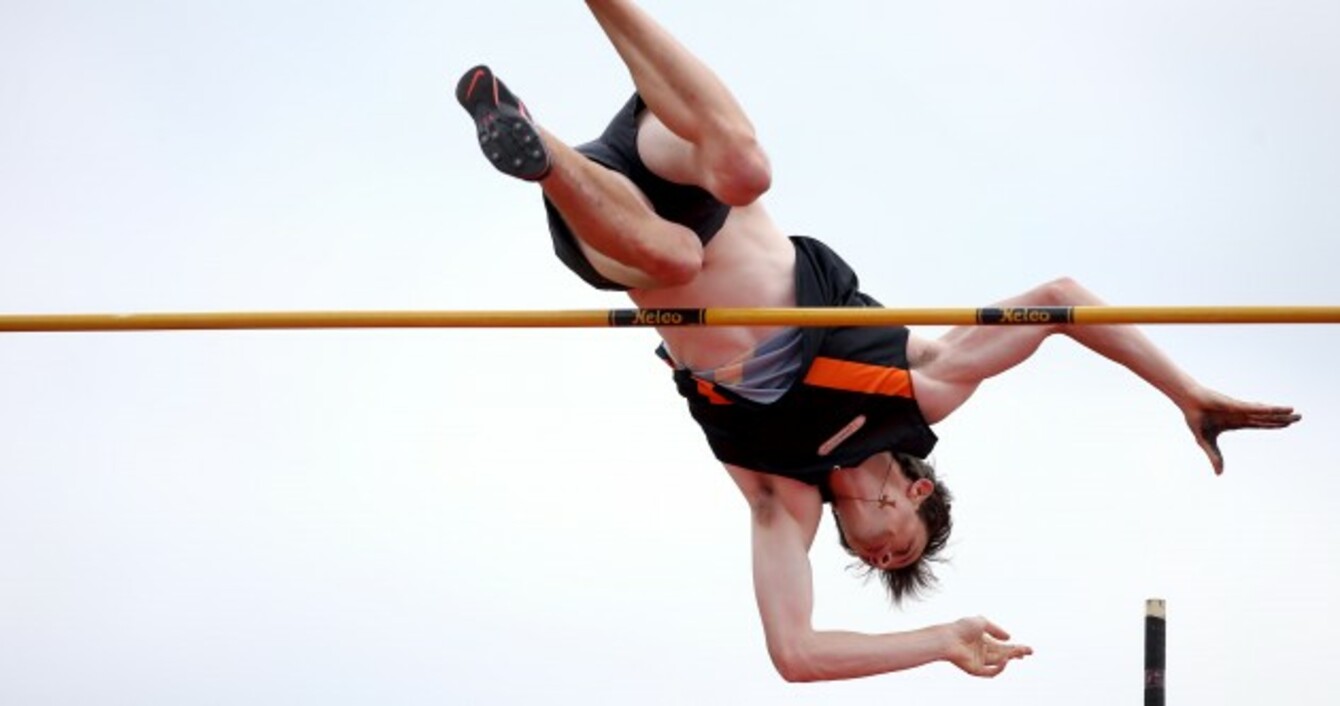 Ian Rogers on his way to winning the 2014 National Championships
Image: Ryan Byrne/INPHO
Ian Rogers on his way to winning the 2014 National Championships
Image: Ryan Byrne/INPHO
FOR SPORTS FANS of a certain age, the name Sergey Bubka evokes memories of world records tumbling in his wake for over a decade.
Though Bubka only won one Olympic gold medal — at Seoul in 1988 —  he set no fewer than 35 indoor and outdoor pole vault world records in 11 years through a combination of raw power and pure speed.
Fast forward twenty years and it's a very different type of athlete dominating the most high-flying of track and field events. Indeed, Renaud Lavillenie almost looks like he could be of a different species to the former Soviet athlete, let alone the man who has claimed his crown as the undisputed king of the pole vault.
Now, while Ian Rogers personal best of 4.80m is 1.36m short of the pole vault world record set by the Lavillenie in February 2014, the Clonliffe Harriers man shares a wirey frame and an early love for the sport with the Frenchman.
"I've been really lucky in that I grew up with athletics," Rogers told The42 ahead of this year's GloHealth National Track & Field Championships at Morton Stadium.
"I grew up on the side of an athletics track, in this very stadium. I worked out the other day I've been coming to Santry for 19 years and I'm only 26.
"My love affair with pole vault goes back to when I was three. I was down in Tullamore at a meet. My mum had me in the buggy and parked me in front of the pole vault and I was just transfixed by it.
"She went to move me at lunch and I screamed so much she had to leave me with a friend of hers — who is still a pole vault coach in Waterford — and two hours later I was still sitting there happy as Larry."
But how exactly do the likes of Rogers and his fellow competitors actually figure out they're good at an event like the pole vault?
"It's one of those things, it's like a dark art really, you think you've got it figured out an then you realise there's something else to it and, I suppose for that reason, anyone can take it up.
"The IAAF put up an article recently where they spoke to Lavillenie's coach and he said the reason why he's the best in the world is because, one, he's the fastest in the world, two, he's got no fear and, three, he wants to be the best.
"I mean, the guy has a pole vault mat in the backgarden and he goes out and vaults 24/7. That's all he does, he just loves it. And he's so much smaller than Bubka that it shouldn't work out but, the thing about pole vault is that if you want to be good at it, you're going to be good at it.
"It's a strange event because, if you look at your average sprinter or your average thrower and you've very similar body types. Then you look at the pole vault field and it's like The Brady Bunch. There are guys I've jumped against who are smaller and heavier than me and there are guys who are taller and lighter."
Though Rogers insists the sport is for everyone, he does admit it's not always for the faint of heart.
"I can understand people not being attracted to it because the fear of falling is certainly a primeval fear and you really are on your own out there every time you take an attempt.
"To a casual observer, high jump and pole vault probably look very similar but with the pole fault you've got the added dimension that you're going significantly higher on a narrow piece of fibreglass that could potentially break and cause you to miss the mat entirely.
"But we do it for the same reason people throw themselves out of airplanes, for the buzz. I've seen a Portuguese competitor have her pole break in three places, walk back down the track, pick out another pole and equal her PB. So yeah, I suppose, we are a different breed."
Source: TVFAN2/YouTube
But the life of a pole vaulter is not easy, especially trying to get to and from training and events and it can prove to be very expensive.
"It's not like we can just throw our runners in a gear bag. You've got to do a bit more planning and not just 'will my pole fit on a plane' but 'how am I going to get to the airport in the first place'.
"Your life is full of logistical and financial challenges. The last set of poles I got cost about €750 per pole so you don't want them to break.
"But they do break and when they do you know it's going to hurt, not just physically but also hurt your bank account."
"It's always a struggle but it gets to a point that you don't really care.
Rogers is one of the few pole vaulters in the world with a physics degree so that, at least, helps him understand the more technical elements of the sport and is currently completing a research Masters in Athlone.
"Having access to the facilities there is such a great advantage because the Irish weather conditions are not exactly ideal for clearing big heights outdoors. I jumped my personal best in a 4.5 metre/second cross wind which was an experience.
"So being able to walk into Athlone is great because if anyone is going big in Ireland, it's probably going to be in Athlone."
That's not to say Rogers believes he won't be able to put in a big jump at the Nationals mind, and he has his sights set on defending his title.
"I'm going to keep plugging away, keep doing what I'm doing because I really enjoy what I do. I'm certainly not going to walk away from it any time soon."
The GloHealth Senior Track and Field Championships which take place in Morton Stadium, Santry on the 8-9 of August. Tickets for the event are now available, priced at €10 for adults with children under 16 going free. Tickets are available here.