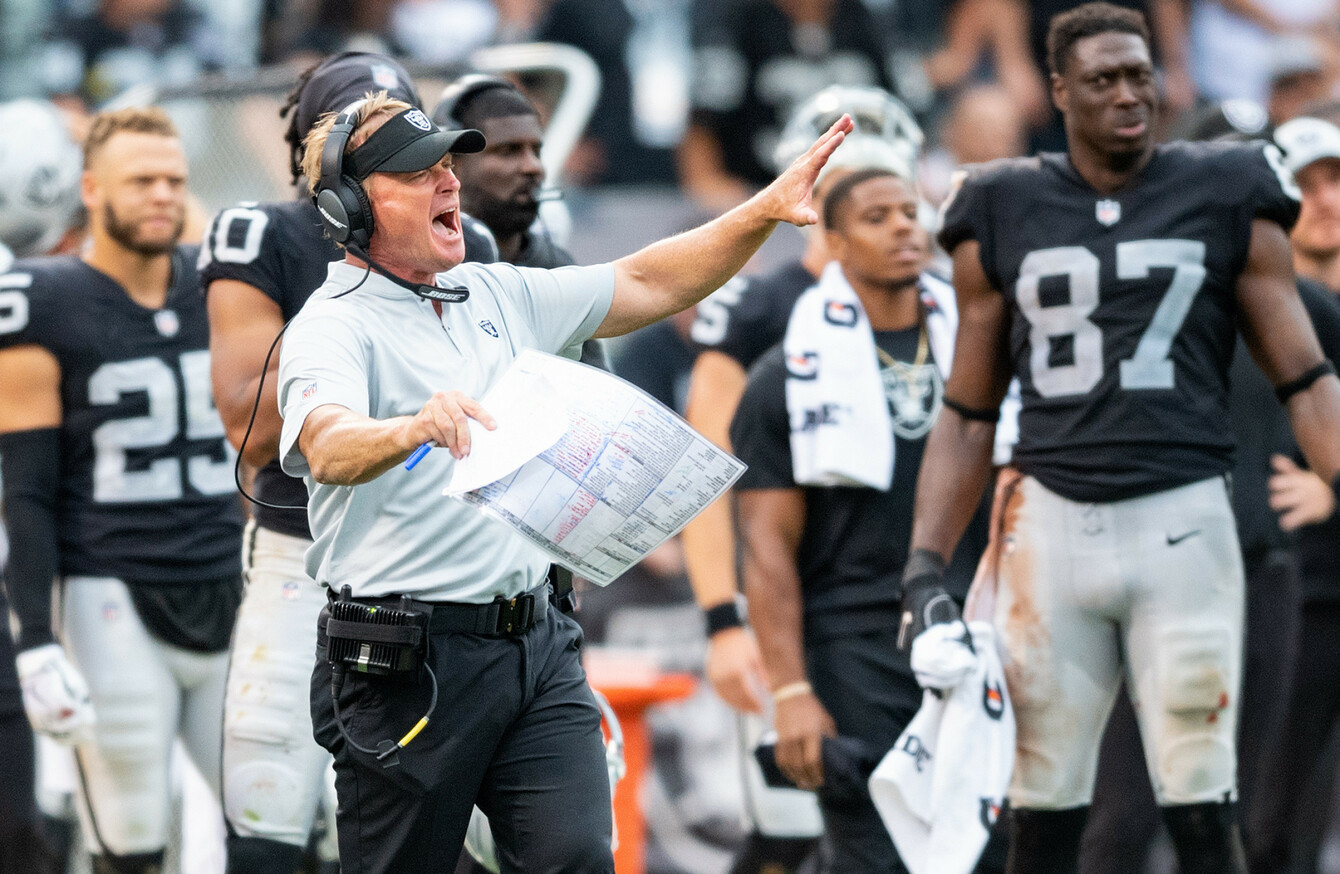 Jon Gruden had his first victory as Oakland Raiders head coach in almost 10 years.
Image: SIPA USA/PA Images
Jon Gruden had his first victory as Oakland Raiders head coach in almost 10 years.
Image: SIPA USA/PA Images
YOU'D PROBABLY NEVER guess it looking at your TV on any given Sunday, but the NFL actually employs 24 full-time officials, up from 21 last year.
Of course, up until 2017, all officials were part-time and worked in a variety of jobs outside football; teachers to bankers and insurance underwriters to builders.
The clamour for full-time referees came as the speed and quality of NFL play increased but, much like the Oakland Raiders offence, officiating remained stuck in 1996.
The move to professional officials wasn't welcomed by everyone. Speaking to MMQB back in 2016, former head of officiating Mike Pereira said:
"I can't fathom what a side judge would do all week to get better and make better calls on Sunday; Read the rule book? Watch a lot more tape?"
In a way, Pereira is right. There are only so many games in a season so referees can, at the most, officiate in 19. But the thing is, there are up to 15 other games going on every week so watching tape — to see what decisions they would and wouldn't make — seems like a pretty basic ask of any professional.
Players watch lots of tape, why not officials?
But, even though they're now being paid to referee, officials are still doing a horrendous job. Thankfully, the 'Clay Matthews rule' of penalising a player for perfectly sacking a quarterback appears to have been relaxed this week.
However, this play in the Browns v Raiders game was still flagged as 'roughing the passer':
Roughing the QB. 15 yards. WTF pic.twitter.com/FGAL8WiT7Q

— Safe Gipsy (@GipsySafety) October 1, 2018
Look, I don't want to start talking about how the 'game's gone' because I fully understand the need to protect players when we realise the long-term devastating effects of concussion. But, there's no world in which that's roughing the passer.
In fact, it's the perfect way to pull out of a tackle when you realise the ball is already gone. Arden Key and the Raiders rightly felt hard done by.
That said, Oakland benefited more from bad refereeing in that game than the Browns.
Firstly, down 35-34 and facing a crucial third-and-nine near midfield, Derek Carr dropped back to pass but found Browns' pass rushers Myles Garrett and Genard Avery in his face.
The two defenders crashed into him and knocked the ball loose, where it bounced directly into the hands of defensive tackle Larry Ogunjobi. Ogunjobi had just one man to beat and 35 yards to cover for a score.
But he never got the chance because officials wrongly blew the play dead when contact was made, erasing the turnover and a potential pick six.
It was the second time in the game an early whistle had potentially negated a score as Marshawn Lynch looked set to go full Beastmode earlier only for a premature whistle to deny him the opportunity.
That said, the worst call of the game would also be the most decisive.
SEE SPORT
DIFFERENTLY
Get closer to the stories that matter with exclusive analysis, insight and debate in The42 Membership.
Become a Member
On third-and-two with 1:41 left on the clock, and his team holding a 42-34 lead, Carlos Hyde ran up the middle and the original spot had the ball a few inches past the chains.
With a couple of kneel downs, the Browns were all set for back-to-back wins for the first time since November 2014:
However, despite any evidence to support it, the replay official moved the ball back to behind the chains and the Browns were forced to punt.
The Raiders went down the field and scored before adding a two-point conversion and kicking the game-winning field goal in overtime to give Jon Gruden his first victory as silver and black head coach in more than 6,000 days.
That's just one game and look how many game-defining moments were impacted by poor officiating, even with the benefit of technology?
Extrapolate that over 16 games in a full weekend and you've got nearly 80 such mistakes. That can't be acceptable in a sport where inches matter. .
As for solutions, well I'm more a problems man myself but here are three quick ways we could make the NFL better for everyone.
1. Make officials younger
Even as I steamroll towards middle age, I'm constantly shocked by how old those plying their trade as referees are. Football is a young man's game and yet you rarely see an official as young as or younger than even the longest-serving veterans.
2. Reduce the rule book
The NFL rule book makes War & Peace look like an Ann & Barry story. You could probably cut it in half and still have a decent reference point for referees.
3. Get rid of replay
Yes, replay can help but I wonder how often officials throw a flag in just because they're worried what will happen when the play is slowed down to one millionth of its normal speed. Without replay, we might even get games finished in three hours.
I'm not saying any of these solutions are perfect or even elegant, but what's clear is that we've had one of the most exciting starts to an NFL season in recent memory and, yet, it feels like every weekend we wind up talking about the zebras.
That really shouldn't be the case.
The42 is on Instagram! Tap the button below on your phone to follow us!