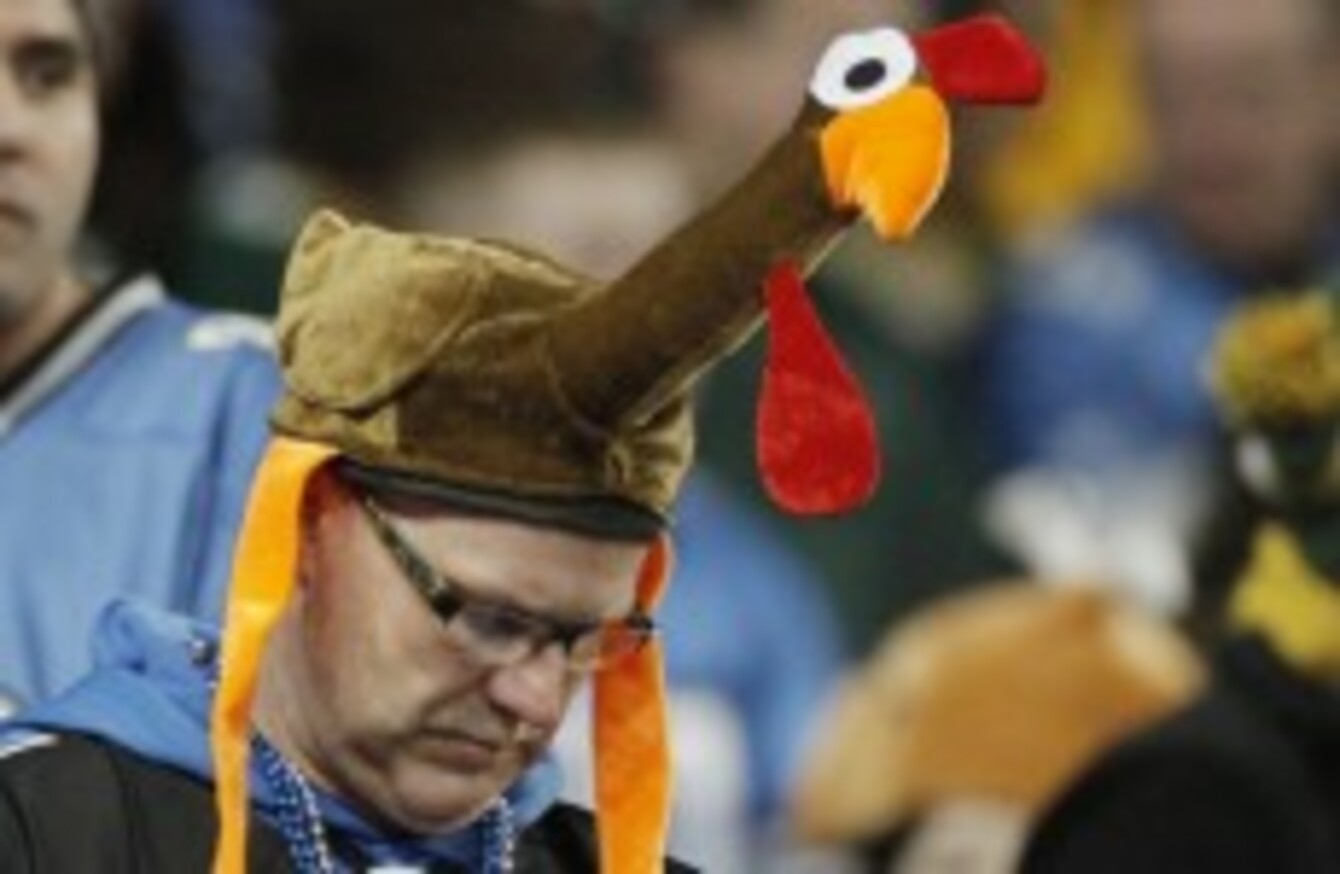 Image: Duane Burleson/AP/Press Association Images
Image: Duane Burleson/AP/Press Association Images
AS A CHILD my nickname was 'Turkey'. It was an inherited nickname. Why people called my father Turkey was never made clear but, like Spud Murphy and Chalky White, the name was deemed fit to pass on to the next generation.
I never liked it, obviously; who would appreciate being called after a bird that looked like, well, a turkey? For that reason I was never particularly fond of the bird, either alive or after it had shuffled off its mortal coil and become an ex-turkey.
That made Christmas awkward in the O'Rourke household, but at least I didn't have Thanksgiving to contend with too. For those who don't know, Thanksgiving is an American holiday that takes place on the fourth Thursday of November and is celebrated by meeting up with family, stuffing yourself with turkey and both playing and watching football.
Don't believe me? When has Friends ever lied?

The tradition of NFL games taking place on Thanksgiving wasn't started by George A. Richards, a man who would have made Al Davis and Jerry Jones look like reclusive owners, but it was perfected by him. In 1934, Richards bought an American football team, known then as the Portsmouth Spartans, and moved them from Ohio to the Motor City before renaming them the Detroit Lions.
The problem for Richards and his new team was that baseball was the sport of choice in Detroit and it would take something special for people to part with their hard-earned cash on a football team as well. Richards needed a gimmick, and that gimmick was Thanksgiving football.
So, in 1934, Richards booked the World Champion Chicago Bears to face his new team in the University of Detroit Stadium on Thanksgiving. They lost a tight game 19-16 but the tradition was in place and, save for a six-year gap between 1939 and 1945, the Lions have played a game every Thanksgiving since.
Houston Texans @ Detroit Lions
The most famous Turkey Day game played by the Lions was the 1962 'Thanksgiving Massacre' when they mauled the Green Bay Packers 26-14 to hand Vince Lombardi's men their only defeat on their way to a second consecutive NFL title.
This generation of Lions will need to pull out a similar performance if they are to have any hope of beating the team most pundits rank as the best in the NFL. To win, they need Matthew Stafford and Calvin Johnson to do a better job of securing the football than they did last weekend versus Green Bay. Against the league's fourth-ranked defence, that's easier said than done.
After winning most of their games this season because of that defence, the Texans relied heavily on their offence to scrape past the Jacksonville Jaguars last week. QB Matt Schaub's 527 yards and five touchdowns was the second-best quarterback performance in NFL history, just shy of Norm Van Brocklin's 554 yards set in 1951.
Verdict: Given the fact the Texans pass defence struggled against Jacksonville's backup QB and have had just a four-day turnaround to try and correct that, there are some who fancy the home team to cause an upset in this one. I'm not one of them. Houston by 5+
Washington Redskins @ Dallas Cowboys
The only other team in the NFL to have a tradition of playing on Thanksgiving are the Dallas Cowboys. However, their tradition only dates back to 1966. Unlike the Lions, who were the worst team in the NFL up to two seasons ago, the 'Boys Thanksgiving games usually have playoff implications. This year is no different, but only just.
While the Cowboys don't necessarily have to win out to secure a playoff berth, they do need to beat the Redskins more convincingly this weekend than they did the Browns last week to prove the doubters wrong. However, if Brandon Weeden can make life difficult for your defence, imagine what Robert Griffin III will do.
The rookie QB was almost perfect against the Eagles last weekend, completing 14 of 15 passes for four touchdowns as well as running for 84 yards on just 12 carries. He was, however, playing an Eagles defence that has all but given up on its coach so take the performance with the large pinch of salt it deserves.
Verdict: Dallas has won five of its last six Thanksgiving encounters and all six Turkey Day match-ups with the Redskins. Traditions, like rules, are there to be broken though. Washington by less than 3.
New England Patriots @ New York Jets
As if having to listen to both Patriots and Jets fans for an entire week harping on about this being the best rivalry in the NFL wasn't bad enough, the home team have announced that Lenny Kravitz will perform at halftime. If that's not a reason to go the other way, I don't know what it.
The Patriots ran up the score on the Colts last weekend but, in doing so, lost the league's best tight end to an injury that will rule him out until the postseason should they make it. A win this Thanksgiving will go a long way towards securing that playoff spot but, without Gronkowski, Tom Brady will be glad to see the return of his other tight end, Aaron Hernandez, from injury.
For the Jets, this is a must win. Given the Jekyll and Hyde nature of their season, it's entirely possible they could beat the Patriots. However, it's equally likely they could lose by 20 points or more.
Verdict: I keep saying it, only because it's true, but the Patriots are three field goals away from being perfect this season and yet barely anyone outside Massachusetts considers them realistic Super Bowl contenders. I do, so New England by 7+
Keep an eye out for The Redzone's preview of Sunday's fixtures this weekend.