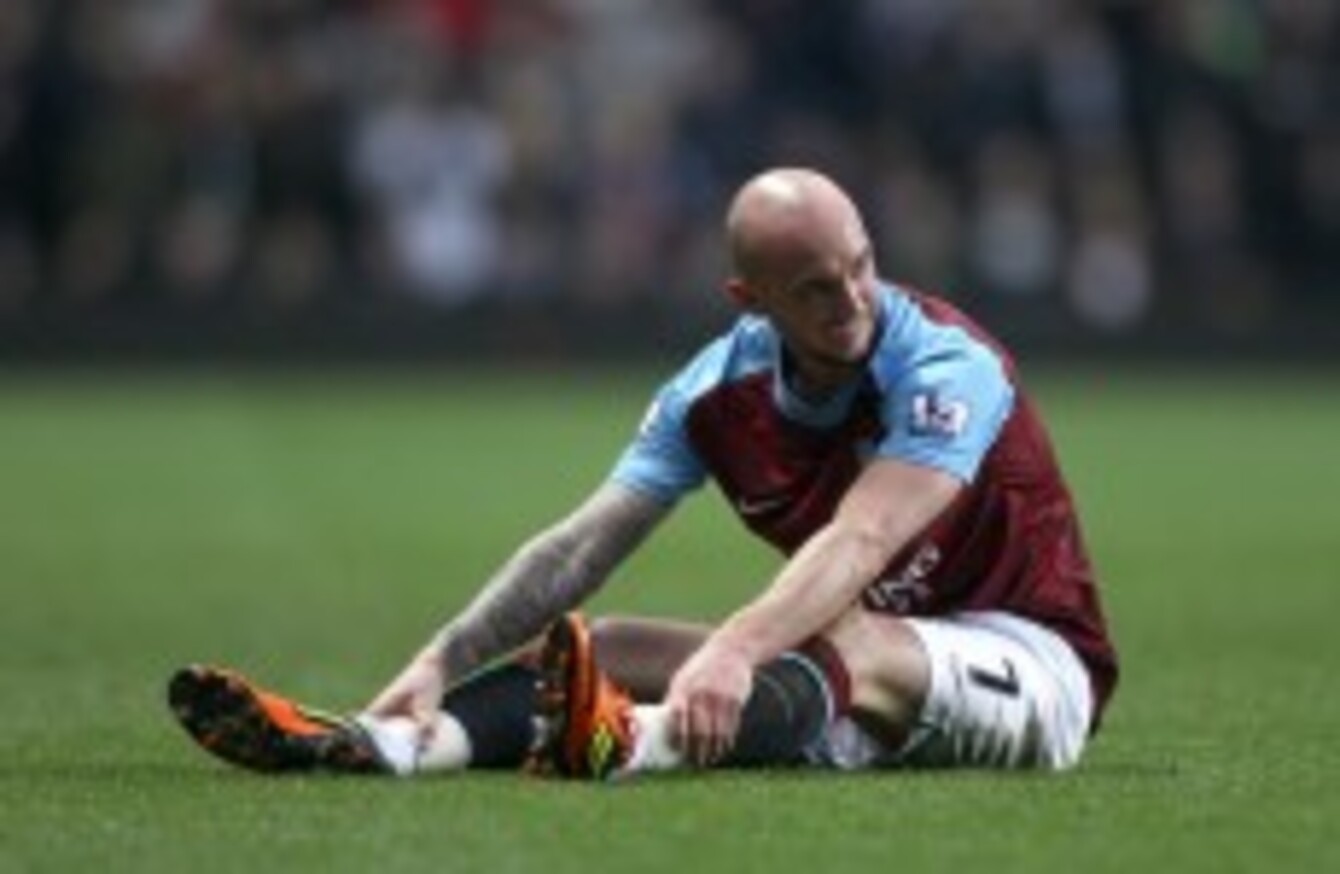 Stephen Ireland recently signed for Stoke, having been frozen out of the first team at Villa.
Stephen Ireland recently signed for Stoke, having been frozen out of the first team at Villa.
STEPHEN IRELAND IS never going to be the most loved footballer of all time from these shores, despite at one stage being arguably the most promising Irish player of his generation.
The midfielder is in the news this week once again, having said that he is finally considering a return to international football – words that have brought out more negative than positive reactions among the majority of Irish fans, as our poll yesterday indicated.
And ask the average supporter of the national team what they think about Stephen Ireland, and they'll probably come out with a scathing remark about him not caring enough to represent his country – a highly presumptuous claim at best.
Moreover, one of the core reasons why many Irish fans seem to dislike Ireland is largely due to a situation that has been misreported and exaggerated on a continual basis – namely, the misguided claim that he lied about his grandmother dying in order to abscond from Ireland duty.
In fact, Ireland himself didn't create the lie during this whole saga; he merely kept the truth to himself, and for understandable reasons. The player recounted exactly what went on in an interview with the Daily Telegraph in 2008.
Having just had a miscarriage, Ireland's girlfriend attempted to contact him while he was at the Irish training base. After getting through to then-manager Steve Staunton's secretary, she was, for obvious reasons, unwilling to tell this complete stranger what had actually happened. So, she ill-advisedly made up the dead grandmother story and the situation escalated out of control from there, with the media getting hold of the news, thereby barely allowing Ireland to pause for thought in the process.
"My girlfriend was young. I was young. I didn't want to tell everyone my private business," he later explained.

"Not only that, I couldn't turn around and say my girlfriend was lying. I had to stand by her."
Of course, Ireland could have handled the situation better, but footballers are human beings first and foremost, as Gianluigi Buffon's revelations reminded us recently.
In addition, Ireland was not exactly a media-savvy veteran at the time. On the contrary, he was a 21-year-old kid suddenly experiencing a highly traumatic and upsetting event. Just because someone is a high-profile footballer does not magically enable them to cope better than the average person would in such circumstances.
And while people have been queuing up to either condemn or mock Ireland ever since the premature death of his child, they would do well to ask themselves how they would have dealt with such a situation – under the full glare of the media spotlight and with an entire country baying for a scapegoat (having grown tired of battering Stan), given that the team were coming towards the end of a dreadful campaign that included a humiliating 5-2 defeat by Cyprus.
Be part
of the team
Access exclusive podcasts, interviews and analysis with a monthly or annual membership.
Become a Member
(Stephen Ireland celebrates scoring a goal with Robbie Keane back in 2007 - INPHO/Cathal Noonan)
Moreover, it's a sure bet that the vast majority of those so intent on deriding Ireland also made one or two bad decisions, or said foolish things, when they were 21. Ireland is merely discriminated against because of his wealth and celebrity status, as before long, he became a national punching bag — cartoonishly portrayed as the supposed epitome of the average greedy and conceited modern footballer.
Given how the public reacted, and in light of the FAI's stark failure to show any real support to the player, it's hardly a surprise that he wasn't exactly eager to put on a green jersey anytime soon thereafter.
Nevertheless, what makes this situation truly tragic is its aftermath. During the aforementioned Telegraph interview, Ireland also spoke about being affected by the "hate mail" he had been receiving from fans and by the "very bad press in Ireland". On the field however, the midfielder's performances with City caused him to be named their Player of the Year in 2009, thus earning him a new five-year contract at the club.
But as his form improved immeasurably, the antipathy towards him on these shores grew, with Ireland's continual reluctance to turn out for his country a sure-fire sign in many people's eyes that he had grown too big for his boots.

Yet subsequently, his form dipped, not helped by Mark Hughes being replaced by Roberto Mancini the season after he signed his new contract at City, with the Italian taking little time to sell the midfielder to Villa after accepting the manager's position at Eastlands.
And Ireland's career has more or less stalled ever since. While he was named the Supporters' Player of the Year at Villa in 2012, this was more a protest vote directed towards the vastly unpopular then-manager Alex McLeish and a reflection of fans' unhappiness at the misuse of creative players such as the Cork native.
So what happened? Why did a player as obviously talented as Ireland consistently fail to make an impact following his departure from City? Managerial changes at the various clubs certainly played a part in his inefficiency, as did a simple lack of form. However, it's hard not to suspect that 'Grannygate' and the constant stream of negative publicity thereafter played a pivotal role in significantly unsettling the player.
Consequently, his move to Stoke is widely regarded as Ireland's last chance. Yet, at 27, he is only on the verge of reaching an age where he can finally be considered mature. Certainly, he's made mistakes, but a high-profile footballer must cope with an unprecedented level of pressure nowadays.
Surely therefore, he is, at the very least, entitled to a level of support from his fellow countrymen.  And then maybe, just maybe, he'll feel comfortable enough to make an international return.