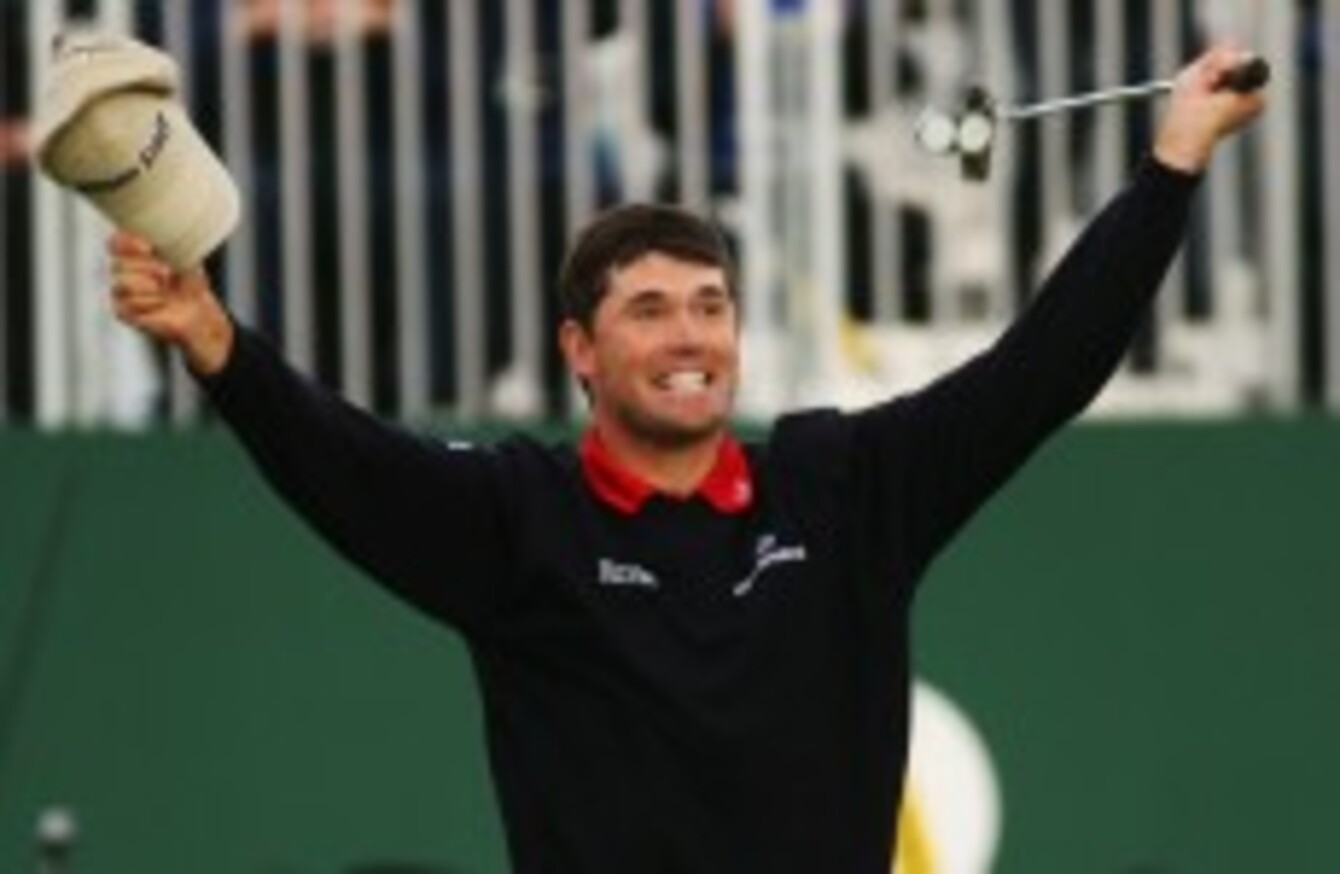 Padraig Harrington won the first of his majors at Carnoustie in 2007.
Image: Getty Images/INPHO
Padraig Harrington won the first of his majors at Carnoustie in 2007.
Image: Getty Images/INPHO
PADRAIG HARRINGTON WON'T read your tweets. He won't listen to golf commentary about himself. He will happily talk to you for an interview but doesn't have any intention of ever reading it.
He doesn't believe that anything good can come from paying attention to what others say about you.
In a sport that is as solitary as any, he says that confidence on the golf course needs to come from yourself rather than from a puff piece written by a journalist.
In an age where fans tweet their heroes their opinions 140 characters at a time, Harrington remains detached from it all.
And most shockingly, the prospect of topping the Second Captains Good Wall doesn't matter to him.
"I pay no attention to that sort of thing whatsoever," Harrington told The42.
"It is as fickle as can be. Your confidence has to be self-determined because public opinion can change so quickly. I have minimal outside influences. I haven't read anything about myself since I turned 18. If I hear commentary about myself I turn it off. If you start reading positive articles about yourself and then you see the same journalist write an average article, you will be devastated so I don't pay attention to any of it."
If Harrington had been paying attention to the media he would know that many wonder whether he will ever scale the heights of that 2007/2008 period when he was like a golfing assassin whose weapon of choice was his putter.
After he reeled Sergio Garcia in on the back nine of the 2008 PGA Championship with birdie after birdie many expected him to complete a career Grand Slam, just as they do with Rory McIlroy now.
And while the swing change he went through after that victory is well documented, Harrington says that is not what has caused his indifferent form in recent years.
"It's amazing how often that gets brought up but I was actually changing my swing before, during and after my majors," Harrington said.
"I've struggled mentally rather than physically since then. I have become very intolerant of my lack of focus. I've been trying to live up to my own very high standards of focus."
Harrington's mental toughness was tested plenty of times on the way to the top.
Before he could win his third major in six events he had to get that first Claret Jug in his hand. Harrington stood on the 18th tee box at Carnoustie in 2007 with a one-shot lead over Sergio Garcia knowing his first major was within reach.
We think of Harrington as one of the most mentally strong Irish athletes ever but after two errant shots found the water he was facing the prospect of joining Jean van de Velde in the first paragraph of any story written about Open Championship chokers.
However the Dubliner's reaction to his errors paved the way for his ascension to the top of world golf.
"I thought I had choked and lost my only opportunity at winning a major," Harrington said.
"I was very aware of what had happened to Jean van de Velde but at that moment it was all about me and I was thinking about the mess I was in. But my caddy talked to me and strangely I was able to block it all out after that."
And block it out he did. Harrington entered a playoff and walking down the final fairway knew that a bogey-five would be good enough to win the Open Championship.
Even then, he wouldn't allow his mind to wander to thoughts of hoisting the trophy.
"I was reminding myself that I hadn't won it yet and was saying to myself not to absorb the occasion," Harrington said.
"There was still work to be done. I was absolutely nervous. You want to be nervous in those situations."
Harrington says that he has always performed well under pressure but did have a bit of a chuckle at the 'cold-blooded closer' reputation he developed after those major wins. For him, that categorisation confirmed the fickleness of sports coverage.
What are they
really like?
Rare insights on sport's biggest names from the writers who know them best. Listen to Behind the Lines podcast.
Become a Member
"I laughed at it when people would say that," Harrington said.
"Before I won the majors I had 29 second place finishes and people used to say the opposite. About six or seven of those finishes were times when I could have easily won the tournament and the year before [2006] at Winged Foot I was three pars away from winning the tournament. Nobody ever brings up that."
Around the time of those second place finishes Harrington occupied the position that few golfers relish, being called 'the best player to have never won a major'. If a player is put in that bracket for too long it appears that it can eventually become a heavy burden.
A player like Colin Montgomerie had a few opportunities to win that elusive major towards the end of his career and it looked like getting so close to the prize caused him to tense up.
Harrington, on the other hand, thought it was a term of endearment rather than one that brought extra pressure.
"You want to be called 'the best player to have never won a major'," Harrington said.
"That is a good place to be. I never dreamt that I would be in that category so for me it was always a positive."
One player in the world whose current position mirrors that of Harrington's to a certain extent is Tiger Woods. Harrington still expects Woods to challenge for major championships but with all the scrutiny currently being placed on him, adds that 'anyone who says they can fix him in 15 minutes is wrong'.
"It's a combination of both physical and mental issues and you don't want to put the cart before the horse," Harrington said.
"It is hard to know if he was playing a bit better would his confidence return or if he was feeling a bit better physically would that make him play better. I still think he will win majors but I am not as confident as I was six months ago."
To donate to Lollipop Day, which goes towards funding oesophageal cancer research in Ireland, click here. The Oesophageal Cancer Fund receives no funding from the government and is wholly relied on donations to fund its work.