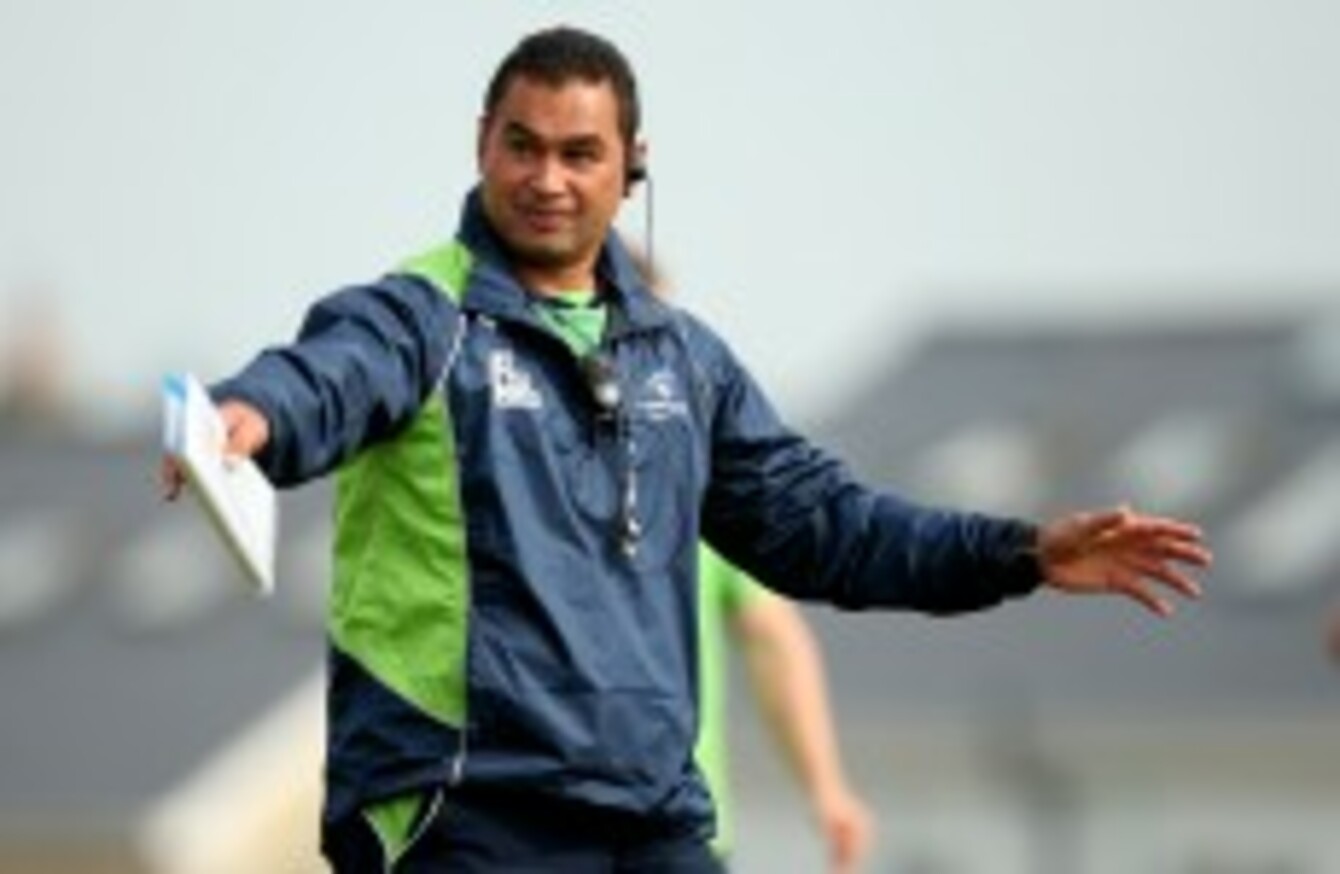 Lam has overseen two Connacht wins in the opening two fixtures of the season.
Image: James Crombie/INPHO
Lam has overseen two Connacht wins in the opening two fixtures of the season.
Image: James Crombie/INPHO
LEADERS SET THE tone.
While high-profile signings have created a buzz around Connacht this season, it is head coach Pat Lam's enthusiasm that permeates through the province every single day.
Sitting down with the former Samoa back row is not quite what it says on the tin. Lam rises repeatedly to demonstrate defensive realignment, short passing or breakdown skills; he bristles with a desire to see his players improve.
This passion for the game is infectious. Lam himself will hope to see similar passion in his players tomorrow night at the Sportsground, as Connacht attempt to make it three wins from three games in the Pro12 when Leinster visit.
The westerners' head coach believes that the province are "in a totally different place to where we were last year," and therefore far better equipped to make a challenge for a top-six league finish.
Moving into his second season in charge, Lam has been able to bed in the various ideas that build into the vision he has for Connacht. The province present a unique challenge for any coach, given their enforced reliance on younger players.
"It's systems and structures, I'm a process man. We have to put these things in place, because we have to fast-track young players to get through to compete against guys they've been watching on TV," explains Lam.
"They get an opportunity they might not have got elsewhere and that happens quickly, because you've got to have depth in this competition."
A glance at Connacht's backline options indicates exactly what Lam is referring to. The likes of Darragh Leader, Robbie Henshaw, Kieran Marmion and Jack Carty are all 22 or younger, but already have earned important positions within the squad.
These players are very much still developing, meaning Lam must continue to work their basic skills and their understanding of the game.
"Good players play the game, great players know the game," says Lam. "Players can run and do certain things, but they've got to understand. You've got to understand why things happen."
Connacht spent much of their pre-season working on the most basic of skills, "stripping it back" to the very core duties such as short passing, tackle technique and breakdown knowledge.
That has been part of a skills revolution at the province.
Traditionally, guys would finish their weights and head away," says Lam. "Now forwards will head out and do ten minutes of skills, backs too. If you look at the All Blacks, they do the basics well. What are the basics done well? It's choosing the right option. Everyone thinks its a wow moment, but it's simple – although not always simple to do.
"The biggest thing is with the injured guys – they're doing a lot of vision stuff, working on that.
"Last year, some guys would come back [into games] and struggle with it. Guys came back and they were medically right, but so far off the game. Dave Ellis has tried to work on skills with those guys."
Ellis' role as head of skill development is an essential one for Connacht, and the Kiwi is part of a coaching staff that has grown with the addition of Andre Bell as backs and kicking specialist.
With the highly-rated Dan McFarland still present as forwards coach, Lam is content that Connacht came into this season far better prepared than last time around.
"The biggest change this pre-season was having the four of us," explains Lam. "Last season, it was me and Dan trying to establish things. So I've got Dan with the forwards, and he has the breakdown as well now – he loves that.
"Andre Bell has come in and he's doing the backs and kicking, doing a really great job, pushing them on the decision-making process and understanding the process of 'why'. Rather than just doing this for the sake of it, why?"
There is now more depth across the board behind the scenes at Connacht, more analysis staff with better equipment, an improved strength and conditioning set-up under Paul Bunce, and a home-grown CEO in Willie Ruane – a man whom Lam says is "the right person to lead this organisation."
On game day, Lam's vision for Connacht's attacking play is a rounded one, not limited to one distinct style of play and certainly not focused intently on a single tactical game plan. The ex-Northampton man believes his young squad can do it all.
I don't want to be known as a team that runs everything, a team that kicks everything," explains Lam. "Our thing is about skill development to ensure that we are able to do whatever it takes to ensure victory.
"You take in conditions, you take in referees, you take in travel, everything. No matter what – if we need to play this way, our tactics are that we've got to take this team here on up front, we can do it.
"If we've got to go around this team because they defend this way, we can do it. We do a lot of analysis and if I say 'Shucks, we can't do this well,' then we know we've got to work on that element."
Alongside this notion of having a rounded team in a tactical sense, Lam strives to ensure his players are rounded people too. Speak to the Connacht squad and they will highlight the head coach's desire for off-the-pitch standards and values.
Karaoke nights, dress-up events and various other team challenges have helped Lam to drive the squad's togetherness.
Better people make better All Blacks. So say the best rugby team in the world, a mantra that Lam has brought with him to Connacht.
"My coaching philosophy is that I sleep at night if a player is comfortable in our rugby programme and that they become not just a better rugby player, but a better person. Everything is geared around that.
Only one team is ever going to win a competition, but it doesn't mean the other 11 teams are failures. You can't judge yourself on that, that's the team goal. I got into coaching like getting into teaching – helping people along the way to achieve their goals."
For a self-professed "process man" like Lam, all of the above allows him to approach games like tomorrow night's inter-provincial derby with increased confidence. His sense is that the Connacht machine is rolling forward all the time.
"What we're doing here is working to develop the players into those positions. I don't need people to pat me on the back, I'm happy when I know that these players are coming through."
Mazda has confirmed that it will continue its long-term support of Connacht by becoming Official Car Sponsor, providing a fleet of over 55 Mazda cars to the squad.