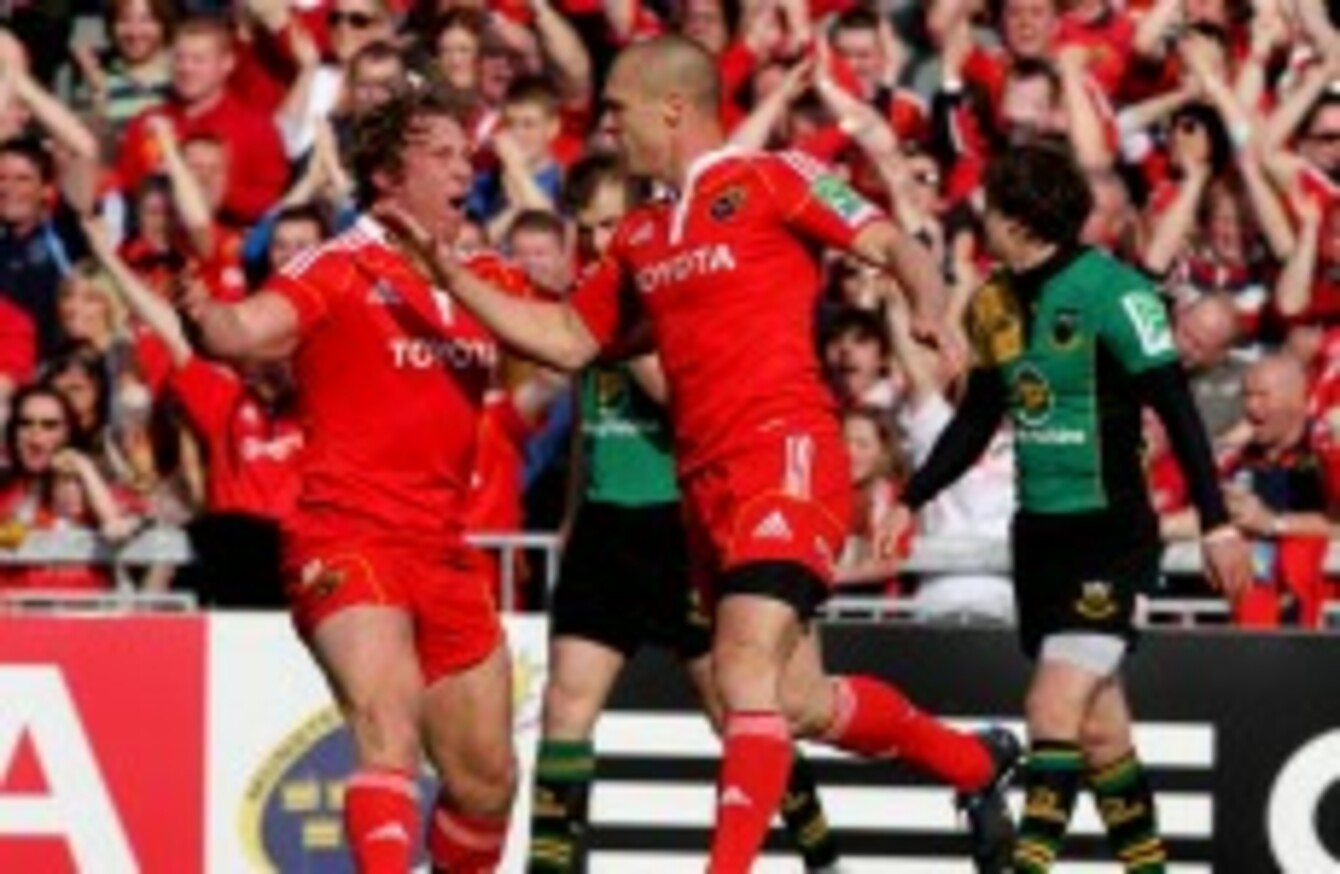 Paul Warwick celebrates a winning try against Northampton with Jerry Flannery in 2010.
Image: James Crombie
Paul Warwick celebrates a winning try against Northampton with Jerry Flannery in 2010.
Image: James Crombie
PAUL WARWICK WAS back in Australia when news broke of his retirement from rugby. The 33-year-old, who played for both Munster and Connacht over a 14-year career, suffered a concussion and neck injury in February while playing for Worcester. He made a successful return but another bad knock forced him into early retirement.
He told TheScore.ie that the decision to call it a day was far from easy but, as a married father of two young girls, the only course of action.
He said, "Against Sale, in early February, I made a tackle and got up to go for the ball. One of my own teammates — one of the second rowers — came through and collected me with a knee. I was completely concussed and my whole body had that funny-bone feeling.
"It was weird, as we were playing Sale, Sam Tuitupo was the first guy I saw. I remember him looking at me and saying 'Are you okay?' I was like 'No'. I was numb all over. It was a bit scary. I was stretchered off and went away for all the checks. Everything was okay so I was free to go home." He added:
I played again, not so long after that, and there were no issues. For our second-last game, I was on the bench against Saracens and in the warm-up I got hit from behind while I was holding a [tackling] pad. I was completely not expecting to be hit. Again, there were pins and needles down my arms and they both went dead. That's when they scanned me. So, two incidents in the last three months."
Retirement was mentioned as an unlikely possibility, says Warwick, before he was scanned and assessed. "The guy then said is was probably best to give up," the Australian said. "He has been pretty conservative in his estimates [in the past] so I thought it would be silly to risk anything for the future.
"It's disappointing but my family and my health come first. I don't want to be in a wheelchair after a few years of rugby."
Coach Warwick
Warwick, who won a Heineken Cup winners' medal with Munster in 2008, is hoping to remain in the game and, following a break back home, will speak with Worcester about coaching options.
"Being a senior player at Worcester this year," he said, "I've had the opportunity to have a bit of influence and impact on decisions. I do a bit of self coaching anyway because our squad is so young and I find it naturally happens. I really enjoy it."
"When I was young, at Connacht and the early years at Munster, I didn't want to be a coach," he admitted. "But, after getting a bit more experience and realising I've been pretty lucky to witness a few rugby environments, and play with great players, the idea has certainly grown on me. I'm doing a course from Australia, online. A Masters in Sports Coaching. I initially started that with the idea of becoming a secondary school P.E teacher and some coaching, if I got to a good rugby school, of the first XV."
The idea, if all had went to plan, was for Warwick to transition into the next stage of his career by becoming a player-coach with Worcester. Despite the club's relegation from the Premiership, the club is expected to retain its respected coaching staff of Shane Howarth [backs], Carl Hogg [head coach] and Dean Ryan [director of rugby].
"I'm hoping for a role in terms of being hands-on and helping some of the younger guys," said Warwick. "I haven't played a lot this season due to injuries so have been in that, unofficial, role. They seem to think I have done well and have something to offer."
The disadvantage, he says, of swapping coaching for playing will be the "volatile" and transient nature of professional sport. Warwick commented, "It is a big ask on my family, getting them to move around with me every couple of years. That's why the teaching route is quite appealing but, at the end of the day, you've got to get a job. Whatever that will be, will be."
Munster head coach Anthony Foley appointed former teammates Brian Walsh, Mick O'Driscoll and Jerry Flannery to senior team roles this week and Warwick says he would be open to a return to Limerick in the future. "It'd definitely be something I'd have to look at. I've a 14-year-old daughter who is just finishing Year 9 in England. She is going for her GCSE's next year so it is important that she has that stability. That's another three years.
Of course, my greatest memories were of playing at Munster so a job like that would be fantastic. I'd expect I would need to gain some experience first and for a few different, social, factors to come together for that to happen."
"I'd never say no to anything," he added. "I really enjoyed my time in Ireland. My wife's Irish and the kids consider themselves Irish, as much as I try to get them supporting Australia.
"I owe a lot to my wife especially. We met in Galway and got serious in my last year with Connacht. She moved down to Limerick and Munster with me and we've been to Paris and now England so [my family] have jumped around with me and I'm very appreciative for it."