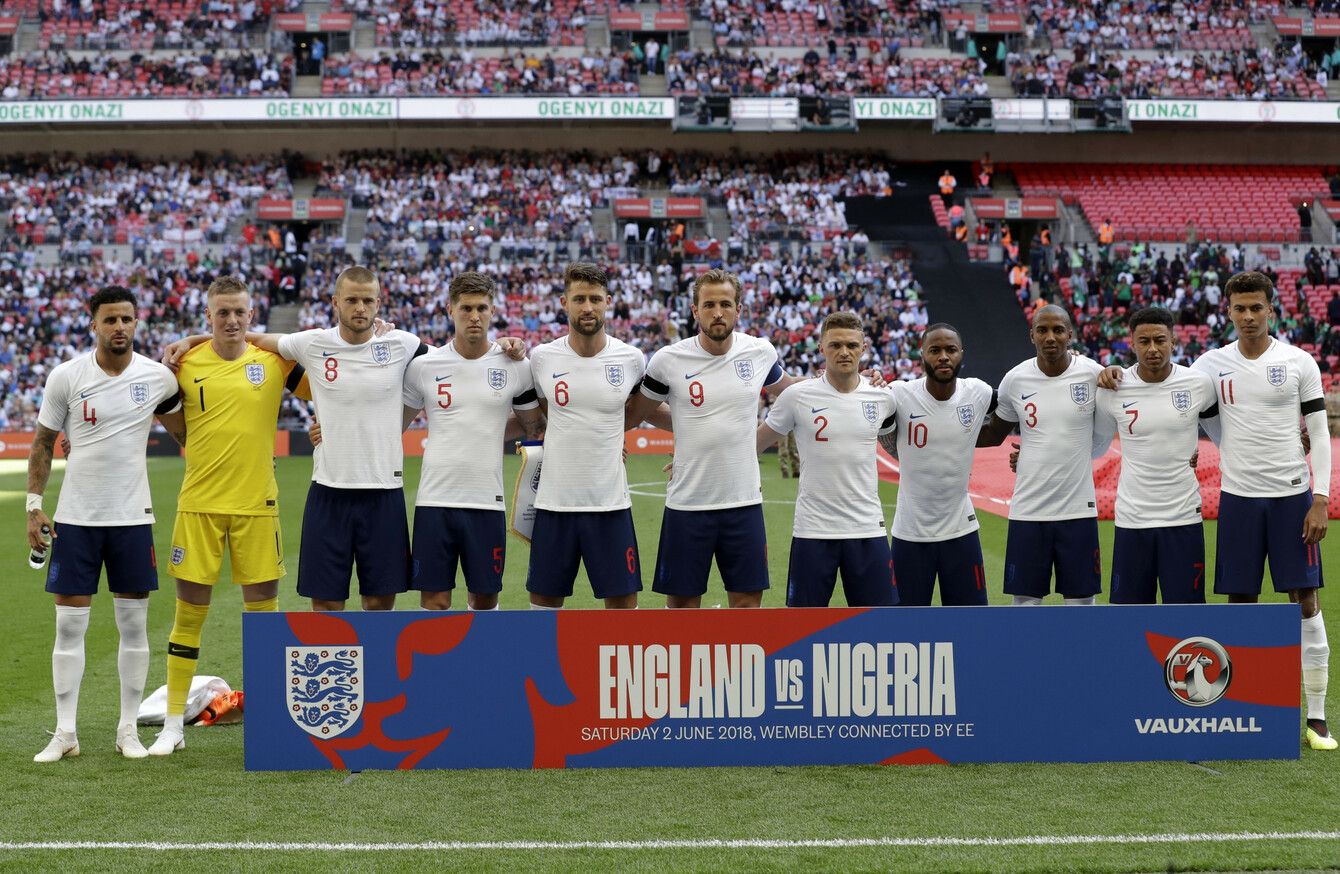 The England team have often struggled to live up to expectations at past major tournaments.
The England team have often struggled to live up to expectations at past major tournaments.
IT IS ONE of the regular subplots of recent major tournaments — the England players and the challenges they face in living up to the expectations of an unforgiving national media and fanbase.
While several theories have been produced as to why England so frequently disappoint at these events — players not getting on due to club rivalries, the Gerrard-Lampard midfield conundrum and simply not being as good as the 'Golden Generation' tag of the mid-to-late 2000s suggested — media pressure is probably the most commonly cited supposed hindrance.
Perhaps in recognition of this apparent problem, for the 2018 World Cup, several commentators and even some of those within the squad have sought to play down expectations ahead of the tournament in Russia.
And while there has been the Raheem Sterling saga, for the most part, relations between the England players and media has seemed relatively cordial so far this year.
Of course, their fairly comfortable progression through qualification helped, as did Southgate's bold decision to pick players on form rather than reputation, with Joe Hart and Jack Wilshere among the high-profile absentees from the final 23-man squad.
In addition, the decision to make every player in the squad available for interview at a recent pre-World Cup event was in stark contrast with the strained relationship that often existed between the two entities at past tournaments, and Southgate will be hopeful that it marks the start of a new era, in which the media and the English team can mix in relative harmony.
"I think the press are with Gareth Southgate," says Ray Parlour, who won 10 England caps between 1999 and 2000, and now works as a pundit for British radio station Talksport. "Maybe some years, they've been against the manager."
He continues: "But if it there are poor performances, the press will say what they see. I'll be out there for Talksport and I'll be commentating on games, having my say.
"I don't like to criticise people too much because I've been there and I've played in those sort of games. Sometimes, it just doesn't go for you.
"I don't like it when people jump on people and have a go at players individually, because it's a team game."
So despite the more peaceful environment in recent times, criticism of the Three Lions is inevitable down the line, and Parlour feels that some players will be able to cope with this pressure better than others.
"Everybody's got different mentalities and characters — some players it would really affect and others, they would throw [the newspaper] in the bin. That's like normal life, but everybody's different.
Some players, it will really affect them when they see their name in the papers. People say they 'don't read the papers,' they do. Don't mind that."
In addition, having undertaken one of the most scrutinised and high-profile jobs in football, Parlour has been impressed with how Southgate has conducted himself and handled team affairs since replacing Sam Allardyce in 2016
"What he's done is relax the squad. There's a good little spirit there. The warm-up and preparation, to let them speak to the press, the whole squad, you don't often see that — it's usually four or five players you can speak to, then another time, it's another four or five players.
He's saying 'we've got nothing to hide, ask them if you like,' that was good from Gareth. Suddenly, he's got the press back onto their side. We'll all be supporting England, don't get me wrong, and we want them to play well, but if they play poorly, I'm sure the press will be having a go as well. That's their job and what they get paid for."
Rio Ferdinand recently suggested that Southgate should be retained after the tournament regardless of how England perform and Parlour also believes people should err on the side of caution when judging the manager and his team.
"He's got a young squad, one of the youngest in the tournament. I think the FA are looking at it and saying he's trying to build these players and give them experience. He's been very brave in some of the decisions he's made and I can't see anyone better than Gareth at the moment.
"That's what you've got to look at whether you want a foreign manager or an English manager, so long as there is progression, then he'll have a real shot at it.
"We don't want to be looking back to [Iceland-type] games, but I don't think they will. From what I've seen in the warm-up games, he's done really well."
The42 is on Instagram! Tap the button below on your phone to follow us!