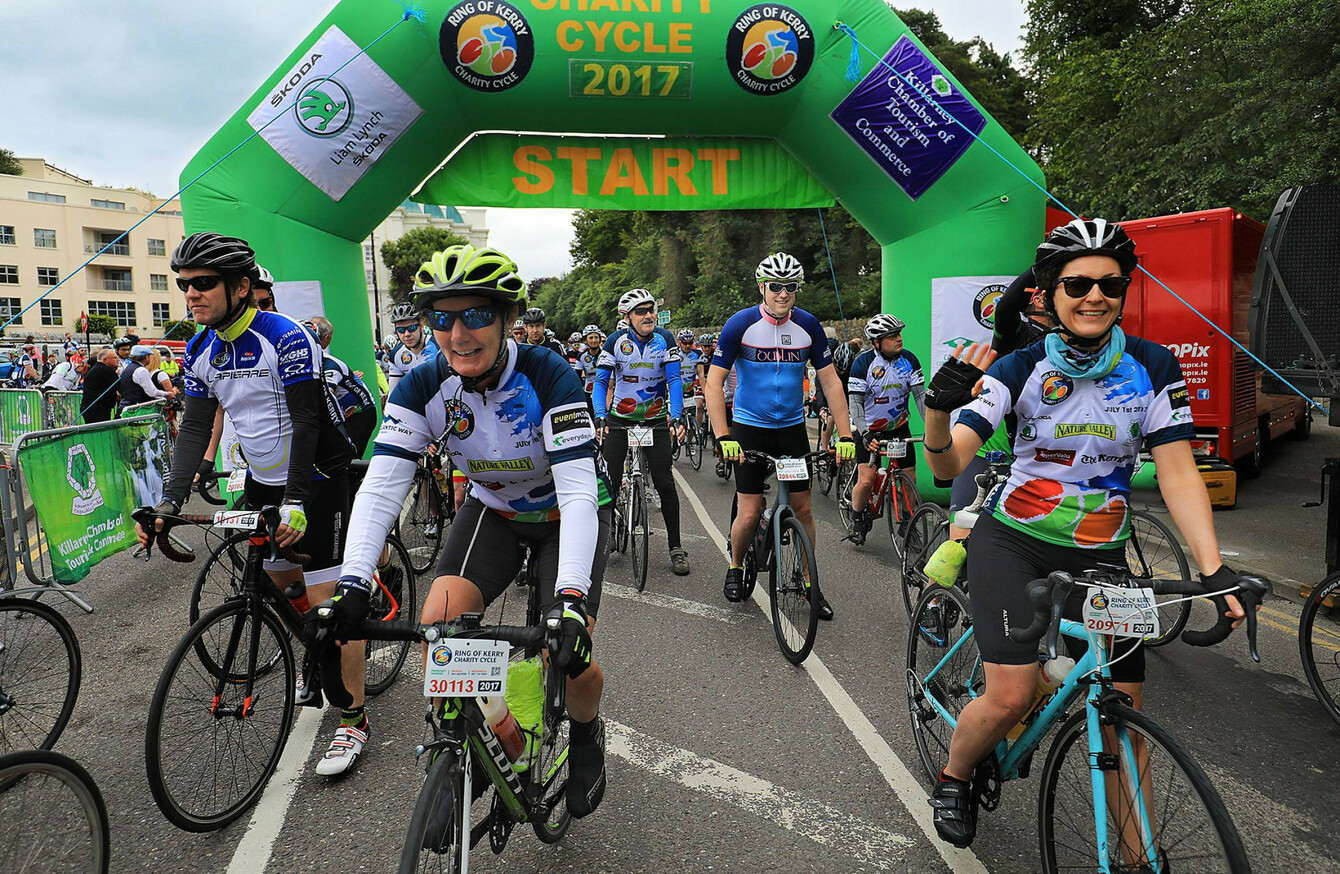 THOUSANDS OF PEOPLE will embark upon the Ring of Kerry Charity Cycle on Saturday 7 July. If you are one of those people already registered, or if you're still thinking of registering, there's still loads of time to prepare – and have plenty of fun along the way.
With a little over two months to go until the country's largest one-day charity event, now is the perfect time to give you some advice on what you should be doing on and off the bike as you gear up for the big one.
The most important thing to remember is that no matter where you are in terms of your training, it's never too late to start. The 175km cycle is not impossible for anyone: even if you were to plough along at 10 miles an hour, you'd have ample hours of daylight to complete the full event.
Still uncertain? Here are five simple training tips that will help to get you over the line:
The basics
In Ireland, we can experience four seasons in one day, so the first piece of advice is to be prepared for every type of weather!
Some of these basic tips might sound obvious, but you can never be too ready. For example: does your bike have a bottle cage to carry your water? Do all your gears work?Most people only use one or two gears, but if you cycle the Ring of Kerry route you will
definitely get the chance to test them all. A light raincoat is always a good idea with the Irish weather and it goes without saying: ALWAYS wear your helmet when out for a cycle.
Don't break the bank for bike bits
When it comes to cycling, there is no need to go out and spend an extortionate amount of money on the latest bike model or fancy equipment; often, when people take up new hobbies or sports, they end up spending a fortune on all the gear,
which is totally unnecessary when it comes to cycling.
If you are going to purchase anything, a good saddle would definitely be a worthy investment – particularly if you're new to cycling and wish to continue training after the event. Find a saddle that fits your needs, and provided your bike's gears are in order, you'll be in fine fettle without having to break the bank.
Start slowly
Getting fit is 'in'. Everywhere you look, whether it's online – following fitness bloggers on Instagram/YouTube; or offline – cycling to work (or even wearing gym gear just 'cause), there is no denying that it is 'on-trend' to get fit.
But what if you're not at the peak of your physical powers? Is it too big an ask to set yourself the challenge of completing Ireland's largest one-day charity cycle this summer? Of course not!
The key is to start your training slowly, as over-doing it in the beginning will simply lead to injury. You need to gradually build your endurance to be able to ride the full 175km! Hop on your bike three times a week (four if you're super-keen) in order to get the optimal return with regards to building fitness. Any more than that could have a detrimental impact on your preparation and/or lead to injury.
The Buddy System
Let's face it: we've all made excuses at some stage or another to avoid having to exercise. It tough to keep yourself motivated sometimes – whether it's cycling, going to the gym, or even getting outside and going for a walk.
One of the best ways to keep momentum – and incentivise yourself – is by having a pal to train with. Naturally, having a buddy will make your training more enjoyable, and you are less likely to cancel training plans when it affects someone else.
It also encourages a bit of friendly competition, which is conducive to improving your skills and technique when training for an event.
Be part
of the team
Access exclusive podcasts, interviews and analysis with a monthly or annual membership.
Become a Member
Don't overthink it
An important thing to remember when training for the Ring of Kerry Charity Cycle is that IT'S NOT A RACE.
One of the biggest mistakes people make is going too fast in the beginning: there's no need! Cycle at your own pace.
During your training, don't stress out if you're not progressing as quickly as you might have hoped. Instead, set yourself small, achievable and realistic goals.
A good rule-of-thumb to keep in mind when going on a long cycle is to go at a pace where you are comfortable having a conversation – so if you're puffing and
panting, you need to 'shlow down, Tommy!'
The Ring of Kerry Charity Cycle began some 35 years ago when a group from Killarney decided to cycle the region to raise money for charity.
Today, the Ring of Kerry Charity Cycle brings together 10,000 participants each year, and has raised over €10,000,000 for 150 worthy causes since its inception.
To register for the Ring of Kerry Charity Cycle, visit the event's official website, where you can also find further information with regards to the cycle itself.
The benificiary charities for the 2018 Ring of Kerry Charity Cycle are as follows:
Cancer & Family Support Services
Breakthrough Cancer Research
Bru Columbanus
Kerry Hospice Foundation
Irish Kidney Association 
Community Care
Baile Mhuire
Caherciveen Social Services
Irish Community Rapid Response
Kerry Diocesan Youth Service
Pieta House
St. Joseph's Home
Disability Support Services
Down Syndrome Kerry
Enable Ireland 
Kerry Parents & Friends Association
St Mary of the Angels
Special Category Trust Fund
Ian O'Connell Trust