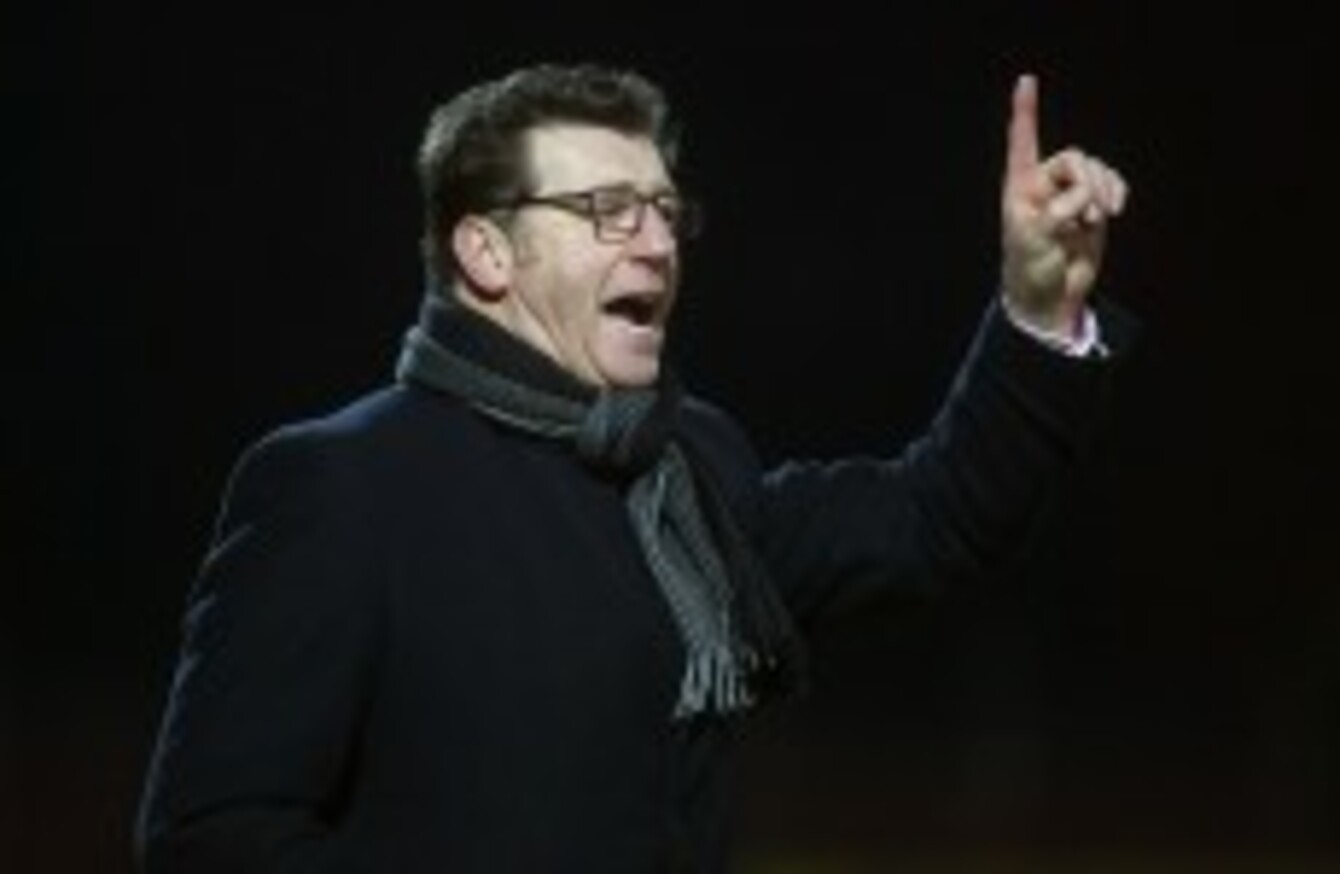 The former Carlisle United manager says yesterday's cup final was 'embarrassing'.
Image: Lorcan Doherty
The former Carlisle United manager says yesterday's cup final was 'embarrassing'.
Image: Lorcan Doherty
HERE WE GO again. The seemingly never-ending debate on the standard of the League of Ireland and how it can be improved has rolled around again thanks to comments made earlier on by Roddy Collins.
Collins was speaking on Today with Seán O'Rourke where he said that the standard of domestic football in this country is embarrassing and that the public are deluded about how good it is.
The former Derry City manager said that he brought Luton Town manager John Still over to yesterday's match and that, after watching the game, Still said to him that not one of the players on the pitch would get into his team.
Collins went on to say that players who have made it in England weren't produced here "they were developed in England. There's not one indigenous player who'll ever play a competitive game for us on merit."
This was despite the fact that the winning team included a player that made 124 appearances for Birmingham City, 58 of which were in the Premier League, has been capped by Ireland 16 times and is still only 31 years old.
Any manager in the fourth tier of English football would welcome Keith Fahey into their team with open arms.
This was the St Patrick's Athletic team that, earlier in the season, held Polish champions Legia Warsaw to a draw, away from home. Legia would go on to beat Pat's in the following leg but they then went on to trounce Celtic home and away.
How on earth could not one of those players make it in to the Luton Town team?
And that's just Pat's. There are a number of examples of League of Ireland players that have made it in England. Even in this season's First Division, Shelbourne winger Dylan Connolly had trials with a number of English clubs, including Wolves, and looks set to make the move across the water soon.
Collins made the point this morning that, even the players who do make it in England do so because of the development structures over there and not how they have done in this country.
Séamus Coleman, considered by many to be the best right back in the Premier League, didn't make the move to England until he was 21. Although there is no doubt that he improved considerably after signing for Everton his 55 games for Sligo Rovers made it easier for him to make the step up when he did move over.
Although the pace and standard obviously isn't anything like the Premier League the physicality of the League of Ireland would have made it easier for Coleman to adapt to the higher standard, rather than if he had come straight from schoolboy football.
Keith Fahey himself didn't make the move until he was 26. What team are going to sign a 26-year-old to develop him before playing?
No one, they will be looking for a player that is already the finished article.
Fahey went straight into the first team at Birmingham, further disproving Collins theory.
Kevin Doyle was a similar case, moving to Reading when he was 22 and making 45 appearances in his first season, scoring 19 times and being crowned Reading Player of the Season as well as Championship Fans' Player of the Season. Again, Doyle was, or was very near to being, the finished article when he left the domestic league.
Collins was correct in what he said about poor facilities in the league and that is something that must be addressed.
"Some of the facilities are dreadful. I've been to clubs, and I've been managing for 30 years, and the same tiles and that and the same problems are still there," he said.
"There was a club last week, and I won't name them, who had one of the most important games in their recent history coming up, and they trained in the dark. The floodlights went off because they had no diesel in the tank. I mean that's scandalous. "
He's right, it is scandalous. It is a problem that comes down to finances and a lack of funding coming into the league. This is not a new problem or an undocumented problem however.
Financial problems have leveled off somewhat in the last few years. The pre-approval of annual budgets by the league and the imposition of a cap on salaries at 65% of revenue has forced clubs to be more careful with finances.
Dublin's selection as a host city for the 2020 European Championships could also turn out to be a positive for the domestic league. The proposed re-development of Dalymount Park is a step forward but, what would be better again, is if the money was distributed between each club, specifically to be put into improving facilities.
As someone who regularly attends Tolka Park I can say that it is no exaggeration that, on entering the away end toilets, you are greeted by a centimetre of water and urine on the ground and no electricity.  And that's at the home of the second most successful football club in the league.
Such problems make the Airtricity League an unattractive prospect for new fans. If problems such as facilities can be fixed it would have a knock-on effect on attendances and, subsequently, the standard of football seen on the pitch.