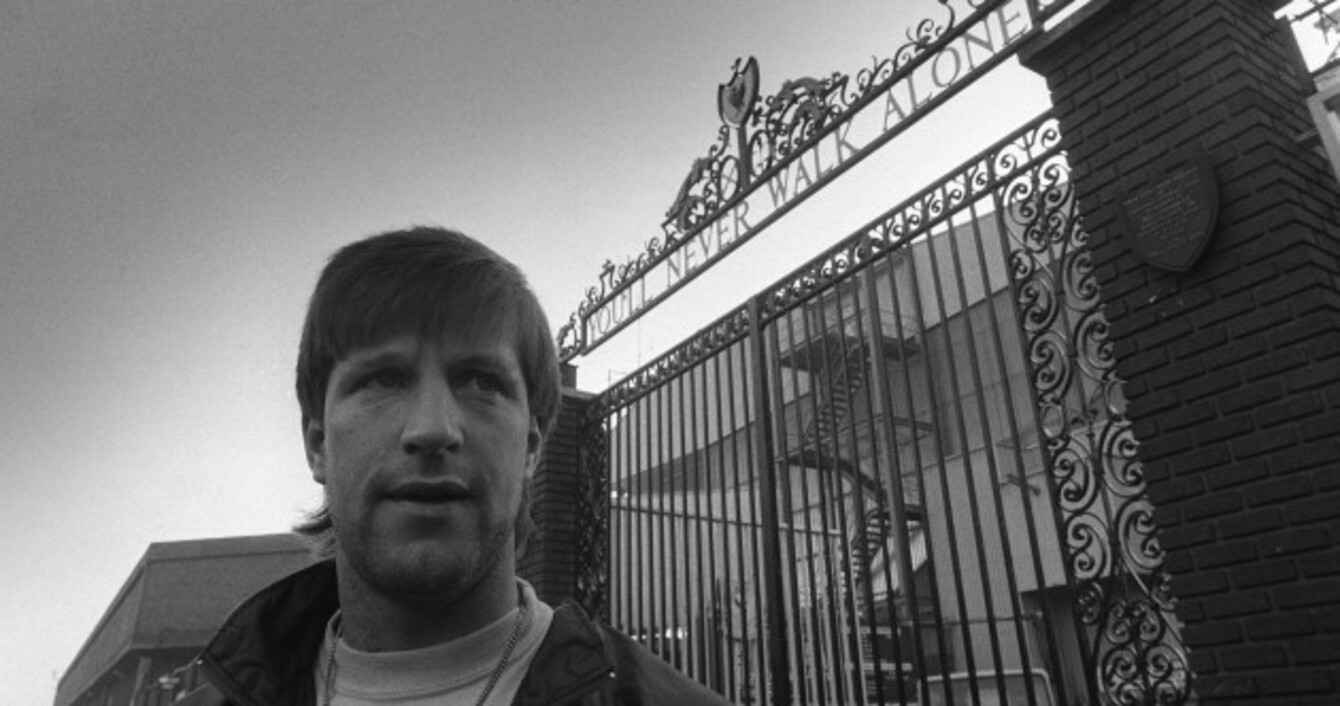 Image: © INPHO/Billy Stickland
Image: © INPHO/Billy Stickland
DESPITE HAVING WON six league titles, three League Cups, two FA Cups and the European Cup with Liverpool, Ronnie Whelan's legendary spell at the club was punctuated by anguish, heartbreak and rejection.
Growing up, the Dubliner had a good footballing pedigree with his father, also called Ronnie, earning two senior caps for the national side, while his brother, Paul, had stints in the League of Ireland with Bohemians and Shamrock Rovers.
Even from an early age, Whelan was immersed into the footballing world as he travelled to matches with his father, while he was playing with Drogheda.
Everything from the distinctive smell of the dressing rooms, the camaraderie of the players and the sense of purpose football gave so many in the side made Whelan want to emulate his father's achievements.
"I wasn't majorly pushed by my da to play football; I just knew I wanted a ball," Whelan tells The42. "I would go out wanting to keep it up 10 times, when I achieved that I'd go back into my house. I then go out and set a new target. I was happy to do that on my own. It wasn't a hardship. Nobody was saying to do it. I wanted to do it."
Making the Grade
At Whelan's Finglas home, however, completing the Leaving Cert was always given priority over football, with young Ronnie eager to leave Ireland to try to join one of the biggest club sides in British football.
But a different sort of education for Whelan, in the League of Ireland with Home Farm, would play a more crucial part of his career. There he would go on to make his competitive senior debut at the tender age of 16.
"I look back at that now and I don't think it was right for me. My first game was actually for the reserve team against Bohs reserves.
"I was playing centre forward looking at these two big centre halves thinking: 'I don't want to do this'. But I must have done okay because I made my debut for the senior team the following week.
"At 15, I was offered an apprenticeship at Manchester United, but my dad said I was too young. I felt I had to go, but my parents really wanted me to finish school.
"Looking back if I did go, I would have been 15 playing against other apprentices, instead I was in Ireland playing against men for the next two years.
"I grew up quickly and learnt how to protect myself as a skinny 16-year-old against these hairy-arsed oul' fellas. I tried to give as good as I got.
"There was attention on me at the time. People knew I could have gone to Manchester United. On the pitch, I was confident, but I would go into the players' lounge after the game and I would sit in the corner with my coke. I would be frightened of everybody in there.
"I was on trial at United for years. I was over there since I was 13. I was also at Everton, Celtic and Coventry. I was actually about to sign for Celtic before Liverpool came in.
"It was a learning period for me to look around at the different clubs to see what they could offer. I was sussing them out to see if it was a good place to be.
"One day, somebody at Liverpool got wind that I was about to sign for Celtic. Jim McLoughlin, the former Dundalk manager, also wanted me to go up to join them.
"They were semi-pro at the time. I really wanted to get away. And supposedly – this is what I am hearing – is that he actually got on to a contact at Liverpool.
"He said something like he had never seen a 16- or 17-year-old able to look after themselves so well on the pitch and that they should sign me. That got me a two-week trial at Liverpool and after that they wanted to sign me.
"You read years later that Liverpool had money to spend at the end of the year just to avoid paying extra tax. I was a bit surprised that after just a two-week trial they wanted to offer me a three-year contract. But they must have felt there was something there."
Whelan's dream of signing terms with one of England's biggest clubs finally materialised in 1979 when Bob Paisley offered a fee believed to be around £35,000, but there was a lingering regret that the club he supported as a boy never returned with another offer.
"It hurt me that I didn't go to Manchester United in the end. It hurt me that they never went back in for me when I was 17 or 18.
"When I was over there training, I was always watching intently at what was going on. I'd see players like Sammy McIlroy, Stuart Pearson, Gordon Hill and Steve Coppell all over the place. That's where I wanted to be but it doesn't always happen that way, does it?"
As Whelan made the move to Merseyside, he quickly found out that signing terms was going to be the easy part. Forcing his way into English football's most dominant force was a daunting challenge, but one he was ready to take on.
"To get to where I was, I had to be tough mentally anyway. Every day was a battle against the young lads. They saw this young Irish lad coming over taking one of their positions away. It was a fight but I was ready for it. I was there and I wanted to be there.
"Having said that, I was homesick for about six months. That was bad, really bad. You also have to get used to training every day. You have to get stronger. Muscles you didn't know you had were forced to get bigger. It then all started to come together.
"That mental toughness helped to get me into the first team, but it wasn't the same anymore. It was different. You felt more part of it once the other players realise you're good enough, and that you can cope playing for Liverpool. The most important thing to them is that you can help them out on the pitch.
"These guys were multiple league and European Cup winners, they demanded success.
"It was the senior members of the squad that integrated you in. They would take the piss out of you. Take the piss out of your accent. Take the piss out of your clothes. At that time, it was sink or swim at Liverpool.
"If you couldn't handle the dressing room you were going to struggle, no matter how good of a player you were.
"Looking back, I think that six-month period where I was really fighting to get into the first team was the hardest part.
"It's a completely different now. The pitfall now is not getting your £40,000 every week. I was getting around 300 quid per week back then. You needed to be in the team to get the bonuses and make a decent living.
"You had to work for what you got. If you were playing well and winning, you got the maximum bonuses. Then, if a bigger crowd comes when you're playing well and if there is more than a certain amount at the game, you get another bit extra.
"At the time, you're not thinking about it too much, but when the wage slip comes in you notice it and think I did well this month. You could have a month where you didn't win a game and you see your wages and you think: 'fucking hell that's not a lot.'
"If young players these days fall down the cracks, they can fall down with an awful lot of money from the top clubs. Some kids could be on a three-year contract worth £10,000 per week between the ages of 18 and 21.
"You see some of these kids with cars worth £100,000 at the age of 21. I think that part of the game is all wrong. It's great for them to get their money, and of course it's not their fault, but I don't think it gives them a good grounding on how tough life can be.
"I don't want to go back to apprentices where they are polishing boots, cleaning showers or painting stands, but maybe they should achieve something before earning that type of money.
"I think it should be more bonus-orientated and then let's see how much you can get out of the players. The money comes too early now I believe.  When I was playing I firmly believe you had to work harder for what you got."
Debut Delight
After 18 months or so of fighting it out in the Liverpool reserves, Whelan was finally provided with the platform to showcase his talent in the First Division, against Stoke– just two days after Liverpool lifted the League Cup for the first time – as he took the place of Ray Kennedy on the left wing, a player he would eventually replace at the club.
"I scored 20 minutes into my debut. That showed the players and management that I could actually play a bit, but I still didn't get back into the first team for a few months after that for some reason, having said that, they did go on to win the European Cup that year, so I felt I couldn't complain too much.
"At the time, I didn't feel the need to go knocking on the manager's door for not giving me another chance after that game," Whelan explains.
"But a few months later when I still hadn't got back in, I actually went to Bob Paisley and asked why I wasn't involved with the first team.
He said: 'Do you think you're good enough to play?'
I said: 'I do now.'
Then he replied: 'Well, why didn't you go knocking on the door three months ago?'
"He wanted me to grow up, grow some balls and take it from there.
"That's the thing; there were always people there to knock you down. It was like good cop, bad cop everyday just to get the best out of you. And it wasn't just me – they were doing everything they could to get the best from Souness to Dalglish."
The following 1981-82 season saw Whelan play an instrumental part in one of the club's most unlikely league title successes.
A St Stephen's Day defeat to Manchester City, in which Whelan scored, left Liverpool in mid-table. The result signalled changes were needed and Paisley obliged with Whelan profiting from more opportunities in the side.
Between March and May, a season-changing 11 successive victories in the league saw Liverpool once again crowned champions of England, with Whelan scoring and setting up goals on a regular basis. One of his more important strikes came against Spurs as the Reds all but sealed the title.
Earlier in the season, the newly-capped Irish international also scored twice in the League Cup final win over Tottenham, as Liverpool retained the trophy and Whelan was named Young Player of the Year.
Important goals started to become a trademark of Whelan's career, as well as the previously mentioned double against Tottenham – that included an 87th-minute equaliser – there was another winner in the League Cup final a year later, this time against Manchester United, as Liverpool won the competition for the third successive season.
In total, Whelan scored 73 times for the Reds in his 493 appearances for the club. Other memorable goals included dramatic equalisers against Manchester United and Portsmouth in FA Cup semi-finals, as well the two strikes in the historic 4-1 quarter-final win over Benfica in the European Cup in 1984.
As well as scoring big goals, Whelan played a major part in helping Liverpool maintain their winning habits on the biggest stage as the club won their fourth European Cup after they beat Roma in the Eternal City in the 1984 final.
But a year later, Liverpool lost their European crown to Juventus in Heysel in a game that was overshadowed by the deaths of 39 people – mostly Juve supporters.
The tragedy resulted in a five-year ban for all English clubs from European competitions, with one extra year for Liverpool.
Back on the pitch, there was more silverware as Liverpool claimed an unexpected league and FA Cup double in 1986, the only one in their history, just as cross-city rivals Everton were enjoying one of their greatest periods.
While a fifth league title for Whelan was clinched in 1988, tragedy was soon to follow the following year.
Hillsborough
Captain for the majority of the 1988-89 season after regular skipper Alan Hansen suffered an injury that resulted in the Scottish defender missing a significant part of the campaign, the Irishman led the Reds out in the FA Cup semi-final against Nottingham Forest at Hillsborough.
The game, one of the worst disasters ever witnessed in British sport, saw 96 Liverpool fans lose their lives.
"It was a terrible time. As a footballer, you look back and you know it was a bad time, but I can't imagine how bad it was for the families of the people that died.
"I remember we were asked to go to Anfield to meet the parents, the brothers and the sisters of the victims.
"You're talking to a mother or a father that has lost a son or a daughter. It was such a difficult thing to do.
"We're not counsellors. I found that very hard. I felt guilty because it was the team I was playing in that they came to see.
"Getting back playing was so difficult. Players like John Aldridge and Steve McMahon would have suffered even more because these were local lads.
"They struggled more than everybody else. But we couldn't just sit about and not play again; we were professional footballers.
"You look back at Hillsborough and we never won the league again after 1990, which was a year later. I think it took a mental toll on everybody associated with the club at the time.
"I think the winning of the FA Cup in 1989 and the league in 1990 was a rallying cry from the players. We could have won the double in 89, but lost out to Arsenal. The next year again I think we felt we had to do this, we had to win it."
Leaving Liverpool
In the 1990s, injuries started to build up as Whelan no longer became a guaranteed starter under Souness and latterly under Roy Evans, but the departure and the way it happened still came as a massive shock.
"I was offered a one-year contract. Roy Evans was now the manager, I said to him I've been here for 15 years. Surely, I deserved a bit more than that. If they were to give me two years, I was going to take it.
"He then went off to speak to the board; they said it was just going to be a year-long deal. I had a look around at other clubs to see if there were any other potential offers. There wasn't much on that front, so I said I would sign the year contract.
"Roy went to get it sorted and a couple days later I still hadn't heard anything. Then he said they've withdrawn it and there is no contract available. And that was it.
"I got in my car and drove home. They don't give a fuck about you. After 15 years that was it. I was crying all the way home. I had to stop the car.
"It was all just so sudden. That hurts.
"That's why when I see players now trying to secure better deals I say good luck to them. They'd throw you out as soon as they look at you once your contract is up or you are past your sell-by date.
"Once you're of no value to them, you're out. It was a hell of a shock to the system."
Rocking The Kop
In 2006, Liverpool's in-house TV station commissioned a survey to rank the greatest-ever players to don the famous red jersey. Whelan was voted in 30th place, and fell back even lower to 46th when a second survey was commissioned in 2013.
For one of the club's most decorated players it may seem low. Whelan, who was comfortable with either foot, often sacrificed his natural flair for the good of the team. Suppressing the spectacular for more simple – but just as effective play – may have lost him some plaudits; however it helped him become a regular, and one of the most dependable players of the team.
The arrival of John Barnes to Liverpool brought a new dimension to the side, with Whelan asked to pursue a more central position. His family history with the sport meant Whelan possibly had a deeper understanding of the game, which led to him being played in every position apart from in goal for the club during in his 15-year stint with the club.
"I am not going to say if I think I should be higher or lower on the list, that's for other people to vote, but what I will say is that a lot of people who use the internet who don't know a lot about Ronnie Whelan," the 53-times capped former Ireland international says.
"I think this is one of the reasons people say I was underestimated. I was underestimated by the supporters, I was never underestimated by any teammate I had, or any manager I had – well, maybe until Jack Charlton came along with Ireland and he started dropping me.
"I was never left out of the team much at Liverpool. Kenny Dalglish left me out a couple of times in his second year – I don't know why – he never said why, but I was only out for a couple of games and I was back in.
Be part
of the team
Access exclusive podcasts, interviews and analysis with a monthly or annual membership.
Become a Member
"In my second year at Liverpool, when Bob was manager, I used to get slaughtered by the crowd, but I was played every week.
"I don't know what I was doing wrong in their eyes, to them I couldn't do anything right. I think it was due to not being a Scouse kid; I was this Irish kid that had come in.
"I think it was Bob that said everybody looks to Dalglish and Rush to score the important goals, but we always looked towards Ronnie Whelan because we think he's going to come up with something again.
"You look at players doing the best players the played with on Sky, players like Graeme Souness put me in his team. Other players put me in their team because they know what I did when I played.
"When I was injured and out of the team, then I heard fans saying we need Ronnie Whelan back.
"But I never felt the need to justify myself. I always felt I must have been doing something right if the manager kept putting me in, no matter how much stick I would get.
"When I went into centre midfield I was a better player. I enjoyed it more, I was involved in everything.
"Between 1983 and 1989, I believed I was at the top of my game. I honestly believe I was probably the best midfielder in England over those years, but I never got the recognition for it because there were other people scoring goals or players like John Barnes coming in and doing amazing things.
"I felt I was playing really, really well and never got recognised for it.
"I didn't care at the time because I was in the team and we were winning. Angry would be too strong of a word for how I felt, but I would say I am disappointed.
"These awards are voted by opposition players and I wasn't liked by a lot of them, especially on the pitch, because I was a different person on the pitch.
"I could be nasty, I could be horrible but I would walk off the pitch and ask some of them to go for a pint but some would say fuck off. In my opinion, I felt I was good as any centre midfielder in the country."
Life after Liverpool
At 33, Whelan knew his best playing days on the football pitch were now behind him, but with a young family to provide for, securing another contract was a necessity.
"It was a case of having three kids and me thinking I still need to earn some money. Mick McCarthy asked me to go down to Millwall to play in a game; I think their reserves were playing against West Ham. I played, but I didn't have much of a pre-season. Mick knew I wasn't fit and that I wasn't ready and he needed somebody to make an impact straight away.
"I then got a phone call a couple of days later from Southend, who had somebody there watching the game. I joined them and played a year under Peter Taylor in what's now the Championship and it was great. And the next season I became player-manager."
Whelan's only season in the dual role ended in the safety of mid-table as he hung up his boots for the full-time position in the dugout. However, the second season at Roots Hall finished with The Shrimpers adrift from the rest of the pack and rock bottom of the table, which inevitably saw Whelan depart the club.
"That was hard work. I never enjoyed the management side. I think I would have been a better assistant because I don't like all the hassle of being a manager.
"The chairman would come into my office asking to see the teamsheet. One day he looked and said: 'Oh, okay, I'm going to put some money on QPR.'
"You're thinking what the fuck? What is this all about?
"We won the game and he sticks his head around the door and says: 'That's 1-0 to you.' As if he's disappointed we just won!"
Although Whelan didn't see himself as a manager long-term, an opportunity too good to turn down presented itself.
"I got a phone call from this agent and he said there was a team called Panionios playing Panathionaks in the Greek Cup final, and that they wanted to change their manager win, lose or draw. He then asked if I'd be interested in going over.
"My wife and I went over for the match and they won the match. I'm thinking I am not coming here, but my wife said later that night after a few beers I was moving plates and cups around telling her where I could I play everybody. I thought I had some decent players to work with, I was thinking it was worth giving it a go.
"But my first training session comes around and there is like four or five of the top players missing.
"I am standing asking: 'Where is the big tall centre-back?
"They reply: 'Oh, he is gone to Panathionaks.'
"And the little fella from midfield? 'Oh, he has gone to Olympiakos.'
"It was not the best of starts."
Living for five months on the outskirts of Athens without his family, Whelan knew the change of culture would be a stumbling block, and he recruited more English-speaking players in the form of former Shelbourne striker Garry Haylock as well as Mark Robins and Gareth Roberts.
The new recruits, in part, helped Panionios to the Cup Winners Cup quarter-finals where the Greek side lost to eventual winners Lazio.
However, the league form started to dip with fans saying they didn't want "tourists" in the team anymore.
Whelan remembers tensions between the team and the supporters getting so bad that after a defeat that the team had to sneak away from the players' lounge after the game as angry fans waited for them outside. That was the beginning of the end for Whelan in Greece as the club narrowly avoided relegation.
But that wasn't the end of his management career. Olympiakos Nicosia of Cyprus was the next port of call.
"The wages were half of what I was earning in Greece, but they are more British over there so it was easier to adapt. It was great for two or three years.
"I understood the team and we were just building it slowly and then we managed to climb to second in the league.
"I was due a big bonus if we got into Europe and I don't think the new chairman they got wanted to pay me that, so he sacked me with three games to go. I thought 'fuck this.'
"I then went to Apollon Limassol for a bit after that. I couldn't hack it there either. It was the same old things. To be honest, I didn't need that in my life anymore."
Now 56, Whelan combines media work as well as speaking at corporate events, but the idea of returning to the game beyond commentating on it has lost its allure.
When you've reached the heights he did on the pitch, anything else will always be a distant second best.
"I was so lucky to be part of so much success as a player. I never imagined I would have achieved all I did. Looking back I would like to think that this kid from Finglas achieved something."
The42 has just published its first book, Behind The Lines, a collection of some of the year's best sports stories. Pick up your copy in Eason's, or order it here today (€10):