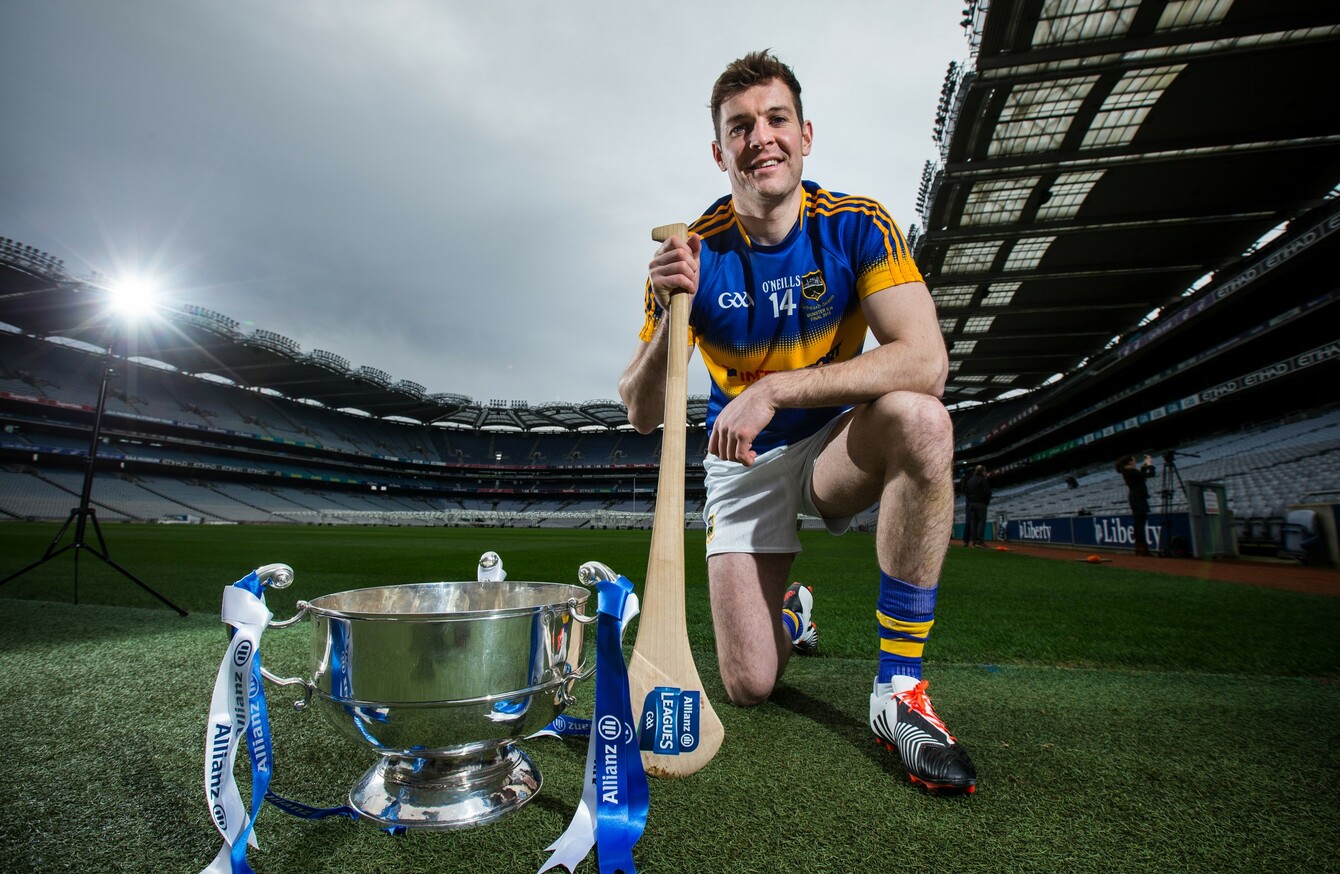 Seamus Callanan at yesterday's Allianz league launch in Croke Park.
Image: Cathal Noonan/INPHO
Seamus Callanan at yesterday's Allianz league launch in Croke Park.
Image: Cathal Noonan/INPHO
SUDDENLY SEAMUS CALLANAN finds himself a veteran.
The winter saw a retirement exodus in Tipperary, the Premier stripped of Conor O'Mahony, Shane McGrath, James Woodlock and Lar Corbett.
When the dust settled, Callanan was one of the longest-serving figures still standing.
From the Tipperary players that saw action during the 2008 All-Ireland semi-final, he's one of only three survivors still knocking around along with Conor O'Brien and Paddy Stapleton.
"The lads that have retired from Tipperary owe nothing to Tipperary," reflects Callanan.
"They were great servants there for years so best of luck to them with their retirement. There's different aspects to different fellas. Hurling isn't everything either.
"There's people there with young families and everything that have to be taken into consideration."
Not that Callanan buys into talk that Tipperary are now bereft of experience. Paddy Stapleton, Michael Cahill, Padraic Maher, Gearoid Ryan, Patrick Maher and Noel McGrath are all still involved from the 2010 All-Ireland winning side.
"There's a lot of lads around my age that have a good few years experience and a lot more left in the tank as well. It's a different dressing-room in a way to walk into. It's a positive anyway.
"Kilkenny lost a lot of lads to retirement and they were still able to win the All-Ireland last year. We've a few fresh faces in there as well, so looking forward to the year."
If there is a leadership vacuum, then Callanan is ideally placed to fill it. His career has undergone a remarkable overhaul in recent years.
Consider this. After he was substituted in a 2010 All-Ireland qualifier against Wexford, the Drom-Inch man only finished two of Tipperary's next 16 championship matches and he only grabbed a starting jersey for half of those games.
But since the start of the 2014 season, Callanan has stepped forward as Tipperary's attacking figurehead and his scoring returns have been extraordinary.
2014 league: 5-62 from 7 games
2014 championship: 9-50 from 7 games
2015 league: 3-45 from 7 games
2015 championship: 5-20 from 3 games
He's collected back-to-back Allstar awards and gave the standout individual display of 2015 when ransacking the Galway defence for 3-9 last August.
Callanan has credited former Tipp manager Eamonn O'Shea and current Armagh boss Kieran McGeeney, who previously worked with the Premier as a performance coach, for helping boost his fragile confidence.
He's been a player transformed as a result and targeting early season form has helped.
"When you're a sub for a couple of years you really want to hit the ground running every time you start the year and you need to get that momentum.
"So I always target the league very much so. I try and get that jersey on the first day and I don't want to give it back until hopefully September.
"Eamon (O'Shea) drilled great confidence into me, and I thrived on that, and once you get a taste for it, the level of training and preparation, it all adds up. But you have to up it again this year, try harder."
That effort is all with the goal in mind of getting Tipperary back to the heights of 2010. That All-Ireland win looked like a springboard at the time but instead it stands in isolation after near misses in recent seasons.
2011: All-Ireland finalists
2012: All-Ireland semi-finalists
2013: All-Ireland qualifiers phase 2
2014: All-Ireland finalists
2015: All-Ireland semi-finalists
"At the end of the day you''re up against the likes of Kilkenny, a fantastic team. Things slip away and you have opportunities but it didn''t happen for whatever reason.
"But all we think about is 2016."