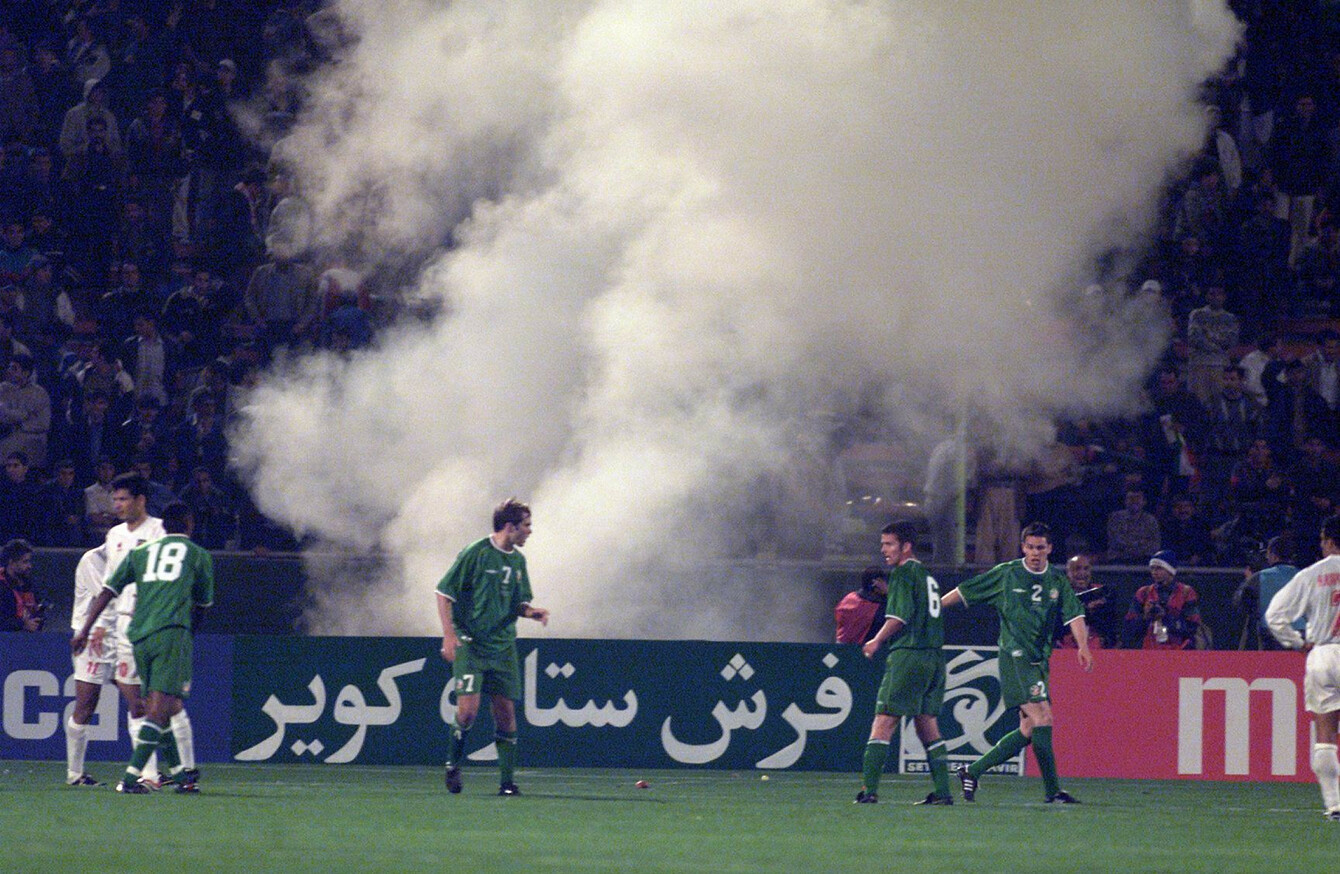 Someone lets off a flare in the crowd during the Iran-Ireland World Cup play-off game in November 2001.
Someone lets off a flare in the crowd during the Iran-Ireland World Cup play-off game in November 2001.
THERE ARE FEW if any Irish footballers who can speak more authoritatively on play-off matches than Shay Given.
Over the course of more than 20 years and 134 caps, Given represented Ireland in four separate play-off ties — Belgium, Iran, France and Estonia (but he didn't feature in the matches against Turkey or Bosnia in 1999 and 2015 respectively).
Consequently, he can certainly empathise with how Ireland's current stars are feeling less than a week away from the first leg of the 2018 World Cup play-off against Denmark in Copenhagen.
"They're high-pressure games because so much is at stake," Given tells The42.
"Just to get to the World Cup finals — the whole Irish squad has never played in a World Cup before, so it's a big opportunity for them.
"I was lucky enough to play in a World Cup and it's an unbelievable experience. It gives the whole country a lift if they qualify.
We got a favourable draw in the sense that we stayed away from Croatia and Italy, but Denmark are still above us in the world rankings for a reason. They're a strong team and the likes of Christian Eriksen and Kasper Schmeichel, they're no mugs, so it's not going to be an easy game.
"But Ireland have come off a victory against Wales away from home. The first play-off game is away in Denmark — hopefully it's a similar performance to the Wales game so the result will be perfect to go back to Dublin with."
Of the play-off matches Given was involved in, three were World Cup qualifiers — Belgium, Iran and France. From both the lost ties in question, Given was at the centre of two of the games' abiding images. Just 21 at the time, following Ireland's heartbreaking 3-2 aggregate defeat in Brussels, the distraught young goalkeeper was seen wiping tears away from his eyes as he departed the pitch.
Source: killianM2/YouTube
By contrast, more than a decade later, it was anger rather than sadness that was the prevailing emotion. That feeling of indignation was starkly evident in Given's reaction, as he ran towards the referee, trying in vain to persuade him to award a free kick for Thierry Henry's infamous, unpunished handball in the lead up to William Gallas' tie-winning goal.
Consequently, of the three World Cup play-offs he experienced, it is clearly Iran that Given has the fondest memories of, even if it was not by any means a pleasant experience for the most part.
When people think back to the 2002 World Cup qualifiers, the 1-0 victory over Holland at Lansdowne Road tends to stand out, given how improbable the outcome seemed beforehand, with Louis van Gaal's side considered one of the best teams in the world at the time.
Yet the Iran game was also closely fought. An Ian Harte penalty and a Robbie Keane strike saw the Boys in Green secure a commanding 2-0 first-leg lead, although it could have been so different, had it not been for a few crucial saves by Given.
The second leg in Tehran was also far from straightforward. Going up against a side that had won admirers in the 1998 World Cup less than four years previously, earning a famous victory over the United States in the process, Ireland knew they were in for a battle.
16 years on from those matches that ultimately saw the Boys in Green secure their spot at the 2002 World Cup, Given still vividly remembers what it was like to play at the Azadi Stadium in Tehran.
"It was probably the most hostile place I've ever played football in my life," he says.
"We got there a couple of hours before the game and there was 100,000 people in the stadium already. We were getting off the bus and getting all sorts of stuff chucked at us.
There were no women allowed in the crowd and all this kind of stuff. It was a very tense atmosphere. We came out to warm up and we were getting stuff pelted at us as well. It was not a frightening experience, but it was up a level (to what we were used to).
"I've experienced some fantastic atmospheres in my career but this was the most intimidating.
"It was so crucial to get through those games and not be on the wrong end of the play-offs, losing out — I know how that feels."
Ireland lost the second leg thanks to Yahya Golmohammadi's last-minute goal, but prevailed 2-1 on aggregate. Under Mick McCarthy, they would invariably celebrate such triumphs with a couple of beers and a party, but the Iran match was an exception to the general rule for obvious reasons.
The celebrations in the changing rooms after (were mad) even though we weren't allowed any alcohol — we were spraying bottles of water, pretending it was champagne," Given recalls.
"They're great memories to have and to actually get across the line and to be going to a World Cup final as a player was (special). Previously, I was a fan supporting the lads in the Jack Charlton era and now I was going as a player."
The relief, both owing to the team's refusal to cave amid such a daunting environment and in finally reaching a major tournament, was palpable. Since the 1994 World Cup, the Irish team were forced to endure a lean period marked by three successive play-off failures against Holland, Belgium and Turkey, not to mention being seconds away from qualifying for Euro 2000 before a last-minute Macedonia equaliser broke Irish hearts.
So in beating the Iranians, Mick McCarthy's side had finally shed the tag of 'nearly men' and would go on to enjoy an impressive showing at the World Cup despite the infamous Roy Keane/Saipan controversy in the lead up to it.
There would not be such a satisfactory ending to qualification eight years later, however, as Ireland attempted to reach the 2010 World Cup.
A 1-0 play-off loss at home and a 1-1 extra-time draw away against France saw the Irish team fail to make it to South Africa at the final hurdle. But that was barely half the story. The tie itself was overshadowed by the aforementioned Henry handball, and it's clear how Given and his teammates felt about the former Arsenal star's cynical act.
But perhaps the more intriguing and less talked-about aspect of that unforgettable match in Paris was the manner in which the Irish team played. Despite ultimately failing to qualify, there is a case to be made that, at least for the first 90 minutes of play, the visitors produced the best performance of the Trap era, dominating the game for long spells and deservedly going ahead.
In contrast with the lack of ambition and extreme caution that characterised much of the legendary Italian coach's time in charge of Ireland, there was a freedom and ingenuity to the Boys in Green's play that night, which has been rarely seen, before or since.
In his book, Given recalls: "For the second leg in Paris, the Trap wanted us to remain as we had in the first match. He wanted us rigid and deep without pressing too much. He wanted us to nab a goal from somewhere and maybe force extra-time."
Yet Given had a slightly different idea of how the team should play, telling team-mates at the time: "We're going to fucking go for it, we're going to press them, we're going to hurry them, we're going to throw everything at them."
The ensuing match, Given says, was "the least nervous I've ever been on a football pitch for Ireland — it was more of a feeling of enjoyment and liberation".
Reading the star's autobiography, Irish fans would be forgiven for wondering why the team does not adopt this attitude more frequently and take the shackles off on big occasions. What was it that belatedly made them decide to play in such an open, adventurous manner all of a sudden?
"We lost the first leg to France in Dublin and we felt we didn't do ourselves justice — we were a better team than what we showed in Dublin that night," he explains.
Myself and Robbie Keane in the huddle before the game started, and even on the bus the day before and going to the stadium, the vibe was (different). Of course Trapattoni set us up in terms of how he wanted us to play and (urged us) to be focused for set plays. We didn't just rip up the sheet. But what we said in that huddle was: 'Lads, this is the chance of a lifetime.' We had to respect France, but show them what we're made of.
"I know we lost the game (over two legs) that night and obviously, there was the controversial Thierry Henry handball, but the way we played, it was probably one of the best performances from an Irish team that I was involved in.
"I don't know, sometimes it's not easy to take the shackles off or go out and enjoy it in a free-spirited, nothing-to-lose type fashion. I suppose we were 1-0 down (from the first leg), we just had to go for it.
"We played well that night and just felt cheated with what happened in the end."
There have been similar scenarios, in the years since then, under Martin O'Neill. The team tends to perform best in must-win situations, as displays amid memorable victories over Germany, Bosnia, Italy and most recently, Wales, indicate.
Yet despite these successes, Ireland go into the upcoming pivotal matches with Denmark as underdogs — a status Given feels could suit the team.
Sometimes we play better as underdogs and a lot of the time we are underdogs — people shouldn't forget we are a small country, we're up against it with the population we have (competing with) some of these big nations. It's not easy to qualify and if the lads do it this time, it will be a fantastic achievement by everyone. Hopefully, they can get across the line.
"We think we have a divine right to qualify for everything, because of the success under Jack Charlton — it was (practically) every major tournament. We've felt we should have been at every one after that, and obviously we've slipped up along the way.
"But the concern for me is the conveyor belt of new talent coming into the team and into the squad. Hopefully, there's a new Damien Duff, Robbie Keane, Richard Dunne or Seamie Coleman around the corner. We need an influx of new talent, and that's hopefully going to happen soon enough."
'Any Given Saturday' is published by Trinity Mirror Sport Media. More info here.
Subscribe to The42 podcasts here: