Beckham will continue to line out with Ireland skipper Robbie Keane.
Image: Bret Hartman/AP/Press Association Images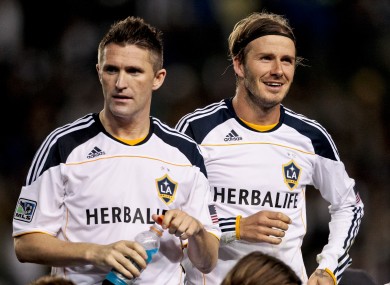 Beckham will continue to line out with Ireland skipper Robbie Keane.
Image: Bret Hartman/AP/Press Association Images
Rob Harris
RESISTING THE LURE of Paris for the sake of his family, David Beckham pledged his future to America's Major League Soccer last night by signing a new two-year contract with the Los Angeles Galaxy.
The 36-year-old midfielder had been courted by leading clubs across Europe in the months before his initial five-year Galaxy deal ran out in December, with Paris Saint-Germain's wealthy Qatari owners offering the most lucrative deal.
But Beckham turned down around $12 million-a-year with the glamorous French capital club for a less lucrative base salary at the Galaxy, which was previously paying him at least $6.5 million-a-year.
For the former England captain, whose career at Manchester United and Real Madrid turned him into a celebrity who transcended sport, the deal wrapped up on Wednesday in Los Angeles could be the last of his playing career.
"This was an important decision for me," Beckham said in a statement. "I had many offers from clubs from around the world, however, I'm still passionate about playing in America and winning trophies with the Galaxy."
It took until November, though, to collect his first winners' medal in the United States, delivering the Galaxy's first MLS Cup since 2005. It followed Premier League, La Liga and Champions League triumphs during his career in Europe.
Beckham left Europe in 2007, making the surprise decision to join the Galaxy from Real Madrid.
"I've seen first hand how popular soccer is now in the States and I'm as committed as ever to growing the game here," Beckham said. "My family and I are incredibly happy and settled in America and we look forward to spending many more years here."
Beckham's England career has effectively ended after making 115 appearances — the most for an outfield player. But he is targeting a spot in Britain's Olympic football team later this year, with the games being hosted in his native London.
By staying at the Galaxy, Beckham can be confident of a regular starting place in Bruce Arena's team, which might not have been the case at PSG or one of the English Premier League clubs that was pursuing the hottest brand in global football.
Robbie Keane's Galaxy, though, know how close it came to losing the player who has brought an international spotlight on the after scoring 11 goals in 74 appearances.
"I am thrilled that David has chosen to rejoin the Galaxy, especially as he had numerous options where he could continue his career," Arena said. "I felt that he was one of the best players in all of MLS last season and we could not have achieved the success that we did without him. We look forward to trying to replicate that success this season with David once again in a Galaxy uniform."