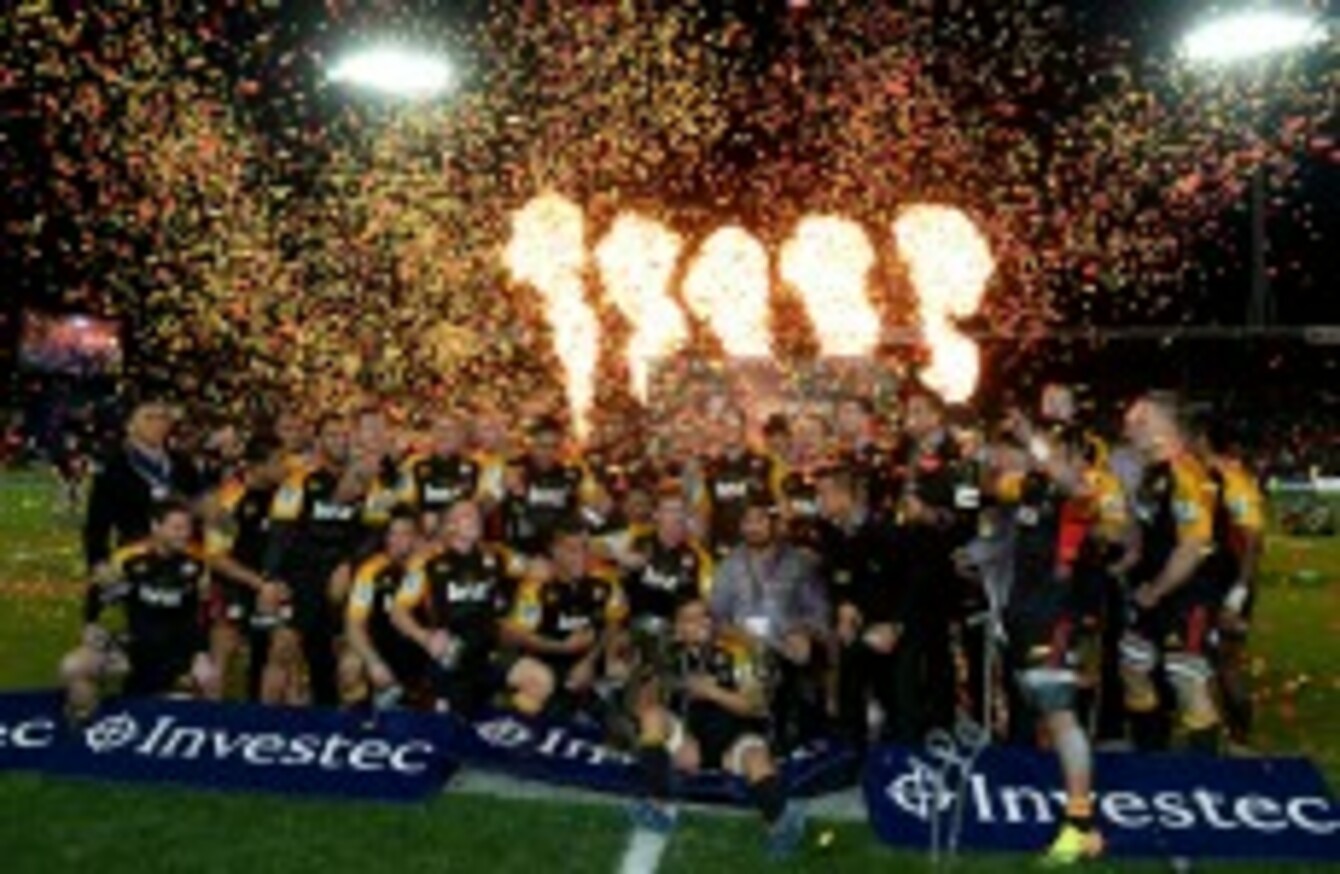 The Chiefs celebrate their 2013 Super Rugby title.
Image: Andrew Cornaga
The Chiefs celebrate their 2013 Super Rugby title.
Image: Andrew Cornaga
THE SUPER RUGBY competition will expand to 18 teams in 2016, with three new clubs coming from South Africa, Argentina and possibly Asia or the United States, officials have confirmed.
New Zealand Rugby Union chief executive Steve Tew said a revamp was needed in the southern hemisphere competition, which currently includes five teams from each of Australia, New Zealand and South Africa.
He said expansion, which has been approved by governing body SANZAR, would meet South African demands for a sixth team and help establish elite professional rugby in Argentina.
The addition of an 18th team would also take the game to new markets, he said.
There's interest on the west coast of America, there's interest in Singapore, Hong Kong, Japan," Tew told reporters, adding that discussions were already underway with "credible" potential bidders for the ground-breaking franchise.
Australian Rugby Union chief executive Bill Pulver said the plan gave Super Rugby "the potential to become a truly global competition".
"Our strong preference is for the 18th team to come from Asia, as we believe this will attract significant commercial opportunities for us in the future," he said.
Further expansion mooted
Super Rugby started as the Super Six in 1986, becoming Super 10 when South Africa re-entered the rugby world in 1993.
It grew into the Super 12 when the newly formed SANZAR took control in 1996, then Super 14 a decade later and most recently Super 15 in 2011.
Tew said organisers would look at further expansion in 2018, after the Super 18 concept had a couple of years to bed in.
He rejected suggestions that constant tinkering with the competition's format would alienate fans, saying evolution was natural in a sport which only turned professional in the mid-1990s.
"Professional rugby in this part of the world is still incredibly young, so we're evolving… and we don't make any apology for looking to do things better," he said. "We're keen for the game to grow and we see SANZAR as being in the vanguard of all that."
Under the new blueprint, the competition will be split into two regional groupings, South Africa and Australasia, each containing two conferences. The South Africa grouping will have eight teams – including Argentina and the 18th team – with two conferences of four teams.
Australasia will have 10 teams, with the five Australian and five New Zealand sides each forming a conference.
Teams will play the majority of their regular season games against sides from their own regional grouping, which Tew said would minimise the large amounts of travel needed under the current format.
South African broadcasters provide the bulk of the competition's funding, so organisers needed to meet demands for another team.
Tew said Argentina, whose national team joined the former Tri-Nations competition in 2012 when it was rebranded the Rugby Championship, also needed a locally based professional team if the game was to flourish there.
"They have told us categorically that if they can't have a professional team in a competition like this then their ability to compete in Test rugby will be compromised," he said.