Image: RTE
Image: RTE
IN SEPTEMBER 2011 Tadhg Kennelly brought the curtain down on his Australian Rules career with the Sydney Swans.
An AFL Premiership medal winner in 2005, Kennelly's links to the game have not been completely severed though.
He has since taken up a role with the AFL that sees him primed with the responsibility for international player development and recruiting fresh young talent for the game.
TheScore.ie caught up with Kennelly and got his views on a wide range of subjects.
Ambassador role in the AFL…
"I got the opportunity this year to travel the world and try to recruit players for the AFL from China, New Zealand, Papua New Guinea, Ireland, Europe and America. It's been fantastic.
"There's two new clubs in the AFL and there's a shortage of AFL footballers in the competition. AFL clubs said they needed more talent. So it was decided that the best way to do that was to go around the world and try to find it.
"We've seen this year in the Grand Final, a player from my own club the Swans, Mike Pyke involved. Five years ago he played for Canada against New Zealand in the Rugby World Cup, scoring a great try. The more success stories we have like that, the more attractive we're going to become around the world.
"We'd ten players out of an international draft combine involved last week. There was a kid from Papua New Guinea who we've just signed up with the Richmond Football Club. It's not just Ireland."
Sean Hurley (Kildare and Emmett Bradley (Derry)…
"The two guys settled in very well down at the combine in Melbourne two weeks ago. A combine is basically a draft where we have physical and mental testing. The clubs look at the players in the combine and it's my job then to sell the player to the clubs. I'm not affiliated with any club, I'm affiliated with the AFL.
You have 18 clubs looking at the players. We'd 10 or 15 recruiters from each club and they're going through everything. They probing to check everything both mentally and physically.
"We won't know for another three or five weeks if anything's going to come out of it. The national draft and trade period doesn't finish for another three weeks. That's then when the clubs start looking at their lists of international footballers."
Sydney Swans recent AFL triumph…
"It was great to see them do it. Obviously it was quite emotional as I'd know a lot of the guys inside out. I was just so delighted for them. I felt like a father really looking down at his kids as I'd be close to so many of them.
"They were underdogs for the whole year and they just showed a real team ethos. It was very similar to how Donegal won the All-Ireland. They had a team ethos and they really bought into the system and the gameplan that they had. It just shows you when you do that, anything can happen."
The celebratory jig after the game…
"I did some commentary during the game and they asked me after to do a jig. Of course I was quite happy to do it! It was a bit different obviously doing it in the commentary position rather than on the pitch. But September's a great time to be doing a jig."
The achievement of Jim McGuinness and Donegal in 2012…
"It's something that's taken an awful lot of courage and thinking outside the box. Being able to change a game style like that and to stick strong with it despite all the criticism was great.
"It just shows how strong-willed a manager he is and what a great man manager he is to get the players to do something they're not used to and get them to win an All-Ireland with it. It's a huge achievement."
Pic: INPHO/Lorraine O'Sullivan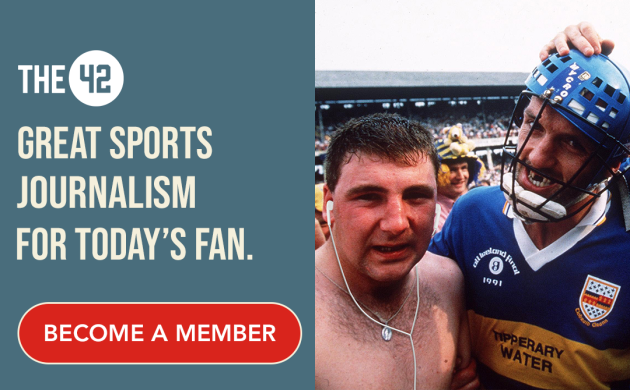 The prospects for Kerry football…
"There's a lot of doom and gloom around Kerry at the moment but they could easily have won the All-Ireland last year. I think it's great that the way it is in Kerry when you don't reach the pinnacle of your sport every season, you're not happy.
You want to be winners at all times. It's a great way for kids to see growing up but that can sometimes be a very stressful and tough environment for players and managers alike.
Eamonn Fitzmaurice's appointment as Kerry manager…
"I played football with Eamonn with our own local team Feale Rangers and he only lives over the road from us at home so I know him quite well. Eamonn's very forward thinking. I'm sure he's going to do very well with a great backroom team as well."
The future evolution of Gaelic football…
"I think it's going to evolve again. It's not just about skill in the game. Everybody will be thinking now after Donegal's achievement that you don't have to be a big team like Kerry to win an All-Ireland every year or the most skilful team in the country.
"It's going to change the landscape of Gaelic football. Other counties are going to have to adapt and I think that's only for the better in that it's going to make the competition a lot stronger."
*****
Tadhg Kennelly returns to his home town of Listowel to see his friends, family and teammates in tonight's episode of The Gathering – Homeward Bound on RTÉ One at 7.00pm