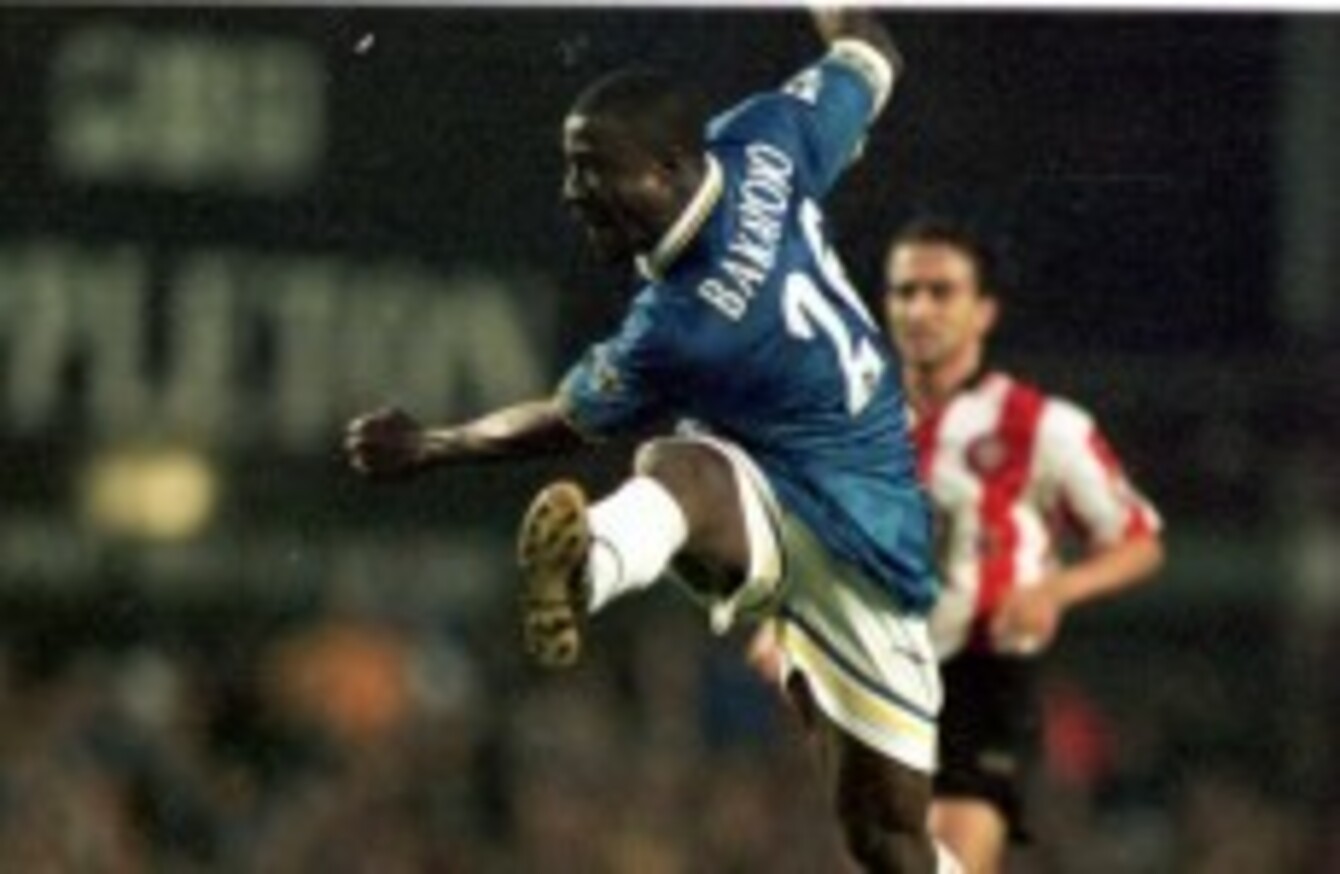 Ibrahima Bakayoko: better in Championship Manager than he ever was in reality.
Image: David Rawcliffe/EMPICS Sport
Ibrahima Bakayoko: better in Championship Manager than he ever was in reality.
Image: David Rawcliffe/EMPICS Sport
THIS YEAR'S EDITION of everybody's favourite football management simulation game is unleashed upon the gaming public today, reclaiming its hold on the lives of homework-averse teenagers and bored football anoraks everywhere.
Nowadays they call it Football Manager, but we remember a fonder time, a time when the two words "Championship Manager" were enough to set the pulse racing.
One of the joys of the game was unearthing some nobody from the lower divisions of the Belarusian or Dutch leagues who went on to be a 75-goal a season striker and help you take Monaghan United to back-to-back Champions League titles.
Sadly, most of these "cult heroes" turned out to be absolutely pants in real life, but that doesn't matter. They'll always have their Championship Manager legacy to fall back on.
Here are seven of our favourites from down the years.
1. Tonton Zola Moukoko
The routine was always the same when starting a new game. Sign teenage sensation Tonton Zola Moukoko from Derby County for peanuts; stick him in behind your front two; watch the goals rain in.
Rams fans must have thought that they had a right gem on their hands as Moukoko honed his trade in their youth system for three years. Word on the street was that Alberto Zaccheroni wanted to sign him for AC Milan — everybody knew that one – but a combination of personal problems and unfortunate timing meant that he never got a chance to strut his stuff in England.
He ended up floating the around the lower divisions in Sweden and Europe for a couple of seasons, occasionally getting calls from avid CM fans who wanted to know when he was finally going to get the big-money move he so deserved.
I've no idea where he is now, but I hope he's still playing in the hole and banging in the goals. Respect.
2. Freddy Adu
Every so often, the phone rings and an fellow CM aficionado excitedly blurts out the immortal words: "I've found the next Freddy Adu."
Invariably, it's a lie. Fourteen-year-old wonderkids only come along once in a lifetime and Freddy Adu was it.
The Championship Manager database guys got a sniff of young Fredua (that's his name) when DC United drafted him in 2004. Never ones to sit on the fence, they predicted great things for Adu and set his stats to evolve into a world-beating superstar by the time he was scarcely out of short pants. Nobody can keep up with that kind of hype, not even Adu.
Still, he was an MLS regular and even had a trial with Lord Ferg of Manchester while still a teenager. Now 22, he's an American international and plays for Philadelphia Union. By any objective standard, he's been very successful, but Championship Manager's ridiculously high bar ruined Freddy for all of us.
3. Maxim Tsigalko
Ask me to name Belarusian internationals, and I'm pretty sure I'll be stumped after two: Alexander Hleb and Maxim Tsigalko.
Sadly, I never had the privilege of seeing Tsigalko play in the flesh, but I feel that I know him intimately. We were the best of friends for years; everywhere I took my talent and my managerial sheepskin overcoat, Tsigalko was right there beside me.
I can't remember how he first appeared on my radar, but once he did, my experience of Championship Manager would never be the same again. In his prime, Tsigalko single-handedly fired Sunderland to promotion with 62 goals in all competitions. The big clubs sniffed and had it not been for that £120m release clause I had written into his £1,200 a week contract, I surely would have lost him.
In reality, he wasn't a complete flop; he played and scored for his country after all, as well as making a decent living as a journeyman in Belarus, Kazakhstan and Armenia. But he never managed to eclipse that unforgettable season on Tyneside.
4. Ibrahima Bakayoko
Every so often, a Premier League club would make the most outrageous left-field signing and you twigged immediately that the manager in question was a massive Championship Manager nerd.
In 1998, that manager was Everton's Walter Smith. Like the rest of the CM universe, he knew that Ibrahima Bakayoko was a guaranteed goal-getter with the touch of Messi and the finishing ability of Bergkamp in his prime.
The only problem was a slight discrepancy between Ibrahima Bakayoko the man and Ibrahima Bakayoka the computer-generated character. The latter may have been worth the £4.5m which Everton paid for him; the former certainly was not.
The Ivorian quickly became the butt of most jokes on Merseyside and, after just four league goals, was shipped back to France the following summer in a majestic piece of wheeling-dealing which saw Everton recoup all but £500,000 of their initial outlay.
Now 34, he's still knocking about and finished as top goalscorer last season. In the Greek second divison.
5. Julius Aghahowa
Aghahowa was such a Championship Manager legend that he's even got a Facebook group dedicated to him: "Fans of Buying Julius Aghahowa in Championship Manager 01/02."
("Failing your Junior Cert because of Championship Manager 01/02″ is another personal favourite of mine.)
Before he tried and failed in the Premiership with Wigan, Aghahowa was a teenage nobody with a little-known Ukrainian side called Shakhtar Donetsk. Suitors were only alerted to the fact that he might actually be good when Shakhtar turned down their initial risible offer and told them to scram.
But for those who loosened the purse-strings a little, Aghahowa was a steal. Another of CM's forgotten goal-scoring powerhouses.
What's more, as you celebrated his many goals in your bedroom, you could close your eyes and visualise him doing his trademark somersault backflip. Or, if you were among the truly dedicated, you could try and re-enact it yourself.
He's still plying his trade with PFC Sevastopol in the Ukrainian Premier League. I wonder if he's still doing the acrobatics.
6 & 7. Mark Collis and Ferah Orosco
Whoever said that "cheating" doesn't pay has never met Mark Collis or Ferah Orosco.
If you've no idea what I'm talking about, don't worry. Collis and Orosco were software developers working with Sports Interactive on the second installment in the CM series, the imaginatively-titled Championship Manager 93/94.
Now, there's a good chance that you could have worn out both the game and your Amiga through overuse, but you still might not have noticed that the two wags created themselves as players and snuck them into the game. After all, it's only the truly hardcore who scour Third Division Cambridge United for potential bargains.
But if you did happen upon the deadly duo and sign them up for two pints of lager and a packet of crisps, it wasn't long before you were in clover. They may have been Sunday League cloggers in real life — or maybe they were decent ballers, I don't know — but in the alternate reality of CM, they were footballing superstars.
With every release since, there were rumours of more fictional gems hidden in the depths of the game. There may well have been, but Collis and Orosco were the original and the best.