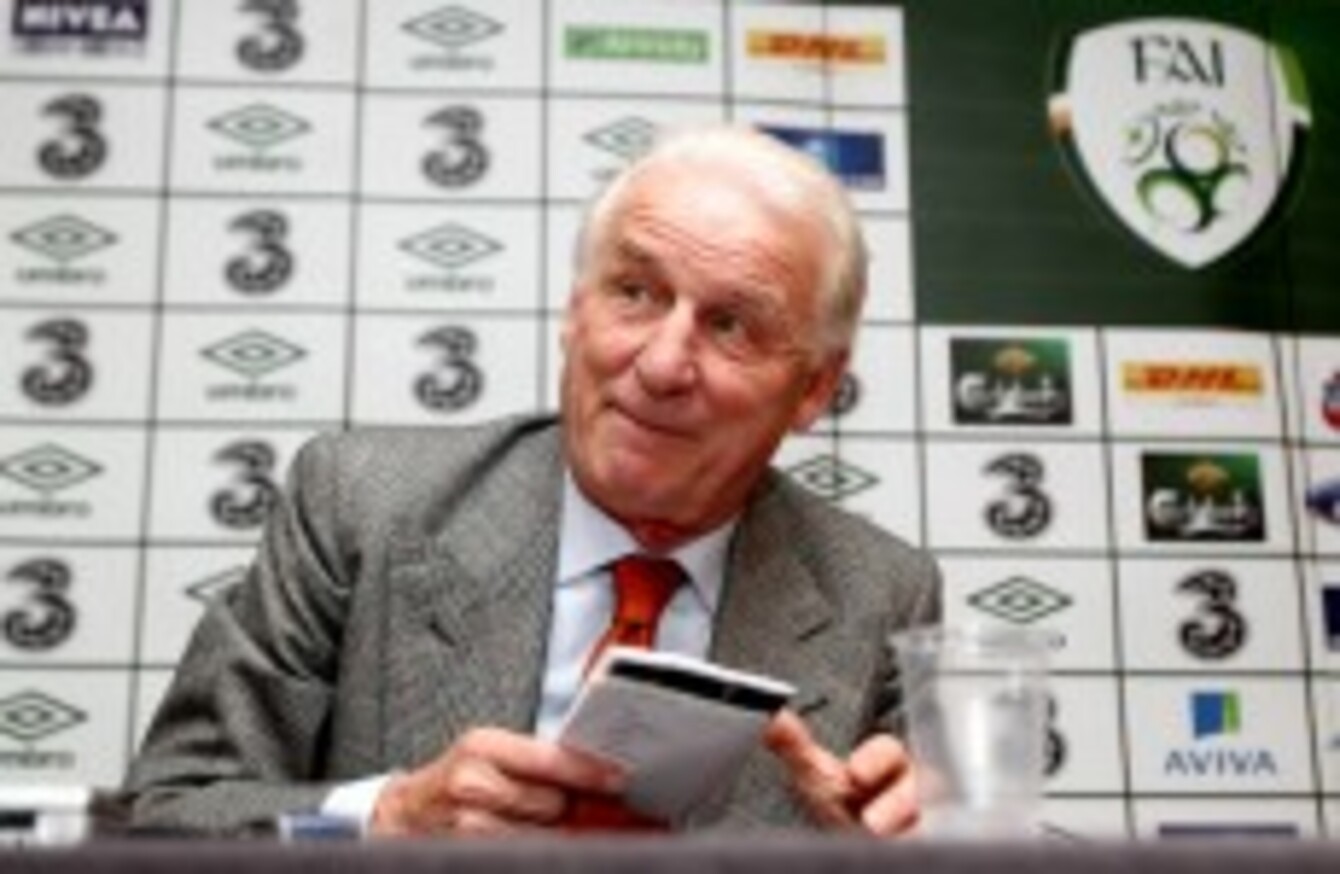 Image: INPHO/James Crombie
Image: INPHO/James Crombie
1. "Any "issues" raised by Sports Personality of the Year should be treated with the same seriousness you'd reserve for Peter Andre's views on the eurozone crisis. I do not think I could ever love anyone who gave one thousandth of a toss about Sports Personality of the Year, or 'Spoty', as we are encouraged to refer to it."
The announcement of the female-free shortlist for this year's BBC Sports Personality of the Year Award provoked a blizzard of media outrage, but for all the headlines and hysteria, the issue never really gained traction with the public. The explanation, according to The Guardian's Marina Hyde, lies in our innate appreciation of the award's pointlessness.
2. "1963, France: The road to Roubaix. The day Shay Elliott completed his Grand Tour triple: stage wins in each of the three big Tours, the first rider from the English-speaking nations to do this. And, following Tom Simpson the year before, Elliott became only the second English-speaker to don the Tour's maillot jaune. He'd already worn the leader's jersey at the Vuelta a España earlier in the year."
Decades before Messrs. Kelly and Roche cemented Ireland's place in the professional peloton, Shay Elliot was claiming stage victories in each of the Grand Tours. Here, the enigmatic "fmk" of Cyclismas stakes the Dubliner's claim to a place in the pantheon of Irish sporting greats.
3. "James was a young Puerto Rican guy from the Bronx. He worked for the MTA, a member of TWU Local 100. He had on a 59fifty Yankees cap, a grey hoodie and a backpack. He was polite and pleasant. Like me he had a wife and baby at home. He kept texting his wife to let her know he was still okay and not in jail. He told me he was 'a little rusty.' I beat him pretty easily in our first game. I even let him take back a few moves. I felt like a goddamn grandmaster. Then he brought me back down to earth with one question.
'You want to play for money?'"
While the rest of the Occupy Wall Street camp in Zucotti Park fretted about the imminent arrival of NYPD riot police, Dave Hill, a gambling columnist with McSweeney's (the online home of hipster whimsy), preoccupied himself by playing chess for money with a complete stranger.
4. "Since the Red Sox suffered their historic September collapse, and a subsequent front-page report in the Boston Globe unmasked the players as a collection of overfed boors, morale in Boston has been low. Our existential crisis might be summed up like this: not only did we lose, but all along the way we might have really been losers. (Distinctions between the Sox and self, between "we" and "I," are always tenuous, and evaporate in times of despair.)"
Bobby Valentine is a combative and charismatic leader in an era of dour, MLB clones, but is he the man to redeem the Boston Red Sox? Ian Crouch, writing in this week's New Yorker, sees trouble on the horizon, while the New York Times' Tyler Kepner thinks both parties can turn the situation to their advantage.
5. "Her laugh, this time, is raw rather than wry. In January, while Stevenson was with the British taekwondo squad in Cuba, her father called. 'My parents were never ill and so it was a shock when dad said,  – Your mum's poorly but don't panic. It's just pneumonia. – But when I got home and saw mum I could tell they weren't really telling the truth. When she saw me, mum cried. And I'll tell you something that I've not told anyone outside my family. She didn't know she had cancer then but she was scared to go to hospital. She looked at me and said: – I don't want to die -. For a daughter to hear them words…'"
Another week, another Donald McRae interview. This week with world champion Sarah Stevenson reflects on a year in which she lost both parents to cancer. Raw stuff.
6.  "Looking from a physics view, it doesn't matter which player pushed. What matters is that this force is between the two players and has the same magnitude. The force of Fujita pushing on Simpson is the same (but opposite direction) as Simpson pushing on Fujita. If I assume no other external forces (no gravity and no force from the ground), then the momentum principle says:
This is one for the nerds amongst us. Wired.com do the sums - and they print those too - as they try to decide if one NFL player's flop was a dive or not. I have a headache now.
7.

"As Deutsch hurried out the door, he passed his 18-year-old daughter, who happened to be home from college, and he sang out to her, 'Hey! I'm going to skate for the Wild tonight!' She just nonchalantly said, 'OK, Dad. We're going out to get something to eat.'

"'It didn't register with her,' Deutsch says."
Johnette Howard, writing for ESPN, explains how Paul Deutsch, a 51-year-old screen printer managed to live the dream of sports fans everywhere by winning a one-day contract with his favourite sports team, NHL leaders the Minnesota Wild.
What have you read that should be included?