"You have to remember that Tonya came from the streets: she didn't come from a palace. She was in a world where they chipped and they ground and they hollowed her desire to such a point that it would split atoms. And then they expect us to act like civilised human beings. They chewed her up for being from a different income bracket. They created their own monster. And I'm sure if people could go back and change it, they would, but if it wasn't for that incident in 1994, nobody would know the name Tonya Harding – or Nancy Kerrigan" – Jeff Hargis, boxing trainer
THE PHONE RINGS: 'Nelson Browning is calling you on Facebook Messenger'.
"Gavan, nice to speak with you," says Nelson, speaking from his home in Tupelo, Mississippi, before I've uttered a word. "The woman you're looking for, Samantha Browning – hey, that's my step-mom! Regarding your message, I think she fought Tonya Harding in the boxing ring, and I'm pretty certain it was both of their first pro fights.
"I'd be happy to give my dad and her a call and try to set up an interview between you guys."
The world is made all the smaller by Facebook, where I stumbled upon Nelson in a Hail Mary attempt to locate his stepmother. He knows Dublin, and as an MMA fighter he is especially familiar with an MMA gym — John Kavanagh's SBG — which is walking distance from where I live.
He's also a multiple-state Golden Gloves boxing champion. Fighting must run in his family.
Before he says his goodbyes, he promises he'll be back in touch as soon as he hears back from either his father or his stepmother, Samantha Browning.
While waiting to hear back from my new Facebook friend, another man's post on the same website goes viral across all of social media.
Disgraced former ice-skater Tonya Harding, back among the news headlines due to the upcoming release of her Margot Robbie-starring biopic, I, Tonya, was at it again.
It appears Tonya Harding is up to her old tricks. Her loyal agent/publicist Michael Rosenberg resigned today over Tonya's insistence that reporters be fined $25,000 if they ask her anything about the past. Here's his FB post..."I, Tonya" is "Goodbye, Tonya!" pic.twitter.com/5BqLuLLLDE

— Christine Brennan (@cbrennansports) January 11, 2018
Black sheep
"The only thing I know about her 'boxing career' is that I came out of retirement after getting her call that she had been invited to box in a new Fox show called Celebrity Boxing," Mike Rosenberg tells The42 of his former client, just 24 hours after acrimoniously parting company with Harding.
"And she asked could I handle the negotiation since their offer was so low.
"I knew that it would be fun – and a brief project – so I accepted. I negotiated a nice six-figure fee for her, but if I would have known that the ratings were going to go through the roof, I would have gotten even more for her! But I guessed wrong.
"I went to the fight and met Paula Jones there."
Jones, a former Arkansas state employee, had signed to fight Harding on the 2002 Fox television show. She had been brought in as a replacement for Amy Fisher, who 10 years prior had gained notoriety for shooting the wife of her illicit lover, Joey Buttafuoco, in the head (incidentally, Buttafuoco fought on episode 2 of Celebrity Boxing, and would years later box Fisher's husband as part of a charity fight night in Beverly Hills, California; Fisher traded leather with internet sensation 'Octomom' Nadya Suleman on that same bill).
Jones was presented as Paula 'The Arkansas Pounder' Jones, a crude play on the fact that she had risen to prominence after suing U.S. President Bill Clinton for sexual harassment in 1994.
As Rosenberg recalls, her bravery did not extend to the squared circle:
Paula asked just one thing: that Tonya not hit her on the nose, because she had recent cosmetic surgery and didn't want to ruin her new one. I said, 'Sure' and told Tonya in the dressing room that she would need to win without hitting her on the nose. And Tonya agreed. Sure enough, Paula's first move was to jab Tonya on the nose, and that ended the agreement!
"Tonya proceeded to go after Paula's nose – Paula tried to protect it as she danced around the ring – and Tonya won on a quick technical knockout. It was hilarious."
After Celebrity Boxing, Rosenberg went back to Palm Springs to enjoy his retirement. He didn't have contact with Harding again for over 13 years, until one day the phone rang, and Harding – who recalled Rosenberg's flare for negotiation – told him she had a writer interested in creating a screenplay about her life.
"Once again, a potentially fun project was on the table," Rosenberg says, "so I accepted the challenge and negotiated the rights to her life story for good money and a percentage, and then consulted on the script and the marketing. Thus, I, Tonya was born.
"And then we parted again, but this time with much more unintended publicity: I didn't know that [personal] Facebook posts could be picked up and published by the press.
"And our parting was not a pleasant one," he concludes, "but I still wish her well."
Corbis via Getty Images Tonya Harding (left) and Paula Jones (right) pose for promo pictures ahead of their 'Celebrity Boxing' showdown Corbis via Getty Images
She was, once, The Baddest Woman On The Planet, but not for the right reasons: in January 1994, two-time Olympic figure-skater Tonya Harding – the first American woman ever to successfully land a triple axel in competition – became embroiled in what the New York Times characterised as "one of the biggest scandals in American sports history."
A botched attack on U.S. team rival Nancy Kerrigan, in which Harding was complicit, resulted in three years' probation, 500 hours of community service and a $100,000 fine, as well as prison sentences for the four men who engineered the telescopic baton assault which left Kerrigan's leg bruised but not broken – one of which was Harding's then-husband, Jeff Gillooly.
More pertinently for a young woman who had dedicated her life to the ice since she was four years old, it would later engender her unequivocal ostracism from the rink: Harding was stripped of her of her 1994 U.S. Championships title, forced to withdraw from the 1994 World Figure Skating Championships and resign from the United States Figure Skating Association. She was banned for life from participating in USFSA-run events in either a skating or coaching capacity.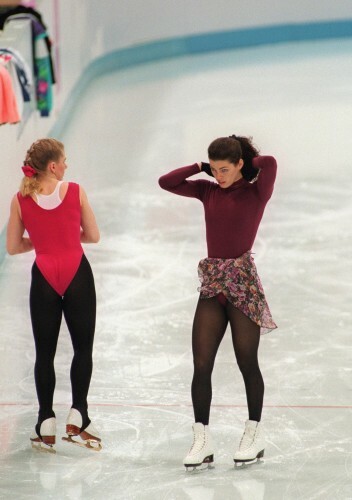 AFP / Getty Images Tonya Harding (L) stands next to compatriot Nancy Kerrigan during a practice session at the 1994 Winter Olympics AFP / Getty Images / Getty Images
Set to the backdrop of what was by then still a developing national scandal, NBC's tape-delayed broadcast of Harding and Kerrigan's participation in the Ladies Short Program at the 1994 Lillehammer Olympics – Harding's last major competitive appearance on the rink – remains one of the most watched telecasts in American history; over 400 journalists from around the globe jammed into the cavernous press box – this merely for the practice session which preceded it.
The 24-year-old Kerrigan from Boston, who had been selected despite missing the '94 U.S. Championships through the injury she sustained during her attack a month prior, won an Olympic silver medal. The soon-to-be-stripped American champion, Harding, 23, from Portland, finished eighth.
And then she was gone, the door reddening her backside as it was slammed behind her, never to be darkened again by American figure-skating's black sheep.
In 2002 – the same year as her beat-down of Paula Jones – Harding took part in a '15 Minutes of Fame' version of The Weakest Link. But there was never true fame, only a self-perpetuated notoriety: the mouth-to-mouth resuscitation of an 82-year-old woman at a local Portland bar aside – this in 1996 – the aftermath of Harding's drawn-out ignominy merely exacerbated the public's perception of her as a ne'er-do-well: once implicated in the Kerrigan attack, her soon-to-be-jailed husband Gillooly sold a sex tape recorded on the couple's honeymoon to a tabloid TV station; there was the wrestling, the failed musical ventures, the brash guest appearances on the types of TV networks to whom her sex tape was sold.
But as tends to be the case with infamy, the pay cheques faded by the appearance: an interview with Inside Edition in 1994 lined Harding's pockets with $600,000, according to Newsweek; an equally-prominent Fox broadcast just four years later was worth a comparatively paltry $60,000, per Entertainment Weekly.
Harding, then, faded to but a name in the bowels of public subconscious.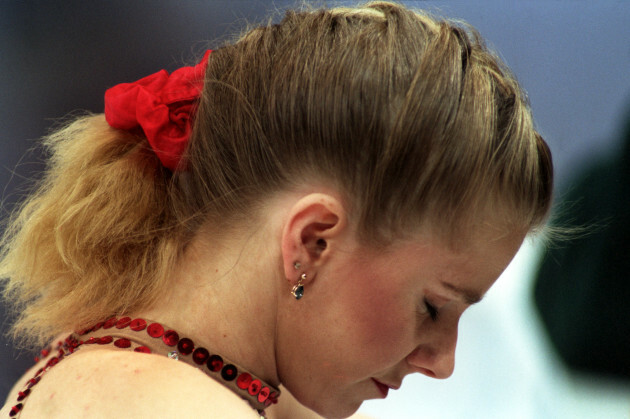 Getty Images Getty Images
In the spring of of 2003, Tim Smith of the New York Daily News described boxing as "a twisted version of the message on the Statue of Liberty: Give me your soured, your boors, your muddled messes yearning to lift green."
Fitting, then, that its embracing of all sorts should beckon a kid from the wrong neck of the woods where figure skating had kept her at jab's length – even at her athletic peak.
Just over a year before Celebrity Boxing earned Harding a tidy, six-figure sum, she was evicted by law from her Vancouver, Washington home for failing to pay rent, late fees and other costs amounting to $4,530. Harding maintained she had intended to pay the bill, but had only arrived back from an appearance in France the previous Thursday and had yet to be paid herself.
Sure enough, the major cash injection for an easy night's work against Paula Jones precipitated the self-styled 'America's Bad Girl' announcing to a collective scoff that she was to pursue a career in the professional ring.
Home of the Blues
Samantha Rooker-Browning and Nelson Browning, Sr share a phone, and so when Nelson picks up in their Tennessee home at 6pm their time, midnight ours, he puts this writer on speaker.
"It just came on the local news that Tonya was fighting in Memphis on Mike Tyson's card," he begins.
"They showed her on the news hitting a punch-bag, but the story was that they couldn't find an opponent for her, so I says, 'Samantha, there you go!' She says to me: 'I'll do it!'"
The following day, after a couple of phonecalls to local fight contacts, Samantha and Nelson – the latter a former prizefighter – headed for the gym to meet Tonya Harding ahead of what would be a professional boxing debut for both prospective participants.
"Samantha wasn't in no kind of shape," Nelson says of his wife to no audible disagreement, "and the fight was like a month and a week away. I said, 'Well, I can get her in shape in a month and a week.' But they didn't want me getting her in too good a shape – you know how it goes. They needed Tonya to win.
"I kept telling them, 'I ain't training her too hard', but I had her pulling tractor tyres, and I had no women for her to spar – it was only men."
Samantha takes the phone: "It was amazin'! It was a trip! When we'd seen her on TV looking for an opponent, and when I said I'd do it, I never once thought the fight would actually be made.
"Well, it got made," she continues excitedly. "We went and met Brian Young, Tonya's promoter, and he saw me work out on the mitts a little bit. He said: 'Yeah, we'll take her.'
Initially, the dismissive confidence in Young – a leading Memphis promoter – wasn't matched by his new money-spinner's first professional foe.
"No, honestly, I knew it could go either way," Samantha admits.
"I had the heart, you know? I always had – I grew up with four brothers! But I really felt the fight with Tonya could go either way. My husband told me the whole time that I was going to win, but I wasn't sure."
Nelson interjects: "We had a friend of mine who fought Roberto Duran [Paul Thorn, 1988] who came over to help with Samantha's training, and he tried to start her out with the baby steps. I said to him: 'Man, we ain't got but a month and a half! She just needs to learn how to jab, learn how to throw a couple of combinations,' and 'Let's just get it on!'
Incidentally, Browning – for all her gumption in taking the fight – was oblivious to its inevitable magnitude; she was just 11 when Harding was at the peak of her media-pulling powers, and knew her only as the woman who had slapped Paula Jones around the ring less than a year prior:
I didn't learn about any of that Tonya Harding stuff until I went to fight her. And then I did research and stuff. I was 23, so all that stuff with Tonya and Nancy Kerrigan happened when I was a child. My husband is eight years older, so he knew about it!
It didn't take long to sink in.
"Our fight was the co-main event to Mike Tyson's fight [vs Clifford Etienne]."
The whole show got cancelled once because of Tyson's new face tattoo, and then it was back on. Then it got cancelled again because the diesel truck that was bringing the ring to The Pyramid in Memphis had a wreck and the ring got destroyed!
Memphis Pyramid: the scene of Samantha Rooker-Browning's fight with Harding
There were other circumstances at play, too: only days before the fight finally took place, Tyson's new trainer Freddie Roach told reporters that he didn't think Tyson was sufficiently prepared for the fight, and advised him to pull out. 48 hours later, the fight was cancelled after both the promoters – including Brian Young – and Tyson's team didn't hear back from 'Iron Mike' as to whether he would indeed fight. However, the former World heavyweight champion arrived in Memphis the following day, indicating business was to proceed as planned…only for opponent Etienne to then pull the plug because several members of his crew had already departed Memphis after the initial cancellation. The following day, Etienne had a change of heart, and Tyson beat the Christ from him inside a round.
But there were issues on the Brownings' end, too – or one, to be precise: family friend Tommy Locastro, Mississippi's State Boxing Deputy Commissioner and Inspector, had assumed the role of Samantha's manager. A week before her ring bow, Locastro released a two-paragraph statement that quoted Samantha as saying Harding 'couldn't whup me with a hubcap in her hand' – an allusion to Harding's court appearance in 2000 for, well, throwing a hubcap at her then-boyfriend. He then quoted himself as saying his fighter was 'ready to dislocate Tonya's jaw.'
It didn't sit well with Samantha or Nelson, who removed Locastro from the equation.
"Yeah, he tried to make it like pro wrestlin' or somethin'," says Nelson. "I said: 'Tommy! You can't do that!'
He was just sayin' that Samantha was gonna whoop Tonya with a hubcap or somethin' – I don't recall exactly. He was trying to sell the fight, but he was wrong with what he said.
"In the end he didn't need to advertise it," Samantha adds.
"It was a really big deal: it was always on the news, it was almost in the newspaper every other day. I had to go do radio interviews… I did several interviews even after the fight: they had us in Sports Illustrated, pictures of our fight. I was in magazines. It was crazy.
"I remember before the fight, coming out of my hotel room – because we both stayed in the Grand Casino, who sponsored it – and there were TV crews from Portland, Oregon, from everywhere, waiting for us in the hall to interview us.
"There were over 10,000 ticket sales at The Pyramid in Memphis, and that's not counting all the media and everything like that.
"But they advertised it here at home for it to be on pay-per-view: my fight with Tonya was supposed to be part of the pay-per-view card, co-main event to Tyson's fight with Clifford Etienne. But we didn't learn until the night of the fight – they come in the dressing room and said: 'All cameras off.'
"They said it would not be aired.
She [Harding] claimed she wasn't making enough money, so she wouldn't agree to it. But previously, prior to the fight, I had to sign a contract and waive all rights so that it would be on TV. It had been all over local news here that it would be on TV. That was disappointing.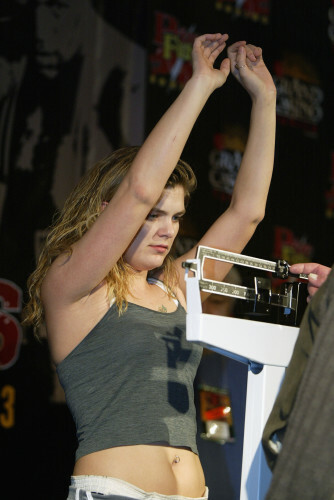 Getty Images Samantha Browning weighs-in for her pro debut versus Tonya Harding Getty Images
Adding to the suspicion was the fact that when Samantha had come face to face with Harding for the first time a night prior, Harding scarcely made an effort to further bolster the bout's profile.
"I met Tonya before the fight at the weigh-in," she recalls. "Obviously, I know there's an element of gamesmanship in building a fight, but I'm a people's person, so I said to her: 'Hi, how you doing?' – but I was still firm, if you understand me. And she didn't have a word to say. She didn't have a single word to say.
"And I didn't have too much to say for her.
And I was surprised, because you know Mike Tyson's reputation at weigh-ins, and Tonya Harding was standing over to the side of the room with Tyson, so I was kind of thinking, 'I might actually have to fight her before we get on the scales here!'
"But she just looked me up and down, kind of dismissively."
"She was rude!" says Nelson in the background.
"Yeah, she was rude," agrees Samantha.
"Even when we got in the ring," she recalls, "the referee – he says, 'Touch gloves', and Tonya took her hands and she just slammed them, you know, down on mine."
But as will later be laid plain, there was method to Harding's stony-faced unwillingness to exchange verbals with her foe, cameras or no cameras. Perhaps it was no coincidence, too, that Harding and Tyson gravitated towards each other: following his facile headline victory, Tyson announced: "I've got issues I've got to clean up. I'm in pain. Boxing is cool but I have some serious, serious demons I'm fighting."
There was surely company to be found in shared misery.
Samantha continues: "I do have to say, after the fight, she couldn't have been more friendly.
She came up to me, hugged me, told me, 'Great fight!' And we took pictures and stuff, even. She was extremely respectful and friendly.
"You know, when I came out, the whole Pyramid – all 10,000 people – cheered me into the ring. And when she came out, they booed. My mom told me afterwards that she felt bad for Tonya. At the time, I was just caught up in the moment – it was my first fight and it was pretty spectacular.
"After my mom told me that, it made me feel bad, too. But at the time, when the bell rung, I knew: 'It's time to get her'.
"And I was never threatened by her in the ring, because I done got some training, with Nelson and stuff, and I'd never put my 'all' into working out like that.
"I knocked her down once, but she kind of pulled me down with her, so they called it a slip. It was no slip, let me tell you."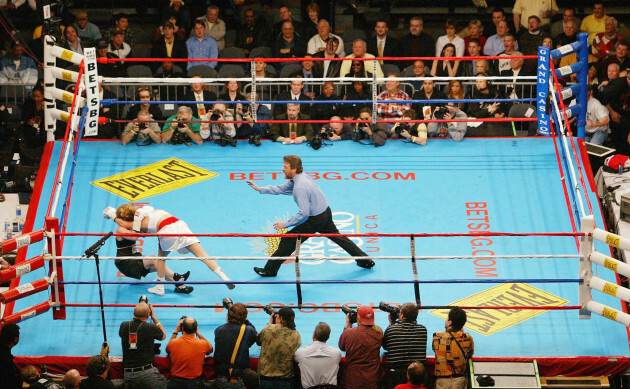 It was no slip: Samantha (white) gets dragged to the canvas after allegedly knocking down Harding
"And also", Samantha adds with a sheepish laugh, "I broke her nose.
"But they did a split decision. One of the newspapers – from Memphis, actually – said afterwards: 'Well, it was a split decision, but the judge who gave the fight to Tonya Harding must have been from Hollywood.'"
Quite the prophecy, as it turns out.
Adds Nelson of the fight which only 10,000 people saw, and will ever see: "Tonya started out trying to box and use her jab.
"But Samantha's jab was longer, and she could reach her better, and after she hit her a couple of times, Tonya just wanted to come in and grab her and wrestle with her.
"But every time she would try, Samantha would one-two her.
"After the fight, they asked Samantha where did she get that jab," he laughs. "Yessir, I took a lot of jabs in the head."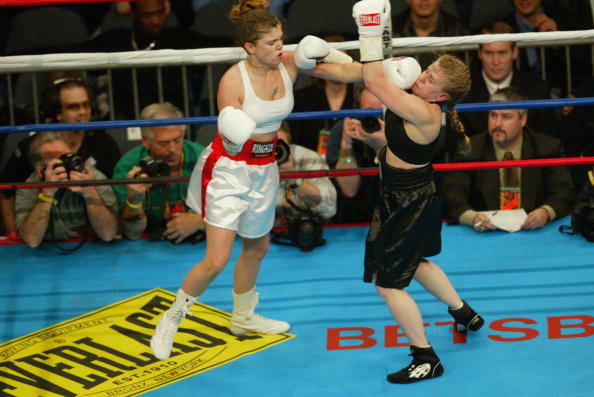 Getty Images Samantha's jab finds its target Getty Images
Samantha recounts: "In one of the interviews afterward, they said, 'I'm sure Nancy Kerrigan would like to thank Samantha for…'" She cuts the sentence short, laughing, resisting the temptation to go there.
"I never met Tonya again," she says, "but I've seen myself on a few TV shows that she's been on over the years. I was actually on TV last night – well, pictures of me – because she was doing interviews talking about the movie and stuff. At the end, it went to the boxing, and she said that the boxing was 'really brutal'. And it showed a picture of me and her.
One time, there was a TV show called, The World's Craziest: Redneck Moments which played on VH1 (Harding was a 'colour announcer' on the 2008 World's Craziest series). It talked about the incident involving her husband and Nancy Kerrigan, and then there was a picture of me hitting her in the face, and they said: 'Tonya Harding finally got what was comin' to her'.
"Then there was The World's Craziest: Parties, and again she was on there, like, announcing the show. It showed two guys in a back yard, and one of them hit the other guy in the back of the head. And Tonya said: 'Don't you know you can't hit someone in the back of the head? I got taught that the hard way!' Then it showed a picture of her hitting me in the back of the head, and me hitting her in the face!"
Samantha opted for a quieter life after she pulled the red carpet from under Harding in the Home of the Blues. She scarcely earned enough money or fame from her victory to join that dodgy judge in Hollywood, and one senses it's not in her nature in any case.
Indeed, she pocketed more from the last of her four professional fights (three of them wins) when she returned to the ring and threw herself to the wolf that was Donna Biggers, who stopped Samantha in 2005 to win a minor featherweight bauble. To further put that quixotic task into context, Biggers fought the 41-5-2 Mia St. John, a future world champion, just two months after beating three-fight novice Samantha.
But by then, work duties had long since taken precedence over prizefighting, and the latter – while not affording her much financial wiggle room – provided her with a lauded local status as well as a lifetime's memories.
"The fight with Tonya didn't pay that great at all. I got sponsors for myself, but the fight – I think maybe I got $5,000 for it. But it wasn't nothing, because I knew that if I didn't take it, someone else would have.
"Really, they were trying to build up her career. They wanted her to be a star in boxing. It wasn't supposed to go the way it went.
"But I can't even begin to tell you of all of the autographs and photographs, and even people finding out about it years afterward; the things it has gotten me.
"I was in Walmart sometime after the fight, and I was getting a keyboard. The barcode wasn't doing, for whatever reason, and the manager was there and recognised me. So they just gave it to me! Just little things like that.
"The whole thing, the whole experience, was amazing."
Getty Images Harding (L) poses with Samantha after her split-decision defeat Getty Images
Her opinion of Harding softened post-fight, too. Indeed, it continues to do so presently, even from the outside looking in.
"Last night was the first time I saw her describing the movie of her life, if that makes sense," Samantha says. "That's when she said: 'Boxing is brutal', and our picture came up on screen. And I felt sorry for her. I honestly did. I could tell she's had a hard life.
"I don't know what was right and what was wrong with regards to what's been said about her, and the lady who was explaining her story on TV last night said: 'It's not about the truth – it's about her life', or something like that."
Nelson adds: "I think everyone in life has their demons, but it's your choice whether you want to overcome them and beat them, you know?"
"The Nancy Kerrigan thing", says Samantha, "I don't know. I don't believe she had anything to do with that because that's not sportsmanship at all. I just think of how she came up to me after our fight, and hugged me, and took pictures; how I gave her my autograph and she gave me hers.
I fought her and I broke her nose, but I've still got her autograph.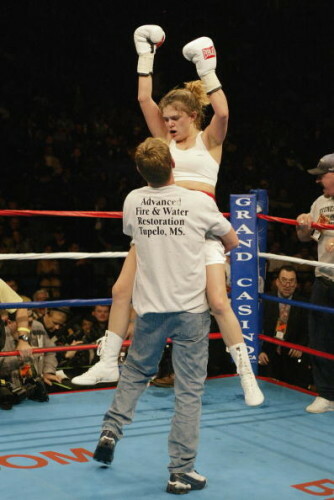 Getty Images Samantha and Nelson celebrate Getty Images
Tony Holden picks up his phone in Oklahoma, where he co-promoted Harding's third professional contest against a teenage debutante by the name of Alejandra Lopez. The Arkansas 18-year-old had reportedly boxed for only two months prior to what would later be described as a 'cat fight' between her and Harding, which was scored 40-36 in the latter's favour.
Holden, whose world champions include the late heavyweight 'Duke', Tommy Morrison, remains heavily invested in the sweet science, and relays to the Irish stranger on the other end of the line his brief association with Harding, who had also won her previous fight in Gulfport, Mississippi:
"By the time of my involvement, Tonya had already had a couple of fights, I think, and a buddy of mine [Brian Young] who was promoting her asked me if I wanted to help out a bit.
"And I said: 'No.'
Back then, I was only doing world champions, big arenas, but I had a show that wasn't doing well, and I thought, 'Well, she might get some media attention.' And by God, she got a ton of media attention. Man, that show sold tickets.
Harding was still putting bums in seats, all right: it's said of her previous victory over another debutante, Shannon Birmingham, that of the 3,000 paying spectators, less than half remained ringside by the time headlining heavyweight Tim Witherspoon – a former two-time world champion – stepped through the ropes for what would be his final bout. The rest had gotten what they came to see.
"I picked her up from the airport myself," Holden recalls.
She was very quiet. She pulled out a clear bottle, or a cup, and started spitting Skoal [chewing tobacco] in it, which was quite bizarre given I'm picking her up for a fight.
"Being from Oklahoma, I've seen a lot; I hadn't quite seen that.
"But also, she was very quite pleasant to work with.
She was always on time. When everybody wanted to interview her, she did every one of them. At that time, I was wishing that some of my top fighters were as easy to work with as her.
"But she was definitely a novelty act: she tried hard, but she started boxing way too late to be a serious fighter. But she tried real hard.
"She took her training seriously. She was using it to pay bills, and so understandably it was quite serious to her. It was something that landed on her lap, and she went with it. But boxing is a sport in where it takes years to develop serious skills; you can't just learn it overnight like that.
"But she truly did have the mentality of a professional athlete. The mental awareness was there, and the bit of work ethic was there, but it was just too late to apply that to boxing."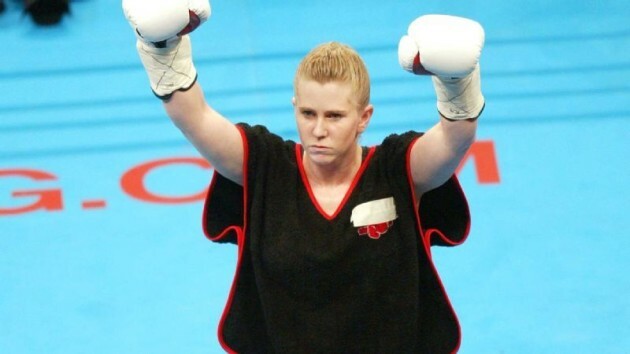 Jamie Squire / Getty Images Jamie Squire / Getty Images / Getty Images
"And I understood the media circus around her," Holden muses after a sigh. "I saw some shots at her that were unfair – or maybe quite deserving, I don't know – but she was trying her best to get a second chance. And I did respect that.
"She was a true redneck," he laughs. "I'll tell you that.
"Which was interesting: I actually enjoyed that part of Tonya's character. She was brutally honest, told you what she thought. Right or wrong, she spoke her mind. And I just found her pleasant to work with – very responsible, and very professional."
I put to him the details of her recent split with Mike Rosenberg, where Harding nonsensically demanded journalists sign an affidavit insisting she not be quizzed on her troubled past while promoting I, Tonya, the imaginary punishment for which would be $25,000 fine.
"So, wait, she wanted $25,000 from any reporter who asked about her past?
"I didn't see any of that. I know that when she did our boxing show, of course they wanted her for interviews. Two o'clock here, another time elsewhere, another time here and so on. She did every one of them. And of course they always brought up the famous incident with Kerrigan, and she would try to spin it during the interview.
"To be honest, like I said, I found her a pleasure to deal with. No trouble at all.
What I saw was someone fighting for a second chance at life, and I figured at that point she had paid her dues.
Without a Paddle
Vivien Killilea Tonya Harding and actress Margot Robbie, who plays Harding in 'I, Tonya' Vivien Killilea
Jeff Hargis is one of few who can claim his association with Harding was far from distant.
The Nashville, Tennessee trainer guided the bones of her six-fight professional boxing stint, and for large spells lived alongside her.
Hargis, who would later dilute his role in the sport to pursue various studies, admits he was initially reticent to field questions about his former fighter for fear of evincing bias – good, bad or otherwise – about a woman whose ability to polarise he knew better than most.
After some consultation with his wife, however, he prepared several pages of notes on the time Harding spent under his pugilistic tutelage; he's hellbent on retelling their story accurately if he's going to retell it at all.
"Tony Holden was not Tonya's promoter," Hargis says firmly. "He promoted a fight we did – it was in Oklahoma.
"We did that fight, but that was Tony's only involvement with her. He was not her promoter. He just promoted one card that she was on. Brian Young was her first and only promoter, I can assure you."
His issue lies not with anything Holden said in our above conversation, but a previous ESPN interview which consulted with Holden as though he was the driver behind Harding's career, and not the aforementioned Young, Hargis' long-time friend and colleague.
"I worked cuts for most of Brian's fighters, and I trained several of his female fighters," Hargis says.
I guess it was in '03, he asked me if I'd like to work with Tonya Harding, and at first I thought he was joking: I'm like, 'Yeah, right, okay: what do you wanna do? Take a baseball bat to the gym?' I made a joke out of it. And he said, 'No, I'm serious: she's just done Celebrity Boxing, she's living in Portland, Oregon, doing nothing, and I think it'd be fun.'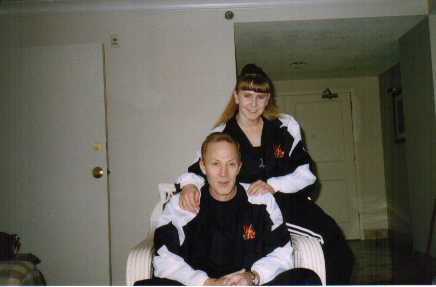 Jeff Hargis and Tonya Harding in 2003
"As a matter of fact", Hargis adds, "Brian, at the time, was very instrumental in Mike Tyson getting his licence back: he got Mike Tyson a licence in Tennessee.
"He called me and said, 'Right, you can either work Michael Moorer [former heavyweight world champion] or Tonya Harding.' And I picked Tonya," he laughs.
"Brian flew my assistant William Massie and I out to Spokane, Washington – she lived in Portland, Oregon but we flew into nearby Spokane.
Tonya picked us up at the airport. That in itself was an experience. She pulled up in a big, black, four-wheel-drive truck, with a dip of Skoal on her lip and a coffee in her hand.
"Well, I knew it was going to be an interesting couple of weeks when I saw that."
He pointedly refutes Tony Holden's earlier claim that when Holden picked Harding up at an Oklahoma airport for her third fight the following month, she was again carrying Skoal: Hargis explains that while he was training Harding, he strictly forbade "some of her habits in public" – snuff being one of the most blush-making.
He maintains that he must have relayed to Holden the details of his first encounter with Harding in Spokane, and Holden subsequently decided to "embellish" his own with some colour.
She was somewhat overweight. At the time, Tonya drank too much and ate too little. She lived during the day on coffee and drank heavily by the night. I would venture to say she was a borderline alcoholic.
"And we had two weeks to make her look like a boxer, because she was going to be on the Mike Tyson-Clifford Etienne uncercard, with the world watching."
Hargis sighs aloud.
"It's hard to really talk about Tonya, or at least the Tonya that I knew. I think the Tonya that most people see… Without meaning to sound facetious, and I hope when you're writing this that you take it into account: spending a lot of time with Tonya – and I spent a lot of time with Tonya – you begin to see the path that she's travelled, and you see clearly how it brought her to the destination that she's at.
"People are either singing her praises or they're completely bashing her. There's a thing about her personality – 'nature and nurture': those weigh heavily when it comes to describing Tonya. Some of her 'nurture' has created the 'nature' in her."
I ask if he wouldn't mind elaborating.
"I'll tell you what," he laughs. "Let me give you a bit more of Tonya, and how I knew her, and it'll start to make a bit more sense."
By all means.
"She tried to keep her drinking on the down-low but, you know, she drank – and she drank quite a bit.
"So she picks us up at the airport in this ragged-looking truck, and out hops this short, chunky redneck with her Skoal. But she was very friendly – friendly smile – and she took us to a motel. I'm not sure if the couple who greeted us owned the motel or if they were just management, but they seemed to be a couple.
"If I remember correctly from the conversation, at some point in time – at one of Tonya's low points – the couple had befriended Tonya, and kind of took her in and let her stay at that motel until she could, you know, do better for herself. They helped her out. I can't remember the couple's name but they were very nice, and they meant the world to Tonya.
"We [Hargis and William Massie] stayed at their motel while we were there.
"Tonya, at the time, lived a short distance across the state border in Portland. We went there once with her, on one of our little outings, and it was a nice little A-frame house. It wasn't anything elaborate – nothing like that – but just tucked off in the woods, and it had this huge, raging creek right behind it – like a whitewater river, but it was maybe 30 feet across.
"As a matter of fact, I've heard the area described as being like Ireland. It was very, very green. I suspect it was the greenest place I've ever seen. The place was beautiful; mountainous trees, greenery and everything. It was just breathtaking, the scene.
"So we went into her house, and really there wasn't a lot of furniture there – it was very modest – and you could tell that Tonya…she didn't exactly exhibit a lot of wealth.
"She was dating a man at the time – I think his name was Chris, and it could have even been his house, to tell you the truth.
I told William that out the back of that A-frame house there was a deck that hung right over that creek. And I told him that the impression I got of Tonya – that first impression – was that one day we'd hear about her going off that deck and into the water.
"At that time, you could tell she had been roughed up pretty good. She was going through one of her real low points.
"To be honest, I think that Brian Young kind of threw her a safety ring. Like, 'Hey, I'll pay you money, and we'll bring you back to the spotlight.'"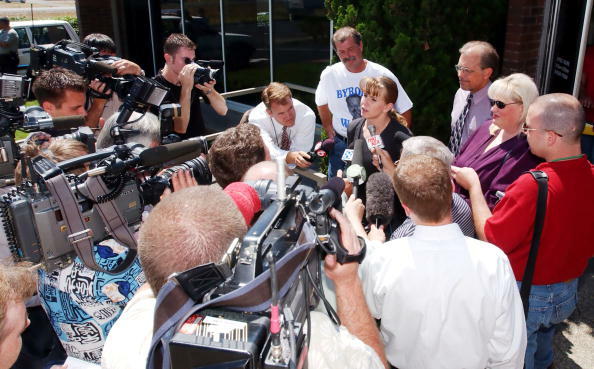 Getty Images Harding was sentenced to 30 days detention, 20 suspended, for violating her probation from an assault case after admitting she was driving drunk when arrested in April of 2002. Getty Images
Time was against Hargis: his fighter's taste for booze, coupled with her asthma, combined with her alarming lack of fistic nous rendered her a notably woeful unarmed combatant.
The race was on, not only to run the drink out of her, but to teach Harding the most basic fight fundamentals if she was to avoid another self-inflicted public humiliation in the Memphis Pyramid on 22 February – which was now looming large.
"She was all-in, but we're getting her ready for the Tyson fight and she didn't have a clue about boxing. At all.
She was the most uncoordinated, gaudy excuse for an athlete that I'd ever seen. I just didn't know how we were going to pull it off.
"But we worked with her for about two weeks, and I stayed there in Portland, so I got to spend a lot of time with her.
Every morning she'd show up and we'd train for a little while, and she would throw up. And when she showed up she showed up with coffee in hand – that was breakfast. And I could smell off her the traces of alcohol from the night before. And so, of course, when she started drinking that coffee and then started to train, she was always going to throw up.
"She couldn't hold it down, and we'd have to stop. I would encourage her, tell her we'd go get something to eat to try and get more energy in her.
"The thing is, she worked very hard – she tried very hard to do her best at everything that I was teaching her. But she was a fish out of water."
And so, for some respite, they decided to put the fish on ice:
In the time that we spent there, whatever about how awkward and gaudy she was with a pair of gloves on, she took us to the local ice-skating rink. And that was a different Tonya. When she stepped on the ice, she was a completely and totally different person. She was absolutely the most amazing thing that I'd ever seen. She was graceful, she was elegant; she was like a fairy dancing on the tip of a pen. And the one thing that stuck in my mind watching Tonya on the ice was the look on her face: you could tell she was at peace there.
"On the ice, Tonya was in total control. She was confident. She was in her element. And she was able to control that element, unlike the other parts of her life that seemed to constantly fall apart.
"It was just nothing like what she was in the gym trying to learn how to box.
And watching her skate was one of those times where I saw the dichotomy of 'the two Tonyas.' I didn't know much about her skating career, but seeing what it meant to her, how free she was when skating – maybe the only place she was truly free – I could imagine that it must have been absolutely devastating to her when she was put off the ice and couldn't compete anymore.
"The thing is", Hargis suggests, "athletes and entertainers: both make good money, they live a fast life, but they live today like there's no tomorrow. And within the blink of an eye, either of them can be out of work, and their career is over. Athletes and entertainers are only as good as their last performance.
"But they're also the two types of people who seem to take it for granted: they don't think about the future. And I've seen it quite a bit with boxing, as well as entertainers: when you've been on top of the world, or even your world, and when everyone who looks at you does so in awe, you can still wake up one morning and you're only qualified for flipping burgers. That's a hard pill to swallow, there.
"It's not only the cut in pay, but the belittlement of the job. For someone like Tonya, to have to take some sort of normal job is so embarrassing it's almost unbearable.
I think that's some of the trouble Tonya has had: she couldn't belittle herself to the point of taking a lesser position in society. And that's why I mentioned how, at that time, I could have imagined reading in the newspaper some morning that Tonya had taken a nosedive off that decking and into the creek. Because she was a prime candidate for it.
"And hey, there are others. I've seen many other athletes and entertainers that end up in the same boat."
Exclusive Six
Nations Analysis
Get Murray Kinsella's exclusive analysis of Ireland's Six Nations campaign this spring
Become a Member
Getty Images Getty Images
Harding needed limelight the way a flower needs sunlight. Boxing, however, while its door remains constantly ajar – anyone can make money, after all – doesn't take kindly to the unqualified.
For Harding to make ends meet in a field saturated by self-promoters, she'd be forced to drop her guard, not during fights but away from the bright lights.
Like many ring rookies, she was dependant on ticket sales to earn her few bob. It was a stark reality lost on her, initially.
"Tonya and I – we fought tooth and nail," Hargis recalls. "I mean, it was one battle after another.
"As a matter of fact, we were in Memphis before the Tyson fight, and we were in a local bar in Beale Street – a very popular area. And the owner of the bar, Silky – he was from Ireland. Like, fresh off the boat 50 years prior, or something. And his was a true Irish pub.
"He was a wonderful person: they called him 'The King of Beale Street'; Silky had this big, huge chair – like a throne – that he'd roll out onto the street, and he'd sit out in front of his bar. And he loved Tonya to death – he thought she was wonderful. He was so thankful that we went to his bar: that's where we hung out when we were in Memphis.
"All the people there were all just crazy about Tonya, and she's signing autographs and taking pictures, and we were drinking and interacting – things like that; I told her not to get too carried away with alcohol, obviously, but to go ahead and be a bit sociable. I knew it was killing her not to drink while she was there.
"But at one point she said: 'That's it, I've had enough. The handshaking, the smiles, the pictures', she said, 'I don't want to do it anymore'. And there were these ladies who'd asked for her autograph, and they worked for the state of Tennessee.
I pulled Tonya over to a corner and I told her, I said to her: 'Look, these women are the ones that are paying your salary. These women are going to come over here and take pictures with you. You're going to sign their autographs, you're going to be pleasant, and then they're going to go back to work tomorrow and they're going to tell everybody how their friend – Tonya Harding – is fighting next week. And then they're going to bring 20 more of their friends to come see you fight. So, yes, Tonya, you're going to smile and be happy, and you're going to sign these autographs and take these pictures!'
"And she said: 'Look, I'm the one that's famous! I don't need to do this!'
"And I told her: 'Tonya, when people say your name, the term 'infamous', or maybe even 'notorious' comes to mind. But not 'famous'.'
"And I told her, I said: 'If you do what I'm telling you to do, we will make you famous again. Or at least we'll try our best. But don't believe your own press.'
Getty Images Getty Images
"So she sucked it up, she did what she needed to do – signed autographs, took pictures, hugged, kissed, everything. 'Networking', I guess. And Memphis absolutely loved her. They adored her.
"When we went to Oklahoma, they adored her there. Everywhere we went, people adored Tonya – I think one reason being that Tonya was always the underdog, and people love seeing the underdog be given a step up.
"She was an underdog in the skating – she came from the wrong side of the tracks – and she was an underdog in the boxing, and in the racecar driving: she's always been the underdog.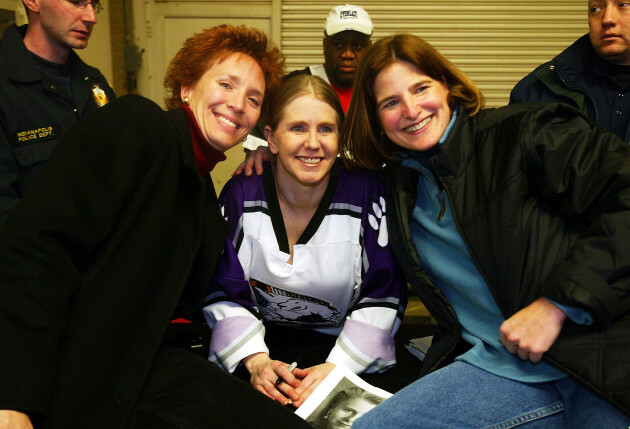 Getty Images Tonya Harding poses with fans Getty Images
"You know, we had a local entertainer here for years, Willie Nelson," says Hargis. "You've heard of him?"
Ah, I know Willie, all right, yeah.
"Right. That's kind of what Tonya is: like a female Willie Nelson. Almost in spite of herself, she was who she was, she is who she is, and she's never going to change.
"Of course, there were still plenty of people who cast aspersions against Tonya – and it's not as if she hadn't earned them!
"There's a thing that they call the Pete Rose Syndrome. Are you familiar with it? Because that's Tonya."
In her book, The Biology of Violence, neurobiologist Debra Niehoff, Ph.D., gives scientific credence to the aforementioned affliction.
Dr. Niehoff explains that the stress trauma suffered by longtime outcasts becomes chemically embedded in their brains. In time, the hormones secreted in stressful situations damage brain tissue, establishing a response pathway that becomes habitual: the response, in short, manifests itself as self-sabotage.
Julie Norem, a professor of psychology at Wellesley College, once went as far as to directly compare Harding to Pete Rose, aka 'Charlie Hustle' – the all-time great baseball player who was banished from the sport in 1989 on the back of several scandals, most pertinently the revelation that he had bet on games while a player for, and a later a coach of, Major League Baseball outfit the Cincinnati Reds.
Norem maintains that Harding's series of disastrous professional mistakes and poor personal choices, when combined with her designated role as 'untouchable', mean that she can be fairly compared to Pete Rose, in that her ostracism is interminable. A specialist in personality psychology, Norem said that both Harding and Rose "exhibit signs of prolonged persecution."
"And that's what I mean by 'nature and nurture'", says Hargis, "as I mentioned earlier.
"Now, I don't know the story about Tonya and her mother or anything, because I wasn't there. But from what I can gather, her mother was not the ideal mother: nothing Tonya ever did was right. Nothing was ever good enough. No matter how hard she tried, or what she did, there was never that praise of, 'Wow! You did a wonderful job'. There was never a comment along the lines of, 'I am so proud of you for what you have done'.
"Tonya didn't have that. The one person that you need praise from, the one person that you aim to please, and you never get praised. And you can't please her."
It's worth pointing out that at the time of our interview, Hargis had not yet seen I, Tonya, in which actor Allison Janney portrays Harding's mother, LaVona Golden, as emotionally and physically abusive from early childhood. Golden disputes this portrayal.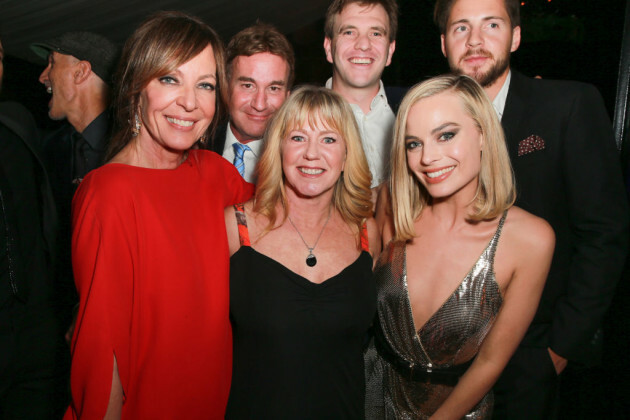 Rich Fury Harding is embraced by Allison Janney (L), who won a Golden Globe for her portrayal of Harding's mother in 'I, Tonya' Rich Fury
"I once had the opportunity to hang out with Emanuel Steward in Mississippi," says Hargis. "Emanuel trained Oliver McCall, who beat Lennox Lewis – and then, of course, he later got involved in Lewis' corner. I did some cut work with McCall.
"Emanuel was one of those few-and-far-between great men in boxing. Just a wonderful person as well as a legendary trainer. I never heard him say a bad word about anybody, and if he told you something, you could take it to the bank.
"I've often wondered when a fighter's in the ring, in a 12-round fight, and say in about the sixth to the eighth roundboth eyes have been closed and the kid looks like a hamburger, what keeps him or her in the ring – why do they keep going? They've gotten their payday as soon as they've stepped in the ring, so why continue?
"And the answer is because they don't want to disappoint the man in the corner. Their families and whatever, too, sure, but primarily it's the man in the corner – their trainer – who they don't want to disappoint. Most fighters would rather die in the ring than go back and look their trainer in the eye and go, 'I failed.'
That's the type of relationship Emanuel Steward had with all of his fighters. And so I said to him: 'How do you get into a fighter's head like you do – to make them want to get in the ring and almost die for you?' And he told me, he says: 'Good pimps make great trainers.'
"And yes, it's an extremely ugly analogy. Absolutely, it's crude. But it's true. And that's kind of the way I dealt with Tonya. Because what do we do? We take fighters to training camp: we take them away from everything they've ever had, we take them away from all of their friends and family and any support of backup that they've got, and we make them completely and totally dependant on us.
"We pear them down to nothing, and then we build them back up stronger.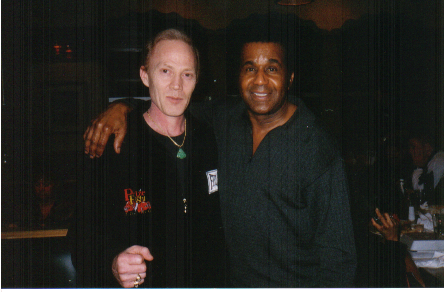 Hargis and late, great boxing trainer Emanuel Steward
Hargis recommends the book Pimping for Dummies in order for me to fully comprehend the correlation between a boxing trainer and a pimp, but after a few years of covering what the great boxing writer Jimmy Cannon once called 'the Red Light District of sports', I'm not sure I need to further internalise the analogy.
Steward, who enjoyed a father-and-son-like bond with Limerick middleweight Andy Lee and tutored in his Kronk Gym some of the greatest fighters ever to lace up a pair of mitts, was being flippant, of course. But his theory rings true when you look beyond the caveat that boxers make such sacrifices of their own volition, and not through force.
"But really, the best influences on our lives – they all treat us that way," says Hargis. "I mean, our parents? They manipulate us, they dangle the carrot, they say, 'jump', you know? But they give us support when we need it. They give us a shoulder to cry on when we need it. They discipline us when we need it.
"And that's the way I tried to deal with Tonya: I spent time with her – not only a few hours a day in the gym, but I literally lived with her for days and weeks at a time.
"For example, you mentioned to me how Samantha Browning – she and her husband were a really lovely couple, by the way, and Tonya was just tickled to spend time with them after the fight – but you mentioned how Samantha recalled Tonya not speaking to her before they fought.
"And if you speak with her again, you can tell her: William Massie and myself wouldn't allow Tonya to speak to opponents before a fight."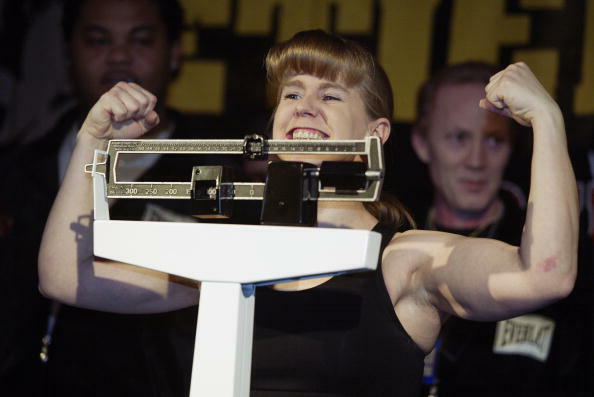 Getty Images William Massie (L) and Hargis watch on as Harding makes weight for her bout with Samantha Rooker-Browning. Getty Images
It strikes as a curious policy given financial success in boxing, particularly for a character of Harding's ilk, might best be achieved by way of verbal toxicity.
"Sure", says Hargis, "but Tonya was not a fighter. True fighters know that part of the fight, of course, is trying to intimidate your opponent and get in your opponent's head. Tonya wasn't a fighter, and I didn't want anyone getting in Tonya's head. She was already lacking the confidence to get in there and fight as things were.
If her opponent had exchanged words with her, or if her opponent had growled at her real strong, Tonya would crumble. I knew that. But as long as I was constantly there, as long as William was constantly there in her head, to say, 'Hey, you're looking good, you've prepared for this', and, you know, 'This girl isn't a fighter – she hasn't had any hardship', she'd step to it.
"Before every fight, as the ring announcer called Tonya's name and she was about to walk to the ring, we had to make sure there was a thrash-can around because we knew she was going to throw up. Every fight. I'd see William Massie running around looking for a thrash-can because he knew we were sure gonna need one!
And really, we had a hard time finding opponents for Tonya that we could be confident wouldn't beat Tonya's brains out. Because Tonya was not a boxer; she could not box. She wanted to quit every round of every fight. She'd come back to the corner, whining, moaning and groaning about, 'Oh, I can't breathe', or 'I feel sick', or 'my nose hurts' – just looking for an excuse to quit.
"My job was to be there in the corner and to give her reasons to keep going, and she took more convincing than most. There are fighters that you have to pat on the back, there are fighters that you have to kick in the ass, and there are fighters that you just leave alone. Tonya was one of those that you'd have to kick in the ass.
She'd come back to the corner and I'd have 60 seconds to tell her, 'You're doing fine. You have no reason to quit. Don't you embarrass me in front of 10,000 people. Don't embarrass yourself. I don't want to walk out of here with my head hanging down, and neither do you. You're better than this. You're stronger than this. Now get out there, keep punching, and I don't wanna hear no more shit out of you.'
Harding's former trainer delivers his monologue as if still crouched in her corner.
"That is the type of treatment that Tonya has had, apparently, for most of her life," he says. "If you drive her, if you tell her, 'that's not good enough', she's going to prove to you that she can do better.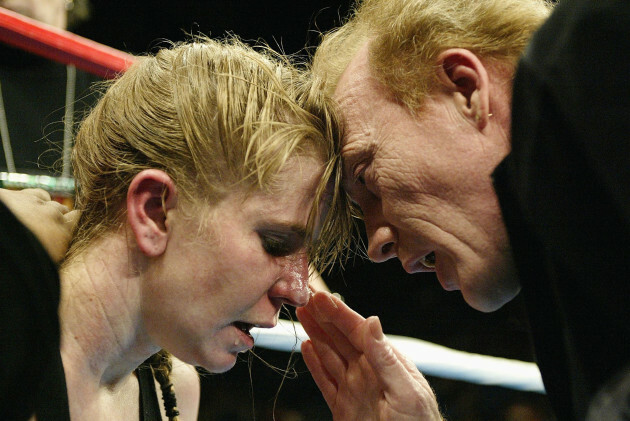 Getty Images Hargis offers advice to Harding in her corner Getty Images
"Her cocky front is just that," Hargis adds. "It's a defence mechanism. And I think that's why sometimes she's a bit rude to people – because she's trying to keep that barrier around her, her armour up. And I don't blame her, because she'd been kicked and beaten, slapped and knocked around, both figuratively and literally.
"There was a man in Boston that owned some businesses up there, and he called and said: 'I will pay y'all to come up here, go to dinner in my restaurant, hang out in my clubs'.
When the call came from Boston, they were going to pay her a lot of money – 20 grand – to come up and hang out. They were going to pay for flights and expenses for her and an entourage. And she goes: 'Oh, I can't go to Boston – that's where Nancy Kerrigan lives!' And I said: 'Tonya, for 20 grand, I'll kneecap her again!'
"But I told her: 'The thing that made you most notable to the world – you keep running away from it. You should embrace it. Skating is gone. What happened happened: it can't be changed. But it keeps your name in the minds of the people who pay your bills.
"We had another call one time, and somebody was doing a thing where, for $3.99 a minute, you could call in and talk to your favourite athlete or whoever – talk to them about the business, their career. And they wanted Tonya to be a part of that, but she says: 'Oh, no, they'll be talking ugly to me! They'll say nasty things. I get emails now saying that people want to buy my panties', and all this weird stuff.
"She was not confident.
"Nature and nurture: from the day she was born, she had to deal with her mother.
"And there are genetics behind that: to give you an example, my father and mother divorced when I was two. I spent very little time around my father. He was an alcoholic, and as a matter of fact, one night when he was drinking, he ran into a locomotive and killed himself.
"But like I said, I spent very little time with him," Hargis interjects upon himself, likely aware that I was about to offer futile sympathies. "And yet", he says, "several times people would mention the way I would stand, or the gestures that I would make, and how it was like seeing my father standing there.
"And the only way to explain that is strictly 'nature'. It certainly wasn't 'nurture', because he wasn't around when I grew up.
"So with Tonya's mother – if any of the stories are even close to being accurate – apparently Tonya's mother had a history as well. It's in the bloodline. And then the way Tonya was treated – and the way she's always been treated – compounded, even, the problems that she may already have had.
"And yet, that's the reason why so many people love Tonya: she's been kicked to the dirt so many times, but she always gets back up."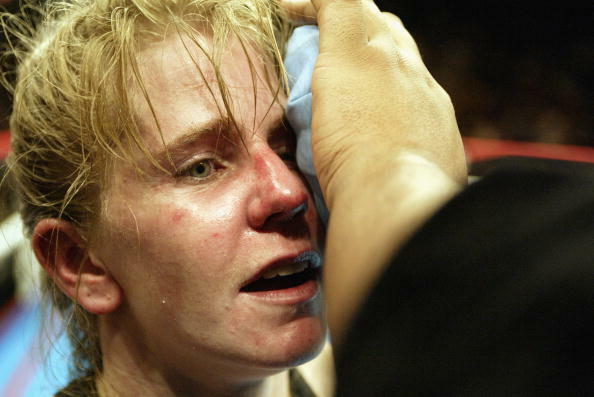 Getty Images Getty Images
Kicked in the Ass
After her third fight in Oklahoma – her second pro win against a fellow rank novice – Harding 'fired' Hargis from his role as trainer by means of a written letter, this despite his not being her employee; indeed, Harding – who insisted upon training out of a motel suite in Vancouver, Washington against Hargis' wishes – had previously signed an exclusive four-year contract with Hargis for 'management and training services'.
She hired his assistant, William Massie, as her trainer for her fourth bout in June of 2003 – another crude, laboured victory against another tomato can. During their fallout, she asked Massie to relay to Hargis that he was 'on the waiting list' to train her once more.
Hargis' attorney, David Collins, tentatively prepared a breach-of-contract lawsuit to be filed in a Tennessee circuit court, but the animosity would eventually dissipate by way of mutual indifference.
Almost 15 years on, it's no more than spilt milk.
"I don't know much about her today", says Hargis, "but from what I've seen in the media she's got a husband and a family, and they seem to have a pretty good life. She seems to be doing okay. And I hope she is – I really do.
"When I saw her on TV promoting her movie, she really hadn't changed. Of course, she's still sporting that '80s long-back haircut. Like I said, I don't think Tonya will ever change throughout her entire life.
"I was thinking when I saw her on TV, how if I didn't know her, I'd be thinking: 'What the fuck is she doing? How do you get on a red carpet for kneecapping somebody?' But that's the outside perspective. It's different from the inside.
It's so easy to say good or bad about Tonya, but she's both. We fought constantly. She's the biggest pain in my ass that I ever had. If somebody offered me the opportunity to deal with her again, I'd probably turn it down. But at the same time, I don't regret any of the time that I spent with her. For all her shortcomings, I still have a tremendous respect for her tenacity. She keeps getting back up.
"I hope that she finds peace if she hasn't already. Whatever karma Tonya was destined to pay, I think she's paid it: I think she's paid the price. I feel the scales are due to tip in her favour, because she's had a lot of bad things go on – whether they were self-induced or not.
"I wish her nothing but the best", he concludes, "and like I said, she was a royal pain in my ass!"
Rich Fury Harding poses for pictures at the LA premiere of her biopic Rich Fury
After parting ways with Hargis and picking up her third win under Massie, Harding fought just twice more, suffering two stoppage defeats.
Her final bout took place in Edmonton, Canada, in June 2004 – 10 months after her penultimate outing.
The bright lights had long since dimmed, and her beating at the hands of local woman Amy Johnson barely registered in Canada, not to mind across the border.
In an email, journalist Murray Greig – formerly of the Edmonton Sun, now based in Hong Kong with the South China Morning Post – mentions how "the bout wasn't a huge deal outside of the province of Alberta, although it was covered by the Canadian Press wire service and highlights aired on the national TV sports network, TSN.
"Harding was so outclassed that it was immediately apparent it wouldn't last long, but Amy took her time in administering a thorough beating.
"Harding's defence was so porous that I don't think Amy missed any of the huge overhand rights that she started throwing in the first minute, and she kept up until the slaughter was stopped 63 seconds into round 3.
Wayne Berry, who was one of the promoters, had hoped to use the fight as a springboard for Harding to challenge Edmonton's Jelena Mrdjenovich, who was also featured on the card and went on to become a five-time world champion. It's a good thing that fight never materialized, because Jelena was a much harder puncher than Amy and might have inflicted serious permanent damage on Harding.
Harding endured enough damage on either side of her microcosmic boxing career to last most people a lifetime, but she soldiered on.
It would be generous to suggest there's no bad in her, but you couldn't say she's a bad person, either; what you might say is that she's a fairly ordinary, flawed soul, behind it all: like the everyperson, she battles her demons as they come, and like the everyperson, she's a better fighter without gloves.
But then, she's the only everyperson who can claim to have defied a seemingly pre-determined narrative to win a legitimate national championship, reach two Olympics and achieve two top-eight finishes; become the first woman to complete a triple axel in the short program, the first woman to successfully execute two triple axels in a single competition, the first skater ever to complete a triple axel combination with the double toe loop; become the most infamous woman in America after becoming a central figure in the country's most infamous sporting scandal; have six professional prizefights – the first of which was co-main event to Mike Tyson; set a new land speed record for a vintage gas coupe, achieving a speed of 97.177 miles-per-hour in a 1931 Ford Model A, and finally, have a multi-million-dollar biopic made in her name, for which global acting star Margot Robbie, who portrays Harding on the big screen, has been nominated for an Academy Award.
She may never find acceptance, but she'll always have that. Not a bad innings for a self-destructing redneck from the wrong neck of the woods.