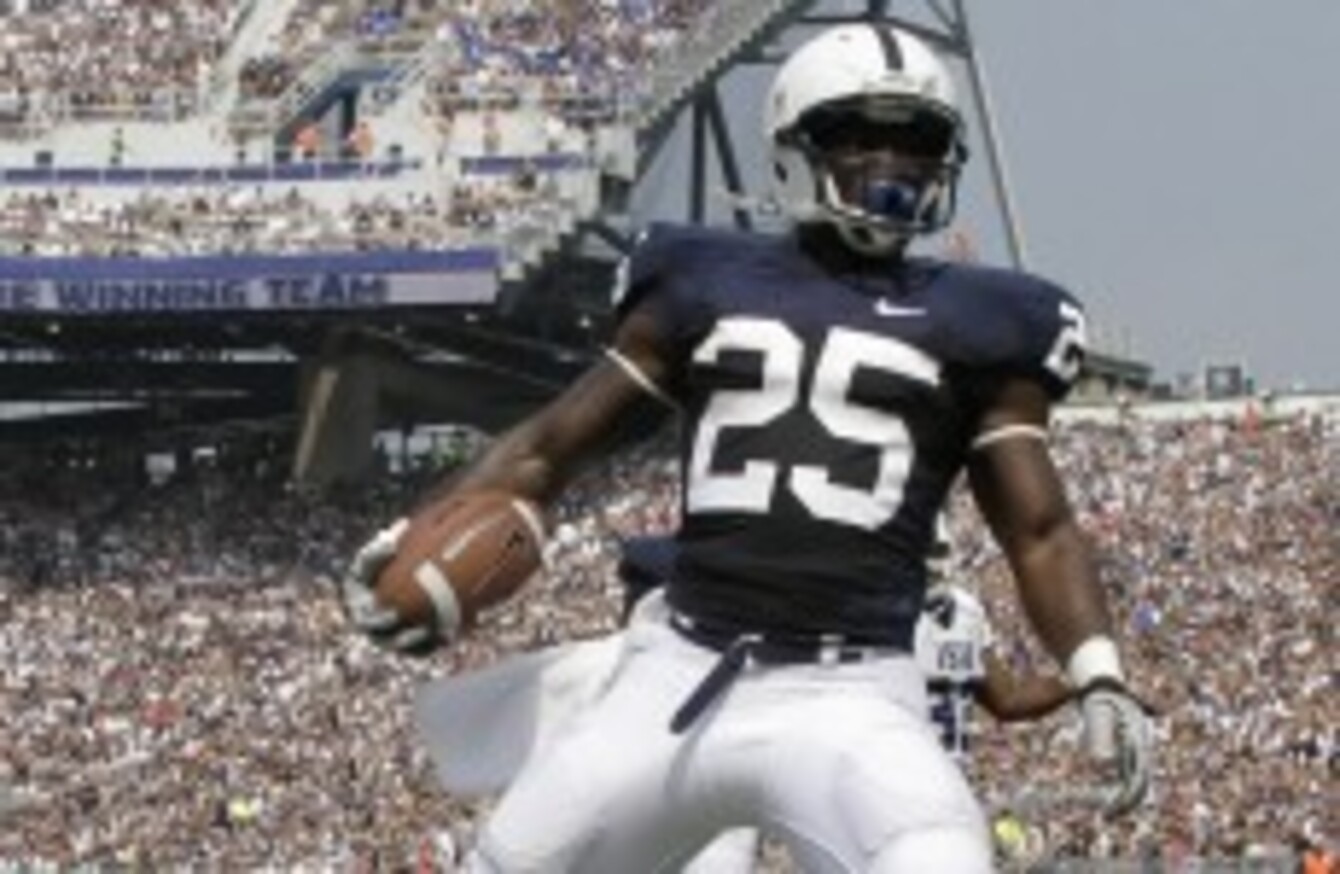 The navy and white jerseys made famous by Penn State university.
Image: Gene J. Puskar/AP/Press Association Images
The navy and white jerseys made famous by Penn State university.
Image: Gene J. Puskar/AP/Press Association Images
A SPOKESPERSON FOR University College Dublin's American football team has defended his team's decision to wear jerseys worn by Pennsylvania State University last season, despite the scandal surrounding the institution.
The team, as well as players from the University of Limerick and Trinity college, take on Ohio Northern University in Belfield this evening and will be wearing Penn State gear in the game.
Speaking to TheScore.ie, a spokesperson played down the use of the jerseys, even after concerns were raised by parties involved with the game and the sport's governing body in this country, the Irish American Football Association (IAFA).
"It's not like the jerseys were the culprits," the spokesperson said. "Penn State have been wearing these colours for 110 years and most of the coaching staff from that scandal has been replaced."
Secretary of the IAFA, Cillian Smith told TheScore.ie: "The IAFA encourages its members to host overseas visitors and it was UCD who organised this fixture with Ohio Northern University.
"As such it is a matter for the university to determine what uniforms they supply to their squad.
"However, our association would consider it very insensitive for any Irish university to field a team in the uniforms of an institution which has been the subject of such serious allegations.
"Had we been aware there were issues with UCD having the required number of jerseys, I'm sure another Irish team would have helped to kit the team out"
TheScore.ie understands that, when speculation emerged of a potential Penn State game in Ireland this year, the IAFA wrote to the Department of Transport, Tourism and Sport to express concerns over the damage to Ireland's reputation from hosting such a game. The Department, in turn, replied by saying that funding for such an event would fall under the remit of Fáilte Ireland.
Scandal
Penn State created worldwide headlines last year when Jerry Sandusky, a former coach of their American football team, was convicted of 45 counts of child sex abuse in June 2012, after a trial in which he was found guilty of molesting 10 children over a 15-year period, meeting them through a charity he founded for troubled youth.
The case tarnished the legacy of Pennsylvania State University, which had boasted one of America's most illustrious football teams.
The scandal led to the downfall of their legendary head coach Joe Paterno, an American sporting icon whose fall from grace came just a few weeks before his unexpected death from lung cancer at the age of 85.
Paterno was fired in November 2011 for failing to notify authorities when he was told Sandusky had been seen molesting a boy in the shower. The university's president, Graham Spanier, was also sacked.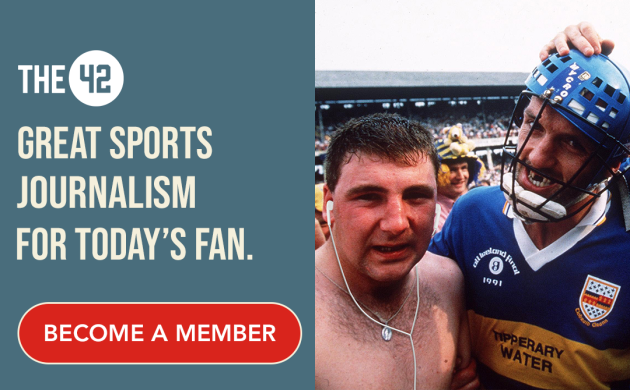 An image posted to UCD American Football's Facebook page yesterday with the caption 'Sneak preview of tomorrow's jerseys for the ONU game'.  Image credit
It also emerged today that the game between UCD and ONU was only confirmed on Sunday, despite being in the pipeline since November 2012. The delay in announcing the event came because UCD and the IAFA had to enter a mediation process which was hosted by Just Sport Ireland.
The result of that mediation was the game could go ahead today but only on condition that "Global Football or any other entity owned by Patrick Steenberge will not have any involvement in the event."
However, UCD confirmed to TheScore.ie that the controversial Penn State jerseys had been provided by Mr Steenberge whose Global Football company arranged several Penn State football camps in the last decade.
Global Football were also responsible for bringing a number of American college and high school American football teams to Ireland last year with Brian Mullins, former Dublin footballer and Director of Sport in UCD, serving as the events' honorary Chairman.
UCD's Media Relations department were contacted for a statement regarding the team's decision to wear the Penn State jersey but, as yet, there has been no reply.