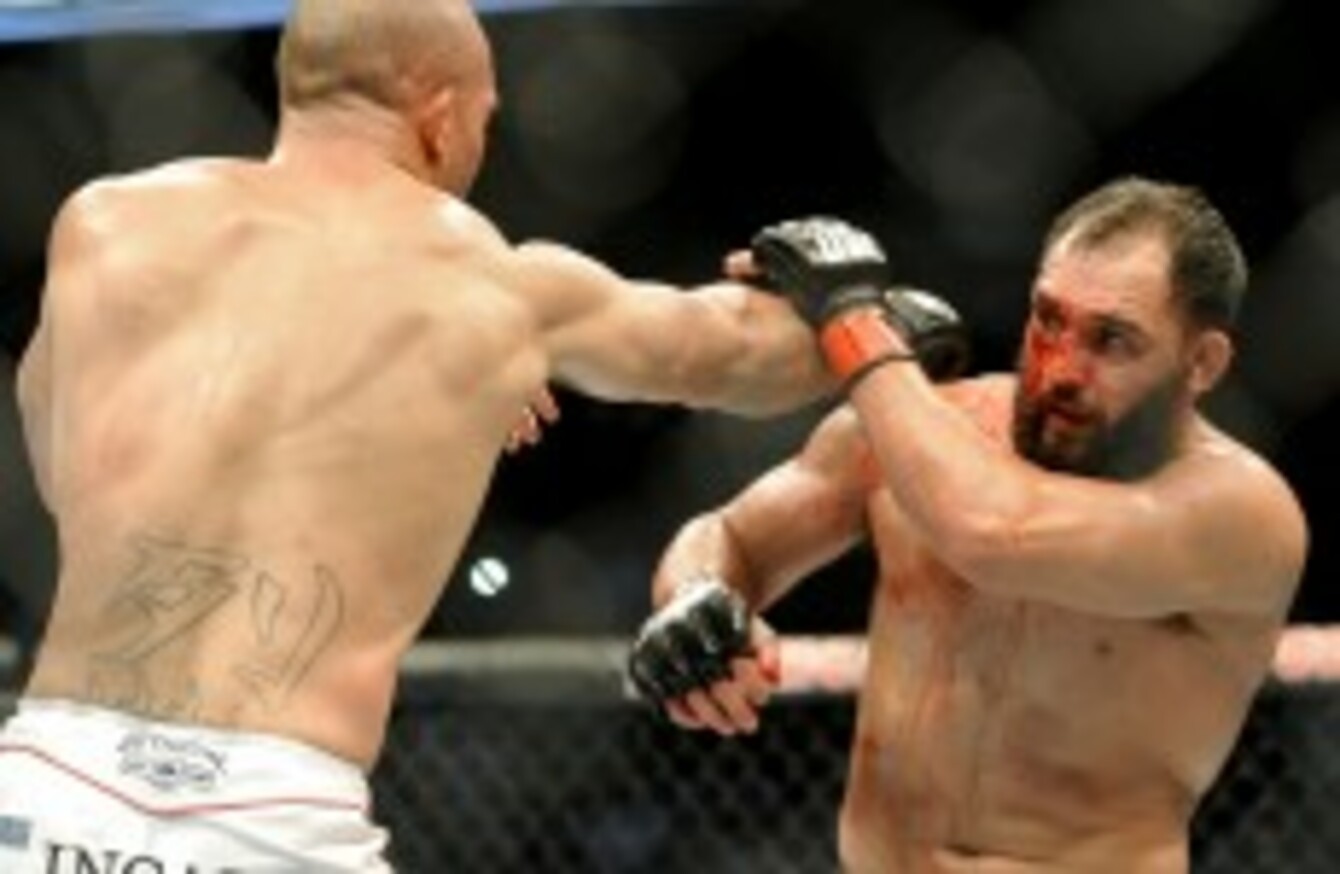 Can 181 live up to their first battle at UFC 171?
Image: Matt Strasen/AP/Press Association Images
Can 181 live up to their first battle at UFC 171?
Image: Matt Strasen/AP/Press Association Images
THE UFC HAVE really pulled out all the stops for their final pay-per-view event of 2014.
The main card of UFC 181 is stacked with potential gems and includes not one, but two world title fights.
The inclusion of two championship bouts in one event is not unheard of, but it's far from commonplace.
Despite relatively muted promotion, particularly with the UFC announcing their new deal with Reebok this week, the quality of the match-ups have generated considerable anticipation.
Source: UFC - Ultimate Fighting Championship/YouTube
In the main event, welterweight champion Johny Hendricks will make his inaugural title defence against the man he fought to claim it, Robbie Lawler. Before that, in the co-main event, lightweight kingpin Anthony Pettis faces Gilbert Melendez, as he too, puts his belt on the line for the first time. If all goes according to plan, the Mandalay Bay Events Centre in Las Vegas could bear witness to one of the best shows of the year.
Here are five of the major talking points going into tonight's event:
1. Can the main event sequel live up to its predecessor?
Georges St. Pierre's decision to vacate his title after six years as champion gave the welterweight division a much-needed shot in the arm. The subsequent fight – at UFC 171 – between Johny Hendricks and Robbie Lawler to decide who his successor would be, was genuinely enthralling and felt like a new beginning.
Now they're set to do it all over again. Lawler has established himself as the number one contender, while Hendricks has been convalescing due a torn bicep sustained when they last met. Hendricks suffered the injury in the second round and has said it prevented him from effectively utilising his wrestling for the remainder of the contest.
Although his wrestling pedigree is among the best in the sport, it is rarely the focal point of the champion's offence. Hendricks' left hand is one of the great equalisers in all of MMA and, as evidenced against Lawler, he has added technique and volume to his striking repertoire.
The challenger is marginally still the better all-round stand-up fighter, and is capable of landing a knockout with any of his four limbs. Thus, if he manages to better the champion on the feet in the early-goings, he's likely to find himself on his back. This bout may be decided on Hendricks' ability to land the takedown or whether Lawler can prevent him from doing so.
2. Anthony Pettis looks to have more ways to win than Gilbert Melendez
At this level of competition, with the margins for error being what they are, assuming the outcome of a fight is foolish. However, what we can do, is consider the evidence. Anthony Pettis is a singularly unique talent. He is capable of feats most fighters could barely conceive of. Simply put, his striking is without comparison.
Source: UFC - Ultimate Fighting Championship/YouTube
Gilbert Melendez, on the other hand, is a hard-nosed pressure fighter, with good boxing and above-par wrestling. The only man to defeat Pettis in the UFC is Clay Guida. He neutralised the champion by taking it to the ground and smothering him. Melendez might be best served to follow suit.
But there's a caveat – Pettis is excellent off his back. He's had success with his triangle-choke and armbar. He used the latter technique to tap Benson Henderson and win the title. Anything can happen, but the upset seems unlikely.
3. Travis Browne tries to get back in the heavyweight title hunt
Had Travis Browne beaten Fabricio Werdum at UFC on Fox 11 in their number one contender eliminator-match, it almost certainly would have been him who fought Mark Hunt in Mexico last month for the interim heavyweight title. But he didn't, so now he must get back in line.
After the Werdum loss, Browne left his long-time training camp at Jackson-Winklejohn MMA, and hooked up with Ronda Rousey's head coach Edmond Tarverdyan. Tonight he faces Brendan Schaub, and is in need of an impressive victory if he wants his next opponent to be of a higher rank and calibre.
Source: FOX Sports/YouTube
4. Tony Ferguson goes in search of fourth successive win at lightweight
Since winning TUF 13, Tony Ferguson has lost just one of his six fights inside the Octagon. A win over heavy-puncher Abel Trujillo could see him move into the 155lb division's top 15 for the first time.
5. The strange sight of Urijah Faber on the preliminary card
The 'California Kid' is one of the most enduringly-popular figures in MMA. An incredibly talented fighter, Faber, for some reason, has faltered on all three occasions he's fought for the bantamweight title. First against Dominick Cruz, and twice subsequently to Renan Barao.
Thus, despite being one of the division's elite, he must take his place at the top of a preliminary card for the second fight running. He faces No 12 ranked Francisco Rivera, who'll probably consider himself lucky if he lasts the full 15 minutes.
Originally published 08.00