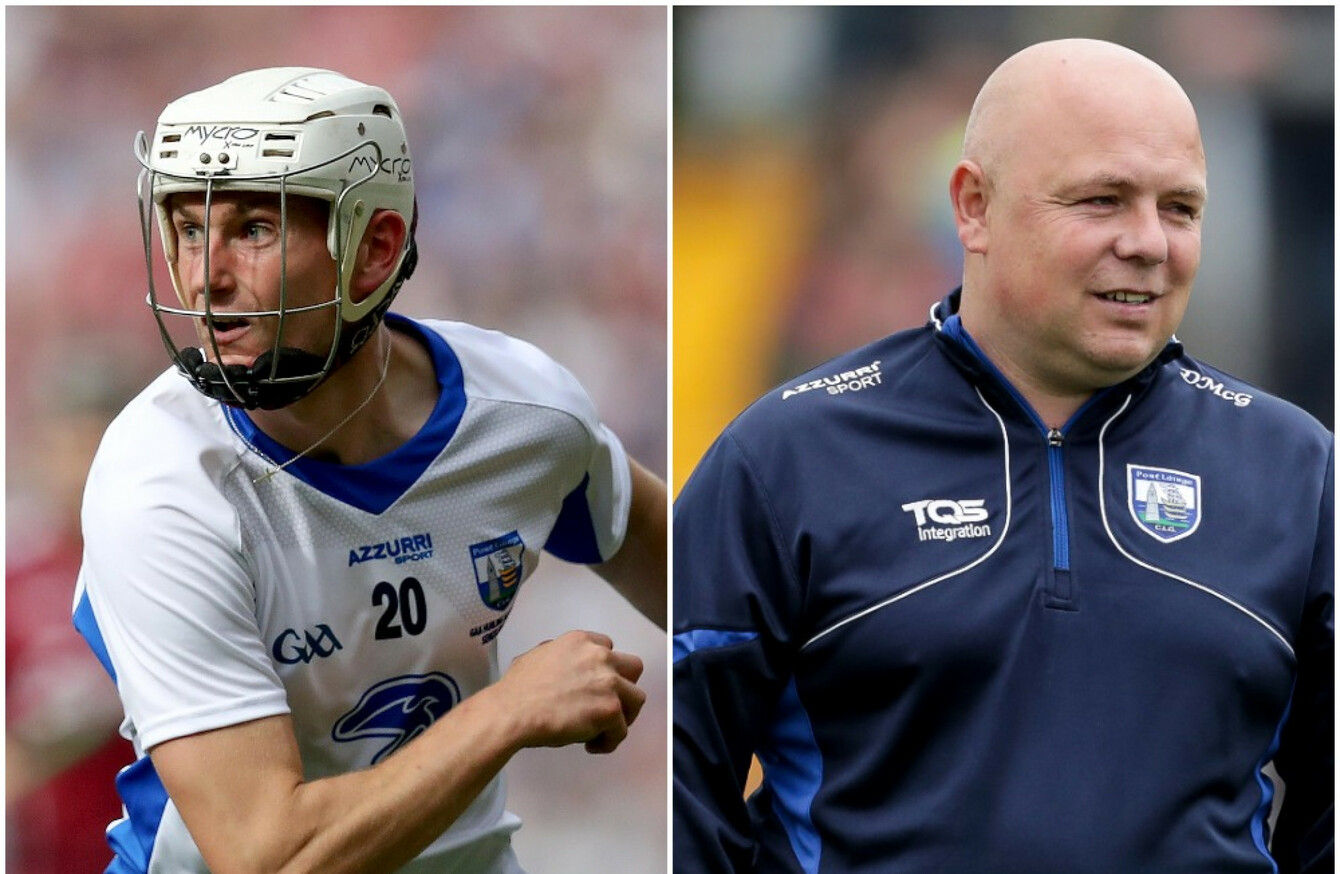 Brian O'Halloran: 'Derek would always say to us, we're making memories'
Image: inpho
Brian O'Halloran: 'Derek would always say to us, we're making memories'
Image: inpho
Updated Jun 19th 2018, 8:02 PM
EVEN IN THE immediate aftermath of his tenure drawing to a halt, Derek McGrath continued to act in a manner the Waterford hurlers had grown accustomed to.
When it came to the farewell bash to draw a line under his five seasons as their manager, McGrath opened the doors of his house last night in Waterford and welcomed all associated with their squad in.
A barbeque, a few drinks, the World Cup coverage on in the background and a chance for them to reflect on the journey they had made together since starting out in 2014.
"It summed up Derek I suppose," says forward Brian O'Halloran.
"The easiest thing last night would have been to meet in a pub but getting lads together would be a problem and then lads would scatter off in different directions and it wouldn't have the closeness to it.
"Derek was always thinking ahead and getting lads around to his house, was just on the ball. It was a perfect night. There was no big hullabaloo, there was no big speeches or farewells.
"It was just nice to be able to chillax with the lads and with Derek, have a few chats and a few beers and stuff."
24 hours earlier McGrath had relayed the news that he was calling it a day. In the Horse & Jockey hotel, in the wake of a defeat to Cork that rounded off a challenging month for their squad, the announcement sank in amongst the Waterford players.
It had been an afternoon where Deise stalwart Michael Walsh had reached an appearance landmark as their Munster involvement concluded.
"Brick hates the spotlight as well. But Derek wanted I'd say not to take from Brick's day and maybe he wanted a day to just enjoy himself with us, before he had to do his media duties and stuff," says O'Halloran.
"He asked us not to say it to anyone. We didn't even tell our families to be honest, we owed him that. He just wanted to do it on his own terms and he was entitled to do that in fairness."
There had been a sense hanging in the background throughout 2018 that there would be a finality to this campaign for McGrath.
But there had been a cause to wonder would he remain after a Munster championship that saw Waterford hampered by sheer misfortune through severe injuries, suspension setbacks, a glaring umpire error and the lack of home comforts to play games.
"He'd hinted it might be his last year but he'd never said anything for sure," outlines O'Halloran.
"You don't want to think about it really, you want to concentrate on the year you're in and worry about what's to come after that. I thought the way the year panned out with the bad luck, that he might reconsider.
"That's the most frustrating thing. He deserved more than he got this year as regards luck. A lot of the injuries were just sheer bad luck, the umpire mistake was bad luck, having no home venue for Munster is what it is. He didn't get a fair crack at it this year, which he deserved. But that's life."
And his life outside hurling helped sway McGrath's mind to move on.
"You'd have to expect that after five years, it was time for him to give time back to his family," admits O'Halloran.
"It's gone more and more time demanding. I know the way Derek approaches it, he's obsessed by it and that he doesn't do any half measures whatsoever.
"I wouldn't like to know what hours he was putting into the week but it was more than any full-time job. It's only sustainable for a certain amount of time. With two young boys, it's perfectly understandable from a family point of view, why he needs the break."
McGrath leaves occupying an elevated status amongst his players after forging such a strong connection.
"Derek would always say to us, we're making memories," says O'Halloran.
"Over the five years there's some unbelievable moments. I think even the way he fought for the holiday last year summed him up. All he wanted for us for the holiday was to have what the other teams that reached All-Ireland finals had got.
"He didn't want anything more but he certainly wasn't going to take anything less. He wanted us and our partners to have the holiday of our lives, and that kind of summed him up.
"Like Noel (Connors) said last night, he's more than a manager, and he is. I know he did a lot for lads in professions and he was always encouraging at us to look at our lives and what we wanted to do.You couldn't speak highly enough of him.
"I'd be training underage teams and you'd be trying to figure out how Derek does it. He just has such class, he has such emotional intelligence. He couldn't enough for us and when you see a fella that cares that much about your life and stuff, you will die for him.
"That's the way it ended up being and we were a close-knit bunch. He treated us so well that it'd be impossible not to treat him the same way."
O'Halloran was pushed into the spotlight as a teenager in the 2010 All-Ireland semi-final but his senior championship debut didn't have a happy ending as he was withdrawn 22 minutes in against Tipperary.
His comeback story encountered plenty roadblocks with injury a chief factor behind his record of two championship appearances over the next five seasons.
Yet McGrath always encouraged him to stick at it and the reward would come. Last summer he prospered and made telling impacts off the bench in the wins over Kilkenny, Wexford and Cork, while also getting on the scoresheet on All-Ireland final day against Galway.
"He'd be the first one to say, he felt he wasted his own talent as a hurler. He also wished he could go back and try it again. He was always encouraging us not to make the same mistakes.
"He was like a father figure in that regard, trying to steer you on the right path. I learned so much from him and having no regrets in that regard was one of them."
For a team which lost an All-Ireland final, contested two more All-Ireland semi-finals and claimed a league title since the start of 2015, the outlook for Waterford hurling seems promising as they move into a post-McGrath era.
They face into a hiatus from hurling now but when they do return for the 2019 campaign, O'Halloran is mindful of the need to kick on.
"I think Derek used to say the words 'potential' and 'talent' are the two most overused words in Waterford. We are in a good place the last two years but until we go off and win something, it's not the place you want to be.
"We haven't won a Munster or an All-Ireland which is what Derek wanted us to win and why he did so much for us. We're sick of kind of hearing about we're in a good place and we've lads coming through. It's time to start doing something now and I'd be hoping we push on to win something."
The42 is on Instagram! Tap the button below on your phone to follow us!