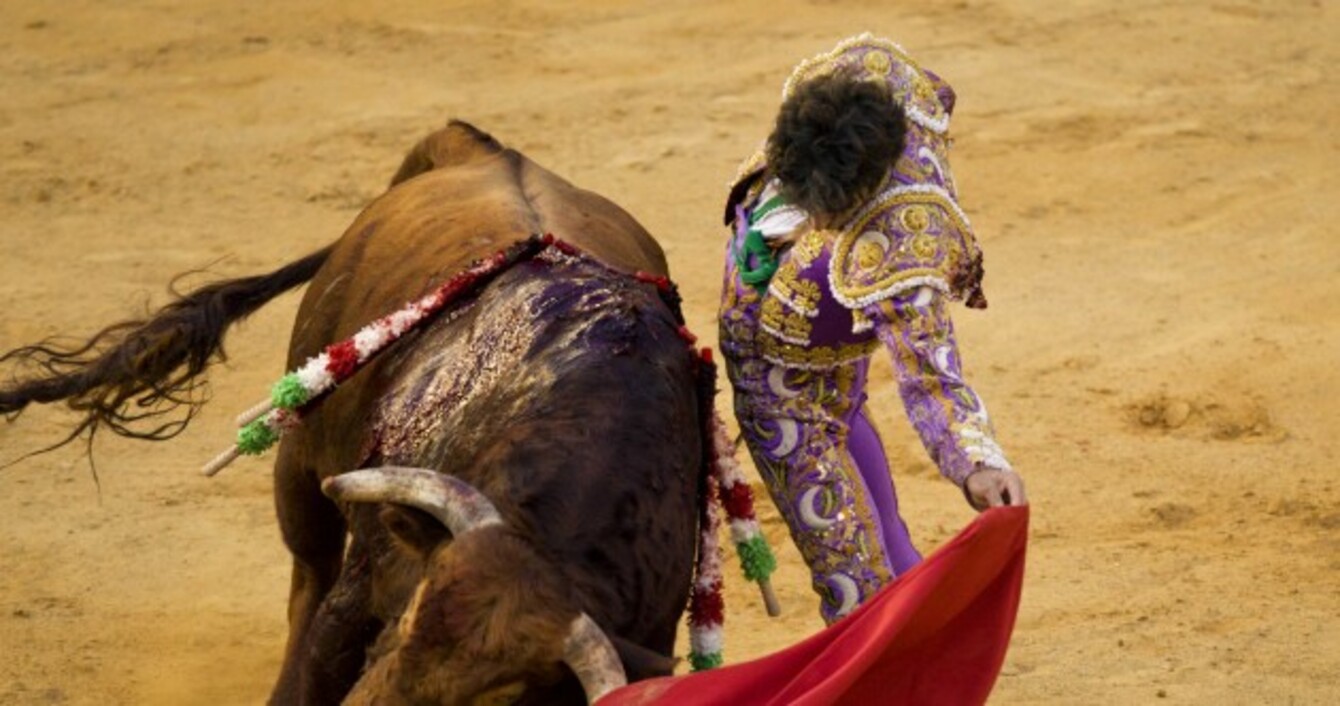 Jose Tomas in action.
Jose Tomas in action.
1. "TWENTY YEARS AGO something happened in English football that we will never see again. On May 14 1995, Blackburn Rovers won the Premier League title.
"The final whistle blew and the fans waited in fear before news from afar filtered through that despite late, late defeat they had indeed done enough. Tim Sherwoodheld the famous trophy aloft and a town – and a very special old man – rejoiced.
"Jack Walker was a one and only. While a team "buying a title" – as the ill informed still routinely label Rovers' title triumph – will continue to be seen, a league win like the one realised at Anfield two decades ago never will.
"This wasn't just about money."
Ben Burrows in The Mirror told us why we'll never see the like of Blackburn Rovers' title win ever again.
2. "It's safe to say that Stefan Effenberg wasn't exactly enamoured by Xherdan Shaqiri's club record £12 million move to Stoke City. In fact, the former Germany international, a Champions League and multiple Bundesliga title winner at Bayern Munich, sound positively revolted by it.
"In truth, criticism of Stoke's status comes across as a tad sour grapes. For one, the Potters are entitled to have sporting ambitions of their own; you can't reach your sporting goals without acquiring good footballers, after all."
Jonathan Fadugba reports on how the Premier League's financial muscle is starting to have damaging consequences abroad for Just Football.
3. "During his nine years in the NFL, Shawn Wooden was a steady, if unspectacular, presence on the field. Selected in the sixth round of the 1996 draft by the Miami Dolphins, he never made it to the Super Bowl, and in all likelihood, he will never be elected to the Pro Football Hall of Fame.
"But Wooden has nevertheless been enshrined among players as an important advocate in the legal battle to secure compensation for retired players who have or may get dementia, A.L.S. and other severe illnesses.
"Two years ago, lawyers representing 5,000 retirees who sued the NFL for hiding from them the dangers of concussions persuaded Wooden to represent the members of the group who were healthy but had a higher risk of developing an illness."
The New York Times' Ken Belson on the unlikely player at the centre of the NFL's concussion dispute. 
4. "The thing you don't expect about playing baseball in prison is that everyone is extremely friendly.
"The entire roster of convicted felons who suited up for the San Quentin Giants on Thursday seemed genuinely grateful for the opportunity to play against some weekend warriors from the outside: Welcoming us and thanking us for coming upon our arrival in the prison yard, stopping by the visitors' dugout for pleasantries during the game, and thanking us again before we took off to a nearby brewery for a postgame meal.
"I learned about the baseball program at California's oldest prison through friends from my weekly pickup hardball game in Brooklyn, guys who played at the prison back when they lived in the Bay Area and participated in a similar sandlot affair. The Mission Baseball Club, as it's known, plays multiple games a season against the San Quentin Giants, and welcomed me to join them last week for a 5-2 win, shortened to seven innings due to the permanent home team's mandatory head count."
Ted Berg found out exactly what it's like to play prison baseball for the FTW section of USA Today.
5. "Mirsad Bektic walked softly through the garden of pointed white markers that dotted the rolling lush emerald hills of Srebrenica, a small mountain town in Bosnia. Every few steps he would stop, squat down and paw at the engraved inscriptions, a pang of emotion pulling at his gut. Peering through squinty eyes, he saw the names of husbands, fathers, brothers, sons and children. Some markers even had his surname on them — a grim touchstone of his own possible plight.
"The rising Ultimate Fighting Championship featherweight star was 18 when he last visited his home country. He felt compelled to see the Potočari genocide memorial, a converted cemetery which serves as a small sample size of Auschwitz, Treblinka or Dachau, since the very ground he was treading was once a mass grave and a poignant reminder of a time, a place and an atrocity the world once ignored."
Sherdog's Joseph Santoliquito unveiled the permanent scars of Mirsad Bektic.

6. "Seb Coe has said he will feel 'queasy' should Justin Gatlin, or any other convicted drugs cheat, win gold at the World Athletics Championships in Beijing.
"And as the new president of the International Association of Athletics Federations, at a time when the credibility of athletics is already being threatened by the greatest doping scandal in its history, that is understandable.
"But what was troubling on Wednesday was Lord Coe's apparent reluctance to recognise the obvious conflict in remaining an international ambassador for Nike now that he has become the most powerful man in the sport. Indeed, he bristled at the suggestion that it was even a problem."
Matt Lawton reveals the hypocrisy between the new IAAF President's words an actions over Justin Gatlin in the Daily Mail.
7. "On Sept. 16, 2012, in Nimes, southern France, the Spanish bullfighter José Tomás fought six bulls in one afternoon. Although I was not there in person, it remains the most transcendently beautiful fight of the world's most troubling sport that I have ever seen.
"Over the course of nearly three hours, Tomás solidified his place in bullfighting history not just for the five bulls he killed, but for the one he saved, a behemoth named, ironically, Ungrateful.
"Peruvian Nobel prize-winning author Mario Vargas Llosa wrote of that day, "I have never seen a bullring so packed, and the people so overwhelmed." El Mundo's bullfighting critic, Vincente Azbala de la Serna, wrote, "Some of us wept at the sight of such excellence, of perfection. I write this with sunny tears, blinded by emotion.""
Brin-Jonathan Butler examines the last breaths in a Spanish bullring for SB Nation.
8. "Every single wrestling fan, no matter their age, has heard the same question repeated after declaring their love for sports entertainment: "You know it's fake, right?" It's a common refrain, and one that, more than anything else, is meant to criticize wrestling fandom. It's not so much "You know it's fake, right?" as it is, "How can you watch that garbage?" It's a statement that seeks to devalue wrestling, to suggest that it's lowbrow television that's catered to children and man-children.
"Underneath the veiled disdain is an intriguing topic of discussion. Professional wrestling, or sports entertainment, is unlike anything else on television in terms of how it can (or cannot) be categorized. It's athletically demanding, but it's not exactly a sport. It's fictional, but not necessarily episodic or organized into proper seasons. Some of it's pre-taped and some of it's performed live on television. "It's at once a sporting event, a soap opera, a superhero movie, and a reality show. Perhaps more than any other art form, wrestling, and particularly WWE, actively engages with its own fakeness and explores the notion of what's "real" in terms of sport and art."
The AV Club's Kyle Fowle explains exactly how the WWE constructs reality.9.
"It feels almost quaint to recall that when Bob Beamon leapt 8.90m at the Mexico City Olympics in 1968 his only performance enhancer was a shot of tequila. When Beamon lifted, kicked and fluttered through the thin air – like a man furiously pedalling on an imaginary recumbent bicycle – millions on TV gasped. If there was a similarly stupendous performance at the world championships, which begin in Beijingon Saturday, audiences would probably be more likely to raise their eyebrows.
"Yet for all the recent doping exposés, the battle between cheats and testers has not dramatically altered. Even with the establishment of the World Anti-Doping Agency in 2000, and the introduction of the Athlete Biological Passport in 2009, the percentage failing drugs tests remains stubbornly stuck at around 1-2% per year, even though athlete surveys tell us the number of dopers is probably somewhere between 14 and 39%."
Sean Ingle in The Guardian explains exactly how cheats cheat.
10. And finally:
Originally published at 8.30am