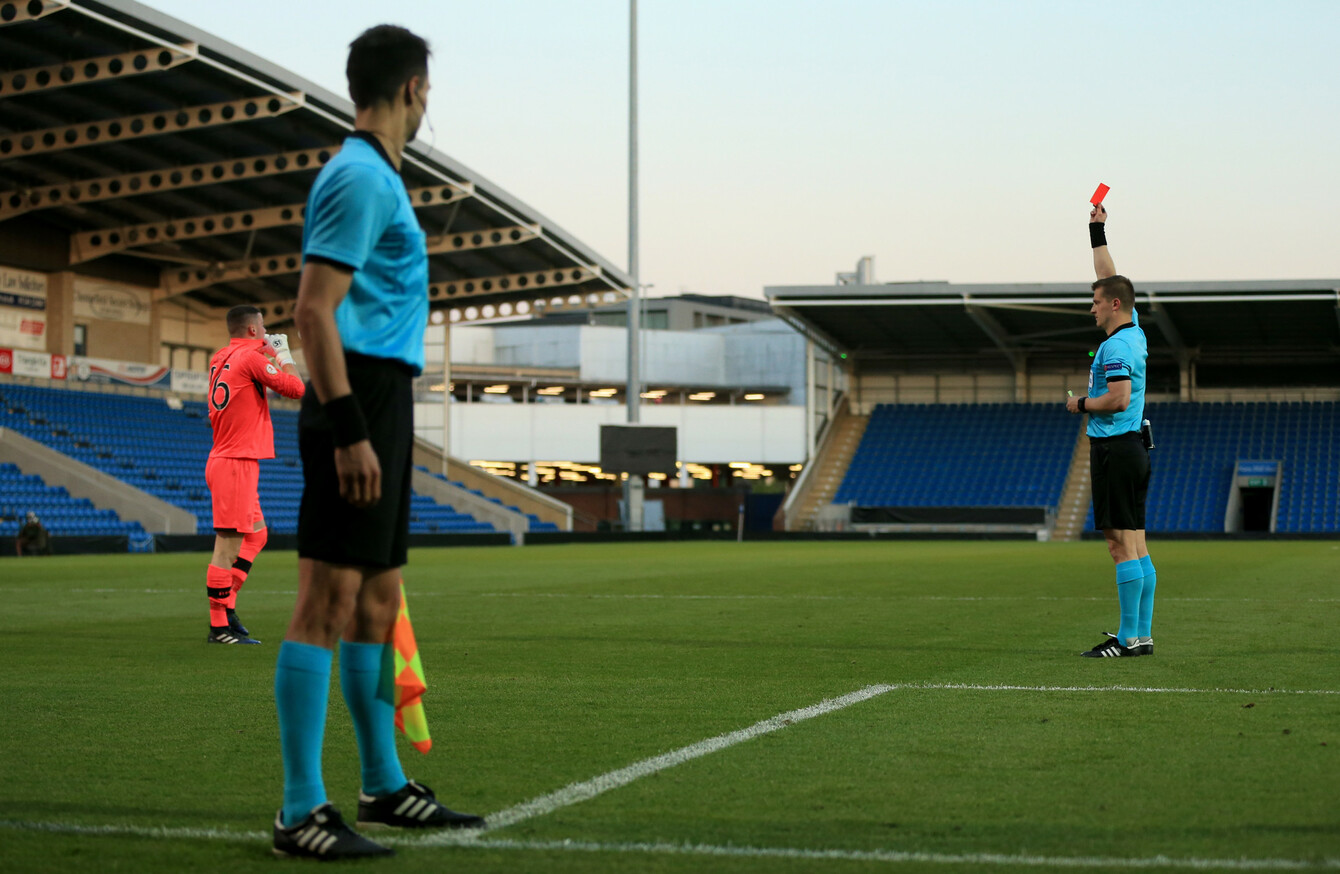 Ireland goalkeeper Jimmy Corcoran is shown a red card by referee Zbynek Proske during the shootout.
Image: Simon Stacpoole/INPHO
Ireland goalkeeper Jimmy Corcoran is shown a red card by referee Zbynek Proske during the shootout.
Image: Simon Stacpoole/INPHO
Updated at 20.05
THERE WAS PLENTY of controversy last night after Ireland exited the European Championships at the quarter-final stage against the Netherlands.
After the game ended 1-1, the match was decided by penalty kicks.
Young Irish striker Adam Idah saw his penalty saved, while the ensuing eight spot kicks were scored.
It meant that the shootout came down to Daishawn Redan's penalty.
It was saved by Irish goalkeeper Jimmy Corcoran, but the official penalised the Cherry Orchard schoolboy for encroaching.
Corcoran was then booked — his second yellow of the match after he was cautioned for time-wasting during the game — which led to his sending off.
Defender Oisin McEntee subsequently had to go in goal for Redan's re-take, which was scored, thereby sending the Netherlands into the semi-finals of the competition.
There were a couple of issues here.
You could argue that, technically, the referee was adhering to the laws of the game.
Jimmy Corcoran appeared to come slightly off his line. Fifa are very clear about encroachment and its illegality here.
In addition, in 2016, Pierluigi Collina, Uefa's head of refereeing, issued a directive that a goalkeeper who leaves his line too early should receive a yellow card with the penalty re-taken.
Yet what seems particularly jarring is the lack of consistency with this rule.
Netherlands goalkeeper Joey Koorevaar appeared to be slightly off his line as he saved Adam Idah's penalty, but he was not penalised and the missed penalty stood.
There are also countless other examples in football whereby goalkeepers have come off their line but have not been penalised.
In addition, Ireland boss Colin O'Brien suggested afterwards that the Dutch goalkeeper was warned "in two of the penalties".
It seems strange that Koorevaar would be let away with a warning, whereas Corcoran was punished on the very first occasion when he saved a penalty.
In some ways, the referee is in a difficult position. Fans will complain that he should use "common sense," but he will be marked down by the game's authorities for not following the letter of the law.
And the law, it seems, is the main problem.
Booking a goalkeeper for encroaching seems overly harsh. Surely the penalty being re-taken is a stiff enough punishment.
And Fifa also perhaps need to either do away with the encroaching punishment or apply it with greater consistency, rather than picking and choosing when to implement the law, and when to overlook the infringement or issue a warning.
The42 is on Instagram! Tap the button below on your phone to follow us!