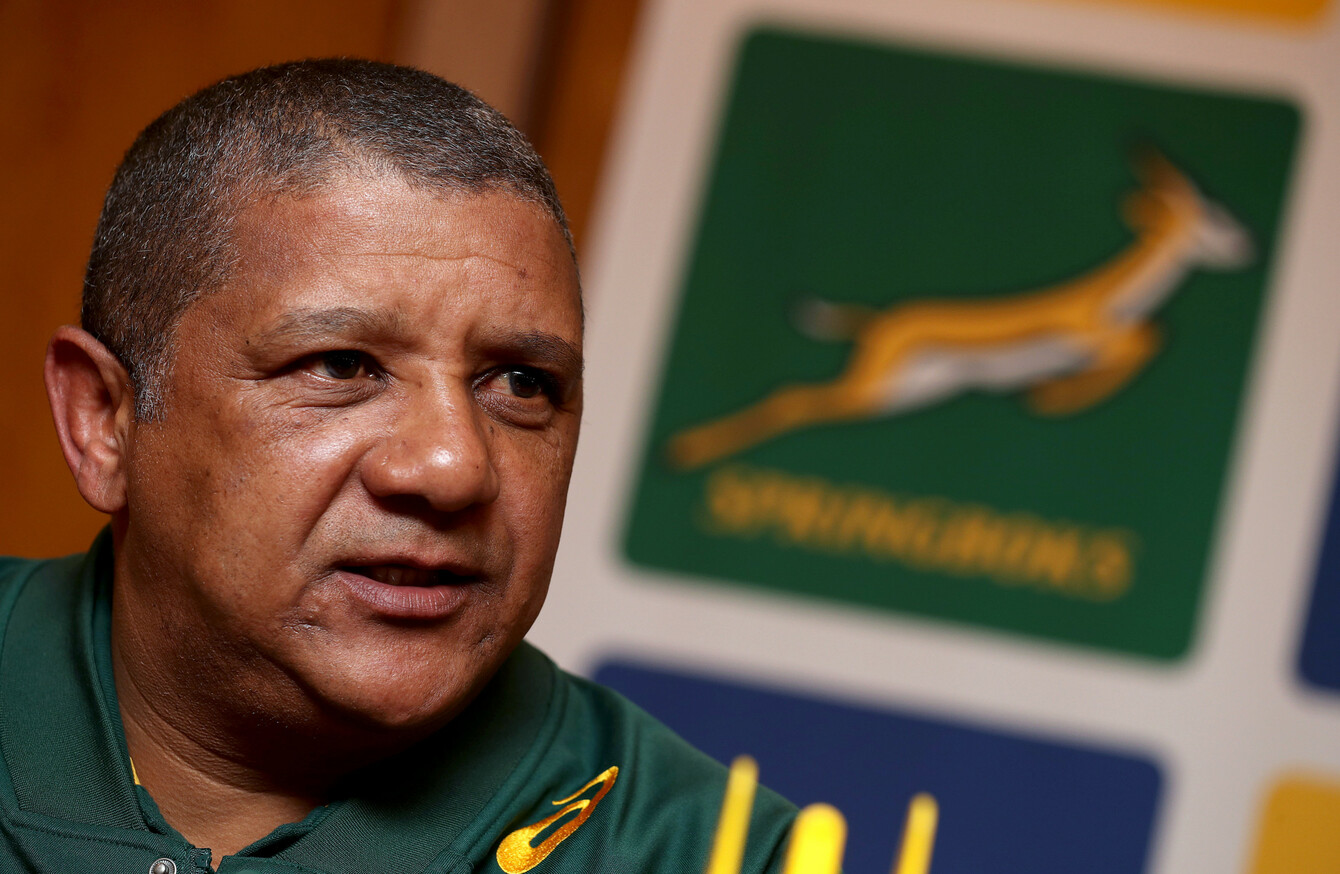 Image: Dan Sheridan/INPHO
Image: Dan Sheridan/INPHO
SPRINGBOK HEAD COACH Allister Coetzee has launched a scathing attack against the South African Rugby Union in an explosive letter addressed to CEO Jurie Roux.
Coetzee – who has overseen just 11 wins in 25 matches since taking the reins in 2016 – claims he was recently informed by SA Rugby that his current contract would be terminated to make way for former Munster chief Rassie Erasmus, who departed the Irish province to take the role of director of rugby with the 'Boks.
Though Erasmus was officially recruited to work in tandem with head coach Coetzee – not dissimilar to his arrangement with Anthony Foley and Munster when he touched down in Ireland in 2016 – Coetzee claims he was informed at a meeting on 18 January that he was to be replaced in a head-coaching capacity by Erasmus.
Coetzee had presumed the meeting to be a performance review as he's still under contract, and described SARU's treatment of him as 'deeply reprehensible'.
"…it was made plain to me that the meeting would deal with the anticipated performance review and its procedures as contemplated by my employment contract," Coetzee wrote in his letter to CEO Roux, which was obtained by Times Live in South Africa and confirmed as legitimate by SARU.
"Instead' the meeting was used as a platform to inform me of SARU's decision that it intends to' inter alia' terminate my contract of employment with immediate effect.
"You informed me that the decision was taken by Mark Alexander (President of SARU)' Francois Davids (Deputy President) and James Stoffberg (Vice President) and mandated you as the CEO of SARU to inform me of the decision.
"You further informed me that a further aspect of the decision is that my services will be terminated regardless of the outcome of the anticipated performance review' as contemplated by my employment contract.
And' should I wish to remain in SARU's employment' I will be reduced to a ceremonial coach' and further that Johan Erasmus ('Rassie') has already been employed to replace me and is already performing the duties of the Springbok Coach. Should I be reduced to the position of a ceremonial coach I would have to face the indignity of reporting to Rassie.
"I also find it deeply reprehensible that' notwithstanding the fact that I have at all relevant times displayed the utmost good faith towards SARU' SARU has not' as a minimum' returned the favour.
"In any event' SARU is contractually obliged to exercise utmost good faith towards me. The fact that a decision has been made that I will be reduced to a ceremonial coach should I resist any attempt by SARU to terminate my services does not only constitute an unfair labour practice but again infringes my right to dignity and equality."
Though still not officially sacked, Coetzee concluded his letter with a plethora of complaints as to the circumstances surrounding his tenure, indicating he was set up to fail as 'Boks coach.
The 54-year-old also accused SARU of destroying the career of one of his predecessors, Peter De Villiers.
"I was the most successful Super Rugby Coach at the time of my appointment and was requested to return to Springbok rugby from Japan because my country needed me'" Coetzee said.
My treatment since my return suggested that elements in SARU embarked on a deliberate attempt to undermine me from the word go and to create the public impression of incompetence on my part whilst wilfully obstructing my efforts to be successful.
"I will not allow elements in SARU to wilfully destroy me and render me unemployable as was done to Peter De Villiers.
"I am not interested in money and that I will fight to protect my hard-earned reputation which is in the process of being deliberately soiled publicly by elements within SARU."