Liveblog
Result: Ballyea 1-19 St Thomas 2-14
************
Evening all, we're getting set for throw-in at Semple Stadium with the first place on offer in the 2017 AIB All-Ireland senior club hurling final.
Unchartered territory here for Clare club Ballyea who only won their first county senior hurling crown last autumn. They then went on to win the Munster championship after defeating Tipperary's Thurles Sarsfields and Cork's Glen Rovers.
St Thomas claimed the Galway senior title last season and are bidding to repeat their All-Ireland triumph in 2013.
Here's the starting Ballyea team.
Ballyea
1. Kevin Sheehan
2. Joe Neylon
3. Jack Browne
4. Brian Carrig
5. Gearoid O'Connell
6. Paul Flanagan
7. James Murphy
8. Tony Kelly
9. Stan Lineen (capt.)
10. Niall Deasy
11. Gary Brennan
12. Cathal Doohan
13. Pat Joe Connolly
18. Damien Burke
15. Pearse Lillis
And here's how their opponents St Thomas will line up.
St Thomas
1. Patrick Skehill
2. Fintan Burke
3. Cathal Burke
4. Eanna Burke
5. Donal Cooney
6. Shane Cooney
7. James Regan
8. David Burke
9. Bernard Burke
10. Conor Cooney
11. Darragh Burke
12. David Sherry
13. Brendan Farrell
14. Sean Skehill
15. Kenneth Burke
There's been a few cracking hurling semi-final clashes in this championship in recent years. Will we get another this afternoon?
And the action is under way in Thurles.
Five minutes gone and we still await the first score in Thurles. Few wides on both sides, Gary Brennan with the latest for Ballyea.
Ballyea 0-2 St Thomas 0-0
8 mins – Niall Deasy supplies the first point of the day from a long-range free. He was instrumental in Ballyea's triumph. Then the attacker is fouled himself by David Burke and steps up from 55 yards out to split the posts once more.
8 mins – Tony Kelly seizes possession, races through and shoots but the ball tails just wide. A signal for St Thomas of the danger he possesses.
Ballyea 0-2 St Thomas 0-1
9 mins – St Thomas needed that. The ball spills loose and centre-forward Darragh Burke is alive to it as he snaps over a point.
Ballyea 0-3 St Thomas 0-1
10 mins – Gearoid O'Connell flights over a point from the sideline for Ballyea as they go in front by two.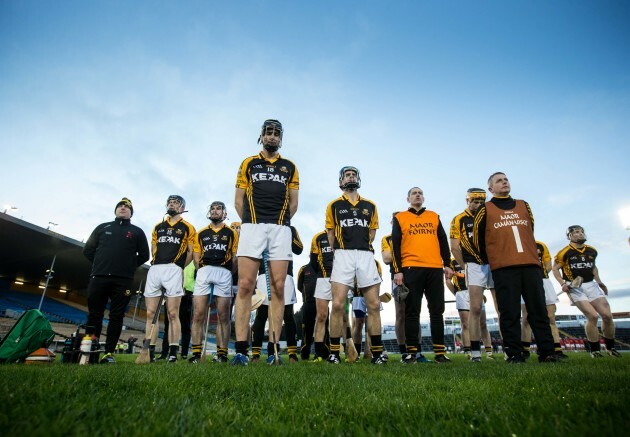 The Ballyea players stand together for the national anthem. Source: Cathal Noonan/INPHO
Ballyea 0-4 St Thomas 0-1
13 mins – Another chance for a point from a free for Niall Deasy and he fails to disappoint. This may be new territory for Ballyea but they've certainly settled well.
Ballyea 0-4 St Thomas 0-2
14 mins – That's a really impressive point by Kenneth Burke for St Thomas to cut the deficit they face.
Certainly been a lively first quarter, plenty urgency on display.
Ballyea 0-6 St Thomas 0-2
17 mins – Marvellous play from Ballyea wing-back Gearoid O'Connell. He made a lung-bursting run from deep, tried to offload to Cathal Doohan but his hand pass went astray. Yet then O'Connell intervened to intercept Shane Cooney's attempted clearance and despatch the sliotar between the posts. Pat Joe Connolly followed that up with another point and Ballyea have a four-point cushion.
Ballyea 0-7 St Thomas 0-2
19 mins – Deasy punishes St Thomas again as he slots over another free for Ballyea.
Ballyea 0-9 St Thomas 0-2
24 mins – There's only one team in this game at the moment. Deasy with a brace of points – one from play and one from a free – and Ballyea have sailed seven clear.
27 mins – That's the difference between the teams. Chance for a point from a free by Conor Cooney but the St Thomas and Galway senior sees his shot drift wide.
29 mins – Another wide from a free by Conor Cooney and then St Thomas nearly grab a goal after a high ball causes consternation in the Ballyea rearguard, Sean Skehill's flick is cleared off the line by Jack Browne and out for a '65.
Ballyea 0-9 St Thomas 0-3
30 mins – St Thomas change the player responsible for placed balls and it has the desired effect as Darragh Burke converts the resultant '65.
Flag
Half-Time: Ballyea 0-10 St Thomas 0-3
Deasy converts a close-range free before the break and it's Ballyea who are in the driving seat with a seven-point interval advantage.
Ballyea 0-11 St Thomas 0-4
33 mins – The second-half is under way with Darragh Burke knocking over a free for St Thomas before Tony Kelly intervenes with a score from play.
Sub: Ballyea bring in Martin O'Leary for Damien Burke.
Ballyea 0-13 St Thomas 0-5
37 mins – Both freetakers on target, Ballyea's Niall Deasy and St Thomas's Darragh Burke, before Tony Kelly strikes over a wonderful point. At this stage, it looks like St Thomas really need a goal to mount a revival.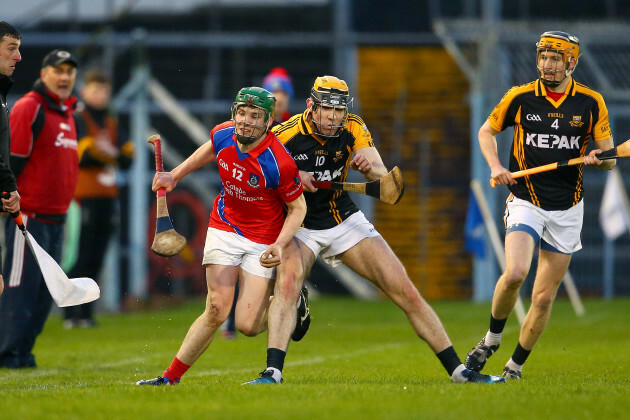 Ballyea's Cathal Doohan tackles St Thomas David Sherry.
No way through for Ballyea's Gary Brennan against Shane Cooney of St Thomas. Source: Cathal Noonan/INPHO
39 mins – Close! Sean Skehill whips a fierce shot under pressure from a tight angle but the St Thomas attacker sees the ball whistle across the goal and fly wide.
Ballyea 0-14 St Thomas 0-5
40 mins – At the other end, Pat Joe Connolly surges through to knock over a point that stretches Ballyea's lead to nine points.
Flag
Goal for Ballyea from Niall Deasy!
Ballyea 1-15 St Thomas 0-5
43 mins – And that looks to be that. The first goal of the game arrives but not to the St Thomas team, who needed it so badly. Instead Ballyea pounce with Connolly and captain Stan Lineen starting a move that culminates in ace forward Deasy turning his man before powering through to billow the net. Then Deasy points a free and there's now 13 points between the sides.
Sub: Brendan Farrell off for St Thomas as Mark Caulfield is introduced.
Flag
Goal for St Thomas from Conor Cooney!
Ballyea 1-16 St Thomas 1-5
47 mins – St Thomas do hit the net but it may well be too late. Conor Cooney fires a 20-yard free low past the Ballyea defence. Deasy responds with a pointed free from Ballyea's next attack.
Ballyea 1-17 St Thomas 1-5
49 mins – Niall Deasy has produced a storming display this evening. A point from play brings his return to 1-11.
Ballyea 1-17 St Thomas 1-7
50 mins - A pair of points for St Thomas from Darragh Burke, a free and a '65.
Ballyea 1-17 St Thomas 1-10
52 mins – Surely an unlikely comeback isn't on? Three St Thomas points in a row courtesy of Kenneth Burke, Shane Cooney and James Regan.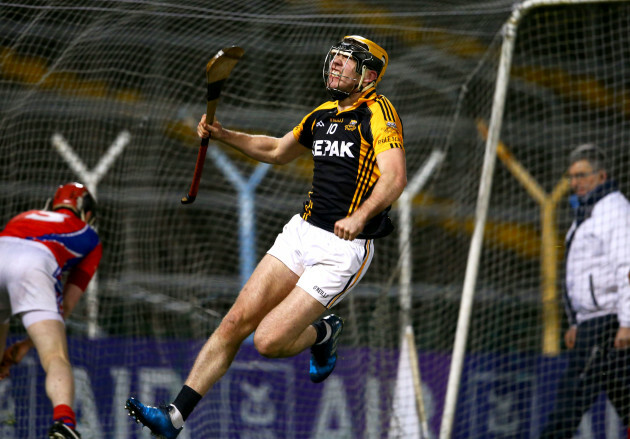 Niall Deasy celebrates scoring his goal. Source: Cathal Noonan/INPHO
Ballyea 1-17 St Thomas 1-12
55 mins – Now that's seven points in a row for St Thomas with Donal Cooney and Eanna Burke scoring!
Ballyea 1-18 St Thomas 1-12
56 mins – But that's a huge point. Cathal Doohan stops the rot by scoring for Ballyea.
Ballyea 1-18 St Thomas 1-13
58 mins – Darragh Burke knocks over a free but St Thomas likely need another goal now.
Brilliant fight by St Thomas but they've taken a long time to hit their stride.
Ballyea 1-18 St Thomas 1-14
59 mins – Conor Cooney is dragged down by the Ballyea defence, Darragh Burke slots over the free. Four in it now.
Two minutes of injury time to be played.
Flag
Anthony Kelly netted for St Thomas.
Ballyea 1-19 St Thomas 2-14
61 mins – Just a single point in it but then Tony Kelly scores for Ballyea!
Flag
Ballyea win 1-19 to 2-14 in All-Ireland club semi-final!
Ballyea hold on for a two-point win and they're going to Croke Park on St Patrick's Day against Dublin's Cuala or Derry's Slaughtneil.
What a dramatic finale. Ballyea on top for so long, they were ahead by 12 points in the last quarter before St Thomas took over. The Galway side took far too long to get going in the end but nearly drew level in incredible fashion. They outscored Ballyea 1-9 to 0-2 after the 50th minute.
Still the Clare champions deserved it. 1-11 for Niall Deasy, it's easy to see why he's been brought into the county senior squad for 2017. 0-3 for Tony Kelly, including the clinching score at the finish.
That exciting finale got plenty people talking.
Thanks for joining us this evening. Ballyea through to the All-Ireland senior club hurling final. We'll be back shortly with more live GAA action as Mayo take on Monaghan in the Allianz football league.
Contribute to this story: