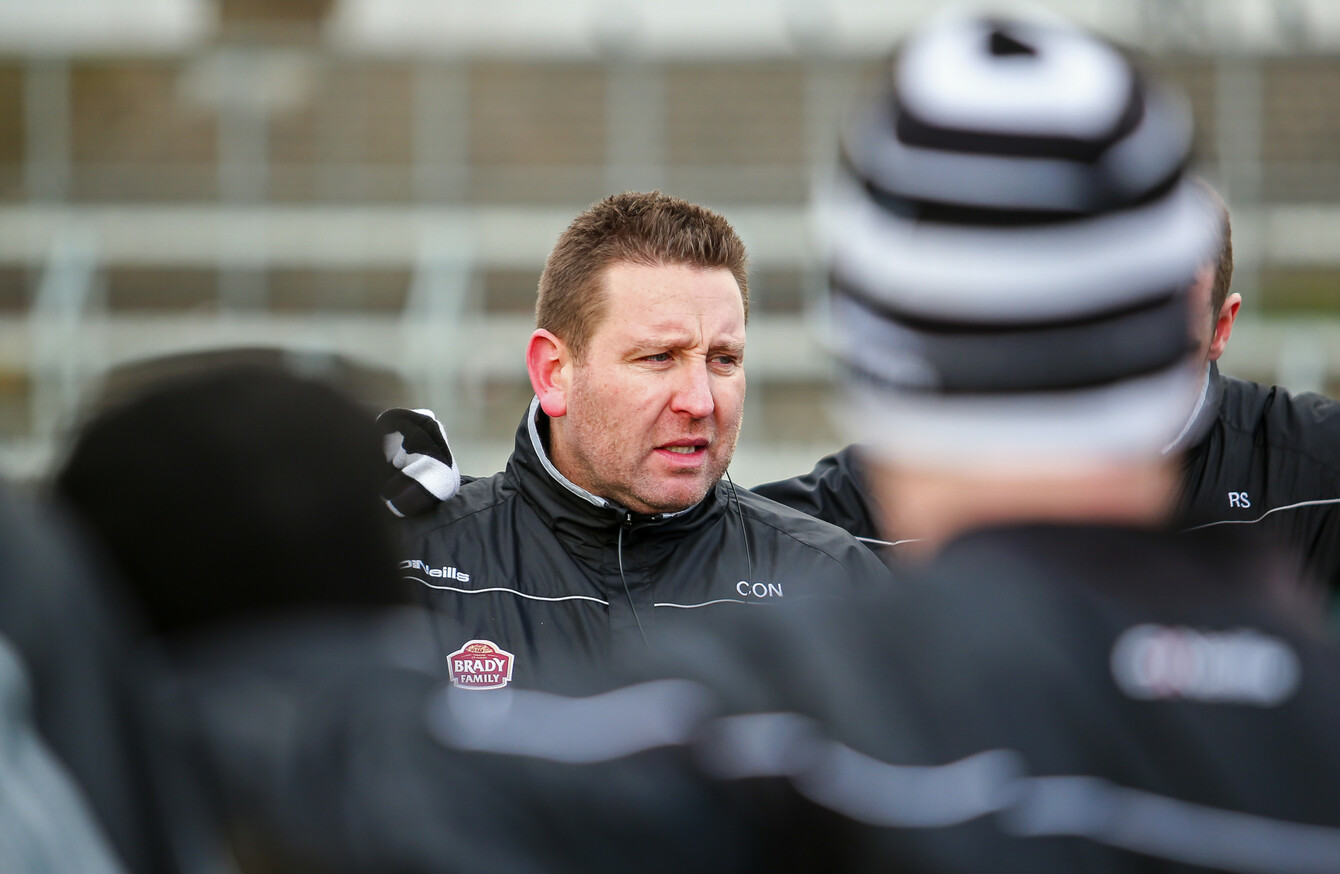 Image: Laszlo Geczo/INPHO
Image: Laszlo Geczo/INPHO
A THIRD SUCCESSIVE league loss for Kildare in Newbridge yesterday but the latest single point defeat grated with manager Cian O'Neill.
A wondrous score by Mattie Donnelly in injury-time won the game for Tyrone but O'Neill was aggrieved with referee Paddy Neilan's application of the advantage rule in the finale.
On separate occasions Daniel Flynn and Peter Kelly looked to have cut through the Tyrone defence but play was called back for a free to Kildare.
"They're things we'll have a look at ourselves. But it is those fine margins. I thought we had two scoring opportunities in advantage scenarios, two really strong ones, and we were blown back for the free.
"If it happens once it's disappointing and it's a mistake. If it happens (more) it's borderline embarrassing. Tyrone they're a seasoned team, they're a very experienced team and they're difficult to break down.
"We still clipped 18 points there today which is really pleasing. Two of those three we were actually penetrating through the middle which is hard to do against them and we were blown back.
"If it happens too many times, it's just not on. Guys train too hard for these things to happen."
Despite chalking up their highest score of the league to date, last season's Division 2 finalists still could not manage to get their first points of the 2018 league campaign on the board.
"It's cruel, to be fair to the lads, it has to be noted that they put in a massive shift today," said O'Neill.
"They worked their back sides off and even when things were going against them in the second-half, did we go down two at one stage, in previous weeks or years that could have been four or five very quickly.
"Same with the response to the goal, they didn't let it affect them. I'm very proud of the lads and the work and the shift that they put in today.
"We're training well. The lads are in great form. They're going to be really pissed off after that today. No more than last week. So they to me are the positives. There's a good spirit in the group."
Rooted to the bottom of the table, the task for Kildare now is to try to fight their way out of a relegation situation. They are away to Donegal, at home to Mayo, away to Kerry and at home to Galway before the close of the campaign.
"For a developing team, there's three ways of looking at it," said O'Neill.
"Is the league all about the points? Is it all about the performance? Or is it about the performance and the points? Obviously you want to go for the third option there.
"At the moment we're not getting the points but incrementally we're performing better, week after week. That has to be a positive for us in terms of our growth as we prepare for Championship.
"Two years ago we were in Division 3. We've really worked hard to get up to where we are today, into Division 1. A lot of people didn't see it happening last year but when you get here you want to stay here.
"That's what's really hurting at the moment. If we were being beaten by 7, 8, 10 points, maybe you could reflect and say that maybe it's a year too soon.
"But we're not, we're close, the margins are very fine. So we do belong here. We just need to do a little bit more, a little bit extra to get over the line. But we're learning every week and that's the key thing, we're improving."
The 42 is on Instagram! Tap the button below on your phone to follow us!