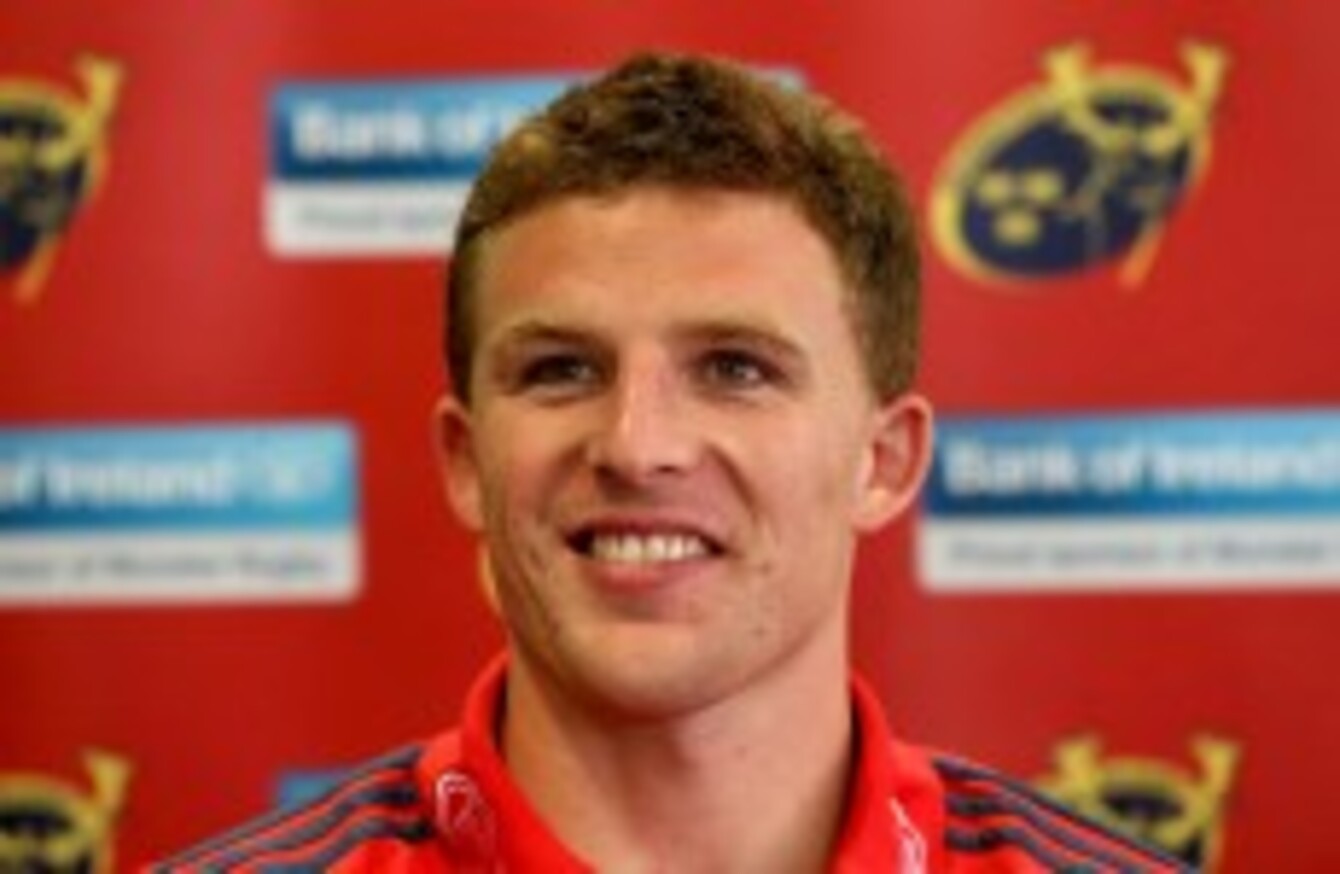 Image: ©INPHO/Billy Stickland
Image: ©INPHO/Billy Stickland
PROVINCIAL BORDERS AND battle lines may be inked as thick as ever for rugby fans, but more and more players are moving freely into enemy camps.
Eoin Reddan, James Downey, Willie Faloon, Mike McCarthy; all have pitched up in a new corner of Ireland. Yet, for some reason, Andrew Conway's switch from Leinster to Munster this year has been treated as a kind of carnival oddity.
Perhaps it's the fact that he's an eye-catching winger rather than a hard-yards merchant. Or maybe it's because of his roots in Blackrock, the school so synonymous with Leinster Rugby.
Whatever the reason, credit Conway for patiently putting up with the stares.
"Tough." Was his answer at yesterday's launch of the Munster's partnership with Bank of Ireland when asked, what he really thought of "this Munster shower?"
Later, he would shift uncomfortably when asked which vulnerable position in Munster's backline he felt was ripe for the picking.
Fortunately, James Coughlan was there to offer a protective arm around the shoulder and a deflective "Ah, come on" before the newest member of the squad could talk his way into trouble. The number eight has most definitely been brought up the Munster way.
At 21, Conway has only played against the southern province twice in his short career. With his Leinster deal up for renewal last season, he took a long hard look at the two rival contract offers and where the opportunities existed for him.
"That's an interesting question," he said with a wry smile when asked earlier if he had been surprised to be let go. Coughlan turned to face him in exaggerated interest.
"Well it wasn't really a case of Leinster letting me go. It was just me talking to Munster and Leinster and coming to a decision on my own. I wasn't contracted to Leinster, as everyone seemed to think at the time. So it was my own decision.
"I thought about it long and hard, obviously and I'm delighted with the decision that I made."
In the end, it was his decision to move Shannon-side, but that doesn't mean he didn't take on a hell of a lot of input before upping sticks.
"I chatted to Rob [Penney], I chatted to Simon [Mannix], Niall [O'Donovan], my old pair, a few of my mates. Took all things into account and decided to come down here and try something new, get out of my comfort zone."
Standstill
On the face of it, the move made little sense; Dublin was home and Leinster were about to wave goodbye to their only guaranteed starting wing in Isa Nacewa. These are the other reasons his move has attracted an extra level of interest. For Conway, though, it seems his pecking order at UCD was not the only factor in switching campus to UL.
"I wanted to experience something new.  Maybe I had come to a bit of a standstill at Leinster. I was getting game-time, but if everyone was fit and firing at the time I wouldn't really have been making those Heineken 23s or the big games with Munster."
He adds: "Watching the likes of Zeebs and Dougie. They were getting on the ball in all parts of the pitch. They'd be coming into the line, running off 10, off 12, 9… almost like they had, not a free rein, but were a bit looser about how they went about it.
"They were allowed, if they saw a gap somewhere, to just get involved. Rob's got a real expansive gameplan and hopefully I can get involved in that."