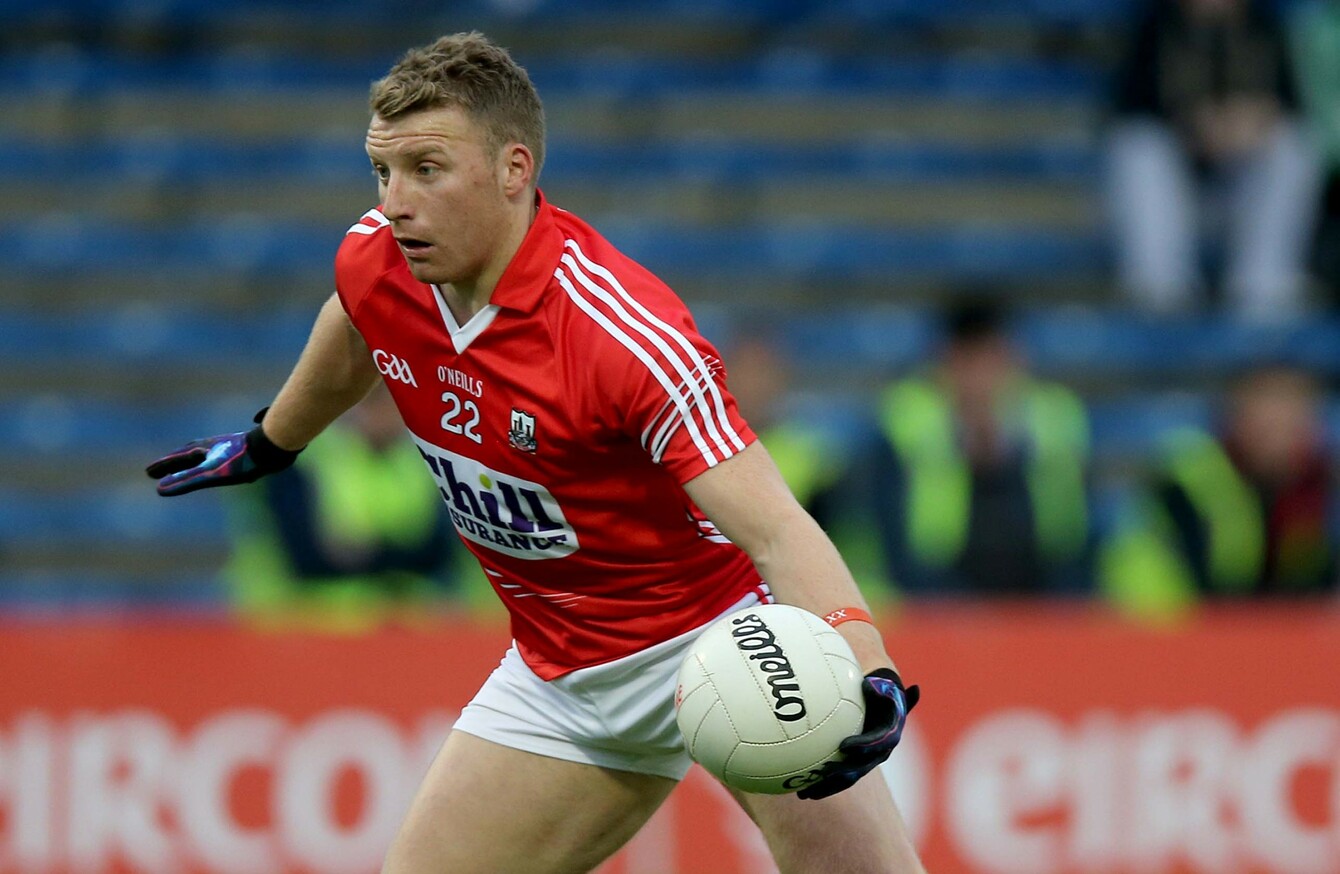 Cork footballer Brian Hurley.
Image: Donall Farmer/INPHO
Cork footballer Brian Hurley.
Image: Donall Farmer/INPHO
LAST WEEKEND HE returned for his club Castlehaven and yesterday was pencilled in for the inter-county comeback with Cork.
Instead Brian Hurley was on crutches in the dugout in Páirc Uí Rinn, consigned to watching on again as the Cork footballers were in action against Meath.
The 24-year-old knows he faces a further year on the sidelines after suffering another severe hamstring injury and freely admits this is his 'last chance' to revive his career.
Eight days ago Hurley was back on the pitch for his club Castlehaven in a Cork league game against Ballingeary, a milestone in his recovery after ripping his hamstring off the bone last June while training with Cork.
He felt good during the match, his sharpness on the ball and confidence in his fitness returning.
Playing at wing-forward, he gathered the ball in the closing stages from a free and turned to accelerate into space.
"I took off and then I heard a load of popping," recalls Hurley.
"The only way to describe it was like being hit by lightning because I was in such shock. The pain was obviously brutal.
"But I was just numb, my head was full of questions. Why? Is it the same thing? Did I do too much or too little (rehab)?
"I was on crutches straight away, went home and did icing but if I'm being straight up, I knew I was after doing it again.
"The pain, the ripping noise, it was just deja vu."
Cork football medic Aidan Kelleher organised a scan for Hurley last Tuesday to assess the damage.
On Thursday he travelled to Cork to meet with Eanna Falvey, who will be the head doctor this summer for the Lions in New Zealand, to learn of the outcome.
"He (Eanna) was very good. James Harty was there as well. We assessed the scan. We did strength tests and there's a lot of strength there because of the eight months of rehab.
"What actually had happened was I ruptured the bottom part, where it attached onto the tendon, and tore all my muscles in that area."
This type of injury is a grave one. Paul O'Connell suffered it at the 2015 Rugby World Cup in Cardiff and it ultimately caused him to bring the curtain down on a glittering career in February last year.
And it proved a massive setback for Kerry's Tommy Walsh's aspirations with the Sydney Swans in Australia in June 2013.
Source: SwansTV/YouTube
To sustain two such blows in the space of space of nine months, causes even more complications for Hurley.
The option of going under the knife again has been ruled out, due to the damage that more surgery would cause.
Instead the hope is that the hamstring will naturally heal over the next six weeks and that a scan will then confirm, Hurley will be able to once more start on the long, grinding road to recovery.
"When you get surgery on your hamstring, it ends up getting shorter. If I was to go through that process again, my hamstring would probably be so tight that it would come under serious pressure when I go to run.
"The hamstring is not in great condition. I'm 24 so time is on my side. We think this is the best plan going forward.
"It is my last chance, there's no guarantee at the end of it, even if I do put in the 10-12 months of rehab."
Initially the shock at sustaining a repeat injury was difficult for him to comprehend.
"I'm not trying to be a tough cookie or anything, the pain was pretty bad but my head was ten times worse.
"My head was all over the place. I couldn't come to terms with it for a few days. On the Monday after, I was stuck to the bed for most of the day. I didn't want to leave the room, I was hiding away to be honest and turned off the phone.
"It's not really good news. It just knocked me, it really hit me when they (the doctors) said it.
"It's so hard to describe. It's like you're married to football and you're going through a divorce now and you can't do anything about it.
"You love the game so much but yet it's kind of being taken away from you and you can't do much about it."
He was struck by the wave of goodwill after such a setback. The entire Castlehaven GAA community rallied around him.
Good wishes came from further afield with friends in Australia and the USA. His employers Abco Kovex could not have been more accommodating either.
Meeting a sportsman last week who can relate more than most, helped hugely as well. Last September, Munster's Johnny Holland announced that his rugby days were over at the age of 25 due to a hamstring injury.
In January, he spoke candidly to The42 about that seismic event that curtailed a promising career.
"I didn't know him, it was set up through a few contacts," outlines Hurley.
What are they
really like?
Rare insights on sport's biggest names from the writers who know them best. Listen to Behind the Lines podcast.
Become a Member
"But what a gentleman. That was very good for my head to kind of accept where I am.
"Johnny opened my eyes about how to appreciate life in a different way outside of sport. That's the way he's looked at it."
Hurley's Cork teammates have been a huge support as well in making contact, taking him out for lunch and encouraging him to stay involved with the squad.
With three torn cruciates behind him, Colm O'Neill is one of those well aware of the problems and pitfalls associated with injuries.
"The lads have been great. I went to the (Cork) game yesterday and was in the dugout but I'd to force myself to go to be honest.
"I was supposed to be on the panel and it was so hard to go on crutches, know you're not going to be involved and you're not going to play football for the next 12 months being realistic."
"As Colm said to me, there are worse things in life. The one thing I did argue with him is that he came back and won an All-Star.
"That's ridiculous, it just shows the character of Colm, but I didn't get back to full flight. It's hard to accept, it's going to be two years gone from inter-county and a high club standard.
"But that's something where you've to change your mindset and it mentally toughens you. I have the work done and I will do it again."
He headed into Páirc Uí Rinn last Wednesday night to support his younger brother Michael, part of the Cork side for the EirGrid Munster U21 semi-final.
Michael has had his own injury battles – a broken hand, a hip stress fracture, a shoulder problem and hamstring troubles over the last few years.
Still when sprung from the bench, he took the Limerick defence for 1-3 and lifted his older brother's spirits to help Cork reach the Munster decider.
"You have to be realistic about life outside of sport, try to move on and be positive. A week on, I've accepted it to a certain degree and my head's better.
"I'm setting myself small targets. For today, I'm sorting out emails for work, getting my diet right, getting up and go to the swimming pool if I can. That's three small things for today, then tomorrow's another day.
"You don't know what'll happen down the line and how scans will go. This is the plan in place in the meantime.
"Hopefully everything will go well and hopefully this time around I can get it right to play football again.
"This is a battle, it's going to be a mountain to climb. I will fight it. There is no guarantees. Basically I've been told this is my last bite of the cherry but I still do have that chance to play."
Source: The42 GAA/SoundCloud