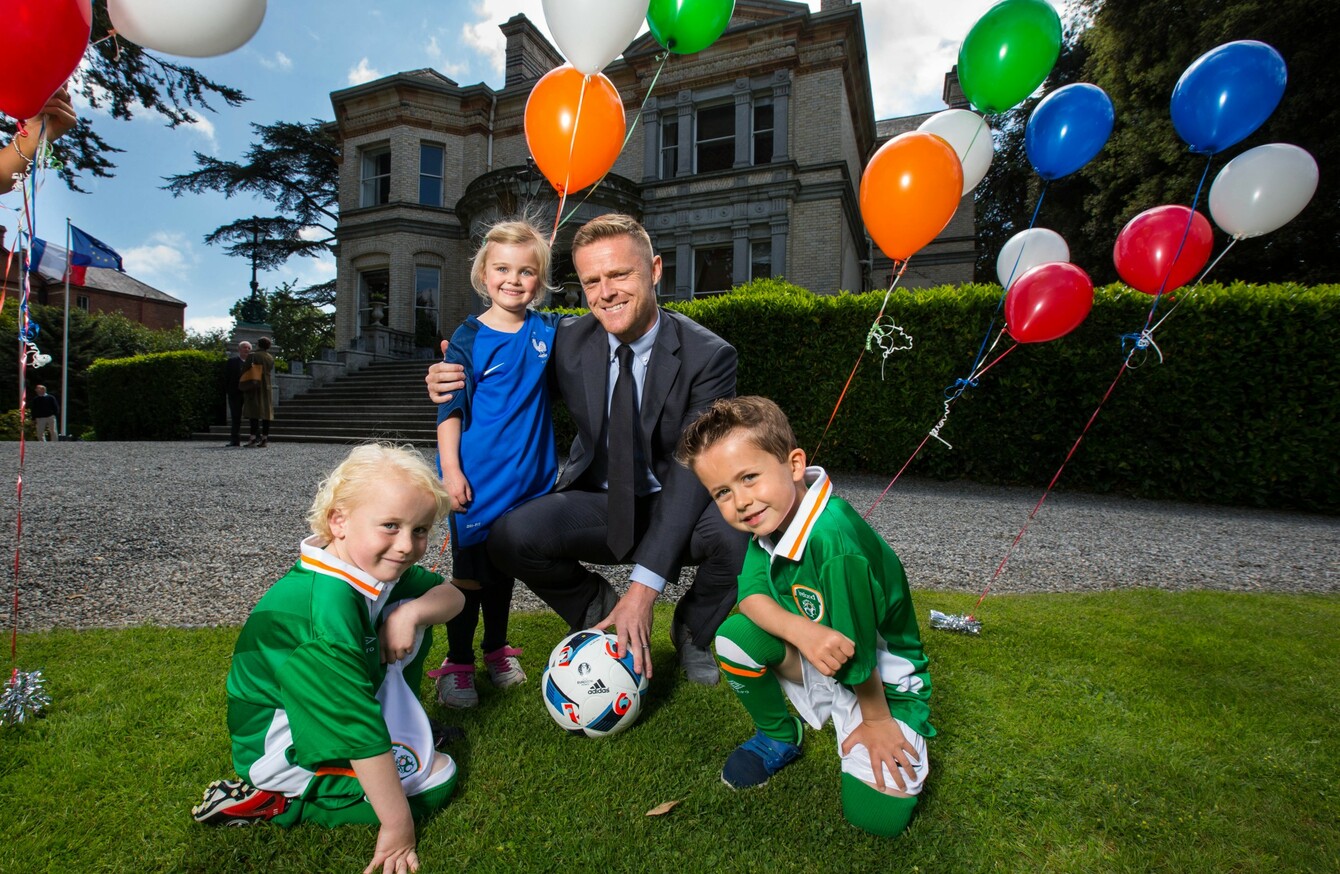 Duff with Matilda Byrne, Kyle Mooney and Kyle Doyle at the launch of RTÉ's Euro 2016 coverage.
Image: Cathal Noonan/INPHO
Duff with Matilda Byrne, Kyle Mooney and Kyle Doyle at the launch of RTÉ's Euro 2016 coverage.
Image: Cathal Noonan/INPHO
THIS SUMMER'S EUROPEAN Championships will provide a different perspective for Damien Duff as he joins the RTÉ panel for his first major tournament post-retirement.
Ireland's ill-fated Euro 2012 campaign marked the beginning of the end of Duff's international career as he played the last of his 101 appearances for the Boys in Green.
Fast forward four years and Duff finds himself in-front of the camera after trying his hand at punditry during the state broadcaster's Champions League coverage earlier this season.
His appearance on RTÉ was widely applauded with the former winger adding a fresh and hugely knowledgeable voice to the panel.
"It's different, good for me," he said yesterday. "When you finish you have to keep yourself busy, not at anything, I'm not desperate, but I did some Champions League games and I really enjoyed it, the lads looked after me.
"I've just dipped my toes in the water, I'll do some games in the summer and see what it's like."
But he won't be part of the coverage for any of Ireland's three group games, adding that analysing the performance of former team-mates, and friends, would put him in an uncomfortable position.
"I won't be doing any Irish games in the summer," Duff continued.
"By choice, but listen they probably didn't want me anyway. It's a difficult one, when you've been to war, part of a group, and you have that tight knit thing going on, even if someone I played with had a disaster I couldn't (lash into them), because I've been to hell and back with them, so I'm loyal to them.
"You build a friendship up over 20, 25 years – if anybody asked me to speak bad of Robbie [Keane], it's not gonna happen.
"You can call it sitting on a fence, I just call it being a proper mate, being loyal – why would you ruin such a good friendship, so I don't want to do Irish games."
Looking ahead to the tournament and Ireland's hopes in France, Duff admitted the hand Martin O'Neill's side were dealt wasn't particularly kind.
Not unlike four years ago in Poland/Ukraine, the Boys in Green face three stiff examinations and the 37-year-old says the campaign will hinge on the outcome of the first outing against Sweden.
"It's all on the first game, like Croatia last time," Duff said.
"It's a similar group to last time, tough but a lot rests on the first game. That didn't go too well last time. I think Spain scored after two or three minutes, and you more or less could have packed your bag then, because you don't come back – us anyhow – 1-0 down to Spain, you might as well have walked off and gone home.
"Sweden is the game you're looking at for three points. Belgium, yes top class players, but are they a tight knit group like the Irish are? I don't think so. Fellaini, has he had a good season? No. Hazard? No. Kompany's out, these are big players, who aren't there or aren't in form, so, we'll see how they go.
"The expectation is to get out of the group, and then anything can happen as we all know. I think there's a good chance, third could go through. Then you're in the knockouts, and it's twitchy bum time."
The42 is on Snapchat! Tap the button below on your phone to add!